Published by Bob Ciura on April 22nd, 2017
Utility stocks are a haven for investors seeking reliable dividend income.
Utilities became known as "widow and orphan" stocks, meaning they were extremely safe investments.
Southern Company (NYSE:SO) is a very high-quality utility dividend stock. It is a Dividend Achiever, a group of 265 stocks with 10+ years of consecutive dividend increases.
You can see the full Dividend Achievers List here.
Meanwhile, Exelon (NYSE:EXC) is also a dividend-paying utility. It has a solid 3.7% dividend yield, and the company recently raised its dividend.
Southern and Exelon look like similar stocks – but looks can be deceiving.
Utility stocks are not all created equal. This article will discuss three reasons why income investors should prefer Southern to Exelon.
Reason #1: Business Model
The biggest difference between Southern and Exelon is their business models. Even though they are both utilities, they have very different operations.
Southern has positioned itself well, given the changing energy landscape in the U.S.
It has gradually moved away from coal and has steered its generation assets toward natural gas. The boom in domestic natural gas production has resulted in falling natural gas prices.
As a result, Southern's energy mix is as follows:
47% Natural Gas
31% Coal
15% Nuclear
5% Renewables
2% Hydro/Other
Southern's reported earnings-per-share dipped 1% in 2016. The company earned $2.57 per share, which more than covers its current annualized dividend.
Revenue rose 14% for 2016.
Exelon is the largest operator of nuclear fleets in the U.S., with 23 nuclear reactors.
Nuclear energy makes up nearly two-thirds of Exelon's energy mix:
64% Nuclear
20% Natural Gas
5% Hydroelectric
4% Wind
4% Natural Gas
3% Oil
1% Solar
The economics of nuclear energy are challenging. Southern has benefited from a fairly low level of exposure to nuclear.
In recent years, Exelon invested to build its unregulated operations. Competitive businesses now represent more than half the company's total annual revenue.
The result of these actions is that Exelon's earnings have been highly volatile in recent years.
Competitive business revenue fell 11% last year. Fortunately, Exelon's regulated segment is still performing well-regulated revenue increased 36% in 2016.
Overall, Exelon's diluted earnings-per-share declined 51% in 2016 to $1.22. Its earnings-per-share last year fell below its annualized dividend.
The good news is, Exelon's adjusted earnings-per-share were $2.68. Adjusted earnings-per-share excludes various non-recurring expenses, such as acquisition costs.
Still, at the midpoint of Exelon's guidance for 2017, the company expects adjusted earnings-per-share to decline 1%.
Source: Earnings Call Slides, page 9
In addition, Exelon has a lower credit rating than Southern. Exelon's consolidated credit rating at the end of 2016 was BBB- from Standard & Poor's, which is just one notch above junk.
Exelon's interest expense increased 51% last year, and as interest rates rise, its balance sheet could continue to weigh on its earnings.
Reason #2: Dividend Yield
One of the biggest considerations for investors interested in buying utility stocks is their dividend yields. Utilities typically have 4%+ dividend yields.
However, Exelon's dividend yield is just 3.7%, which is fairly low. On the other hand, Southern has a 4.5% dividend yield.
This is a very significant difference: Southern's current dividend yield provides roughly 22% more dividend income than Exelon's payout.
Dividends are a very important consideration for utility investors, as they comprise the majority of total returns generated by utility stocks.
Consider that, as of December 31, 2016, Southern outperformed the S&P 500 over the trailing 10-, 20-, and 30-year periods.
Its dividend was the main reason for its long-term outperformance: Southern's reinvested dividends have accounted for approximately 69% of its total shareholder return over the past 20 years.
Southern is the epitome of a slow-and-steady utility. It is the second-least volatile utility stock in its peer group.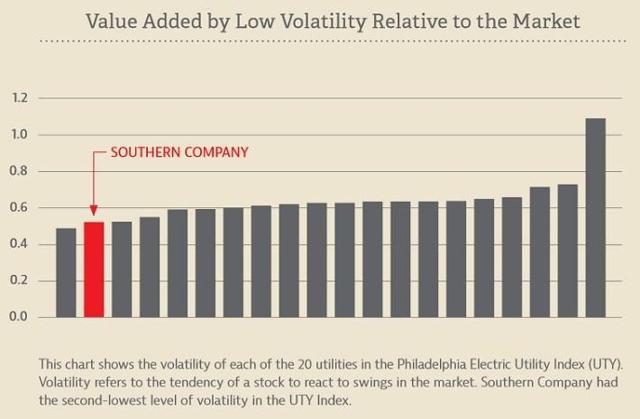 Source: 2016 Annual Report, page 7
A low level of volatility helps give investors the ability to sleep well at night, while collecting dividends each quarter.
Exelon's business model is riskier than Southern's.
If anything, Exelon should provide a higher dividend yield than its peer group because of the higher level of volatility of the company's earnings results.
Southern has produced much smoother earnings growth over the last several years than Exelon, which has resulted in more consistent dividend growth as well.
Reason #3: Dividend Track Record
The final reason why I prefer Southern over Exelon is because of Southern's stronger dividend history.
On April 17th, Southern raised its dividend by 3%. This was its 16th consecutive annual dividend increase.
Looking back further, this makes 278 quarterly dividends – going all the way back to 1948 – that Southern has maintained or increased its dividend.
Southern has a very steady dividend growth history.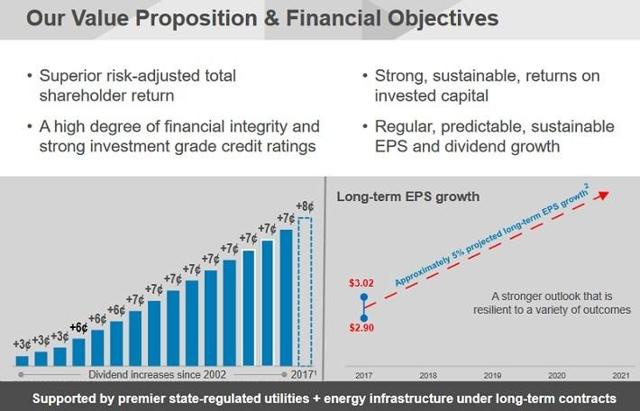 Source: 4Q Presentation, page 12
By contrast, Exelon's dividend history is spotty. Like Southern, Exelon also recently increased its dividend by 3%.
The raise is consistent with Exelon's announcement in 2016, that it would raise its dividend by roughly 2.5% per year through 2018.
Exelon's dividend policy looks good, but looks can be deceiving. In 2013, the company cut its dividend by 41%.
Prior to the dividend cut, Exelon was paying a quarterly dividend of $0.525 per share. Even with its new dividend growth policy, Exelon's quarterly dividend is still just $0.3275.
A dividend cut is bad enough on its own, but is even worse coming from a utility. Investors rely on utility stocks for stability.
A utility that cuts its dividend has fallen short in perhaps the most important reason for owning a utility stock in the first place. And this wasn't a minor reduction – it will likely take several more years before Exelon's dividend is restored to its pre-cut level.
As a result, Exelon's huge dividend cut disqualifies it from consideration for risk-averse income investors.
Final Thoughts
Utilities have developed a reputation for paying steady, reliable dividends. Many utilities, such as Southern, live up to this reputation, with decades of uninterrupted dividends and dividend growth each year.
However, there are always risks to buying stocks, even utilities. If a company's fundamentals deteriorate, sooner or later its dividend could be in jeopardy.
Exelon has displayed considerable volatility over the past several years – too much, for a utility.
Exelon is working its way back, but its huge dividend cut and volatile swings in earnings do not make it the best pick in the utility sector.