YieldCos such as 8Point3 Energy Partners (NASDAQ:CAFD) are the best way for dividend lovers to benefit from the decades-long boom in clean energy. Or at least that was the investment thesis until 8Point3's latest earnings release which revealed shocking news that crashed shares as much as 12% after-hours.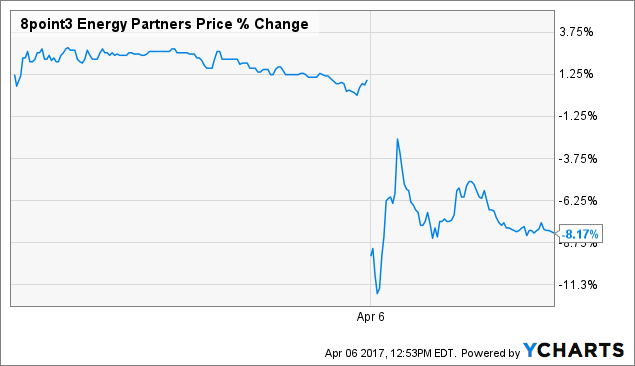 CAFD Price data by YCharts
Let's take a closer look at those results as well as the news that First Solar (OTCPK:FLSR) and SunPower (NASDAQ:SPWR) are looking at potentially selling some or all of their stakes in 8Point3. Most importantly, find out if the market's violent plunge is justified or an overreaction that makes 8Point3 Energy Partners a fantastic buying opportunity you should be taking advantage of.
Q1 Results Actually Look Great…
| | | | |
| --- | --- | --- | --- |
| Metric | Q1 2016 | Q1 2017 | YoY Change |
| Revenue | $7.1 million | $9.9 million | 39.4% |
| Adjusted EBITDA | $7.7 million | $13.1 million | 70.3% |
| Cash Available For Distribution | $18.3 million | $22.1 million | 20.5% |
| Shares Outstanding | 71.0 million | 79.1 million | 11.4% |
| CAFD/Share | $0.26 | $0.28 | 8.2% |
| Dividend | $.2246 | $0.2565 | 14.2% |
| Distribution Coverage Ratio | 1.15 | 1.09 | -5.3% |
(Source: Earnings Release)
At first glance it appears as if 8Point3 Energy is doing great. After all, by any metric, revenue, adjusted EBITDA, or the all-important cash available for distribution, or CAFD (what funds the payout), the yieldCo is growing well.


(Source: 8Point3 Energy Partners Earnings Presentation)
That's courtesy of the fast pace of acquisitions of the new First Solar and SunPower dropdowns, which has increased the yieldCo's portfolio of solar assets from 432 MW at IPO to 945 MW today.
Best of all, all of 8Point3's solar assets have very long-term (19.8-year) purchase power agreements, or PPAs, most of them with investment-grade utilities. That means it enjoys incredible cash flow stability with which to pay its distributions.
But what about those strange financials? Specifically, the fact that CAFD is so much higher than revenue? Some investors might be worried that this indicates some kind of financial shenanigans, and that the distribution isn't nearly as safe as management would have us believe.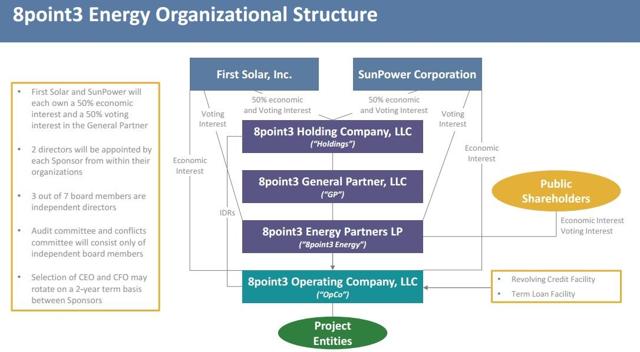 (Source: 8Point3 Energy Partners Investor Presentation)
However, the reason for that is the complex way the company is structured. For example, most of the actual assets are owned by the opco, which isn't consolidated under 8Point3 Energy's revenue and adjusted EBTIDA.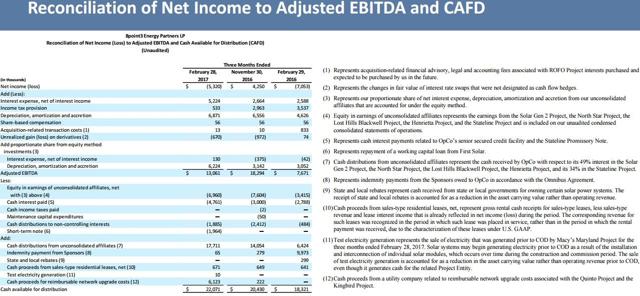 In addition, 8Point3 is getting paid by its general partners and sponsors (First Solar and SunPower) for upgrading its infrastructure – something that also boosts CAFD but doesn't show up under revenue.
Then, there's the complex nature of tax equity financing, in which investor capital is raised by monetizing the tax breaks under current law.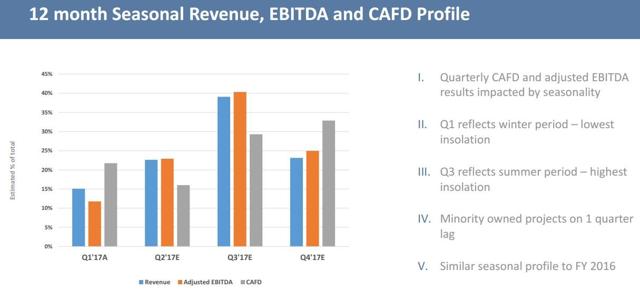 In addition, keep in mind that because solar power is seasonal, generating less power (and cash flow) during winter and more in summer, what you really need to focus on isn't any individual quarter's results, but full-year guidance. That's especially true given that the timing of asset purchases means there is usually a one-quarter lag between 8Point3 acquiring a new project from its sponsors and when the additional cash flow hits the bottom line.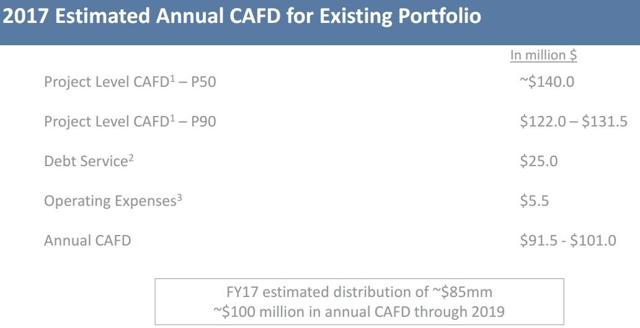 As you can see, assuming no additional asset purchases, the company's existing portfolio is expected to generate $95.8 million in CAFD this year and about $100 million in 2018 and 2019.
Based on management's planned 12% distribution growth in 2017, which would result in about $85 million in total payouts (including to its sponsors), that would result in a full-year distribution coverage ratio of 1.13 for 2017 and 1.18 in 2018 and 2019, assuming no further distribution growth after this year.
For yieldCos, anything above 1.1 is considered sustainable and secure, which is why management is confident it will be able to hit its payout growth targets for this year.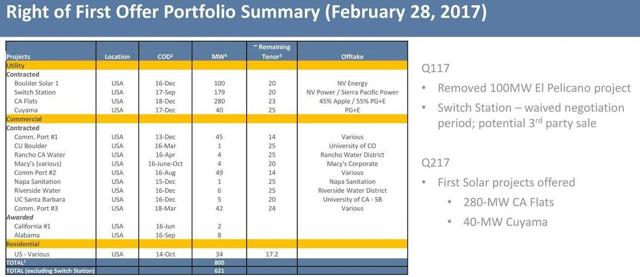 And with a growth pipeline of 621 MW of potential projects to acquire from its sponsors, enough to almost triple annual CAFD to $295 million, 8Point3 Energy Partners' potential payout prospects remain excellent (12-15% annually) for many years and even decades to come.
So why did Wall Street freak out over what appears to be an excellent earnings report?
… BUT Sponsors Potentially Bailing Has The Market Shxtting Bricks
"First Solar, one of the Partnership's sponsors, has publicly announced and notified the general partner's Board of Directors of its intention to explore alternatives related to its interests in the Partnership. Given First Solar's intention, SunPower, the Partnership's other sponsor, has likewise publicly announced and notified the general partner's Board of Directors that it is exploring alternatives related to its interests in the Partnership, including but not limited to, seeking a potential new joint venture partner in the Partnership."

– 8Point3 Energy Partners Earnings Release
This is what has caused the stock to crash despite its strong growth. The potential for one or both of its sponsors, general partners and managers to sell a portion or all of their stake in the yieldCo has called into question one of the strongest growth catalysts 8Point3 Energy has.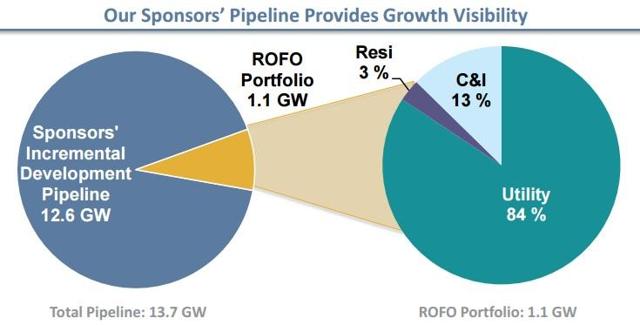 Specifically, because First Solar and SunPower are some of the world's largest solar manufacturers and the world's leading solar project makers, their future growth potential is massive. Which means the current right of first offer, or ROFO, pipeline represents just a small slice of what could be tens of billions of new growth opportunities in the coming decades.
But if First Solar and SunPower end up reducing or even totally selling their stakes in the yieldCo, then 8Point3 Energy would no longer have this baked-in hyper-growth catalyst. It would still be able to grow, but only through acquiring new solar projects from third parties, and ones that might not be able to secure PPAs as good as it currently enjoys.
Why would First Solar and SunPower consider jumping ship? Because they set up the yieldCo in order to monetize their existing solar projects. The way it works is that 8Point3 is supposed to operate like a Master Limited Partnership, or MLP. Specifically, it's supposed to raise debt and equity growth capital from investors in order to buy the projects First Solar and SunPower construct, after 20-25 year PPAs are in place.
And because First Solar and SunPower collectively own 64.5% of 8Point3 Energy's shares, plus 100% of the incentive distribution rights, or IDRs, the vast majority of the cash flow generated by these solar utility assets would wind up going back to them.
Meanwhile, the incredible cash flow stability of its PPAs, along with a fast 12-15% payout growth rate and generous yield should theoretically attract a lot of investor interest and allow for decades of this symbiotically profitable relationship.
However, there is a big problem 8Point3 has been facing since its IPO. The stock market hasn't been cooperating with management's plans.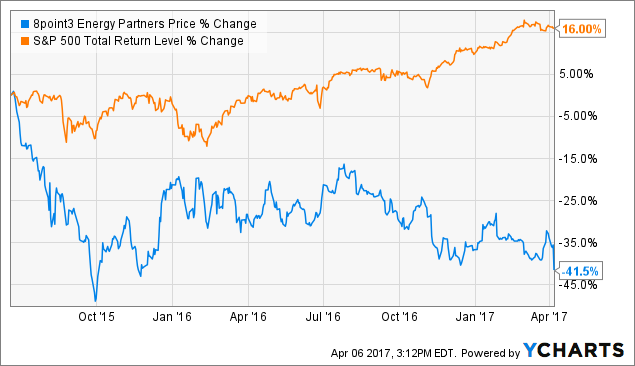 In fact, since its 2015 IPO at $21 per share, 8Point3 Energy Partners has faced a crushing decline in its share price. This means its cost of equity has greatly increased, almost doubling, in fact.
| | |
| --- | --- |
| Share Price | Cost Of Equity |
| $10 | 12.1% |
| $11 | 11.0% |
| $12 | 10.1% |
| $13 | 9.3% |
| $14 | 8.6% |
| $15 | 8.1% |
| $16 | 7.6% |
| $17 | 7.1% |
| $18 | 6.7% |
| $19 | 6.4% |
| $20 | 6.1% |
| $21 (IPO) | 5.8% |
(Sources: Earnings Release, GuruFocus)
Why has 8Point3 stock fallen so drastically? A large part of that is due to Terraform Power's (NASDAQ:TERP) crisis with its bankrupt sponsor, SunEdison (OTCPK:SUNEQ). Specifically, because SunEdison used an obscene amount of debt to grow too quickly, it was forced to offload solar projects onto Terraform Power (as well as Terraform Global (NASDAQ:GLBL), its other yieldCo) at prices that weren't accretive, shackling both with disastrous levels of debt.
This has resulted in Wall Street being very skittish about yieldCos, and in the exact kind of liquidity trap that investors have been afraid of. It is because of this weakness in share price that 8Point3 has been forced to turn to cheap debt in order to fund its growth.

However, the problem is that the yieldCo has pretty much tapped out its $750 million in total credit facilities. In fact, today 8Point3's liquidity (remaining borrowing power + cash) is just $63.1 million.
| | | | | | |
| --- | --- | --- | --- | --- | --- |
| Project | Cost | MegaWatts | Cost Per MW | Annual CAFD Generated | CAFD Yield |
| Stateline | $329.5 million | 102 | $3.23 | $32 million | 9.7% |
| Total Portfolio | $1.105 billion | 945 | $0.91 | $100 million | 9.1% |
(Sources: 10-Qs, Press Releases)
Fortunately, the low cost of debt (2.87% weighted average interest rate) means the asset acquisitions to date have been highly accretive, meaning that CAFD/share has been growing quickly.
However, because its debt covenants require its Debt/CAFD ratio to be 7.0:1 or less, and eventually decrease to 5.0:1, this means the yieldCo must now focus on deleveraging, lest its creditors call in its loans and force a payout cut or outright suspension.
Which means in the next few years, management will either need to raise more capital to pay down $211 million in debt, acquire new properties to boost its CAFD, or some combination of the two.
The Good News For 8Point3 Energy Partners Investors
While the recent news about its sponsors potentially jumping ship is certainly a major risk overhang for 8Point3, there is also good news.
First, based on a CAFD yield of 9.1-9.7%, the yieldCo will be able to raise accretive equity capital at a share price of just $12.60-13.44. That means if the share price can recover by just 5-12%, management will be able to raise the cash it needs to keep the yieldCo's growth story on track.
Meanwhile investors can breath easy about the safety of the current payout. With a long-term coverage ratio of 1.18, 8Point3 Energy management is highly confident it will still be able to keep growing the payout – by 12% in 2017 and potentially even in 2018 – without risking the safety of the distribution.
Which means the company still has plenty of time in which its share price can recover and allow management to raise accretive growth capital. In fact, 8Point3 just created a $125 million "At-The Market", or ATM, program. This means should the shares rise just a bit, the yieldCo will be able to sell shares on the open market without a large, dilutionary secondary offering that would further pressure the stock price.
And what about the potential loss of First Solar and SunPower as sponsors? Well, as CEO Chuck Boynton explained to analysts during the most recent conference call, nothing is set in stone.
Remember, the only reason that the sponsors are looking at potentially selling shares is because they need to monetize their assets. That means if 8Point3 can profitably raise equity capital enough to start buying its ROFO pipeline in earnest, there will be no reason for either to sell any of its stakes.
That, in turn, would keep 8Point3 Energy Partners' long-term growth thesis intact.
The Bad News
The biggest risk to owning 8Point3 right now isn't that the distribution is unsafe. After all, with 20 years of contracted and secure cash flow, the worst-case scenario is that the yieldCo is only able to grow its payout in 2017 and 2018, and then is forced to suspend future growth.
That's because currently some of the CAFD is front-loaded in the form of upgrade rebates and tax equity payments. That means the current asset portfolio will generate about $100 million in CAFD in 2018 and 2019, and then take a 10% or so dip in 2020 before recovering in 2021 and beyond (due to PPA price increases written into the contracts).
However, the downside risk is that, as an income growth stock, 8Point3's thesis is living on borrowed time. If the share price can't rise by the end of 2018, then the yieldCo is going to remain priced out of its growth potential, creating a potentially self-fulfilling prophecy in which weak share prices create the very lack of growth that caused the share prices to be weak in the first place.
That's especially true if the strategic review takes more than a quarter or two, since the uncertainty created by the potential change in sponsors could cap the potential upside to shares.
And what if 8Point3 does end up languishing in such a liquidity trap? Well, then both sponsors will have no choice but to jump ship, because without the ability to buy solar projects, the very reason for participating in the partnership will vanish.
Bottom Line: The Investment Thesis Still Intact, At Least For Now
As as a high yield income stock, 8Point3 Energy Partners remains an excellent choice, representing a very well-managed pure play solar utility. In fact, I used the recent crash to add to my position, and the yieldCo now represents the 4th-largest holding in my portfolio. And at today's depressed prices, I have no qualms about recommending 8Point3 as one of the best names in high yield solar power.
However, while I continue to consider 8Point3 to be a great potential income growth story, just be aware that whether or not the stock can fulfill its full potential (decades of 12-15% payout growth) will depend on the fickleness of short-term markets and highly unpredictable investors.
Disclosure: I am/we are long CAFD.
I wrote this article myself, and it expresses my own opinions. I am not receiving compensation for it (other than from Seeking Alpha). I have no business relationship with any company whose stock is mentioned in this article.