The ultra-low cost carrier Frontier Airlines (Pending:FRNT) was incorporated in 1994 before filing for protection from bankruptcy in 2008, which they emerged from a year later through an acquisition by Republic Airways. Then in December 2013, Frontier Airlines as acquired by private equity firm Indigo Partners. Now the PE firm is looking to cash in on that investment through an IPO.
Headquartered in Denver, Colorado, Frontier Airlines offers flights throughout the United States and to select international destinations in Mexico and the Caribbean. Their key competitive advantage is their low-cost structure, which consists of fuel efficiency, high aircraft utilization, a low-cost distribution model (direct to customer), etc.
Top and Bottom Lines Have Grown
For 2016, total revenue closed at $1.714 billion, which is an increase of about 7% from the year prior. However, passenger revenue has been dropping and was only $988 million in 2016 compared to $1.328 billion in 2014. This means Frontier has been making up the difference through boosting non-ticket sales, which were 2.7X higher in 2016 than 2014. Non-ticket revenue is generally from things like baggage fees, seat selection fees, booking fees, etc.
Source: Frontier's S-1
As you can see above, net income is also up. For 2016, net income was up 37% to $200 million. This is due to improving operating margins.
They Have A Good Balance Sheet
Given the company's history, I was expecting their balance sheet to look like a bit of a train wreck, so I was pleasantly surprised. The long-term debt is miniscule and their cash position is strong. They have $612 million in cash and cash equivalents, which gives them a cash ratio of 1.1, which means they have enough cash on hand to cover all their current liabilities and still have money left over. Total stockholders' equity is $446 million. Considering I was expecting more leverage, it was a nice surprise to see the opposite.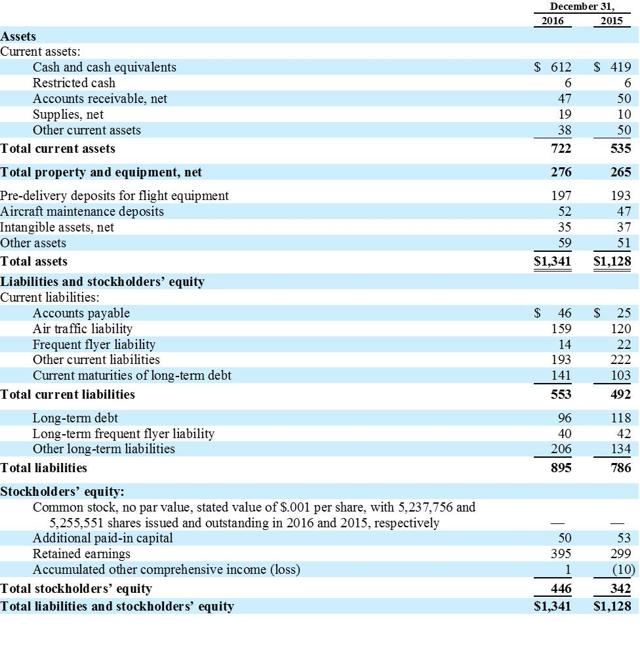 Source: Frontier's S-1
Final Thoughts
Obviously, there is no point in getting to caught up in this IPO until we see where it is priced. Nevertheless, there is nothing in the prospectus that has me running away just yet. We don't see a ton of airline IPOs in the United States, so there could be a market of investors looking to get in on this. Typically, I'm not a fan of private equity IPO spinoffs; however, the fact that the company's financials have improved, including their debt, I may give this one a second look when it gets closer to the IPO and it is priced.
Disclosure: I/we have no positions in any stocks mentioned, and no plans to initiate any positions within the next 72 hours.
I wrote this article myself, and it expresses my own opinions. I am not receiving compensation for it (other than from Seeking Alpha). I have no business relationship with any company whose stock is mentioned in this article.