I believe Activision Blizzard (ATVI) shares will continue to rise as rapid growth continues.
The use of a microtransaction model in free to play games such as Hearthstone and Candy Crush Saga has propelled earnings to new levels as of late. Some of the world's biggest games including Overwatch, Hearthstone, Call of Duty and Candy Crush Saga are in the ATVI portfolio. Also, recurrent revenue from expansion releases of Starcraft, Diablo and World of Warcraft are consistently driving ATVI to new heights. Share price over the past five years has increased substantially. The question is will ATVI continue to rise?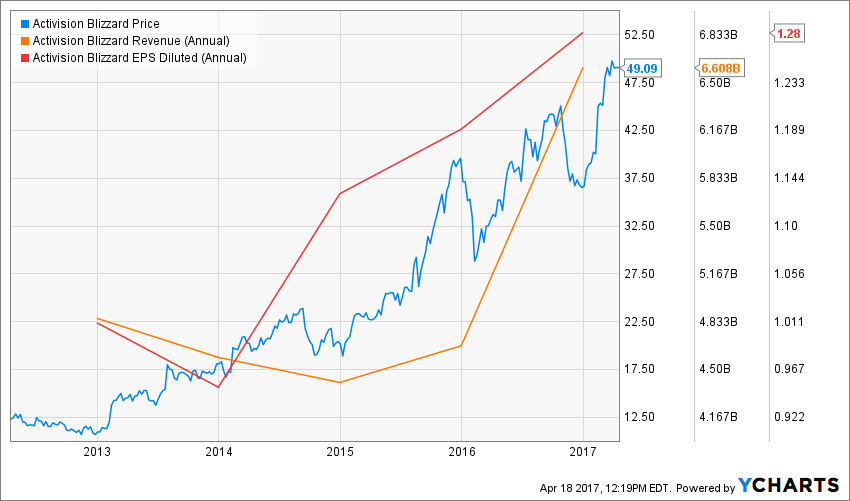 As ATVI share price has appreciated, earnings and revenue have been growing equivalently fast. Recent spikes in revenue and earnings have been attributed to the rise in popularity of ATVI's popular games and the microtransaction based business models. These trends are not likely to slow. Although the shares of ATVI have appreciated significantly, the growth is definitely sustainable with coming catalysts.
Video Games, Virtual Reality, and The Barrier to Entry:
As video games have risen in popularity and the development of games has become more and more accessible, the number of games on the market has increased substantially. As you can see from the figure below, the number of individual titles released on Steam has skyrocketed.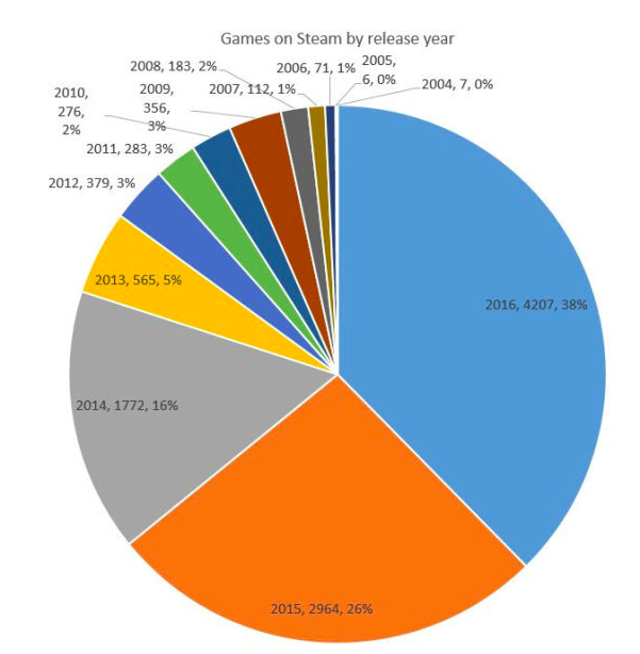 Source: Kotaku
So where is the barrier to entry? The problem for these independent developers and numerous games is that they aren't playing the same ballgame. As key technologies have improved for games, games developed with robust open worlds, cutting edge technologies, large followings and marketing power, large development teams, and immense budgets often ranging in the hundreds of millions which have been come to be known as AAA games. These AAA games are the games being played for months and years at a time. The content and play through time of these AAA titles is often infinite. Many AAA titles include robust competitive multiplayer mo
To pay large scale development and design teams for their time requires a plethora of cash. ATVI solves this problem easily as they are the largest and most well-funded video game development studio in the world. The second and related barrier is experience. In order to successfully develop an AAA title and overcome common risks and challenges in developing these games, you must have an experienced development and design team. Blizzard Games was founded in 1991 and is responsible for some of the most commercially successful and competitive E-Sports Games of All-Time. Even the massively popular game League of Legends, the most successful E-Sports game of all time, was created from an offshoot custom game called DOTA (Defense of the Ancients), a Warcraft 3 custom game built on the Map Maker engine that Blizzard created. They have been pioneers in the PC gaming community for as long as competitive PC gaming has been around.
Activision is even older having been founded in 1979. They are responsible for many incredibly popular games including both the Call of Duty franchise and the cult hit Guitar Hero. Another important aspect driving the wealth of experience at ATVI is their retention rate. For the past three years, ATVI has been on Fortune's 100 Best places to work creating an environment in which their employees are encouraged to stay and develop.
Because of this uniquely powerful and exclusive position in the game development industry, ATVI is positioned to create and develop massively popular titles that will be top performers on platforms in the coming few years. The complexity and manpower required to create AAA titles that are compatible with upcoming VR is immense and I believe ATVI will come to dominate this space as well.
Smart Acquisitions
ATVI is extremely smart with the ways in which they reinvest in their business. Where many companies engage in what Peter Lynch famously called "diworsification," ATVI sticks to what they do best, making games. ATVI has a successful track record of mergers, acquisitions, and vertical integration. When Activision and Blizzard merged, they were both respective leaders of the Console and PC Gaming subsects of gaming. Later ATVI acquired King Games in 2016 adding to their strategic expansion in mobile games. ATVI always is looking at the synergy created by their business decisions and that's what allows them to be successful.
Return to Investors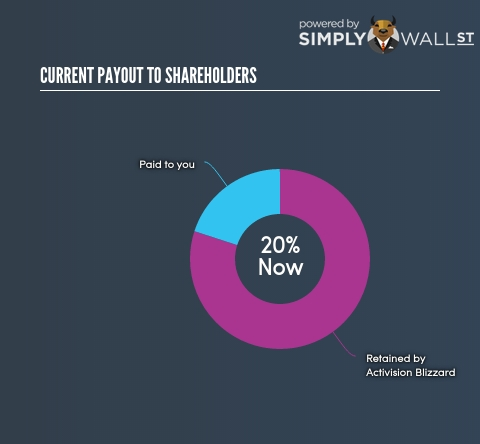 Source: Simplywall.st
ATVI pays a very modest dividend at 0.61% yield. At the most, I see the dividend as a willingness to return money to shareholders. The dividend is easily covered by free cash flows and ATVI will likely raise the dividend in the future as growth starts to slow.
In fact, ATVI recently raised their dividend from $0.26 to $0.30 a share.
The real valuable return to investors however comes in the form of share buybacks.
ATVI recently announced plans to buy back up to $1 billion in shares. This is an intelligent move. As a high growth company, the shares of ATVI trade at a steep premium. However the premium will either be maintained or increase for as long as the company continues to grow, and could even widen substantially if the company posts better than expected results. Because of considerable upcoming growth, share buybacks allow the company to reduce dilution of shares for long-term holders. Knowing that as the company continues to grow and the share count decreases, if the growth premium remains the same, we can conclude that long-term shareholders will be rewarded in a much bigger way than if the company simply paid out that cash as dividends.
Growth Opportunities
The video game industry is absolutely booming and is projected to grow even further. As the middle class develops internationally, more and more people are logging on and spending hours on these games. The market just keeps growing!
"Within the global entertainment business, games look pretty good. The U.S. video game industry revenue is expected to grow at a compound annual growth rate of 3.6 percent from 2015 to 2020, according to a new report by PwC. And the global video game industry is expected to grow even faster, at a CAGR of 4.8 percent from $71.3 billion in 2015 to $90.1 billion in 2020."
Source: Venturebeat
ATVI is strategically positioned with their strong barrier to entry to capitalize on this growth.
With new releases including Call of Duty: Infinite Warfare, World of Warcraft: Legion and continued support of Candy Crush, Hearthstone, Diablo, Starcraft II, and Heroes of the Storm as well as a slew of other games for console and King mobile games, ATVI will prosper.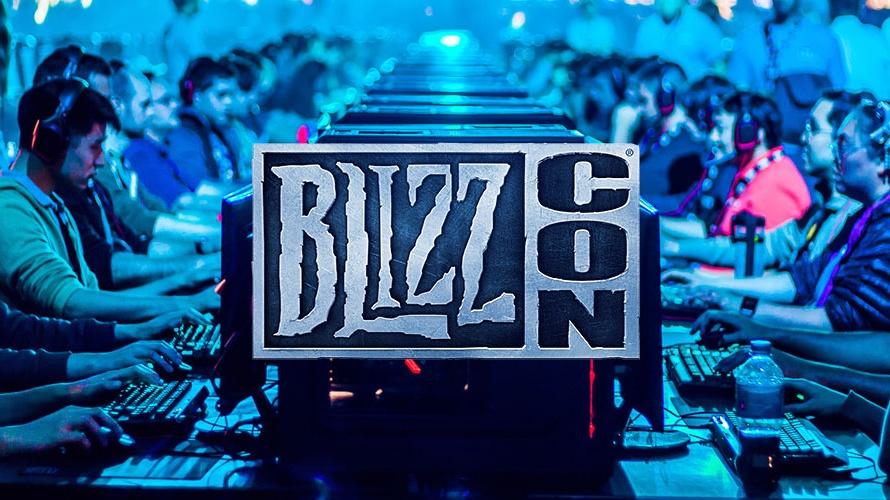 Tickets for the 11th Blizzcon have been selling out in a frenzy and rumors are circulating of some new upcoming games and expansion packs that could drive this stock into the stratosphere. Perhaps an upcoming VR project? Only time will tell.
Another factor is that with Project Scorpio on the horizon, the Activision wing will likely release a huge AAA title timed with the release of the updated Xbox 2 console, which will likely bundle the new Activision game with the new console as this has been a very common practice in the past. This title is likely to be Destiny 2 which is slated for release in September and is expected to be a huge success.
Conclusion:
I think ATVI is a strong buy at these levels. The stock has solid growth potential, a successful track record, strong continued momentum, a huge barrier to entry and thrives a growing gaming sector.
Upcoming catalysts and share buybacks should continue to push this stock higher.
Quick Summary Video:
Disclosure: I/we have no positions in any stocks mentioned, but may initiate a long position in ATVI over the next 72 hours.
I wrote this article myself, and it expresses my own opinions. I am not receiving compensation for it (other than from Seeking Alpha). I have no business relationship with any company whose stock is mentioned in this article.