Over the last three months, Adobe (NASDAQ:ADBE) appreciated significantly. Fueled by revenue growth and its last quarter's earnings report, the stock gained 6.57% in the last month compared to S&P 500 loss of -1.84%. Will the recent positive trend continue leading up to the stock's next earnings release, or is it due for a pullback? Our thesis is the stock is a tad overheated, and we are shorting it at this point until it hits $110 again. Before we dive into our concerns around valuation, let's take a quick look at the big picture-revenue and growth drivers.
The Big Picture
At $1.68 billion, Adobe's quarterly revenues increased 21.6% year over year vs. industry average of 5.6%. Since the reported revenues exceeded management's guidance of $1.62 billion, the stock shot massively over the last couple of months. A major driver of the revenue was Digital Media Solutions, which jumped 22% year over year. The Digital Media Segment (with annual recurring revenue of $4.25 billion) exhibited strong growth in the Creative Cloud and Document Cloud businesses.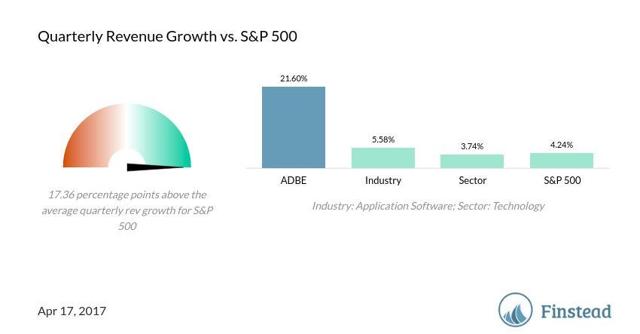 Creative Cloud revenue grew 29% year over year, and is a major growth driver for Adobe. The Document Cloud grew as well, though not as rapidly. Its growth is driven by the adoption of Acrobat subscriptions and additional services such as Adobe Sign. The ADBE management team is particularly optimistic about Creative Cloud and expects to build a strong pipeline for its potential paid subscribers through marketing programs, trial downloads and free memberships. Management expects growth to be fueled by three initiatives: migrating the Creative Suite installed base, drawing new clients and driving ARPU higher through cloud services like Adobe Stock.
Our Concerns
While Adobe's products are the industry standard for creative professionals, with significant network effects and high switching costs, we think that a large number of legacy Creative Suite users have yet to migrate to Creative Cloud, a pool of customers Adobe is counting on for near- to medium-term growth. Our belief is that the firm still has roughly 8 million legacy Creative Suite users who have yet to migrate to subscription-based products, and we don't see most of that happening in the near term.
While Microsoft (NASDAQ:MSFT) discontinued its Expression Studio, a direct competitor to Adobe's Creative Suite, after seven years on the market, competition for Adobe's marketing solutions is becoming very intense. Oracle (NYSE:ORCL) runs Oracle Marketing Cloud as a separate division of the company, with its own P&L. Other heavy hitters such as Salesforce.com (NYSE:CRM) and IBM (NYSE:IBM) are also jockeying for the top position in the marketing cloud space-and heavily investing in building out the offering and M&A. We think that Adobe's biggest drawback is lack of sophistication when it comes to client relationship management applications vs. competitors such as ORCL and SFDC.
Valuation
At 26x Price to Earnings ratio, ADBE is valued richly. Our thesis is the price is peaking and can't be supported in the near-term, particularly given the near-term challenges around converting creative customers to cloud, and competing against Oracle and SFDC in the marketing cloud space. We think a more defensible price point could be the one where the P/E ratio is comparable to the rest of the industry. Assuming a forward P/E of 22, the price should be equal to $110 per share (our near-term target).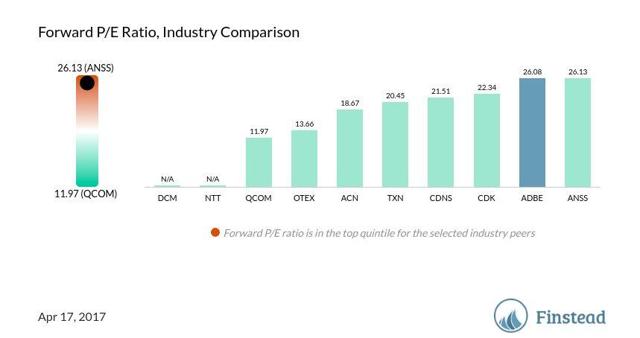 Also, Adobe's price/sales ratio is the highest in the industry.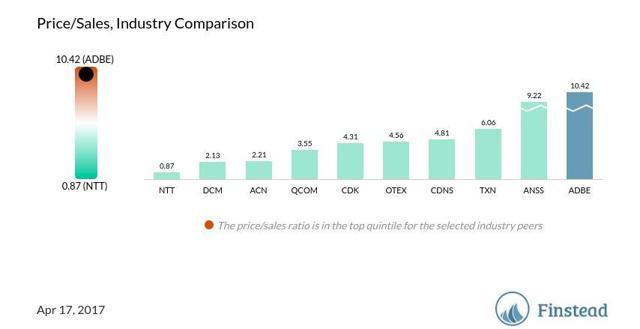 We do acknowledge that the company may eventually continue rapid, double-digit growth, and the price we're setting now is strictly for the near-term (those short-term traders looking to capitalize on overbought stocks).
To further grow shareholders' returns, Adobe must convert the several million users that remain on legacy Adobe products over to its cloud offerings much more rapidly. Second, the company must execute on its plans to expand its Digital Media addressable market, including new product packages built around Creative Cloud, in the lower segments of the market. Third, the firm will need to invest more heavily in Digital Marketing and fend off competition from the likes of Oracle, SFDC and IBM.
Trading Strategy
In summary, our specific trading strategy is to short ADBE until the stock hits $110 again. Our cost to borrow the stock is 3% annually, and we believe we will hit this price target in the next 3 months (corresponding to 0.75% in fees). Overall, the return we're hoping to make is in the ~12-15% range. There are two scenarios under which we'd cover the short: 1. quarterly revenue growth in the upcoming earnings report north of 21%; 2. potential significant M&A moves, i.e., acquisition by a larger company such as Apple (NASDAQ:AAPL), Google (NASDAQ:GOOG) (NASDAQ:GOOGL) or Microsoft, although at this valuation ($64 Billion market cap) we don't think this is very likely.
Disclosure: I/we have no positions in any stocks mentioned, but may initiate a short position in ADBE over the next 72 hours.
I wrote this article myself, and it expresses my own opinions. I am not receiving compensation for it (other than from Seeking Alpha). I have no business relationship with any company whose stock is mentioned in this article.