AMC (NYSE:AMC) is the largest theater exhibitor in the United States, in Europe, and in the World. The movie industry in North America has consistently had record box office years and the line-up of upcoming movie releases should ensure that trend. AMC's 4th quarter earnings resulted in all-time records for all of its revenue segments. AMC has a competitive advantage due to its well-located and highly productive theaters and substantial operating cash flow.
The company's enhanced food and beverage strategies like the MacGuffin Bars, Dine-In-Theaters, and revamped menus with margins of 86% are areas of value creation. The AMC Stubs are a highly successful marketing strategy, which contains the highest customer membership in the industry.
AMC's acquisitions of Odeon, Carmike, and Nordic will allow its operations to reach suburban and rural United States, western and southern Europe, and Scandinavia, Nordic, and the Baltic Region. With these acquisitions, AMC is able to implement its highly successful strategy of a premium movie experience to its customers around the globe. This will allow AMC to create greater value for its shareholders in the future.
Source: Bloomberg
Industry Outlook:
AMC's CEO Adam Aron stated, "The movie industry in North America also notched another record year, the fourth record, the fourth record year in the last five, with gross domestic box office growing 2% year-over-year to $11.4 billion." The chart below shows the positive 14-year trend of the North American Box Office. The other chart shows the North American CAGR at 5.2% from 2014 to 2016 and the European CAGR at 6.5% in Box Office Earnings. European theatre attendance has been steadily growing especially in the UK, German, Italy, and Spain where AMC is the #1 theater chain with its Odeon subsidiary.


Source: AMC Investor Presentations
The Movie Production Industry is highly dependent on motion picture production and performance. Also, the industry is highly seasonal with the most marketable motion pictures usually released during the summer and year-end holiday seasons. There is optimism in the industry with upcoming film releases such as Wonder Woman, Justice League, Star Wars: Han Solo, Jurassic World 2, and Avatar 2. The industry is highly competitive on numerous factors including attracting patrons, licensing motion pictures, and theater locations.
The movie production industry is highly concentrated with Regal Entertainment Group (NYSE:RGC), AMC Entertainment, Cinemark Holdings (NYSE:CNK), and Cineplex generating approximately 65% of box office revenues in 2016 and this is up from 35% in 2000. AMC has outperformed its competitors due to its competitive strengths of a leading position in diverse markets, well located and highly productive theaters (five of the ten highest grossing theaters in the U.S. were legacy AMC theaters), substantial operating cash flow, experienced and dynamic team, film content, and food and beverage margins.
Business Model:
AMC Entertainment Holdings operates under two principle categories: (1) Box Office Admissions and (2) Food and Beverage. Box office admissions offer consumers a broad range of entertainment alternatives including traditional film programming, independent and foreign films, performing arts, music and sports.
Food and beverage alternatives exist beyond traditional concession items, including made-to-order-meals, customized coffee, healthy snacks, beer, wine, premium cocktails and dine-in theatre options. The other revenue comes from on-screen advertising, fees earned from AMC Stubs customer loyalty program, rental of theatre auditoriums, and on-line ticketing fees

Source: Bloomberg
The 2016 revenue composition by currency are 72% USD, 13% Euro, 11% GBP, and 4% SEK. AMC classifies its theaters as AMC Theaters, AMC Classic Theaters, and AMC Dine-In Theaters. AMC aims to maintain and increase its leadership position and competitive advantage through the following five strategies: More comfort and convenience, enhanced food and beverage, greater engagement and loyalty, premium sight and sound, and targeted programming.
AMC in these strategies is able to provide its moviegoers with an industry leading experience. AMC is known for their recliner seat innovations, which results in 40% to 60% increase in attendance at these recliner chair locations. This innovation implemented across all the new theaters acquired, with their large geographical presence, due to the recent acquisitions will drive up attendance. Another area of value creation is food and beverage with margins increasing to 86%.
Implementing AMC's Dine-In-Theaters and MacGuffin Bars into the acquired theaters will drive growth. Also, recent menu revamps with selling more premium food, will increase margins even more. AMC's loyalty program, AMC Stubs, has had sign up rates of 400 to 500 thousand members each month, which also helps drive attendance. AMC distinguishes themselves from their competitors due to their premium large format (PLF) theaters and partnership with IMAX and Dolby Cinema. Look at the difference between a pre-renovated theater and an AMC PLF renovated theater below:

Source: AMC Investor Presentations
Implementing all these AMC strategies into the newly acquired theatres around the globe will drive up admissions and margins thus creating value for shareholders.
4th Quarter Earnings Performance:
AMC Entertainment Holdings' CEO, Adam Aron, stated, "AMC set new all-time high records for every revenue segment and adjusted EBITDA exceeding $3 billion in total revenues for the first time ever, growing nearly 10% to a record $3.2 billion with revenues in 2017 likely to exceed $5 billion." Adam Aron also stated, "AMC has never been better positioned to leverage our proven strategic initiatives across a growing platform both here in the U.S. and across the globe."
For the 4th Quarter, AMC set records for all revenue categories: admissions, food and beverage, and other. From the previous 4th quarter, total revenues increased 18.1% to $926.1 million. Admission revenues increased 18.1% to $588.9 million. Food and beverage revenues increased 16.6% to $282.5 million. Total attendance increased 21.5% to $62 million and average ticket price decreased 2.8% to $9.50. Adjusted EBITDA increased 17.9% to $181.6 million.
For the fiscal year, AMC also set records for all revenue categories: admissions, food and beverage, and other. Admissions revenue increased 8.3% to $2 billion. Food and beverage revenue increased 12% to exceed $1 billion. Food and beverage net margin increased slightly to 86%. Net earnings increased 7.5% to $111.7 million. Diluted EPS increased 6.6% to $1.13.
During 2016, AMC opened 2 new theatres with a total of 17 screens and acquired 520 theatres with 5,201 screens. However, the impact of the recent acquisitions of Odeon, Carmike, and Nordic must be considered when analyzing these earnings records. Aron stated, "AMC would have set revenue and adjusted EBITDA records even without the December contributions that came from Odeon and Carmike."
Acquisitions:
AMC with the acquisitions of Odeon and UCI Cinemas Holdings, Carmike Cinemas, and Nordic Cinema Group has become the largest exhibitor in the US, Europe, and in the World. AMC acquired the 5th largest exhibitor in Carmike, 8th largest in Odeon, and 13th largest in Nordic.
AMC is now 50% larger than the next largest competitor in Regal Entertainment Group. AMC has created a much larger platform to leverage its scale for growth and benefits its guests, associates, and shareholders. The M&A transactions have resulted in AMC having 389 million in attendance, over 1 thousand theaters, over 11 thousand screens, and approximately $5.45 billion in revenue.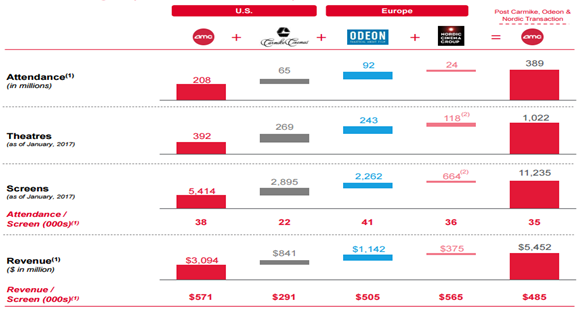 Source: AMC Investor Presentations
Odeon and UCI Cinemas Holdings: On November 30, 2016 the Odeon acquisition was complete for approximately $617.1 million. Consisting of cash in the amount of $468 million and shares of common stock valued at $156.7 million. Odeon is a leading European cinema operator with 243 cinemas and 2,262 screens. Odeon operates in four major markets: the UK, Spain, Italy, and Germany. Cost synergies are estimated at $10 million. Odeon is operating in some of the best locations in the UK and Europe, but the theaters are in need of AMC's renovation expertise. AMC estimates expected attendance to increase at Odeon theaters such that adjusted EBITDA could grow as much as 50% for the next four to five years.
Carmike Cinemas: On December 21, 2016, the Carmike acquisition was complete for approximately $858.2 million. Consisting of cash in the amount of $584 million and shares of common stock valued at $273.9 million. Carmike is a U.S. leader in digital cinema and 3-D cinema development. The acquisition offers AMC complementary markets in suburban and rural regions of the country. Carmike has 269 theaters with 2,895 screens. Cost synergies are estimated at $35 million. To receive regulatory approval, AMC agreed to divest 17 theaters in 15 local markets where there was an overlap with Carmike. Carmike theaters will be re-branded under AMC Theaters or AMC Classic Theaters.
Nordic Cinemas: On January 20, 2017, the Nordic acquisition was set forth for approximately $631 million in an all-cash transaction. Nordic is the leading theater operator in Scandinavia, and the Nordic and Baltic regions. Nordic has the #1 market share position in Sweden, Finland, Estonia, Latvia, and Lithuania, consisting of 118 theaters and 664 screens. The combination of Odeon and Nordic makes AMC the leader in Europe as shown by the chart below with 2,926 screens. Cost synergies are estimated at $5 million. Nordic's theaters are truly modern and up-to-date, unlike Odeon's theaters. Nordic has operating margins above Odeon and even above AMC theaters. Nordic has theaters in premium locations in prime and mid-sized cities.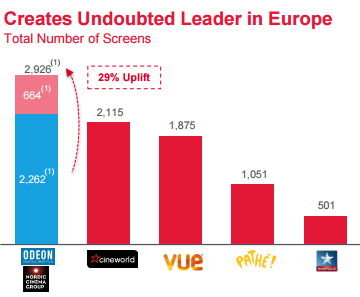 Source: AMC Investor Presentations
Management/Ownership:
The ownership type chart is shown below. Investment advisors own 67.52%, hedge fund managers own 14.96%, and unclassified own 12.09% of common shares outstanding. There has been an increasing position in shares outstanding held by hedge fund managers and the holding company, since the beginning of the fiscal year. The short interest is at approximately 3.9 million, which is a 1.7 million positive change in short interest. This large amount of change is due to the recent equity offering by AMC drastically increasing the volume of its stock. The short interest ratio is at 3.01, which is near AMC's lowest SI ratio; however, there has been an increase of 1.77 in the SI ratio. There is an average of 2.85 days to cover the short interest for AMC.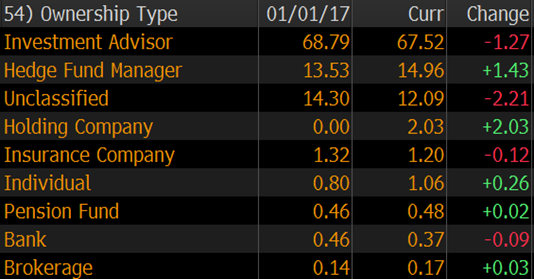 Source: Bloomberg
As of December 31, 2016, Dalian Wanda Group, one of the largest privately-held conglomerates in China, has a 68.83% ownership stake in AMC and owns more than 86% of the combined voting power. Wanda is the largest theater exhibition operator in China. Dalian Wanda acquired AMC in May 2012, which was the largest Chinese acquisition of an American company. The company made major changes in AMC's theater design and layout, including reclining seats, waiter service, and expanded food and drink offerings.
Ticket sales at AMC nearly doubled in the 18 months following the acquisition. Dalian Wanda is listed as a key strategic shareholder and as a competitive strength for AMC. It enables AMC to enhance relationships and obtain better terms from food and beverage, lighting, and theater supply venders, and to expand their strategic relationship with IMAX and Dolby. On February 13, 2017, AMC completed an additional public offering of 19,047,619 shares of Class A common stock at a price of $31.50, resulting in net proceeds of $579 million.
On February 17, 2017, AMC completed another additional public offering of 1,283,255 shares of Class A common stock resulting in net proceeds of $39 million. Last January, AMC's public float was 21.6 million shares and now it has more than doubled to 55.7 million shares. Adam Aron has been the Chief Executive Officer, President and Director of AMC since January 2016. Aron was CEO of Starwood Hotels and Resorts Worldwide and served as CEO of World Leisure Partners. Key executive compensation has been steadily increasing and has rapidly increased with the approximately $11 million for the CEO. Adam Aron showed confidence in AMC by recently purchasing $1 million worth of AMC stock personally.
Capital Allocation:
AMC Entertainment Holdings has a large amount of debt due to its acquisitions of Odeon, Carmike, and Nordic. AMC, pushed by its majority stakeholder, the Dalian Wanda Group, has made numerous acquisitions to expand its growth. AMC acquired Odeon for approximately $617 million, Carmike for $858 million and Nordic for $631 million. On November 8, 2016, AMC issued $595 million aggregate principal amount of its 5.875% Senior Subordinated Notes due 2026 and $250 million of its 6.375% Senior Subordinated Notes due 2024.
AMC also completed an additional public offering (discussed above) resulting in net proceeds of $618 million. AMC's high amount of operating cash flow will also be used to fund the acquisitions. Management discussed how the $0.80 annual dividend per share should not be affected. AMC's increase in total debt, capitalization, and cost of debt, WACC, and ROC/WACC compared to its competitors are shown below.

Source: Bloomberg




Source: Capital IQ
AMC's total debt has increased from approximately 2.01 billion in FY 2015 to $4.44 billion in FY 2016. As expected, AMC's last fiscal year capitalization is at 1.20 and much higher than its competitors of 0.42. AMC's cost of debt at 3.8% is lower than its competitors; this could be due to its large size and better credit rating. Its WACC at 7.8% is also lower than its competitors. However, AMC's ROC to WACC at 0.72 is smaller than its competitors. AMC's low cost of debt and WACC allow for these acquisitions to be profitable.
Profitability:
AMC Entertainment Holdings' revenue, gross profit, EBITDA, Net Income, and EPS are shown below with their respective margin. Revenue has increased at 9.8% to $3.2 billion in FY 2016. Gross profit has increased 11% to $2 billion with a margin 61.9%. EBITDA has increased 11% to 536.7 million with a margin of 16.6%. Net Income has increased 26% to 147.9 million with a margin of 4.6%. EPS has increased 25% to 1.50. AMC is less profitable compared to its competitors.
AMC's ROE at 8.33%, ROA at 2.16%, profit margin at 4.57%, and EBITDA margin at 7.45% is below its competitors' median. AMC's gross margin at 61.94% is above its competitors' median. AMC also manages its resources less efficiently than its competitors since its activity ratios are lower. AMC's asset turnover rate at 0.47, A/R turnover rate at 20.28, and A/P turnover rate at 3.02 are worse than its competitors' median.
AMC has seen an increasing trend in its profitability; however its profitability ratios are below its competitors. AMC is well positioned to increase its profitability ratios with its recent acquisitions enabling it to become the largest exhibitor, have an increased geographical presence, and obtain acquisition synergies.
Source: Bloomberg
Conclusion:
In conclusion, AMC Entertainment Holdings is a buy at its current price due to its upward growth potential. AMC has the competitive advantage of offering its customers the best movie-going experience with its film content, comfort and convenience with recliner seating, superior food and beverage with MacGuffin Bars and expanded food offerings, and premium sight and sound with its partnership with IMAX and Dolby Cinema.
This superior movie-going experience will be expanded globally due to the acquisitions of Odeon, Carmike, and Nordic. This will lead to greater theater attendance by international customers due to this superior experience and will result in greater revenue growth for AMC. With these acquisitions, AMC is well positioned for continued success as the #1 operator in the U.S., Europe, and the World. AMC Entertainment Holdings' one-year target price of $37.69, a 21.28% price return, is reasonable due to their upward growth potential.
Disclosure: I/we have no positions in any stocks mentioned, and no plans to initiate any positions within the next 72 hours.
I wrote this article myself, and it expresses my own opinions. I am not receiving compensation for it. I have no business relationship with any company whose stock is mentioned in this article.