Annaly Capital Management, Inc.'s (NYSE:NLY) shares have gone through the roof lately as investors piled more and more money into the high-yield sector. A lot of high-paying stocks including business development companies and mortgage real estate investment trusts have shot for new 52 week highs, and a lot of them are way overbought, too. Annaly Capital is no exception. It's time to tread carefully.
Annaly Capital Management has had quite a run this year already: In the first four months of the year the mortgage REIT's shares have risen a stunning 20.26 percent as investors chased high-paying stocks to new highs. Annaly Capital Management's shares have hit one new high after another in the last several weeks, and are now selling for close to $12.
This is also the first time in a long time that Annaly Capital Management effectively sells for a premium to its last reported Net Asset Value. The company's book value was pegged at $11.16/share at the end of the December quarter, meaning that investors wanting to access the mortgage REIT's flow of dividends now have to pay 1.07x book value. This is about the highest book value multiple in years, and certainly a stark contrast to 2016 when Annaly Capital Management's shares sold for steep discounts to book value at a time when investors fled the income sector.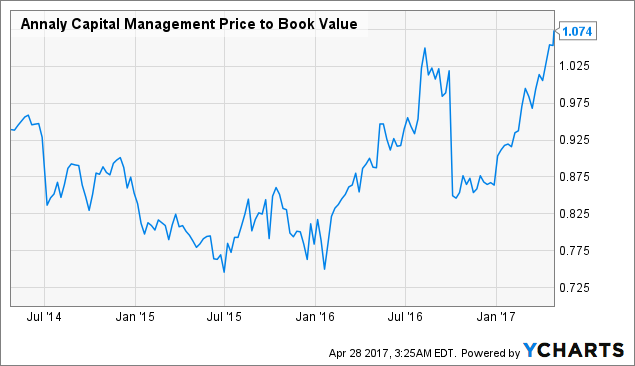 NLY Price to Book Value data by YCharts
Today, the high-yield sector is crowded, with many income vehicles in the business development and mortgage REIT sector hitting new 52 weeks highs. In other words, the low hanging fruit has already been picked.
Time To Be Fearful?
I have sold a lot of high-yielding income vehicles this year including Prospect Capital Corp. (NASDAQ:PSEC), Main Street Capital Corp. (NYSE:MAIN), Chimera Investment Corp. (NYSE:CIM), Hercules Capital, Inc. (NASDAQ:HTGC), and Annaly Capital Management, Inc. simply because valuations have gone up too far, and because the high-yield income sector is widely overvalued AND overbought.
Take a look at Annaly Capital Management, for instance.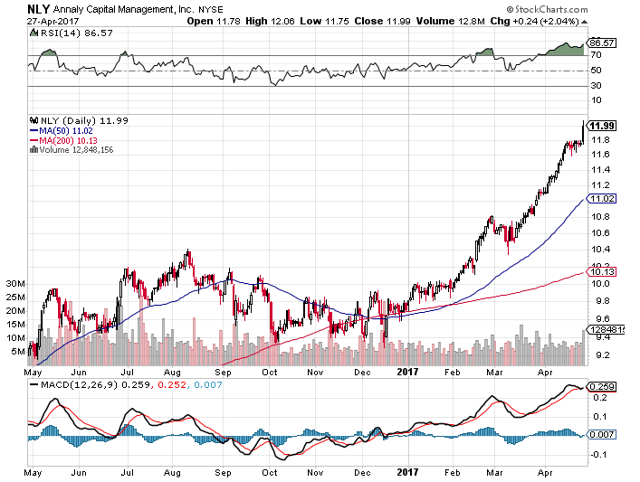 Source: StockCharts.com
The Relative Strength Index flashes a value of 86.57, illustrating deeply overbought sentiment, which in turn raises the odds for a painful correction. I just don't see how the rate of price appreciation that we have seen in the last several months is sustainable. Valuations are rising faster and faster and a lot of income vehicles that investors didn't want to touch with a ten-foot pole just a year ago are now advancing from one record to another. THIS is the time to be fearful.
Your Takeaway
After a very long time Annaly Capital Management's shares are selling for a premium to book value, which is good for existing investors riding the recovery, but not so good for investors on the sidelines thinking about jumping into the trade. Annaly is WAY overbought, and the rate of price appreciation is everything but sustainable. Time to be fearful.
If you like to read more of my articles, and like to be kept up to date with the companies I cover, I kindly ask you that you scroll to the top of this page and click 'follow'. I am largely investing in dividend paying stocks, but also venture out occasionally and cover special situations that offer appealing reward-to-risk ratios and have potential for significant capital appreciation. Above all, my immediate investment goal is to achieve financial independence.
Disclosure: I am/we are long HTGC.
I wrote this article myself, and it expresses my own opinions. I am not receiving compensation for it (other than from Seeking Alpha). I have no business relationship with any company whose stock is mentioned in this article.