Apple (NASDAQ:AAPL) is truly one of the more interesting stocks out there. Some years ago it used to be the darling of the momentum traders. Over time, the stock has slowly but surely shifted to become more of a dividend investor's dream, with moderate yield and nice dividend growth year after year.
This tech darling has become so entrenched a brand name and has carved itself such a huge moat that even Warren Buffett has taken a big bite of it. And not only that, he has doubled his stake in the company in 2017 to a full 2.5% ownership stake. It's hard for a company to get a better stamp of approval than that.
As for historical stock price appreciation, it has done reasonably, but not spectacularly, well. It has gone from approximately $88 to $142.5 for a total increase of 62%, or 10.1% a year on average. Adding in the dividend yield of 1.5%-plus over the period, we get a total return of approximately 11.6%. I guess when you reach a market cap of $747 billion, the law of large numbers kicks in and just makes high percentage-wise returns hard to achieve.
Apple's Dividend History
Apple started its most recent dividend history in the summer of 2012 after many years of no dividends at all. The first dividend was paid in August of that year at a quarterly split-adjusted level of $0.38 per share. Not even a year later investors got their first raise to a split-adjusted $0.436 or a 15% hike.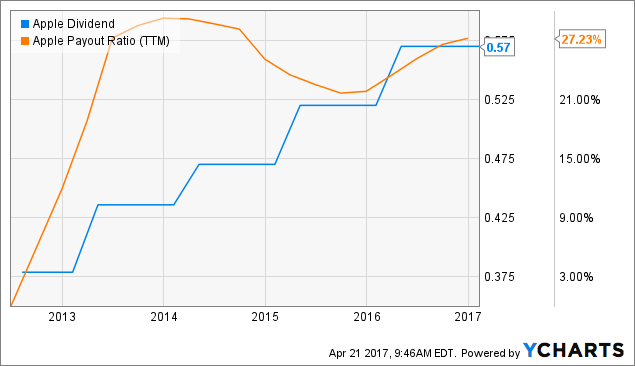 AAPL Dividend data by YCharts
The payout ratio naturally increased quite rapidly in the beginning when the company started paying dividends again. After a relatively short period, however, the ratio leveled off at between 22% and 30% and has generally been trending downward since early 2014. Not even a yellow flag on that one. Both the trend of the payout ratio and the low current level 27% should be very comforting for Apple's dividend investors.
The dividend, represented by the blue line above, has a nice stepwise upward trend to it. Just the kind of pattern dividend growth investors like to see. As late as at the end of February, Tim Cook restated his commitment to annual dividend increases. In other words – the nice pattern above looks set to continue.
As most people know by now, in addition to having robust earnings, Apple also has a huge cash pile, much of which is overseas. The problem so far has been that Apple would be hit with a huge tax bill if it were to repatriate all this cash. With the election of Donald Trump, there is the prospect of a possible one-time tax cut on repatriated cash. If that were to happen, up to $230bn of Apple's cash could be brought back to the US. Certainly, some of this might go towards M&A activity – hopefully value accretive ones. Since there are not that many companies with a market capitalization at this level, one would have to be pretty naive not to think a good chunk of this would be used for buybacks and dividends. In other words, there is a potentially large upside to Apple's future dividend growth.
Upcoming Dividend Hike
Since reinstating the dividend, the board has updated its capital returns program, including announcing dividend hikes, every spring. There are no indications they won't uphold that tradition this year as well.
It has usually done this in late April in conjunction with the release of its Q2 numbers. This year, the event is scheduled for May 2 so investors will probably have to wait until May for the hopefully good news.
Apple is not the same rapidly growing company as it once was. This fact complicates the picture as to what level of dividend hikes we can expect. If EPS growth is chugging nicely along, it's no problem for the board to hike the dividend at approximately the same rate. When EPS growth is more flattish, as it has been in recent years, we have to look at softer factors.
One such soft factor are statements given by the management. As we have already seen, Tim Cook has recently reiterated his commitment to dividend growth. Another soft factor we can look at is the historical dividend growth rate. The lowest hike we have seen from Apple since the dividend was reintroduced was the hike of 7.9% in 2014. With huge earnings, a low payout-ratio and an enormous cash pile there is no reason for a hike lower than that. The low end of my prediction for the increase would thus be at this level.
Though the dividend history of Apple is not that long, we can still discern a trend in the growth rate over the years. After an initial high increase and a subsequent fairly low one, it has stabilized at very close to 10%. In 2015 it was 10.6% whereas it was 9.6% in 2016. Both years the hike was the same in dollar amounts, that is the quarterly dividend rose by $0.05 both years. If that were to happen this year, the dividend would be $0.62 for a percentage-wise hike of 8.8%.
Taking into account the public statement, the rock-solid balance sheet and the recent trend, I do believe the dividend hike will be in line with the percentage-wise, and not the dollar-wise, increase of recent years. If so, that would mean a hike of 10.5% to $0.63. That said, I am quite comfortable predicting an increase in the range of $0.62 to $0.63 as it is the range we get for the dollar-wise and percentage-wise historical increase, respectively.
Risk Factors
A risk for Apple, as for most technology companies, is the risk of a competitor coming up with a new product that makes your product obsolete. Since Apple is very dependent on iPhone sales, a competitive hit to this product is a real risk to the company's profitability. Furthermore, a strengthening dollar also is a risk. In fact, Apple has raised prices for its products considerably in several countries in a bid to counter the strong dollar. Needless to say, higher prices for its products might dampen demand. Finally, there is a risk that management will make value destructive deals with some of that huge cash pile it has on hand.
Current Valuation
No doubt we're talking high quality when it comes to Apple. Huge cash pile, cash flow and one of the most recognized brand names in the world. On the other hand, growth has not been stellar as of late which begs the question: Can Apple stock be bought for a fair price at the moment? To get a good answer to this, we'll have to look into its valuation, both on its own and compared to its closest competitors.
For the peer group I've chosen Samsung (OTC:SSNLF) and Microsoft (NASDAQ:MSFT) as competitors within smartphones and software, respectively.
| | | | |
| --- | --- | --- | --- |
| | Apple | Samsung | Microsoft |
| Price/Sales | 3.5x | 1.6x | 6.0x |
| Price/Earnings | 17.0x | 16.8x | 30.8x |
| Yield | 1.6% | 1.4% | 2.3% |
Source: Morningstar
I guess good, old stodgy Microsoft is not so stodgy anymore with a price/sales and price/earnings ratio almost twice the level of Apple. It thus loses in those two categories, but Microsoft investors can at least take comfort in the relatively generous dividend yield.
Apple is a good deal more expensive than Samsung on the price/sales ratio but priced almost equally on price/earnings. As for the yield, Apple comes in second place.
Taking into account the enormous cash level of Apple, the multiple from an operational standpoint is actually much better so one could argue that it is considerably cheaper than Samsung after adjusting for cash. In all, I think Apple is definitely not expensive at this level. Currently you can get one of the best companies in the world for a multiple considerably lower than the overall market, as represented by the S&P 500, which trades at a price/earnings ratio of 21.3x.
The average analyst estimate on Wall Street for Apple's average annual EPS growth rate over the next five years is of 9.3%. If we assume a constant multiple going forward and add in the dividend yield of 1.6%, we arrive at an expected total annual shareholder return of 10.9%. This is slightly above what can be expected from the stock market over time. Considering that you can get this return from such a quality company, I consider Apple a nice addition to a dividend growth investor's portfolio. Every investor is different with different needs. Apple, in my opinion, is best suited for a dividend growth investor who doesn't need a lot of income right away but has the time to wait for the dividend to grow over the years into a nice income source down the line.
Conclusion
Apple doesn't have the huge growth it used to have. It does, however, have the seal of approval from Warren Buffett, nice cash flow generation, a low payout-ratio and an absolutely enormous cash pile which might be ripe for repatriation if Trump manages to follow through on his tax proposal. Coupled with one of the most recognizable brand names in the world, this should make Apple one of the safest investments in the market currently. In addition to this, investors can expect a 8.8%-10.5% dividend increase in the coming weeks. If you are a long-term dividend growth investor, Apple should be in your portfolio.
Disclosure: I/we have no positions in any stocks mentioned, and no plans to initiate any positions within the next 72 hours.
I wrote this article myself, and it expresses my own opinions. I am not receiving compensation for it (other than from Seeking Alpha). I have no business relationship with any company whose stock is mentioned in this article.
Editor's Note: This article discusses one or more securities that do not trade on a major U.S. exchange. Please be aware of the risks associated with these stocks.