Everyone is waiting to see what Apple (NASDAQ:AAPL) launches later this year when it comes to the iPhone. Lately, all of the rumors have speculated that Apple will launch three phones this year, but the special one will be delayed by a couple of months. There are certainly hundreds of millions of consumers waiting to upgrade, but this new phone might cost upwards of $1,000. In the end, the two lower end "inferior" phones might be the most important thing for those looking for Apple's smartphone growth to return.
The last big iPhone launch was the iPhone 6, and that is the primary group of consumers Apple is looking at when it comes to upgrades this year. As CIRP details in the chart below, roughly 38% of the iPhone's US installed base was either the 6 or 6 Plus at the end of 2016. That's more than 50 million units; a group that's larger than the next generation, the 6s. Usually, those numbers are reversed.
(Source: New CIRP data)
In the past three years, Apple has launched two lines of the iPhone in the fall, a "regular" and Plus model. The smaller screen, cheaper regular model has outsold its larger screen version, although the gap is narrowing. In the chart below, you can see how the ratio of Plus phone adoption to the regular version has increased in past years. Still, even in its first 7 months, more than 62% of the 7 line has gone to the regular model.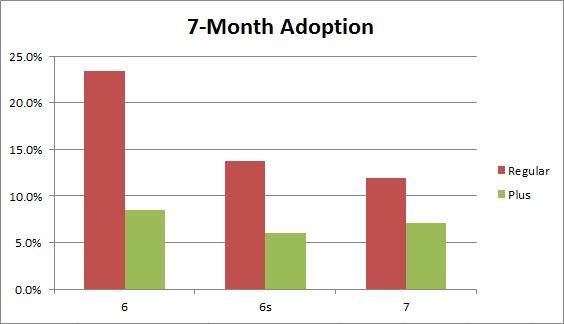 (Source: Fiksu iOS tracker)
Regardless of whether or not there is a delay, not every consumer is going to buy the top of the line iPhone, especially if the price ends up being 4 figures plus. While the iPhone 8 (rumored name) is expected to have more bells and whistles than the two inferior phones, most consumers will be fine with the inferior two for everyday use. The 7s line (rumored name) will still represent a massive improvement over the 6 and 6s line. Just look at how Apple improved from the 6 to 7.

(Source: GSMarena, specs for iPhone 7 here)
Apple's A11 chipset is supposed to be a sizable improvement over the A10, so imagine how much better it will be than the A8. Memory is expected to be 3 GB even on the entry level version, while storage will start at 32GB at least, maybe even 64 GB. Additionally, significant improvements have been made to the cameras, even on the regular models that don't have a dual-lens version. Perhaps the most important improvement this year could be battery life, something Apple has been criticized for in the past.
Now I'm sure that Apple is going to sell every one of these special iPhones that it can produce, but I don't think it will represent the most unit sales of the three new devices. That's especially true if supply is low and the price is really high. That means that the two "inferior" phones are going to log the bulk amount of the sales, just like we've seen the regular versions of the 6, 6s, and 7 do.
So as we get a new report almost every day now that says Apple's special iPhone may be delayed by perhaps two months, I don't think investors should really worry. First of all, there are plenty of people out there that will buy the device, regardless of whether it launches in September, November, etc. Second of all, it's likely going to come at a price and feature point that the everyday consumer isn't at.
Even the iPhone 7 Plus that featured more memory and a dual-lens camera couldn't outsell the regular 7. In the end, Apple's big iPhone will be nice, but at this point, investors should be more concerned with the two "inferior" phones that will likely drive the most sales.
Disclosure: I/we have no positions in any stocks mentioned, and no plans to initiate any positions within the next 72 hours.
I wrote this article myself, and it expresses my own opinions. I am not receiving compensation for it (other than from Seeking Alpha). I have no business relationship with any company whose stock is mentioned in this article.
Additional disclosure: Investors are always reminded that before making any investment, you should do your own proper due diligence on any name directly or indirectly mentioned in this article. Investors should also consider seeking advice from a broker or financial adviser before making any investment decisions. Any material in this article should be considered general information, and not relied on as a formal investment recommendation.