Recent moves are mailing AUD look like it is about. To collapse. Last week the RBA left interest rates alone. It was not exactly a surprise. Instead, the market was expecting to be surprised with an interest rate increase. The reserve Bank of Australia (RBA) did not deliver that surprise move. Now, AUD is looking as if it will capitulate towards the downside. But, I believe that will be temporary and at some point I am going to go long AUD.
There will be a very interesting push-and-pull that is about to happen in the currency market. First, I do believe that the RBA will raise interest rates soon; I have been looking for a May increase. The interesting thing about Australia is that economically the country has a version of stagflation. The economy on a whole is barely advancing with lackluster economic growth. Inflation is growing but lightly. Employment gains are moderate along with wage growth.
Simultaneously, there is significant price increases in real estate prices. In Sydney and Melbourne the country is expected to see 18% and 15% year-over-year increases in home prices, respectively. The country has done significant deregulation with lending practices and there is currently tremendous demand for housing.
Problematically, the RBA has been pointing out the fact that lenders are very questionable and are getting loans with razor-thin margins, meaning the borrower is nearly maxed out on their income/loan ratio. The RBA, should they raise interest rates too high risks dampening the economy and marginal lenders will default on loans should they lose their jobs.
Sticky situation. But, stagflation is never an easy problem to solve.
IN the meantime, AUD has sold off from the disappointment in not getting an interest rate increase. This is where I think the market has it wrong. The RBA is going to have to raise interest rates. It did not do so this month, but had made hints that it was going to happen in May. That is the time frame I was betting on.
Central banks do not like to surprise markets. They use the markets to their advantage and have learned. That televising their intentions gets the market to move itself to its desired target. At the same time it is far less disruptive. It was not too long ago that central banks never televised anything and took great lengths at answering questions without ever saying anything; who can forget Greenspan's congressional hearings?
I think AUD is going a bit more than it has the past week. But, I do not see it going below .7400 anytime soon. I think this week coming up the currency is going to drop and then settle out. I am going to put on a long AUDUSD trade. I am keeping this simple and I brought in two more trades to show why, but, first, here is the AUDUSD daily:
NZD is a currency that has me scratching my head a bit. From a simplistic, linear basis this currency should be far higher than it is. First, it is not the first, go-to, currency someone buys. But, it does have volume so the spreads are narrow. Plus, and this is why I look at NZD often, it has the highest interest rates in the world among the major currencies. That translates into investment opportunities for nations like Japan where the Bank of Japan (BoJ) has pushed government interest rate yields down to 0.07% on the 10-year. New Zealand is sitting at 3.06% for their 10-year government bond yield and Australia is 2.55% for their 10-year government bond yield.
The problem is that with market jitters traders are getting out of the yield hunt and both AUD and NZD are suffering. I see both of these sell-offs as opportunities in the future. However, the key variable is the market jitteriness. If the economic data smoothes out and the Fed continues to raise interest rates then it is possible for both AUD and NZD to establish bottoms and then move higher from there.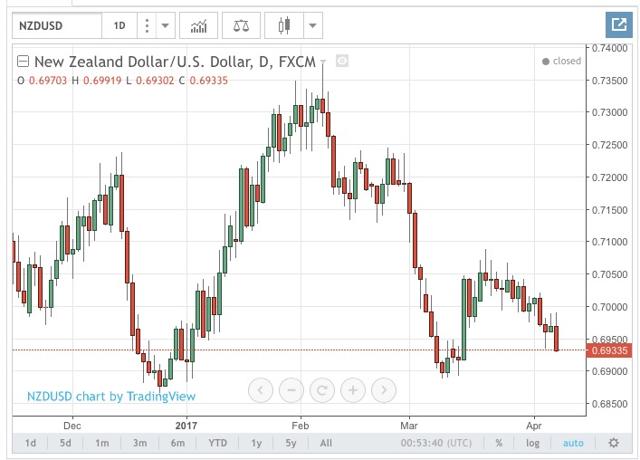 But, there is another 800-pound gorilla in the room, that being EUR. Very soon, I expect the European Central Bank (ECB) to stop its bond buying program as the European economy starts to advance. It has improved significantly over the past several months as we have seen in the data. Given that, once the ECB announces they will no longer be in the business of buying government bonds to drive down interest rates I expect the EUR to take off like a rocket. That would mean that the long opportunity I talked about in AUD is going to be short-lived with respect to EUR.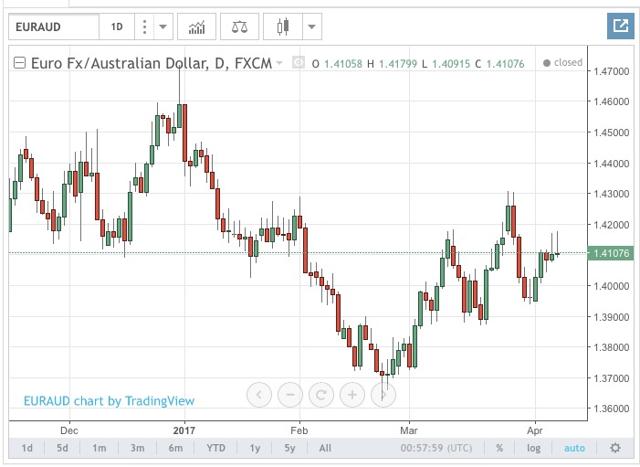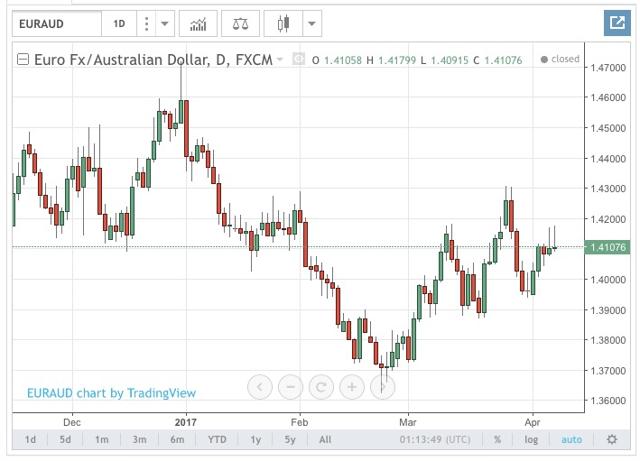 I do not expect the ECB to announce anything any time soon despite getting pressure from Germany to stop the program and start normalizing interest rates. Certainly, the French election will need to be finished before there are any kinds of moves from there. Even if the ECB announces they will stop the program they are still scheduled to go all the way until the end of the year. But, it may be that the ECB lowers its monthly purchases and begins to phase out the program.
Bottom line is this: We are in a heavy transition phase with economies. Any one central bank or economic data point can come out that turn sentiment immediately. This is cautionary. Volatility in FX has been low lately. I expect that to turn and head above its average levels.
My style. Of trading is changing based on this. No. More naked options. Instead, after the AUD bottoms out a little bit, I will buy a put At-The-Money (ATM) and go long the underlying. I will be looking for a crossover from the delta and the move higher in the AUD. That means that if I am buying an ATM (Puts tend to be at .45 delta ATM) then when I see a move that amounts to about a 20-delta move higher in the spot rate, I should have earned enough to pay for offsetting the option.
I expect to have this option placed sometime this week with about one week to hold on to it.
Disclosure: I/we have no positions in any stocks mentioned, and no plans to initiate any positions within the next 72 hours.
I wrote this article myself, and it expresses my own opinions. I am not receiving compensation for it (other than from Seeking Alpha). I have no business relationship with any company whose stock is mentioned in this article.