INTRODUCTION
AveXis, Inc. (NASDAQ: AVXS), formerly BioLife Cell Bank, Inc., is a clinical-stage gene therapy biotech company headquartered in Bannockburn, Illinois. AVXS is engaged in the development and commercialization of gene therapy treatments for patients suffering from rare neurological genetic diseases. The company has strategic collaboration and license agreements with Nationwide Children's Hospital, REGENXBIO Inc., The Research Institute at Nationwide Children's Hospital, and Asklepios Biopharmaceutical, Inc.
AVXS-101
AveXis, Inc. has just a single product in its pipeline, AVXS-101 (scAAV9.CB.SMN; charisma). AVXS-101 is an AAV (adeno-associated virus)-based gene therapy, intended for the treatment of Spinal Muscular Atrophy (SMA).
SMA is an orphan disease that affects the part of the nervous system that controls voluntary muscle movement. SMA causes motor neuron loss and progressive weakness and muscle deterioration and is one of the most common genetic causes of infant death. There are four sub-categories of SMA, from Type 1 to 4, ranked according to severity.
SMN or Survival Motor Neuron is a protein that is vital for normal motor neuron signaling and function. SMA Type 1 occurs whenever the deletion or mutation of chromosome 5 in the SMN1 gene happens, thereby preventing the production of adequate levels of functional SMN protein.
AVXS-101 is designed to improve the motor neuron function in SMA patients by causing an increase in SMN protein levels. This is done by delivering a functional copy of a human SMN gene to the nuclei of the motor neuron cells.
FINANCIAL DATA
AveXis has a 52-week price range of $20.51-$85.98 with an average volume of 393,590 shares and a market cap of $2.03B. AVXS has accumulated $240.4M of cash, cash equivalents, and marketable securities, with a current ratio of 10.03. The stock has EPS of ($3.66) with negative double-digit percent of surprise in the last quarters with an estimate of (3.69) in 2017 and (3.93) in 2018.
IPO
AveXis' IPO has been backed by crossover investors (also known as VC-backed IPO). These investors still own a good percentage of the company. Interestingly, there is a clear discrepancy between insider and institutional ownership for AVXS. Speculation for the company has triggered a high demand by Institutions which have pushed up the stock price.
The latest information indicates 92.3% institutional ownership in AVXS stock when compared to 41.5% in March 2016.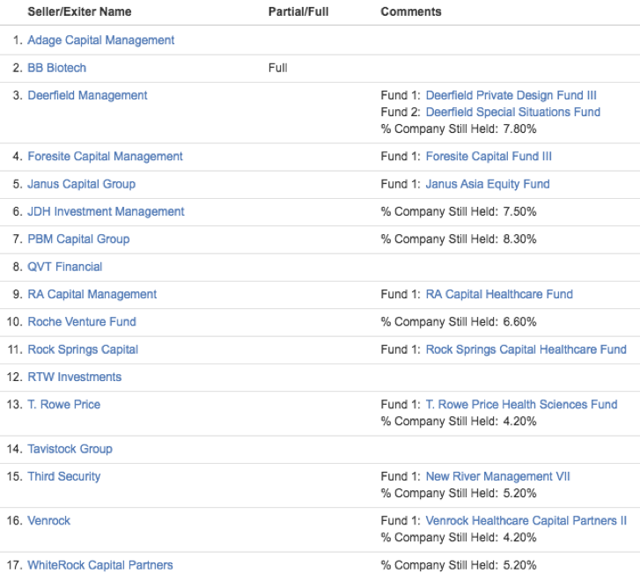 In the opposite direction, the insider ownership decreased from 8.29% in March 2016 to 7.55% in February 2017. Although one of the major investor, T. Rowe Price, has recently dumped a large number of shares and director Paul Manning also reduced his shares from 10% to just 0.82%, CSO Brian Kaspar is the only key owner who still holds 6.69% of shares outstanding.
SHORT INTEREST
There is also an increase in the short % of float (26.27% of shares outstanding) for AveXis. The company currently has a short ratio 18.41%.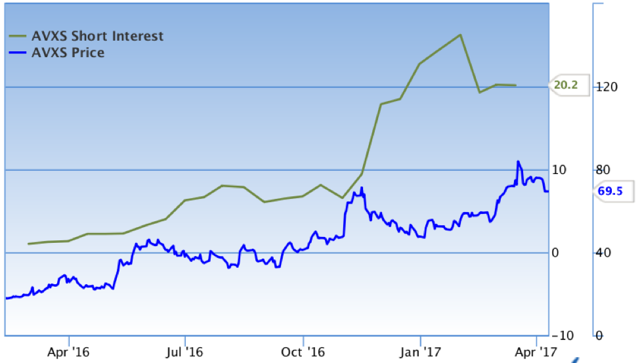 IMPORTANT CATALYSTS
AveXis has a few positives that can potentially propel its stock price higher.
Topline Results from Phase 1 Trial of AVXS-101 in SMA Type 1.
However, there are some questions regarding the authenticity and accuracy of the trial data, which will be discussed in later sections.
Upcoming company milestones as indicated by the figure below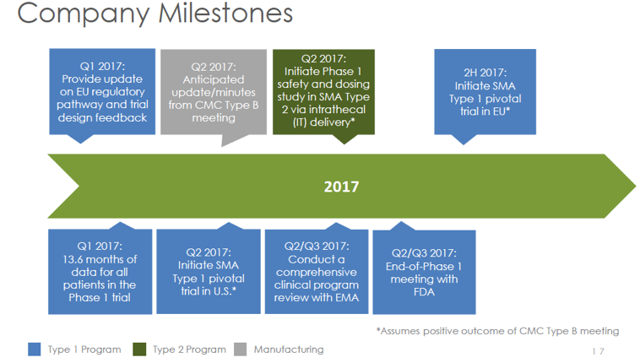 Access to EMA's PRIME program. PRIME status gives the advantage of an accelerated review of the marketing application. The European Medicines Agency (EMA), the equivalent of the FDA, has accepted a single arm design for the EU pivotal trial. A planned pivotal trial for AVXS-101 has been designed to support a marketing application in the EU. After meeting with European regulators, it seems the company has been encouraged to run a 30-patient, single-arm trial using historical data as a comparator.
On the flip side, the enrollment of patients is not yet complete, and it may prove to be difficult if Spinraza (NASDAQ:IONS) (NASDAQ:BIIB) gets its approval in Europe before AveXis finds the patient pool.
The higher cost of Spinraza and the ease of one-time regiment of AVXN compared to several doses of Spinraza in a year. Moreover, Spinraza's approval was based on a controlled trial of just a 6 months' treatment wherein only 40% of patients demonstrated a response. Long-term studies are yet to be completed.
However, Spinraza has definite advantages over AveXis, which are noted in the later sections.
MAJOR CHALLENGES AND HEADWINDS
Although there are a few positives for AVXS as listed above, the negatives outweigh these by a large margin. Following are the major challenges and headwinds for AveXis.
MULTIPLE COMPETITORS
There are many SMA drug development programs currently available. Any of these programs can make breakthrough discoveries, rendering AVXS-101 as obsolete.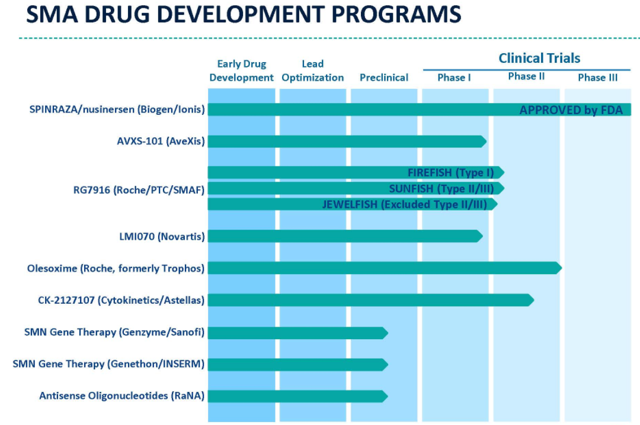 The top two competitors among those are Spinraza (covered in detail in an upcoming section) and RG7916 Roche-PTCT (NASDAQ:PTCT) whose launch date is scheduled for 2020. RG7916 Roche-PTCT is a small molecule and is less riskier than the intrathecal delivery of scAAV9 AVXS-101.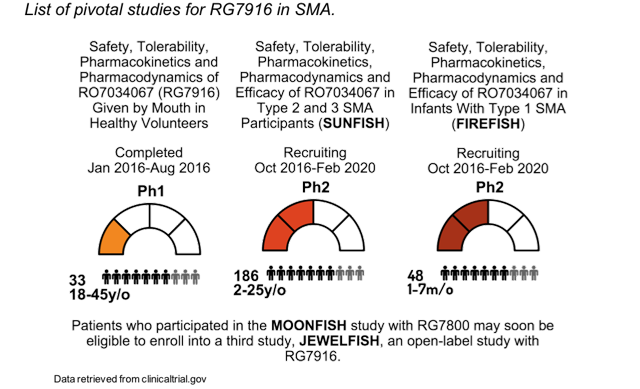 INFLATED COMPANY VALUATION
The company that has just one product which is yet to be proven, that hasn't even reached phase 3 trials, has been given a valuation of $2 Billion. This translates to nearly 20 times the peak sales for the total addressable market that includes never treated and new Type 1 SMA patients.
Spinraza-only dominated market will have an estimated peak sales of $2.2 billion worldwide in 2021. Less than 50% from US only. According to Leerink, Biogen expects approximately 1,700 patients will start Spinraza treatment in 2017 and 2018, with a very optimistic forecast of 5,000 patients in 2021. In the U.S., according to the SMA Foundation, there are an estimated 9,000 to 25,000 patients, with 600 new patients every year. Assuming a 2020 U.S. launch for AVXS-101 based on accelerated approval pathway, AveXis will face a fierce competition from Spinraza, which might raise higher entry barriers possibly by cutting down its price, and by more affordable small molecule Roche RG-7916. Although we should acknowledge the fact that AVXS-101 is a one-time curative dosage, we need to consider a smaller number of never treated and new patients who will be able to afford the new drug. Considering the coverage of Spinraza as comparable, we might assume that AVXS-101 will target 500-1,000 subjects with Type 1 SMA. A price of $150,000-200,000 above the monopoly price of Spinraza in 2020 should be considered. This will ultimately result in an estimated sale of $75-200 million. Sell-side analyst Jefferies had an estimate of $323M in risk-adjusted peak sales for 2030 in case of commercial failure and $95 million supported by other SA authors.
Interestingly, analysts at Chardan, which investment banking service acted as co-manager and underwriter of the offering, set an unreasonably high price target of $102.5 for AVXS; 10-20% higher than the generally estimated target price by Jefferies and GS.
Even with an increase in short interest, unusual stock trading patterns, losses, and message board chatter, AVXS has been moving steadily upwards with very low volume.
The fact remains that the current price point is already discounting the smooth and easy approval of Phase 1/2, minimal spending on Phase 3, and quicker turnaround time to the market. Any hitch in any of these aspects can result in a speedy selling, especially from institutions.
ISSUES WITH TRIAL PROCEDURE, RESULTS
The Phase 1 trial of AVXS-101 is done on just 15 patients, while SPINRAZA had nearly 8-times the number of patients enrolled, giving a clearer picture of the trial results.
When comparing AVXS-101 data from SEC filings on November 2016 and March 2017, there is no clear update given about efficacy. No new patients were dosed since December 2015 and there is a lack of clarity regarding patient improvements, leading to questions of regression. There is no clear data on how many subjects have reported improvements in speaking, independently feeding, standing, or crawling.
Since AVXS-101 is intended as a single-dose, it cannot be re-dosed for subjects whose function plateaued.
The screening process for the trial group is still ambiguous, as typically SMA Type 1 occurs by around 6 months. The company is yet to clarify on objective criteria for enrollment in the next trial, actual end points, and final conclusions regarding dosing.
One of the criteria for evaluating the effectiveness of AVXS-101 is Children's Hospital of Philadelphia Infant Test of Neuromuscular Disorders (CHOP-INTEND). CHOP-INTEND is intended to be used until 1.5 years of age after which it is not meant to differentiate the normal and abnormal developmental trajectory. The lack of subjective evidence like electrophysiological data of disease modification is quite telling.
AVAILABILITY OF FDA-APPROVED SPINRAZA
The presence of FDA approved Spinraza (Nusinersen) impacts AveXis in three major ways. Spinraza:
lowers the possibility of accelerated FDA approval
limits the available market for

AveXis

makes it difficult for

AveXis to form trial group
Here are the quick facts:
Spinraza was extensively vetted before getting its FDA approval for treating all forms of SMA in infants as well as adults. The Phase 1 clinical trial of Spinraza that started in December 2011 finally ended in FDA approval on December 23, 2016, after five years and several Phase 3 trials done at multiple centers without any financial interest in the trial outcome. The efficacy was also demonstrated in the controlled clinical trial in infantile-onset patients. AveXis neither has the luxury of time nor money to wait that long.
FDA may choose to deny the request of AVXS to recruit participants for their trail, as Spinraza is now an existing standard of care.
The possibility of accelerated approval of AVXS has become slim to none after Spinraza approval. As there is no longer the urgency for SMA cure, FDA can, in all fairness, demand Phase 2 and a randomized, double-blinded Phase 3. AveXis had used natural history of the disease as a comparator and has been retaining that as the plan for later phases. This would no longer apply if FDA forces the control to be the currently available treatment Spinraza.
Biogen has filed for marketing authorization for Spinraza in the European Union, Canada, Australia, and Japan. In case Spinraza gets a positive CHMP opinion within the next few months for a broad label and formal EMA approval soon after, the chances of forming a trial group and quicker FDA approval for

AveXis will be low.
CONTROVERSIAL TRIAL CENTER NCH
The AVXS-101 Phase 1 trial was conducted at Nationwide Children's Hospital (NCH).
This collaboration triggers a direct financial conflict of interest as there is a vested interest. 1. NCH and Ohio State University (OSU) own 3% of the company, 2. AveXis must begin paying NCH an aggregate low-single digit royalty following the first commercial sale of NCH licensed scAAV9 technology for the treatment of SMA, 3. AveXis is required to make up to $0.1 million in development milestone based payments to NCH. Basically, NCH will lose their money if AVXS trial results are less than satisfactory. Clinical studies should be done at a neutral third party location. The NCH Institutional Review Board Chair has refused to answer any questions related to conflict of interest and objectivity in research for

AveXis' clinical trial NCT02122952.

NCH has taken a hit to its reputation since Sarepta controversy, which caused quite a bit of rift within the agency. The percent dystrophin-positive fibers (PDPF) analysis, a dystrophin analyses methodology, referred as a "poorly planned and executed development program" was done at NCH. It had eventually ended with a warning to other drug makers from FDA official against copying Sarepta's methods.
In addition, Dr. Jerry R. Mendell, the Director of the Center for Gene Therapy at The Research Institute at Nationwide Children's Hospital (NCH), who is the lead investigator in AveXis study was also the principal investigator of the Sarepta study. This points to the possibility of stringent norms being followed by the FDA for approval of AVXS-101.
Although there are reports that the future phases and studies will be conducted at multiple centers, there has been no confirmed news about the details or even the number of centers yet.
OTHER RISKS
Following are some other risks associated with AveXis:
Unlike Spinraza and other competitors in SMA, FDA approval of gene therapy clinical trials require additional regulations. Recently a new set of considerations has been published by FDA to monitor the new technological impact of gene therapy in clinical studies. Moreover, clinical trials are inherently unpredictable.
Even if FDA approval goes through for

AveXis, there is the fact that the insurance companies may not agree to shell out nearly $200,000 per patient for AVXS-101 until it is proven by a well-designed larger trial that is completed in multiple neutral sites under the supervision of someone whose reputation is beyond reproach.

The risk of a product recall can harm the business, as it is still a company with a single drug program. Hence, it is vital for the company to form strategic partnerships for the development of new products and in-licensing technologies.
The funds available with

AveXis are currently not adequate in case FDA mandates a multi-central trial for AVXS-101.

There is a high chance that

AveXis will not be able to replicate efficacy results with intrathecal delivery. There is a clear risk of inability to translate phase 1/2 results into phase 3 success.

There is a possibility of adverse events of AVXS-101 including liver enzyme elevations. This is because AVXS-101's AAV9 can enter a wide range of cells, including liver cells, where it may cause a potential safety concern [PDF File]. There were 256 cumulative adverse events (AES) and serious adverse events ((SAEs)) reported, among which 5 AEs in 4 patients were treatment-related. All these had clinically asymptomatic liver enzyme elevations.
The current lawsuit from Sophia's cure foundation (SCF) [Ref with PDF] is also a worrying element for AVXS. SCF has also sued NCH.
Multiple past and current lawsuits faced by founders and leaders of

AveXis.
CONCLUSION
The overall verdict on AveXis, Inc. is a Strong Sell. At current price AVXS is estimated to be overvalued by 30%, translating to a target price of top $56, low $30.
The stock may see a little more upside during the next three months, thanks to the catalysts like:
1. The high cost, multiple dosages and warning labels of Spinraza.
But the inability to redose AveXis for SMA patients who plateau could end up making this a great opportunity for Spinraza.
2. Topline Results from AVXS-101 Phase 1 Trial.
However, these results raise questions which are yet to be completely answered.
3. Ongoing talks with regulatory authorities of US and EU for expeditious marketing approval of AVXS-101.
Meanwhile, Spinraza is getting closer to getting approval in EU.
4. AVXS milestones like AAN meeting, the planned Type B CMC meeting with the FDA, FDA end of Phase 1 meeting etc.
But in case these meetings do not go as well as AveXis expects, even a small delay could set prices plummeting, as these factors are already accounted for in the current price point.
Despite the positives, the increasing number of red flags and obvious headwinds for AVXS indicate that the stock is on borrowed time, a candidate for a massive selling spree. This conclusion is based on a plethora of factors like:
Fierce competition in SMA drugs
Availability of FDA approved drug Spinraza for SMA
Riskier intrathecal injection for AVXS-101 for Phase 1 SMA Type 2 testing
Higher chances of regulatory delays for

AveXis that are not accounted for in the current price point

Potential AEs and SAEs for AVXS-101 like liver enzyme elevations
Questionable trial results as it was conducted at a controversial single center location lead by a scientist who has a dubious track record, including retraction call from FDA
Multiple past and current lawsuits faced by founders and leaders of

AveXis

Pending lawsuit from SCF contesting ownership of sole drug AVXS-101
Inflated stock price, increasing short ratios etc.
The bottom-line remains that AveXis is single-drug company that is targeting a comparatively small part of an already small market, whose trial was conducted at a center that has a financial stake in the outcome, whose founding people have questionable reputation, whose very ownership of AVXS-101 is under a lawsuit, and is also in a direct competition against an FDA approved standard of care Nusinersen, which has an irrefutably proven efficacy from its multi-location trials. It is glaringly obvious that AVXS has no margin of safety should AVXS-101 fail. With many signs pointing to this possibility, remaining short on AVXS would be a smart move in the long run.
Disclosure: I/we have no positions in any stocks mentioned, and no plans to initiate any positions within the next 72 hours.
I wrote this article myself, and it expresses my own opinions. I am not receiving compensation for it (other than from Seeking Alpha). I have no business relationship with any company whose stock is mentioned in this article.