By Parke Shall
We wanted to write a quick note this morning about why we have been short AmTrust Financial Services (NASDAQ:AFSI) off and on and may re-initiate a short position as we head into the coming week.
For those unfamiliar with the AmTrust story, the company is an insurance and financial resources company that has come under a significant degree of scrutiny over the last four or five years. While its stock has performed well, at one point returning over 550% for its investors…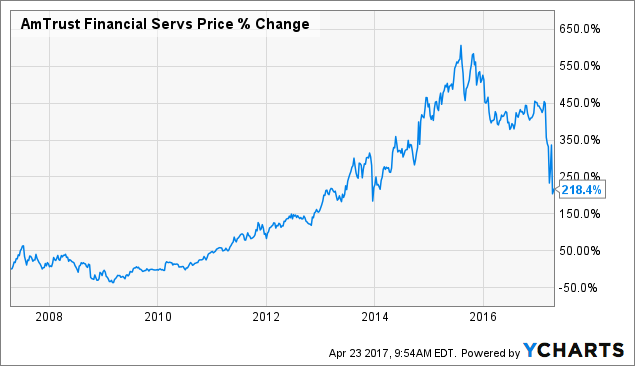 AFSI data by YCharts.
… it also has had no shortage of skeptics and detractors, including a whole host of critical and negative articles that have been written on Seeking Alpha.
Most of these articles deal with alleged accounting trickery and some question if the company cedes losses incorrectly for potential purposes of making its numbers appear better than they are. Without getting into an entire lesson on reinsurance accounting, we will simply encourage readers to do their own research and comb through this library of articles in order to familiarize themselves better with the skeptical case on the company prior to a couple of weeks ago.
Up until a couple weeks ago, AFSI had shook off all of these again allegations and performed very well. The company continued making acquisitions and issuing new debt without much turbulence and as you can see above, before the recent fall, the stock had performed extraordinarily well. Short-sellers were losing the battle on this one and it almost was starting to look as though nothing would be done and no regulators would notice.
Then last week, The Wall Street Journal put out an article stating the FBI had previously used secret recording devices at the company to further what appears to be a relatively serious ongoing investigation. It was revealed in the same article that Harry Markopolos, who is famous for blowing the whistle on the Madoff ponzi scheme before it collapsed, was involved with several other parties in trying to blow the whistle on AmTrust. For those unfamiliar with Markopolos's background and qualifications, he is a "certified fraud examiner and whistleblower specialist."
The stock was hit almost 30% on this news, and has since steadied around the $16 level.
AFSI put out a press release on Friday announcing their earnings date, which will be in early May. The stock popped $0.20 on the news, ostensibly as traders want to take this as an indication that all is good and well at AFSI headquarters. We think just the opposite is the case. Based on the company's response they put out after their stock fell almost 30% in one day, the company doesn't seem to even be in the know about the supposed FBI investigation that is ongoing:
The Wall Street Journal today published an article suggesting there was an alleged FBI investigation in 2014 — three years ago — with respect to AmTrust's accounting practices initiated by complaints made by short sellers. AmTrust is not aware of any such investigation, nor for that matter, has it ever been contacted by the FBI with respect to such an investigation. Further, AmTrust is not aware of any special examination by the New York Department of Financial Services, other than examinations conducted in connection with AmTrust's 2014 Tower transaction, which the Department approved.

AmTrust has no direct knowledge of any of the individuals, named or unnamed, referenced in the article and is certainly not aware that they have any credibility with respect to their understanding of AmTrust or its regulators. Immediately following AmTrust's filing of its 2016 Form 10-K, and the unqualified audit opinion issued by KPMG, the Wall Street Journal contacted AmTrust concerning a possible article in which it seemed that AmTrust would be a part. We have been as responsive as possible to the Wall Street Journal during this period. Many of the questions from the Wall Street Journal related to the disproved short seller themes about AmTrust that have been used unsuccessfully by shorts and their confederates for the past several years. There is nothing in today's Wall Street Journal article in terms of the company's operations or financial results that is different from these old, recycled short seller themes. [emphasis added]
This should be even more ominous news for the company. When you are an executive of a public company and you wake up to find out by reading it in The Wall Street Journal that you were under possible continued investigation by the FBI and have Harry Markopolos on your tail, you're probably not going to have a good day. It's reasonable to think that the news of the investigation leaked out either because the authorities wanted it to or because it is reaching his conclusion. Either way, if you're an employee of the company or you have potentially damning information and you read something like the article in the Wall Street Journal, you may want to consider turning state's evidence and coming forward with what you know.
Bulls will try and make an argument on going long AFSI here based on valuation and the selloff that has already occurred. However, we don't think anybody can confidently hold stock here knowing not only that the FBI could be investigating but also that the investigation is being helped by the only person on earth that was able to spot the Madoff ponzi scheme before it collapsed. We don't believe Markopolos would undertake a project that he is not going to see all the way through, and we also don't think he would be bothering with this company if there wasn't substantial meat on the bone from the fraud perspective.
We were short the stock last week and closed out our position heading into this past weekend as we reorganize the portfolio a little bit. We plan on stepping in and putting on a long-term short in the name, because we believe that the worst is still to come. We don't think Markopolos is wasting his time to get a couple of SEC comment letters issued. We think it is more likely that significant regulatory action may be taken against the company, and we think this is as good of a reason as any to stay short for the course of the longer term.
With regard to the company's valuation and its numbers, if the company is found to be manipulating any portion of the financials by regulators, the numbers are no longer to be trusted and the valuation doesn't matter. At that point, it's time to turn and look at the tremendous debt load that the company is carrying. At that point, we think you have a prescription for a large equity raise down in the single digits.
We may put on our AFSI short again at any point.
Disclosure: I/we have no positions in any stocks mentioned, but may initiate a short position in AFSI over the next 72 hours.
I wrote this article myself, and it expresses my own opinions. I am not receiving compensation for it (other than from Seeking Alpha). I have no business relationship with any company whose stock is mentioned in this article.