Overview
Select Energy Services (Pending:WTTR) filed an S-1/A with the Securities and Exchange Commission and is expected to IPO this Friday, April 21, 2017. The company is offering 10.6 million shares of its common stock at a marketed price range of $15 to $18. It also has an additional 1.59 million shares as an overallotment option for its underwriters. The company expects to raise $175M through the offering of its shares.
Assuming the stock prices at the mid-point of its price range, it would have a market cap value of $1.14B and trade at a 3.78x price/sales ratio.
The underwriters are Credit Suisse, FBR, Wells Fargo Securities, BofA Merrill Lynch, Citigroup, J.P. Morgan, Deutsche Bank Securities, RBC Capital Markets and Simmons & Company International.
Business overview
Based in Gainesville, Texas, Select Energy Services offers total water solutions to the unconventional oil and gas industry in the U.S. It sources and transfers water to sites before it is used in drilling and completion activities associated with hydraulic fracturing. The company provides well completion services before and after fracking. Its other water services include: treatment, containment, flow back, monitoring, hauling and disposal. The company has a broad footprint in many of the various oil basins in the U.S. Its strongest presence is in the Permian Basin in Texas.
Major investors include: Adage Capital Partners L.P., Hadley Harbor Master Investors (Cayman) L.P., Luminus Energy Partners Master Fund Ltd., Putnam Funds, Senator Global Opportunity Master Fund L.P., Teacher Retirement System of Texas II L.P., Whipstock Co-Investment Fund II L.P., SES Legacy Holdings LLC, and Crestview Partners II GP, L.P.
The picture below shows the various services Select Energy Services provides during the completion cycle of a horizontal well:
(S-1/A)
Executive management team
John Schmitz has served as the chairman and chief executive officer of Select Energy Services since Nov. 2016 and as the CEO and chairman of SES Holdings since the company was originally founded as Peak Oilfield Services LLC in 2007. Schmitz founded SES and all of its predecessors. Previously, he was the division manager in North Texas for Complete Production Services, Inc. before it was sold to Superior Energy Services. He founded a predecessor company to BSI Holdings, Inc. that was called Brammer Supply, Inc. in 1983, which was rebranded under the Complete Energy Services umbrella in 2003. He is also the founder and chairman of Silver Creek Oil & Gas as well as the founder of multiple other companies.
Gary Gillette is the chief financial officer and the senior vice president of Select Energy Services, and has served in these roles since the company's incorporation in Nov. 2016. He previously served in the same roles for SES Holdings since Jan. 2016 and as the CFO of Select LLC since June 2015. Previously, Gillette worked as the CFO of Allied Oil and Gas Services LLC for eight years. He began his career working at Ernst & Young for nine years. Gillette holds a Bachelor of Science in business administration from Concord University and a Master of Business Administration from the New York Institute of Technology. He is a chartered global management accountant and a certified public accountant.
Financial highlights and risks
Revenue dipped from $535.57M in 2015 to $302.39M in 2016. The decrease was primarily attributable to a decline in completion activities and a decrease in average annual rig count. Gross profits dipped from a gain of $12.2M to a gross profit loss of ($44.1M). Net income dropped from a loss of ($81.87M) in 2015 to a loss of ($313.95M) in 2016. As of 2016, cash and cash equivalents were equal to $40.0M, and long-term liabilities were $23.9M.
The company reported preliminary data for the three months that ended on March 31, 2017, which showed revenue of $97.8 to $100 million as compared to revenues of $78.8 million for the same period in 2016, indicating improvement in the domestic oil and gas industry and increases in production.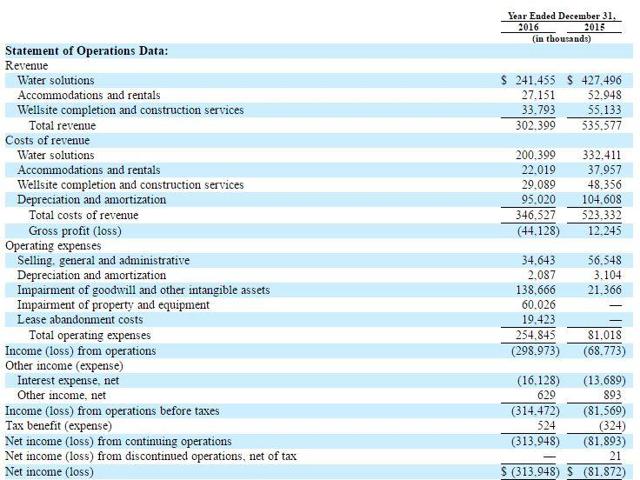 (S-1/A)
Valuation
Select Energy Services competes with other oilfield services firms which operate in similar geographies. Two competitors include: Halliburton (NYSE:HAL) and Schlumberger (NYSE:SLB). These companies are much larger in size than Select Energy Services, but provide services to the oil and natural gas industry. Select Energy Services trades at a price/sales ratio in line with these two competitors.
| | | |
| --- | --- | --- |
| TKR | Market Cap | Price/Sales Ratio |
| WTTR | $1.14B | 3.78x |
| HAL | $41.46B | 2.64x |
| SLB | $106.87B | 3.90x |
Conclusion: Consider Avoiding
Financial performance has deteriorated in 2016 as oil and gas prices have dropped.
Despite recent stabilization of oil prices, we don't believe this will last and predict more volatility and downward pressure on oil prices, which will significantly impact demand for these oilfield services firms.
We expect further deterioration of revenue and profit for Select Energy Services and suggest investors avoid this IPO.
Don Dion's IPO Insights provides up-to-date information and analysis on the major IPOs each week, along with additional opportunities to invest and short these stocks at their quiet period and lockup period expirations, respectively. Consider following us at the link above. We will continue our PRO offerings on Seeking Alpha alongside our more exclusive research.
Disclosure: I/we have no positions in any stocks mentioned, and no plans to initiate any positions within the next 72 hours.
I wrote this article myself, and it expresses my own opinions. I am not receiving compensation for it (other than from Seeking Alpha). I have no business relationship with any company whose stock is mentioned in this article.