Overview
We believe Banc of California's (NYSE: BANC) true position can be assessed by analyzing two factors in-depth: 1) the majority of BANC's income appears to derive from non-recurring (i.e., one time) sources; and 2) a substantial portion of even this income may be generated through questionable and nontransparent banking practices.
Gauged properly, and adjusting for these factors, we believe BANC's intrinsic equity value should be 50% less than the current trading value of its shares. In addition, we think both investors and regulators should examine BANC's mortgage transactions and question whether the company has made the appropriate disclosures.
Part I – The Problem of Non-Recurring Sources of Wealth
As we noted, and as the chart below shows, an extraordinary 84% of BANC's income stems from non-recurring sources-that is, one-time payments unlikely to be repeated. Such streams are by definition irregular, and are usually itemized separately from customary business activities on relevant statements.
Banc's 4 year financial performance:
Source: BANC 10Ks
This in and of itself would be noteworthy, regardless of the actual sources in question. Nonrecurring sources are not treated the same as regular income streams when evaluating year-to-year wealth.
But, in BANC's case, we believe each of the individual sources themselves raise red flags and warrant further scrutiny. These are:
· Gains on sales of security
· Gains on sales of loans
· Purchased Credit Impaired Loans (NYSE:PCI) accounting for interest income
· Alternative Energy Partnerships
· Gains on sale of a subsidiary
We will examine each of these in turn more fully, below, starting with:
a. Gains on sales of securities
Trading in securities is a practice we might more commonly associate with behemoths like JPMorgan Chase and Credit Suisse. So seeing a small regional bank like BANC focusing so heavily on securities trading would itself likely raise eyebrows.
In 2015, BANC began trading in large quantities of investment securities and quadrupled its buying/selling efforts in 2016. In 2016, gains from securities available for sale jumped to 20% of Earnings before Taxes (EBT) but was the result of BANC selling an unprecedented $4 billion of securities to eke out a 0.72% return.
Up until 2015, BANC's available-for-sale securities portfolio primarily comprised of agency mortgage-backed securities (97% of securities portfolio). In 2015, BANC started buying large quantities of collateralized loan obligations which by 2016 ballooned to nearly 60% of the securities portfolio (see below).

Source: BANC 10Ks, Author's calculations
We then compared these statistics to other similarly sized banks in the California market (see below). It appears that BANC had significantly greater asset churn, and the resulting gains had a 10x bigger impact on pretax income than California peers.

Source: Bloomberg data, Author's calculations, Sample set 10-Ks
b. Gain on sale of loans
BANC also took off down the path of dealing in subprime mortgages. Starting in 2012, BANC began buying up large tranches of re-performing seasoned subprime loans. When BANC buys these pools of loans it generally reclassifies the lion's share as Purchased Credit Impaired loans-that is, loans with evidence of credit quality deterioration since origination where BANC estimates that it will not receive all contractual payments. This in turn allows BANC to calculate these assets under a subjective mark-to-model accounting method.
From 2013 to 2016 BANC purchased roughly $1.5 billion in loans, of which about $1.1 billion (73%) were subsequently classified as PCI loans. Importantly, though the initial purchases were heavily discounted, they became far less so over time, from when the original deal was struck. Thus, it appears a kind of inflation sets in as the loans became increasingly expensive, even as credit scores declined (see below).

Source: BANC 10Ks
Suffice to say, the spreads in PCI transactions closed dramatically from 2013 to 2016. BANC was able to purchase a large pool of PCI loans in 2013, in which both fair value and purchase price were discounted from the unpaid balance. Over the next two years, BANC realized positive gains on sale of those loans.
Beginning in 2015, however, BANC started paying higher prices for PCI loans as spreads tightened. BANC's purchase price discount to unpaid balance rose from 83% to 94%. Further, by 2016, BANC's stash of PCI loans itself began to run out, depleting its PCI loan balance to $142 million.
This seems to us quite significant when we consider the impact on pretax income PCI gains have had to date, and the fact that this revenue source is ending. It appears that BANC might have cherry picked the most profitable loans to sell during 2014 and 2015, with gains as a percentage of book value at 26.3% and 40.8% respectively. In contrast, the gain in 2016 was just 3.6% of book value, and the remaining book value for all PCI loans is just $141.8m (discussed below).

Source: BANC 10Ks, Author's calculations
c. Purchased Credit Impaired Loans accounting for interest income
PCI loans are marked to model, based on management's expectation of cash flows (Accounting for PCI loans is governed by FAS ASC 310-30). Here's how. When PCI loans are first acquired they are recorded at the purchase price. The amount of expected cash flows that exceed the fair value (which should be the initial investment at the outset) in the loan represent the "Accretable Yield," which is recognized as interest income over the life of the loan.
Because expected cash flows and maturities are determined by management and can be changed quarterly, management is able to use input assumptions to significantly change the accounting profits from the loan pools.
After BANC purchased that large pool of PCI loans in 2013, it changed its accounting disclosure practices. If we look at BANC's filings from 2012, we can see that BANC did not recognize Discount Yield Accretion income until the loan was paid off or "on a case-by-case basis when a material event significantly improves the quality of the loans."
This language went right out the window in 2013 when BANC began to see a significant amount of accretion income (as seen below).

Source: BANC 10Ks
Regardless, that party seems to be coming to an end. As of the end of 2016, BANC had largely sold off its PCI balance, thus closing out this lucrative source of interest income.
d. Alternative energy partnerships
During the 3 rd quarter of 2016 BANC entered into an exclusive agreement with a solar company to provide tax-advantaged capital for the installation of residential solar in primarily low- to moderate-income communities in California. They cite this investment as being a win-win for BANC as it furthers its commitment to Community Reinvestment Act activities while generating an investment return of at least 15%. Interestingly, this coincides with a time when the PCI gains are winding down.
The Company has provided virtually no information regarding how they generate that 15% return. During 2016 they recognized a $31.5m loss on its investment as a non-interest expense item, with an offsetting tax benefit of $50.6m, which netted BANC $19.1m in net earnings during 2016. Net income during 2016 was $95.5m compared to $52.2m during 2015. Therefore, 44% of the net income growth came from this tax benefit alone (Source: BANC 2016 10K).
e. Gain on sale of subsidiaries
The final nonrecurring source of income came from BANC's sales of subsidiaries. Though at first blush the sales themselves were not as remunerative as the other business discussed above, they provide us with a unique window into BANC's business practices.
In 2016, BANC sold its Commercial Equipment Finance business unit from its Commercial Banking segment to Hanmi Bank (A community bank headquartered in Los Angeles that focuses on the Korean-American community). As part of the transaction, Hanmi acquired $242.6 million of equipment leases diversified across the U.S. with concentrations in California, Georgia, and Texas. BANC recorded a gain on sale of business unit of $2.6 million (Source: BANC 2016 10K).
BANC also sold its interests in the Palisades Group in 2016 to the executives of the Palisades Group. BANC saw a gain on sale of a subsidiary of $3.7 million. As part of the sale, The Palisades Group issued BANC a 10%, $5 million promissory note. This was due in 2018 but was actually prepaid at the end of 2016, granting BANC an additional gain of $2.8 million (Source: BANC 2016 10K).
We must note that there are in fact three separate entities under the Palisades nomenclature: Palisades Group LLC, Palisades REIT, and Palisades Mortgage Acquisition Company (PMAC). Let's briefly examine each in turn.
i. Palisades Group
The Palisades Group LLC was incorporated in Delaware on August 17, 2012. Just three months later, in November of 2012, BANC entered into a purchase agreement granting it the option to purchase Palisades for $500,000. BANC finalized that purchase one year later, on either September 10 th, 11 th, or 16 th of 2013. (All three dates are cited in the 2013 10K as the purchase date.) At the time it was acquired-and despite having existed for just over a year-Palisades Group claimed to be managing a near-miraculous $1.7 billion in assets (Source).
At the same time, Palisades Group also listed on its balance sheet $900,000 in cash and $1.2 million in "Other Liabilities." Palisades Group's Form ADV (registering with state and federal securities authorities) reported that the group had $2.6 billion under management (Source).
In a March 2014 investor presentation, BANC listed Palisades Group as providing a staggering 600% return on equity.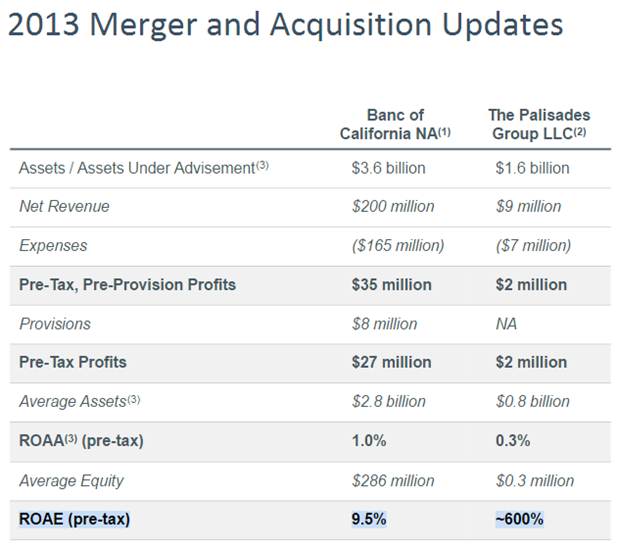 Source: BANC 8K March 2014
Unsurprisingly, it appears to us that the fortuitous economics of the Palisades acquisition cannot simply be chalked up to savvy purchasing. Much becomes clearer when we investigate the Palisades Group further.
Just who makes up Palisades, then, and what is its relationship with BANC? As may not surprise, the two entities appear to have been tightly linked through a variety of networks. Prior to acquiring Palisades Group, BANC acknowledged it to be a related party with the following disclosed transactions (Source: BANC 10Ks):
· Palisades occupies premises leased by COR Securities Holdings Inc. The CEO of both COR and BANC is the same individual: Steven Sugarman
· Steven Sugarman's brother, Jason Sugarman, served as a consultant to Palisades Group under an agreement guaranteeing him a minimum of $600,000 over a five-year period
· Palisades was already providing to BANC "certain management, advisory and administrative services to mortgage loan portfolios"
Post-acquisition, Palisades' role inside BANC would seem to have become even more instrumental. BANC's Financial Advisory segment was comprised entirely of Palisades Group which "provide[d] services related to the purchase, sale and management of single-family residential mortgage loans." (Source: BANC 10Ks)
Finally, it should be noted that Stephen Kirch and Jack Macdowell, Jr., respectively the CEO and CIO of Palisades, both previously held the same positions at Carrington Mortgage, which was the subject of a two-year investigation by the federal Securities and Exchange Commission. (Source) (Source) (Source)
In case you're confused by the proliferation of individuals involved in this story named Steve, quick recap:
Steven Sugarman = CEO of BANC and COR Securities
Stephen Kirch = CEO of Palisades Group and President of Palisades Capital REIT
ii. Palisades Capital REIT
Palisades Capital Real Estate Investment Trust (REIT) is a separate entity registered to the same Stephen Kirch (CEO of Palisades Group). Prior to BANC's acquisition of Palisades Group, Kirch presented at a September 2012 conference hosted by COR Clearing in his capacity as a representative of Palisades REIT, alongside executives from BANC.
Tellingly, that same conference hosted representatives from Cloud Capital and Camden Capital, both businesses owned by convicted criminal, Jason Galanis. Source.

(Source)
It is highly likely, meanwhile, that the established links between Galanis' disgraced organizations and BANC and its subsidiaries go much further than this. (Source) (Source) (Source)
iii. Palisades Mortgage Acquisition Company (PMAC)
Finally, we come to the Palisades Mortgage Acquisition Company (PMAC)-which is both the least public and, in our view, the most significant of the bodies operating under the Palisades moniker. PMAC is yet another formally separate entity from Palisades Group LLC. Its signatories are, once again, Stephen Kirch and Jack Macdowell, Jr.-CEO and CIO, respectively, of Palisades Group.

(Source)
PMAC was incorporated in Delaware on May 29, 2013-after Palisades Group was incorporated in 2012 but prior to its acquisition by BANC.
The New York City Office of the City Register, like all other county registers in the country, keeps public record of mortage deeds. When searching for mortgages held by PMAC, we came across Transfer Representation Letters which named PMAC as the Mortgage Depositor and Palisades Group as the Mortgage Administrator. As the Depositor for the loans, PMAC by definition had more assets on its balance sheet than the reported assets of the Palisades Group LLC when it was acquired. The depositor is an entity that owns mortgages and deposits them in a Trust in exchange for the pass through certificates, allowing their investors to receive payments on the mortgages.

(Source)
However, at the time that BANC acquired Palisades, Palisades Group LLC had only reported $900,000 in cash and $364,000 in "Other Assets" (see below).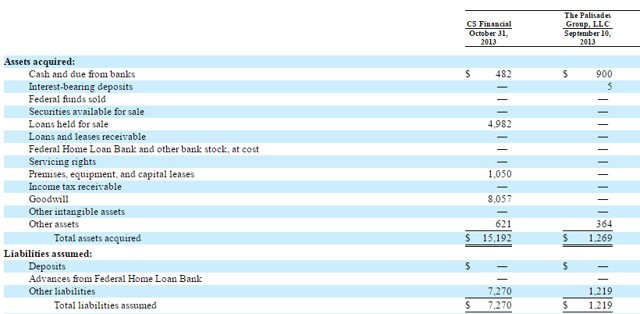 Source: BANC 10K
Given PMAC's role as a Depositor-which is to say, the owner of the mortgages-it cannot possibly be a part of Palisades Group. Indeed, BANC apparently agrees: in its SEC filing, it only lists two (2) subsidiaries: Banc of California, National Association and Palisades Group LLC.
PMAC transacts with BANC but is neither registered in California nor part of BANC's subsidiary list. Additionally, PMAC's assets as a depositor would far exceed the $364,000 mentioned above for Palisades Group LLC. Therefore, PMAC is too large to be an unnamed subsidiary of BANC or Palisades Group LLC. Furthermore, as illustrated above, there is evidence to corroborate that Palisades Group LLC's principals are actively engaged in the business of PMAC. We believe this leaves us with two possibilities: PMAC may be either 1) a hidden off-balance sheet entity, or 2) an undisclosed related party. Either way, it appears that BANC's transactions with the shadowy PMAC dwarf its above-board business with Palisades Group. We cannot in fact understand BANC true financial situation without a full accounting of its business with PMAC.
Part 2 – PMAC's Shadow Role in BANC's business
Despite PMAC's unacknowledged status, it still conducts a significant number of transactions with BANC. Indeed, transacting with an undisclosed related party appears to be what allows BANC to mark up its mortgage assets and claim gains on sale. We analyzed thousands of BANC mortgages and transactions across California and nationwide, finding a very large number of transactions between BANC and PMAC. We found at least six different kinds of undisclosed transactions.
a. BANC sells PMAC mortgages before the Palisades Group acquisition
b. BANC sells PMAC mortgages after the Palisades Group acquisition
c. BANC and PMAC round-trip the same mortgages between each other
d. PMAC sells mortgages to Palisades Mortgage Loan Trusts which are defunct vehicles
e. BANC sells onto PMAC who sells onto Carrington Mortgage Services (the company where Palisades executives themselves came from)
f. BANC cancels historical transactions it had with PMAC
We examine each type of transaction in turn, below, in light of specific cases:
a. Type 1: BANC sells mortgages to PMAC prior to acquisition of Palisades
Our first example is both representative of a particular kind of transaction, but also sets the stage for the others, as many of the same featured players will reappear onstage. On November 29, 2006, Ramon Lantigua takes out a mortgage from WMC Mortgage Corp. Two years later, that mortgage is sold to Arch Bay Asset Backed Securities Trust A. Four years after that, in 2012, the mortgage is sold from Arch Bay to US Bank. In 2013, US Bank sells it to Pacific Trust Bank-a BANC subsidiary. Finally, several months later but prior to BANC's official acquisition of Palisades, the mortgage is sold to PMAC (see below).

(Source)
b. Type 2: BANC sells mortgages to PMAC after acquiring Palisades
Here we have an almost identical case, with the exception that PMAC buys the mortgage after being acquired by BANC. On July 26, 2007: Josephine and Vito Balsamo enter into mortgage agreement with Novastar-itself a fraudulent mortgage company exposed by short sellers (Source). Novastar reappears in many other similar transactions, in which PMAC takes its loans.
Five years later, in 2012, Novastar sells the mortgage to Arch Bay Asset Backed Securities Trust 2009 B. Later that year, Arch Bay sells it to US Bank, which then passes it on a few months later to the same Pacific Trust Bank that is a subsidiary of BANC. Finally, on October 7, 2013, Pacific sells the mortgage to PMAC-less than a month after BANC acquires Palisades. (Source)
c. Type 3: BANC engages in round-tripping of mortgages with Palisades Group
We believe this type might actually represent BANC's boldest attempt to avoid disclosing the nature of its revenues, wherein it effectively swaps mortgages back and forth with PMAC. In one example, on July 19, 2007, Miguel Hernandez bought a home in San Diego with a mortgage from subprime lender Accredited Home Lenders in 2007. The following year, Mr. Hernandez first defaults on his loan. Four years later, in 2012, Accredited (which went bankrupt in 2009) sold his mortgage to Arch Bay Asset Backed Securities Trust 2010 2.
The next year, in 2013, Arch Bay sells it on to RMAC Trust, who turns around and sells it to Pacific Trust Bank (yes, that one again). In October 2013, Pacific sells it to PMAC shortly after BANC acquires Palisades. Three years later, on October 3, 2016, PMAC sells Mr. Hernandez's mortgage to BANC, which that same day sells it on to Palisades Mortgage Loan Trust (see below).

(Source)
The first half of this story involves what appears to be the same actors playing hot potato with a mortgage; the second half adds the new wrinkle of BANC appearing to round-trip the mortgage to PMAC and then back again. The final holder-PMLT-will continue to figure into BANC's dealings below.
d. Type 4: Palisades Mortgage Loan Trusts continue to purchase mortgages even though all trusts have been terminated
A key market player-and frequently the final player-in BANC's apparently curious accounting practices are the Palisades Mortgage Loan Trusts or PMLTs. The PMLTs can be actively seen buying mortgages from both BANC and PMAC.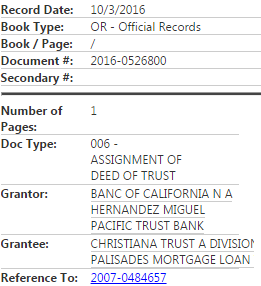 (Source)
Yet according to public disclosures and Bloomberg mortgage data, the entire series of PMLTs have been terminated, and their certificate balances stand at zero. Nonetheless, PMLTs remain in the market buying BANC's mortgages. For example, in the case of Mr. Hernandez's mortgage, the PMLT is the final buyer, acquiring the round-tripped mortgage from BANC as recently October of last year, despite having been nominally defunct.
Other times, PMAC and not BANC is the seller. But in either case, PMLT is the purchaser, despite not actually being in existence. In one instance, PMAC assigned a deed of trust to PMLT in April of 2015, even though the exact same series had been reported as terminated just the month prior (see below).

Source: losangeles.netronline.com/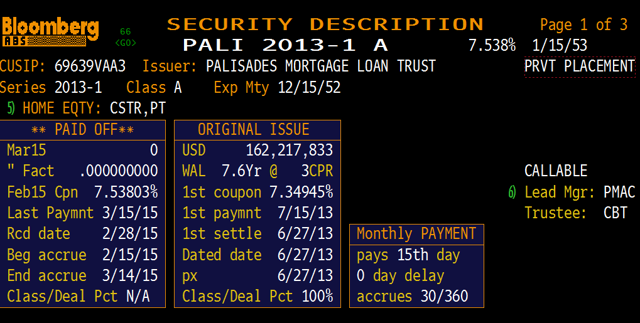 Source: Bloomberg
It may be that the PMLT investors are the ultimate bag holders in this story, left with worthless-indeed, loss-yielding-mortgages, even as BANC continues to report what appears to be overstated gains on sale of those same mortgages. As BANC sells the mortgages at inflated values, PMLT will recognize losses on those mortgages down the line.
For example, one trust continued to purchase mortgages as recently as December 2016, despite already realizing overall losses over $845 million.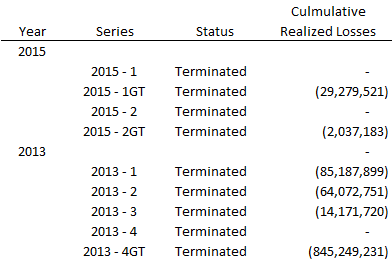 Source: Bloomberg
e. Type 5: Mortgages are sold onto Carrington Mortgage Services
Even when BANC is not moving mortgages among the various Palisades entities, it appears to find another angle. One such angle involves bringing in Carrington Mortgage Services. As you may recall, Carrington, which was investigated for subprime mortgage fraud, is the former home of Palisades Group's top executives: Stephen Kirch and Jack Macdowell, Jr.
It works like this: to take one pertinent example, BANC's subsidiary Pacific Trust sells a mortgage to PMAC. Instead of holding it indefinitely or swapping it back, PMAC passes it on to Barclays, which acts as a warehouse for exactly zero days. The loan is then sold onto Stanwich, a trust which is managed by Carrington Mortgage Services.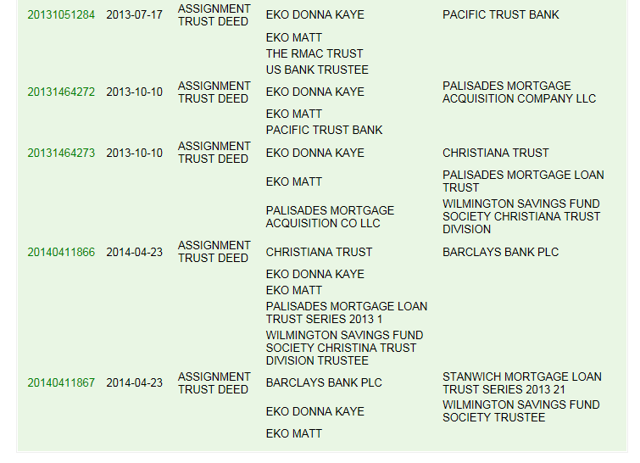 (Source)
f. Type 6: BANC retroactively cancels sales of mortgages previously sold to PMAC
The final method BANC appears to use in avoiding transparency is to cancel sales of mortgages to PMAC well after the fact. It appears to us a deeply curious attempt to rewrite its banking history for expedient purposes.
For example, on September 11, 2013, Pacific Trust can be seen transferring a mortgage to PMAC. Over three years later, BANC cancels the transaction (see right). This and other transactions are deemed an "error, inadvertence, and mistake."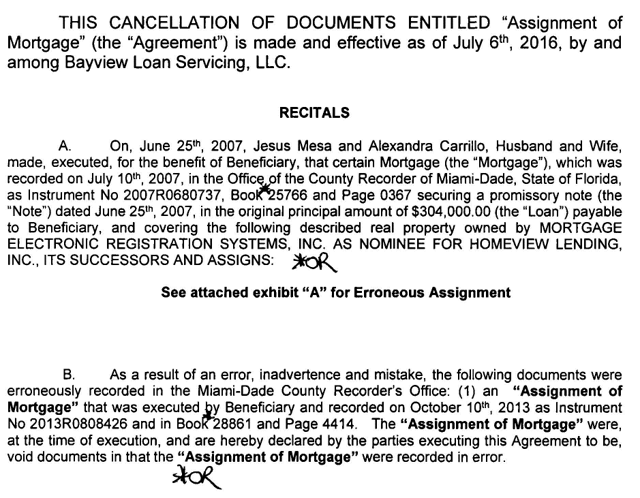 (Source)
To recap this complex story, BANC initially acquired the Palisades Group LLC for a negligible $50,000 using only cash and a small portion of other assets on its balance sheet. PMAC, which warehouses the mortgages, meanwhile remains outside of the Palisades Group. Yet we know that PMAC is a related party because its signatories and address are otherwise identical to the Palisades Group. This seems to leave us with two possibilities: PMAC may be either 1) a hidden off-balance sheet entity, or 2) an undisclosed related party. Either way, it appears that BANC's transactions with the shadowy PMAC dwarf its business with Palisades Group. We cannot in fact understand BANC true financial situation without a full accounting of its business with PMAC.
During 2013 PMAC issued five securitizations (2013-1, 2013-2, 2013-3, 2013-4, and 2013-4GT). Surprisingly, the first securitization recognized losses during its second month. Despite this fact, PMAC appears to have been able to package and sell more than $1.2 billion in loans during 2013 that ultimately lost $1.0b in principal over the ensuing two years. This was accomplished without the aid of a big bank as lead manager on the placement, and the poor track record of its first deal. How many of these loans came from BANC? During 2013 BANC had sold loans held for investment with a book value of $276.5m, recognizing an $8.7m gain.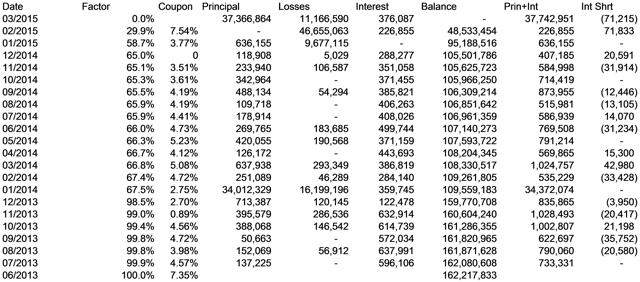 Source: Bloomberg
Despite what we can glean from this story, both PMAC and PMLT remain somewhat mysterious bodies, and questions cluster around both:
1. What in the end is PMAC? Who owns and controls it, and what is its true legal and economic relationship to BANC?
2. Who actually owns the PMLT securitizations? Are its investors suffering major losses from BANC and/or PMAC selling inflated mortgages to its trusts?
Part 3 – What is BANC's recurring earnings stream
Separate from the low quality, non-recurring earnings addressed above, BANC appears to have more recently implemented a strategy to focus, optimize and de-risk the balance sheet. As discussed above, BANC sold both its Commercial Equipment Finance division and the Palisades Group during 2016.
On February 28, 2017, BANC entered into two agreements, neither of which management found important enough to justifying a press release, both of which we believe will result in lower ongoing recurring earnings. The first agreement was the sale of its Mortgage Banking segment to Caliber Home Loans. In a separate agreement with Caliber Home Loans, BANC also sold mortgage servicing rights (MSRs) on approximately $3.8 billion in unpaid balances (UPB) of conventional agency mortgages. The UPB of BANC's total MSR portfolio was $7.6 billion and $4.8 billion as of 12/31/16 and 12/31/15 respectively. This appears to have been an area of growth for the bank. However, BANC states in its 2016 10K:
"On February 1, 2017, the Company and the third party MSR investor agreed to suspend MSR flow sales due to Company announcements concerning the Special Committee investigation and management changes at the company. The company is currently exploring options for selling MSRs contemporaneously with the sale of SFR mortgage loans to the GSEs as well as the Company's existing MSR."
The second agreement was with the Los Angeles Football Club. In exchange for BANC's right to name the stadium "Banc of California Stadium", BANC will pay this Major League Soccer franchise (which will first become operational in 2018) $10 million in March 2017, $21.2 million in 2018, with $400 thousand annual escalators through 2032. BANC only spent $10.7 million on marketing during 2016, a 75% increase from 2015 "mainly due to the Company's higher overall marketing costs associated with the continued expansion of its business footprint"
So what is left? A very fast growing commercial bank. Net interest income has more than doubled from $154.3 million in 2014 to $323.1 million during 2016. During that same time, the related provision for loan losses has shrunk from $11.0 million in 2014 to $5.3 million in 2016.
We believe the bank is relaxing its lending requirements to gain share. While at the same time, it appears to be reducing its allowance for loan losses. In it's 2013 10K, BANC states:
"(…) prospective borrowers generally must have debt-to-net worth ratios not exceeding 3-to-1"
In the 2014 10-K, that same ratio went to 3.75:1. In 2015 10-K, BANC stopped disclosing this ratio and instead mentioned that their loans have a "conservative debt-to-net worth ratio."
We compared BANC to its same California peers with results that we view as troubling. BANC has grown its Commercial & Industrial loan book at a 76% CAGR between 2014 and 2016, much faster than its peers. Given the rapid growth, we would expect a more conservative allowance. However, the opposite has proven true.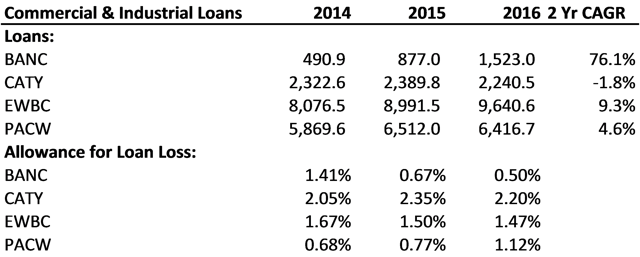 Source: 10Ks of comp set
BANC has proven to be aggressive on the Consumer side of the bank as well. $885.1 million, or 42%, of BANC's consumer loans, separate from the PCI loans, are non-traditional. The lion's share of the non-traditional loans is Interest-Only first liens totaling $784.4 million as of December 31, 2016 (compared to $209.2 million at December 31, 2014). 43% of these loans have an LTV < 60%. 54% of the non-traditional loans have an LTV of between 61 and 80%. BANC fails to provide the FICO score for these loans. Are these subprime loans? The reserve for all Consumer loans was $12.1 million at the end of 2016, down from $13.9 million at the end of 2015. The allowance was 0.55% and 0.59% of Consumer loans during 2016 and 2015 respectively.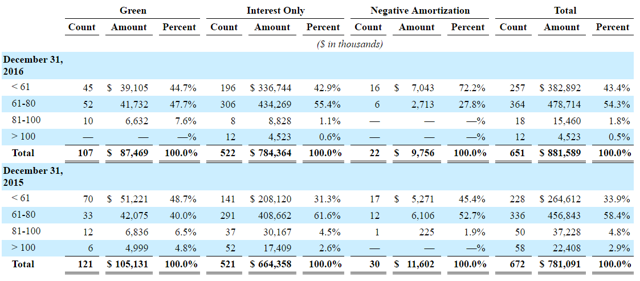 Source: BANC 2016 10-K
Review and Conclusions
We believe that BANC has not been transparent in its business practices. Yet even had it dotted every "i" and crossed ever "t" we believe it would still have major problems to contend with, owing to the fact that nearly all of its earnings stem from four non-recurring sources:
1. Gain on sale of securities
2. Gain on sale of loans
3. Purchased Credit Impaired loans accounting for interest income
4. Gain on sale of a major subsidiary: Palisades Group and Equipment Finance.
Even assuming that all of BANC's transactions were licit, and its earnings genuine, we think it would still have remarkable difficulty recreating the conditions that allowed it to claim its current valuation. In our view, it would need to continue to earn profits on trading billions of dollars of securities, build up and sell the equivalent of its PCI book, and then sell off another major subsidiary.
Otherwise, it would have the monumental task of drumming up new business to replace the activities that accounted for fully 60% of its adjusted pretax profits
What then are BANC's pro-forma earnings, and how should this impact its valuation? First let's break down its likely shortfalls.
Earlier this year, BANC announced that it would be winding down its mortgage banking business. According to previous 10-Ks: "The Mortgage Banking segment is comprised entirely of the Company's mortgage banking business, operated under the trade name of Banc Home Loans, which originates primarily agency, government, and conforming mortgage loans."
BANC's income statement impact should be as follows:
-$167 million of Mortgage Banking Income
-$5.4 million of Loan Servicing Income
+$160 million of non-interest expense
-$15.1 million of interest income related to mortgage banking
= -$27.5 million of impact to earnings before tax (15.2% of adjusted earnings before tax)
It appears that BANC will lose its gains on PCI Loan Sales and PCI interest income. BANC has been selling down on its PCI loans, especially the 2013 vintage allegedly purchased at a steep discount to fair value. The gain on sales of loans are unlikely to be a significant source of income in the future. If we calculate:
-$19.2 million of gains on sales of PCI loans (10.6% of adjusted earnings before tax)
-$34 million of interest income from PCI loan accretion (18.8% of adjusted earnings before tax)
= -$53.2 million of interest income (29.4% of adjusted earnings before tax)
The same of course goes for its one-time gains on selling off its subsidiaries. Namely:
-$6.5 million gain on sale of Palisades Group
-$2.6 million gain on sale of Commercial Equipment Finance unit to Hanmi
= -$9.1 million of non-repeatable income (5.0% of adjusted earnings before tax)
Once we adjust for the sale of its mortgage banking arm, the roll off of PCI gains, and the one-time sales of subsidiaries, we can estimate that BANC will be missing $90 million, or 50% of its 2016 adjusted earnings before tax. This is also assuming that BANC can continue to deliver nearly $30 million in net gains on securities available for sale transactions, with this low quality earnings representing 32% of pretax profits.
BANC had a reported tax rate of just 22.8% during 2016 and have guided to 25.0% for 2017. This reduced tax rate is simply the result of the solar investments for which the sustainability of which is not certain. Barring these credits, BANC would have a tax rate closer to 40.0%.
What does this mean for BANC's valuation?
We provide an earnings walk, generously assuming that BANC can grow its ongoing business at a 20% rate. We are assuming that the $10 million annual investment in the football stadium will aid BANC in achieving that goal, which is unlikely for 2017 since the stadium won't be opening until 2018. We think it is likely that BANC will report $0.72 in EPS for 2017. However, with Trump in office, we think it is likely prudent to assume solar tax breaks cannot be relied on and $0.50 in EPS, based on a normalized 40.0% tax rate, is more appropriate.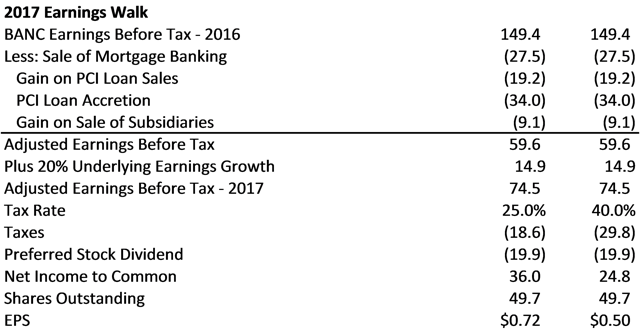 Source: BANC 10Ks, Author's calculations
To sum up, simply adjusting for non-recurring benefits from 2016 reduces BANC's earnings by 60%. Assuming a generous PE multiple of 15x on $0.72 in EPS implies an intrinsic equity value of $10.80, 47% below the current share price.
The above does not even account for the risk that BANC's mortgage business may be fraudulent. BANC transactions with the undisclosed related entities PMAC and PMLT comprised a significant portion of its business, with many of these transactions appearing to simply amount to a swap between another in order to register as sales.
In our opinion, the SEC should look into the issues raised by this article as part of their ongoing investigation into BANC. It is our sincere hope that investors will exercise caution when evaluating BANC shares, or investing their money with BANC.
Disclosure: I am/we are short BANC.
I wrote this article myself, and it expresses my own opinions. I am not receiving compensation for it. I have no business relationship with any company whose stock is mentioned in this article.