Bank of America (NYSE:BAC) handily beat earnings on Tuesday, posting EPS of $0.41 versus the consensus of $0.35; but the market reaction left much to be desired. The huge beat did elicit a weak response from investors initially, pushing the stock to open at $23.11, but shares ultimately closed down 0.44%. What went wrong?
Expecting Too Much
Yes, Bank of America did beat analyst expectations, but analysts are not always representative of the market. Remember that banks rallied after Trump's victory far before estimates went up.
Note that the sudden jump is caused by "next year" becoming "current year" after Q4
Even if we assume analysts are wrong again (i.e. lowballing estimates), forward P/E ratio has expanded since the election as well, meaning that investors expect earnings to be higher than current estimates anyway.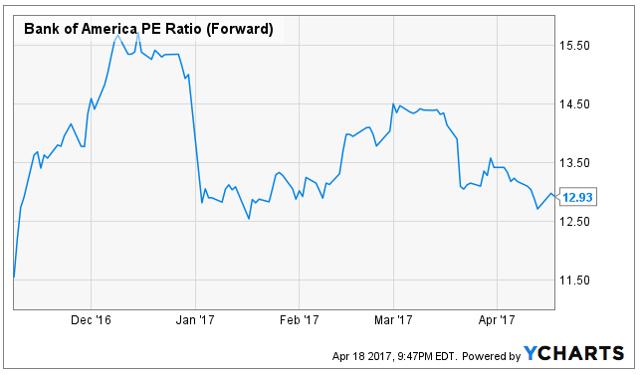 Delivering Too Little
Bank of America showed significant improvement across all business segments. Net income for Consumer Banking, GWIM, Global Banking, and Global Markets increased by 7.4%, 3.9%, 58.3% and 33.3%, respectively.
| | | | | |
| --- | --- | --- | --- | --- |
| in $ millions | Consumer Banking | GWIM | Global Banking | Global Markets |
| Q1 2017 | $1,894.00 | $770.00 | $1,729.00 | $1,297.00 |
| Q1 2016 | 1764 | 741 | 1092 | 973 |
| y/y % | 7.4% | 3.9% | 58.3% | 33.3% |
Source: data from Bank of America Supplemental Information
On the surface these numbers look great, but I believe that the year over year improvement is slightly misleading as Q1 2016 was a time of great turmoil for financial markets. Remember when everyone was preparing for the next market crash as oil sank to historic lows? As sentiment has improved significantly since then, one could say that these results are not that outstanding. Now should this momentum continue in Q1 2018, then perhaps we can say that the stock has more room too run. My hunch is that the comparison will be much more difficult going forward as the company laps the "bad" quarters. Because the market sees what I see (and hopefully you can see too), I don't think investors should get too excited about these optically great numbers.
Outlook Neutral
Given that the stock is trading at a premium to tangible book value (1.32x), the company must continue to post strong earnings to justify the current stock price. While the impending rate hikes are thought to help banks in general as net interest income (NII) should increase significantly, the actual impact is a bit more complicated. The management stated that a significant portion of the NII increase was driven by the increase in long-term rates. As we know, long-term rates have come down since the end of Q1: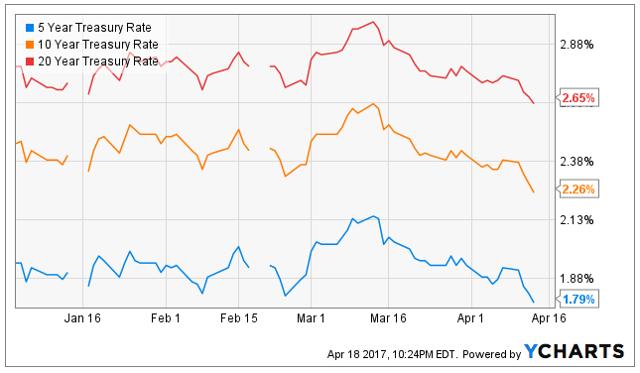 This means that should the current trend continue, the benefit of the increase in short-term rates could be offset. The management did give some color on the earnings call, stating that an instantaneous 100 bps parallel increase in rates can increase NII by $3.3 billion over the next 12 months. However, only $2.5 billion is driven by movements in short-term rates. So for one, we know it's highly unlikely for there to be an instantaneous increase of 100 bps across the curve, meaning that even the $2.5 billion potential improvement is completely out of reach. Furthermore, the long-term rates could keep going down! The management also did some math assuming a more realistic scenario, a 25 bps hike would roughly add $150 million of NII on a quarterly basis, which would represent just a 1.5% increase over Q1's NII of $11 billion.
Conclusion
No doubt that the rally since election night has some fundamental backings. However, I don't see this momentum continuing going forward. Although the company posted great numbers, it is apparent to me that the market has priced in everything plus more. The color given by the management regarding the impact of future rate hikes also wasn't impressive; so if you are betting that future rate hikes (which I agree will happen) will give the stock a boost, I would suggest that you think twice about investing in Bank of America.
Disclosure: I/we have no positions in any stocks mentioned, and no plans to initiate any positions within the next 72 hours.
I wrote this article myself, and it expresses my own opinions. I am not receiving compensation for it (other than from Seeking Alpha). I have no business relationship with any company whose stock is mentioned in this article.