On April 18, 2017, Bank of America (NYSE:BAC) reported better-than-expected Q1 2017 earnings, but BAC shares actually ended that day in negative territory (down less than 1%). For Q1 2017, BAC not only beat on the bottom line ($0.41 vs $0.35) but the bank's top line also came in above the consensus estimate ($22.2b vs $21.6b). For comparison purposes, the bank reported adjusted EPS of $0.28 on revenues of $20.7b for the same quarter in the prior year. So, BAC increased earnings by over 40% YoY but the bank's stock price is only slightly up since the stellar Q1 2017 results were released. What gives?
Some pundits have downplayed BAC's Q1 2017 top-line and bottom-line beats due to the fact that the bank faced an easy comp (remember, BAC's Q1 2016 results were less-than-impressive). But I would contend that the most recent quarterly results, coupled with management's strong commentary, had an extremely positive impact on the bank's narrative. Therefore, I believe that investors with a long-term perspective should be licking their chops at this opportunity to start (or add to) a position in a bank that has a great story to tell.
From A Cutback Artist To A Responsible Grower
When I first purchased BAC shares in 2010, my investment thesis was largely related to the bank's ability to squeeze out costs in order to grow earnings, but this story has officially changed (I know, this statement is a little dramatic). After reviewing BAC's Q1 2017 results and listening to the tone of the conference call, investors should now expect this bank to make a concerted effort to jump back into growth mode. In my opinion, the following quote properly captures the picture that management was trying to paint during the call:
My teammates continue to deliver for customers around the world, and not many companies have the resources we have to help our clients drive the global economy. But with that, we understand responsibility comes with doing this, and we do it in a responsible way. Responsible growth is driving more sustainable returns for you as shareholders also. This quarter, we produced strong revenue growth; we drove cost savings that offset higher revenue related cost; and we managed risk well. – Brian Moynihan, CEO
I highlighted the phrases within the quote that turned out to be the common themes that management communicated to shareholders throughout the conference call. But the biggest takeaway, in my opinion, was the fact that BAC reported "responsible growth" for the quarter – revenue was up ~7% YoY while non-interest expenses stayed flat.
Mr. Moynihan and team mentioned that growing the bank's revenue base was a top priority; but they also stressed the importance of the bank making the necessary investments now that will pay dividends in future periods, with the best example being digital banking.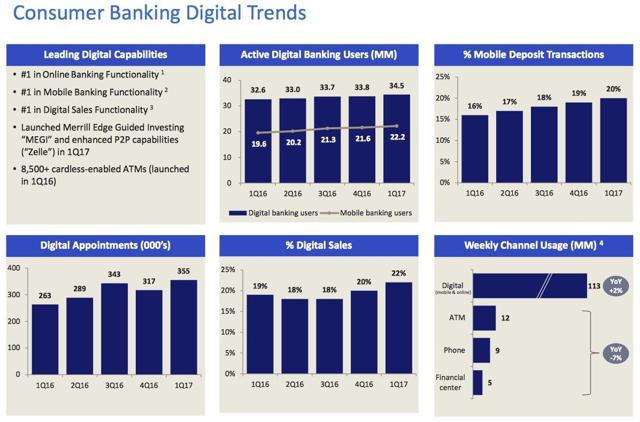 The ramp-up of investments made in the digital space and the increase in revenue-related incentives resulted in quarterly expenses coming in flat YoY (instead of the expected decline). But I believe that these are the type of expenditures that BAC needs to make at this point in time in order to position itself for the future.
As I explained above (and in this article), I have long focused on BAC's ability to shrink its expense base. Since the financial crisis, reducing non-interest expenses has been the only lever that BAC has been able to pull to grow earnings. For example, BAC's revenue is now only marginally higher than it was in 2012, but the bank's earnings have significantly increased as a result of declining expenses.
| | | | | | |
| --- | --- | --- | --- | --- | --- |
| ($ in millions) | 2016 | 2015 | 2014 | 2013 | 2012 |
| Total revenue, net of interest expense | $83,701 | $82,965 | $85,894 | $87,502 | $82,798 |
| % Chg | 1% | -3% | -2% | 6% | |
| | | | | | |
| Noninterest expenses | $54,951 | $57,734 | $75,656 | $69,213 | $72,094 |
| % Chg | -5% | -24% | 9% | -4% | |
| | | | | | |
| Net Income | $17,906 | $15,836 | $5,520 | $10,539 | $3,855 |
| % Chg | 13% | 187% | -48% | 173% | |
| | | | | | |
| Expenses as % of revenue | 66% | 70% | 88% | 79% | 87% |
(Source: Data from BAC's 2016 10-K; table created by W.G. Investment Research)
This bank has been plagued with legal fines and settlements over the last five years, especially in 2012 through 2014, but investors should begin to get used to the new normal, i.e. an efficiency ratio in the 60s and total noninterest expenses in the mid-$50b range. Management re affirmed its goal to reduce expenses to $53b by 2018, with some caveats. So there is definitely still room for this bank to cut out unnecessary costs over the next two years. To this point, management had the following responses to an analyst that inquired about the 2018 expense goal:
Comp expenses were up a bit, even though revenue was up quite a bit. So, we can manage against that with the inevitable thing that if revenue grows faster, we may have a little bit more expense pressure. But I think you know we'll be very happy to see that happen. – Brian Moynihan, CEO

The only thing I would add for the record is when we gave that guidance around this time last year, we specifically said it was based upon the economic environment at that time and that if things got better, we'd have to adjust; if things got worse, we have to adjust. Having said all that, that's just for the record, having said all that, we're still focused and confident we can get to the 53, approximately 53 for full year 2018. – Paul Donofrio, CFO
So, obviously, management will be okay with not reaching the 2018 expense goal if there are investments that are needed that will directly impact BAC's growth prospects. Therefore, investors should no longer consider declining expenses as the "main" story for Bank Of America (this is self-talk).
The financial community should now be focused on BAC's revenue growth prospects. For Q1 2017, BAC greatly benefited from the move in interest rates, as the bank reported a significant increase in net interest income ("NII").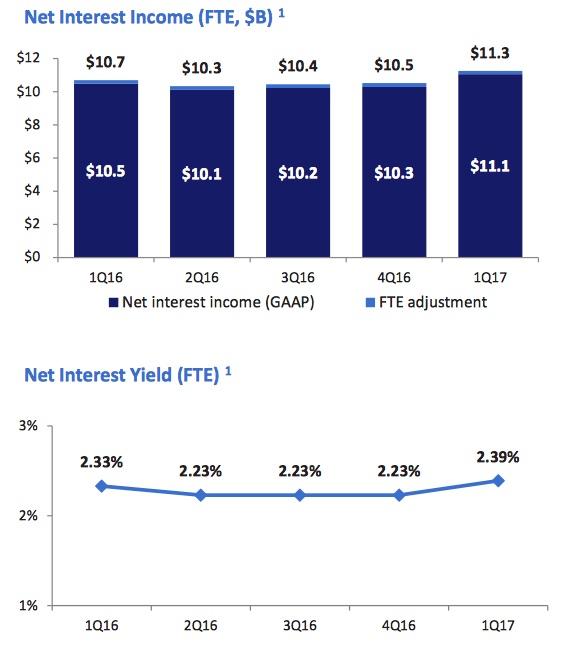 Yes, the more recent move in rates should have investors concerned about BAC's potential to grow its NII, at least in the near term, but let's not forget that this bank is more than just a rising rate play. Management stressed this exact point during the conference call:
While many of you might focus on rates and our leverage to rising rates, note that the $1.5 billion in year-over-year revenue growth is split 40% for NII which is driven by rate and by also the growth in loan and deposit balances, and the other 60% was driven through non-interest revenue. – Brian Moynihan, CEO
BAC has many different revenue sources that will allow for the bank to grow its top line in a "challenging" interest rate environment, if this turns out to be the case for 2017. For example, BAC saw a significant uptick in sales and trading revenue (up 13% to $3.9b) and net investment banking fees (up 37% to $1.6b) during Q1 2017. Therefore, the pundits that are calling for investors to sell BAC shares due to "rate pressure" are not considering the big picture, of course, in my opinion.
Valuation
Bank Of America's stock is still trading at a discount when compared to its peer group – Citigroup (NYSE:C), JPMorgan Chase (NYSE:JPM) and Wells Fargo (NYSE:WFC), as BAC shares are currently trading at ~0.95x their book value and ~1.34x their tangible book value.
Current Price
T/BV
BV
BAC
$23.07
$17.23
$24.36
Current Valuation
1.34
0.95
C
$58.41
$65.94
$75.86
Current Valuation
0.89
0.77
JPM
$85.55
$52.04
$64.68
Current Valuation
1.64
1.32
WFC
$53.50
$29.79
$35.70
Current Valuation
1.80
1.50
Average
1.42
1.13
(Source: Q1'17 Earnings Presentations for Citigroup, JPMorgan, and Wells Fargo)
There were legitimate reasons for BAC shares to trade at a discount to JPMorgan and Wells Fargo in the past; but, in my opinion, Bank Of America should no longer be viewed as a "problem bank."
Note: Bank Of America's Q1 2017 Earnings Presentation was the source for all imagines throughout this article, unless otherwise specified.
Bottom Line
There is a lot to like about Bank Of America as a long-term investment, especially after reviewing the impressive Q1 2017 earnings results; so, in my opinion, BAC shareholders should stay long. The bank's stock price has run up since mid-November 2016, but that does not mean that shareholders should be any less excited about the long-term story for Bank Of America. Management is still focused on reducing expenses but its attention has quickly transitioned to BAC's revenue growth prospects, which is a positive development.
I believe that BAC will be able to significantly grow its top-line over the next two-to-three years, even if rates only gradually increase from here. Plus, as Renaissance Research recently highlighted in this article, the upcoming CCAR (Comprehensive Capital Analysis and Review) should be viewed as a near-term catalyst for BAC shares. As such, the more you widen your investment time horizon, the more this bank looks like a great buy at today's price.
If you found this article to be informative and would like to hear more about this company or any other company that I analyze, please consider hitting the "Follow" button above.
Disclaimer: This article is not a recommendation to buy or sell any stock mentioned. These are only my personal opinions. Every investor must do his/her own due diligence before making any investment decision.
Disclosure: I am/we are long BAC, C.
I wrote this article myself, and it expresses my own opinions. I am not receiving compensation for it (other than from Seeking Alpha). I have no business relationship with any company whose stock is mentioned in this article.