With some notable exception, the news has gone almost unreported in the media: Bristol-Myers Squibb (NYSE:BMY) terminated the " CXCessoR4" trial due to a lack of efficacy in the short term acute phase. CXCessoR4 study was enrolling patients with pancreatic cancer or small cell lung cancer (SCLC) to receive Opdivo (anti-PD1) and ulocuplumab (anti-CXCR4) in combination. Even if the impact of this news could be irrelevant for BMS, the backlash could be larger for small company like GlycoMimetics (NASDAQ:GLYC) or BiolineRx (NASDAQ:BLRX), because both are developing a drug that targets CXCR4. In this column I'm going to talk about BiolineRx and its own CXCR4 inhibitor BL-8040, particularly with regard to three issues:
Pancreatic cancer is a "cold" tumor
CXCR4 inhibition
Differences between ulocuplumab and BiolineRx's BL-8040
Pancreatic cancer.
Pancreatic cancers are the third most common cause of cancer-related deaths in the United States, have high mortality rates and poor five-years survival prognosis.
In almost every other gastrointestinal cancer, there is some subgroup responding to new therapies except in pancreatic cancer, probably due to the fact that there are no commonly detected mutations across patients. Pancreatic cancer is very resistant to chemotherapy, there are only few drugs with some clinical activity, and response rates that are usually between 20% and 30%.
Generally speaking, immunotherapy has proved to be extremely useful to fight cancer due to its long lasting effects, and better overall survival when compared to patients treated with chemotherapy or radiotherapy alone.
Unfortunately, immunotherapy seems to have more potential in other tumors than in pancreatic cancer, but a combination of immunotherapies (or immunotherapy with other agents) might lead to more durable results.
Role of CXCR4 in pancreatic cancer.
Chemokines are a low molecular weight proteins(8-14 kDa) that stimulate recruitment of leukocytes and there is an increasing evidence that they play a critical role to create a permissive micro-environment for tumor growth, angiogenesis, metastasis, relapse, and therapeutic resistance.
To date, approximately 50 chemokines and near 20 chemokine receptors have been discovered and this means that there is redundancy in chemokine interactions, with multiple ligands binding to the same receptor. Interesting to note, CXCR4 is unique in that, it exclusively interacts with the ligand CXCL12.
The important role of CXCR4 has encouraged biotech companies to pursue the development of CXCR4 antagonists. This led to the FDA approval of the first CXCR4 antagonist, Mozobil (plerixafor) for the mobilization of hematopoietic stem cells.
BiolineRx and Bristol-Myers are not the only ones which are conducting trials with CXCR4 inhibitors or antibodies, that's a quite long list and companies like Pfizer (NYSE:PFE) and Eli Lilly (NYSE:LLY) are included (Figure 1).
| | | |
| --- | --- | --- |
| Asset | Company | Note |
| Ulocuplumab | Bristol-Myers | Antibody |
| BL-8040 | BiolineRx | Peptide |
| PF-06747143 | Pfizer | Antibody |
| POL6326 | Polyphor | Peptide |
| Plerixafor | Genzyme | Small molecule |
| ALX-0651 | Ablynx | Nanobody- discontinued |
| LY2510924 | Eli Lilly | Peptide |
| AMD11070 | Genzyme | Hepatotoxicity and retinal bleeding |
| X4P-001 | X4 Pharmaceuticals | Small molecule |
| Q122 | QUE Oncology | Phase 1 hot flashes, solid tumors discontinued |
| USL311 | Upsher-Smith | From Ligand Pharmaceuticals |
| Burixafor hydrobromid | TaiGen Biotechnology | Small molecule |
| CX-01 | Cantex Pharmaceuticals | Polysaccharide |
| CTCE 9908 | Chemokine Therapeutics | Discontinued |
| GMI-1359 | GlycoMimetics | CXCR4/E-selectin inhibitor |
Figure 1, selected drugs targeting CXCR4/CXCL12 axis. Source: Clinicaltrials.gov
Differences between ulocuplumab and BL-8040.
For the time being, we have a really hard to treat cancer, little responses with anti-PD1 and a terminated trial involving an anti-CXCR4. I guess it sounds pretty bad when you put it like that.
Ulocuplumab failure in small cell lung and pancreatic cancer raises a red flag for BiolineRx's BL-8040? BiolineRx and Bristol-Myers have the same kind of approach in tackling the fight against pancreatic cancer: an anti-PD1 antibody given with a CXCR4 antagonist. First differences are starting to show: Bristol-Myers was using its own antibody (Opdivo) while BiolineRx decided to use Keytruda. Although I am convinced that Opdivo and Keytruda are equivalent, there are recent examples suggesting that Merck's (NYSE:MRK) anti-PD1 therapy could prove to be more effective. How? Better study design, for example, but I will come back to this.
The second difference is that ulocuplumab and BL-8040 are structurally different: The first is a fully human IgG4 monoclonal antibody, the second (which was originally being developed by Biokine Therapeutics under the name BKT-140) is a short cyclic peptide.
They both have low nanomolar affinity for CXCR4 but ulocuplumab lack of complement-dependent cytotoxicity activity (NASDAQ:CDC) and antibody-dependent cell-mediated cytotoxicity activity (OTCPK:ADCC) so it's reasonable to assume that a large part of its anti-cancer activity is due to direct binding to CXCR4 and interference with CXCL12.
Even if the two drugs are clearly different, what I find most interesting is one small detail that concerns the two trials design.
Bristol-Myers' terminated trial (CXCessoR4) was very similar to the one that BiolineRx is now running ( COMBAT or KEYNOTE-202) except for one thing: It was enrolling people with small cell lung cancer, in addition to pancreatic cancer. This is an aspect which is not important for the comparison with the COMBAT trial.
Far more important, in my humble opinion, the way the two companies chose to administer their combination regimes.
COMBAT
CXCessoR4
INDICATION
PANCREATIC CANCER
PANCREATIC CANCER + SCLC
KEYTRUDA
OPDIVO
BL-8040
ULOCUPLUMAB
CXCR4
SMALL PEPTIDE
IgG4 ANTIBODY
MOA
Lack ADCC or CDC activity
and work as a "blocking antibody"
ARM
1week BL-8040 monotherapy
combination
then combination
STATUS
Enrolling
Trial terminated because of lack of efficacy in the short term acute phase
LINE
second line or more
second line or more
ECOG
0-1
0-1
PRIOR I/O
NO
NO
Figure 2, essential characteristics of COMBAT and CXCessoR4 trials' design.
If you look at figure 2 you will see that both companies are targeting, more or less, the same population: second line or more, ECOG performance status of 0 or 1 and patients checkpoint inhibitors naive. While Bristol-Myers decided to administer Ulocuplumab and Opdivo together, from the start of the study, patients in the BiolineRx's trial receive BL-8040 for five days in the first week and only after the combination therapy begins. The question is: Sequence or combine will make the difference? It is clearly possible.
Figure 3, activity of gemcitabine, an anti-PD-L1 antibody and the combination of the two drugs. (Source: "Clinical Significance and Therapeutic Potential of the Programmed Death-1 Ligand/Programmed Death-1 Pathway in Human Pancreatic Cancer", Takeo N. et al.)
As shown in figure 3, the combined treatment of gemcitabine and an anti-PD-L1 displayed a superior anti-tumor effect than the delayed PD-L1 blockade in a preclinical model of pancreatic cancer. That's one thing in favor of Bristol-Myers Squibb's approach, but sequencing two (or more) therapies could be better, not exposing patients to the toxicity of simultaneous approaches for long periods of time, for example.
Ipilimumab appears to be more effective when given prior to vemurafenib for most patients with BRAF+ melanoma, however it must also point out that different criteria were used for the selection of patients.
In a phase 1b study evaluating atezolizumab with vemurafenib concurrently or after a vemurafenib run-in period of 56 days or 28 days, investigators found that the 28-day run-in was superior.
In the concurrent group, the overall response rate was 33% versus 75% in the 56-day run-in and 100% for the 28-day run-in (Figure 4).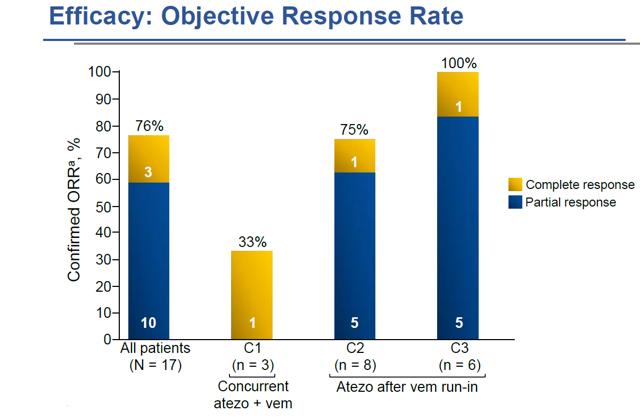 Figure 4, concurrent vs sequencing therapies in BRAF+ melanoma patients. (Source: "Preliminary clinical safety, tolerability and activity results from a Phase Ib study of atezolizumab (anti-PDL1) combined with vemurafenib in BRAFV600 mutant metastatic melanoma" Ryan et al.)
This make sense to me, since BRAF inhibitors increases T-cell infiltration and this may result in a tumor micro-environment more predisposed to respond to an anti-PD-L1 therapy. Interestingly, atezolizumab plus vemurafenib after vemurafenib run-in was better tolerated than concurrent dosing. A Phase 3 with 28 days run-in period is now enrolling patients, with expected data in 2019.
In lung cancer, data from of a phase 2 clinical trial showed that chemotherapy followed by ipilimumab produced better results than a concurrent schedule.
Conclusion.
On April 5, BiolineRx announced that it has closed its underwritten public offering of approximately 33.8M shares, for gross proceeds of $28.75M. The Company held $35.6 million in cash, cash equivalents and short-term bank deposits as of December 31, 2016. BiolineRx has enough money in the bank to fund operations well beyond 2019.
Whereas it's got a market cap right now of about $85M, is there still any purpose in investing in BiolineRx?
Well, to begin with, the Company is not focused only on BL-8040 -although it remains the lead candidate- and is not testing it only in pancreatic cancer.
The greatest risk, by staying within what I have written so far, is that the Company will announce weak interim data from COMBAT, in the second half of the year, but I believe that this possibility is already priced in.
Combining anti-PD1 and an inhibitor of CXCR4 is a promising strategy but the highly immunosuppressive environment in pancreatic cancer and the high tumor burden in metastatic disease are serious obstacle to overcome.
Within the limitations of the existing data, staggered therapies could lead to improved efficacy and tolerability than concurrent dosing.
From my point of view, COMBAT and CXCessoR4 have nothing in common except for the targets of the drugs, so Bristol-Myers' failure is not a red flag for BiolineRx. The two combination therapies are different and this is best shown by way companies decided to administrate them. BiolineRx's approach seems very well reasoned and I believe that their trial could have a better chance of success so, to sum up, this COMBAT is worth the fight.
Disclosure: I/we have no positions in any stocks mentioned, but may initiate a long position in BLRX over the next 72 hours.
I wrote this article myself, and it expresses my own opinions. I am not receiving compensation for it (other than from Seeking Alpha). I have no business relationship with any company whose stock is mentioned in this article.
Editor's Note: This article covers one or more stocks trading at less than $1 per share and/or with less than a $100 million market cap. Please be aware of the risks associated with these stocks.