---
Bitcoin Broke Out, Again; The Rally Is In Full Force
I stated just a short two weeks ago that Bitcoin was going to move up to set new highs this month. Well, I was right and I don't mind tooting my own about now. Bitcoin has broken above $9,000 smartly and move up to set a new high. Now that the coin is on the move again new targets emerge and the very first one is the $10,000 level. BTC/USD is now, as I write this, trading very near $9,850 so it won't take much to reach that level.
The next best target is to project the magnitude of the most recent rally, the run from $7,500 to $9,300, and that is $1,800. Projecting that from the $9,300 pivot point puts BTC at $11,100 and that is well above $10,000. Tyler Winklevoss, one of the famous BTC-owning Winklevoss Twins, says Bitcoin will hit $15,000 soon after it crosses the $10,000 market and I think he's right. The market is re-inflating post-2018 bear market and getting ready for the halvening that is scheduled for next spring.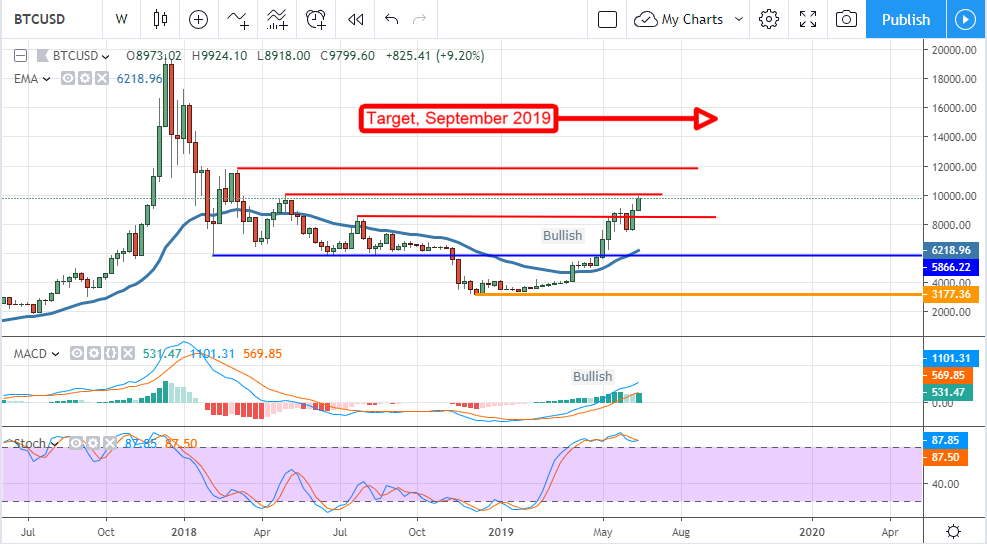 In a longer-term sense, the break of $9,000 and march to new highs confirms a much larger pattern too. BTC has been in consolidation for over a month after making a strong run up from $3,000 to $9,000. That run took a little more than three months which suggest we are looking at a three-month long rally ahead of us. The projection for that move is just over $6,000 which puts BTC at $15,000 by the end of September. If BTC makes a move like that what I see happening is a huge inflow of money to the market as traders race to catch the run to $20,000.
When BTC hits $20,000 things will start to get really interesting. BTC will be widely held, demand will be on the upswing and the halvening will be closer than ever. When that happens BTC is likely to break above $20,000. A break above $20,000, depending on what kind of corrective/consolidation action takes place beforehand, could easily lead BTC up to $37,000 in a matter of weeks. I know, $37,000 is a random sounding number but it has technical relevance. The move from $3,000 to $20,000 is worth $17,000. $20,000 plus $17,000 is $37,000 (and I think that is a low estimate).