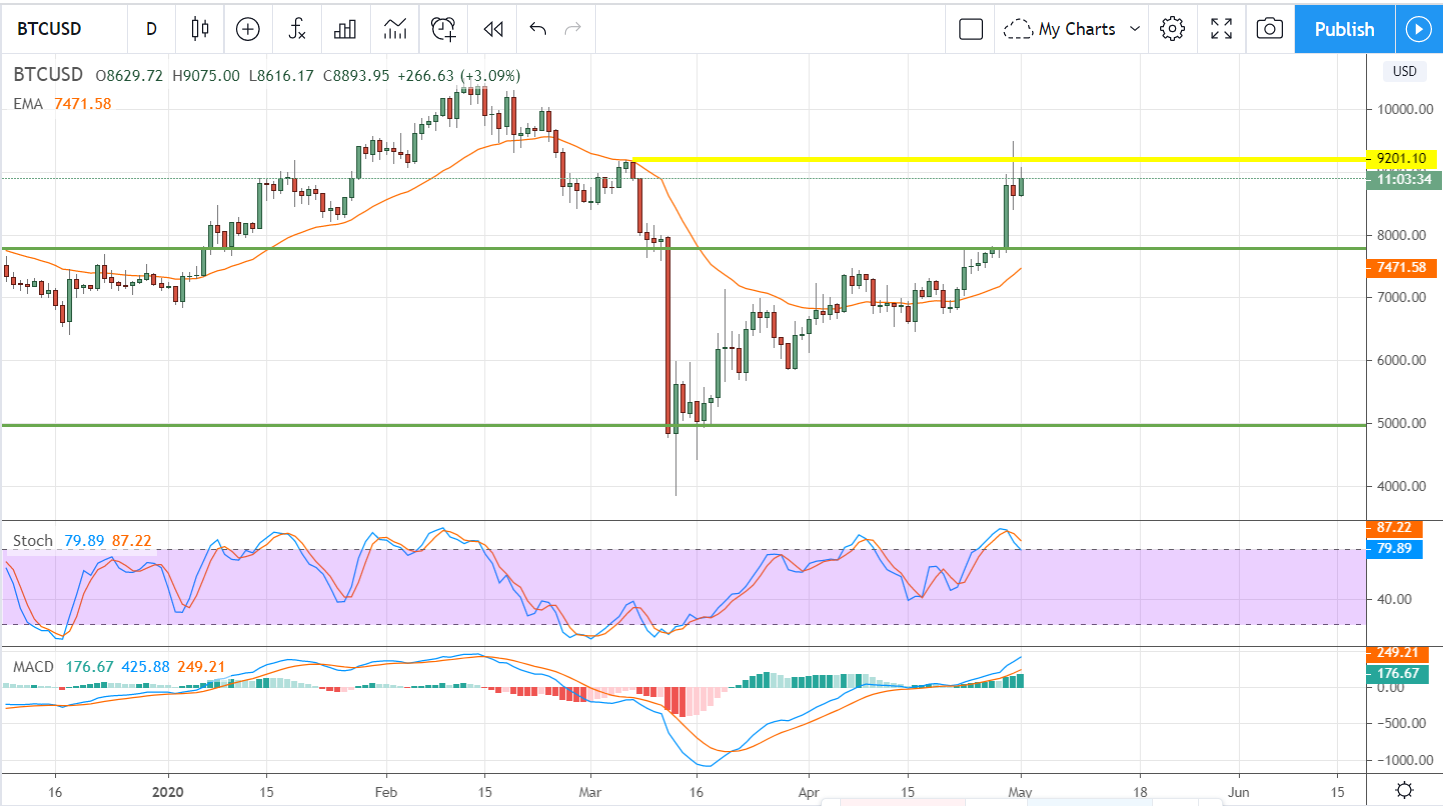 ---
Bitcoin Popped, The Market Is Back
It was just a few days ago I was writing about the possibility Bitcoin, and the crypto market, could pop and look here we are. BTC/USD broke above its resistance target, surged, set a new high, and looks like it will go higher. The move is driven by a combination of factors including #1 the low low prices we just experienced #2) the Bitcoin halving which occurs in about ten days and #3) the expectation Ethereum will continue to move forward with its plans this summer. You know, the long awaited Ethereum network upgrades that will help unlock the networks potential?
The BTC Chart Looks Good
BTC/USD broke above $7900 and quickly moved up to the next resistance zone near $9200. Resistance is present but price action suggest the bulls are bringing it to the bears so we should expect this level to break too. Once that happens, BTC/USD could move up to the $10,500 level and then to the $12,000 – $14,000 volatility zone. On the weekly charts, the indicators have turned bullish as well, firing crossovers that point to rising prices. Because the halvening is so close, I am expecting BTC to continue moving higher and possibly up to retest the previous all-time high. We'll see what happens.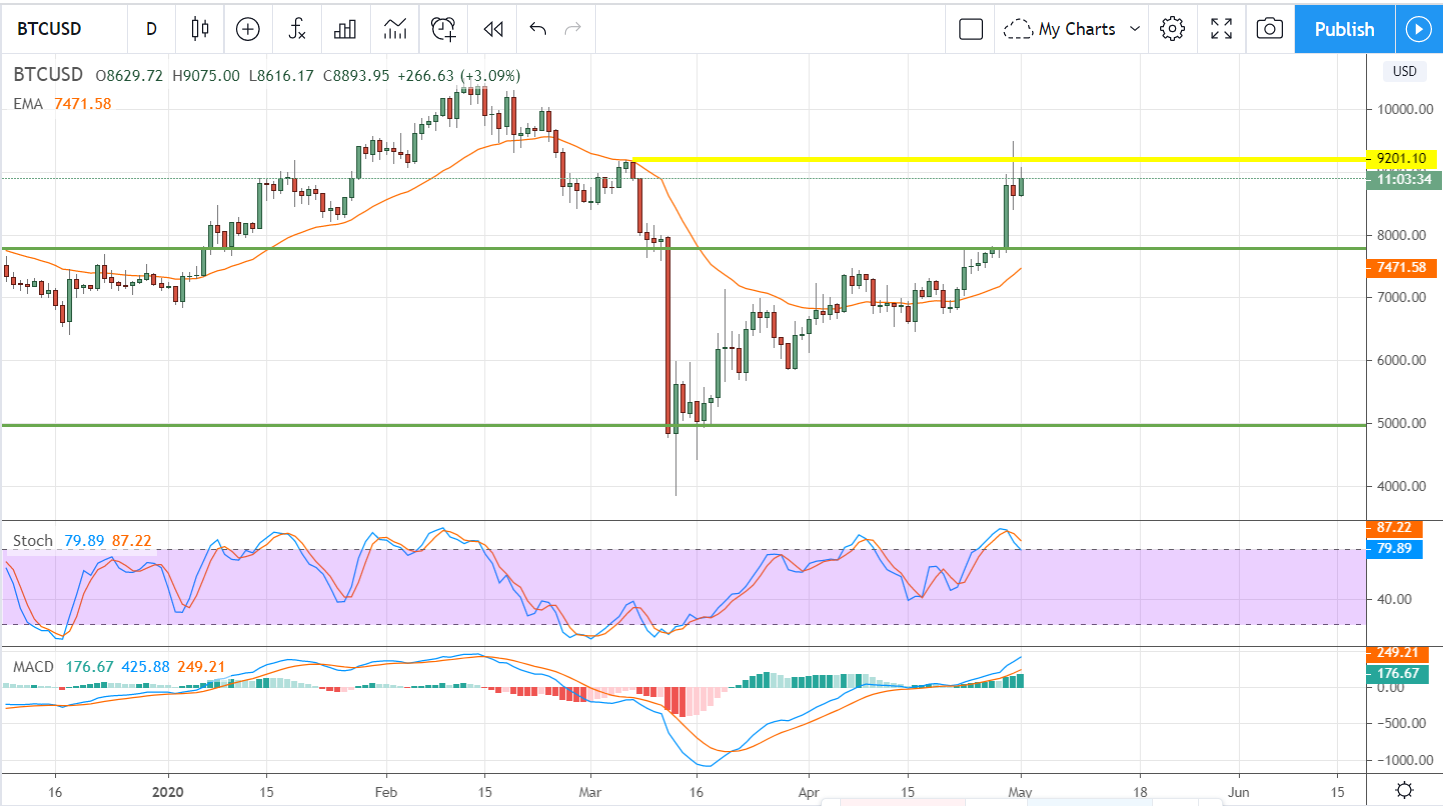 Ethereum Is Gaining Strength
Ethereum is gaining strength relative to other crypto's because there is a high expectation the network will get some upgrading this year. Along with the upgrades, Ethereum 2.0 will come with a drastic reduction in new-token availability effectively driving up their value. The chart looks good too. ETH/USD is in a similar position to BTC in that it is trending higher and consolidating below resistance. Resistance is at the $225 level, a level that could lead to much higher prices very quickly. Assuming the consolidation is a flag within a near-term rally, a signal marking a halfway point in most cases, ETH/USD could hit $350 within a few months of now.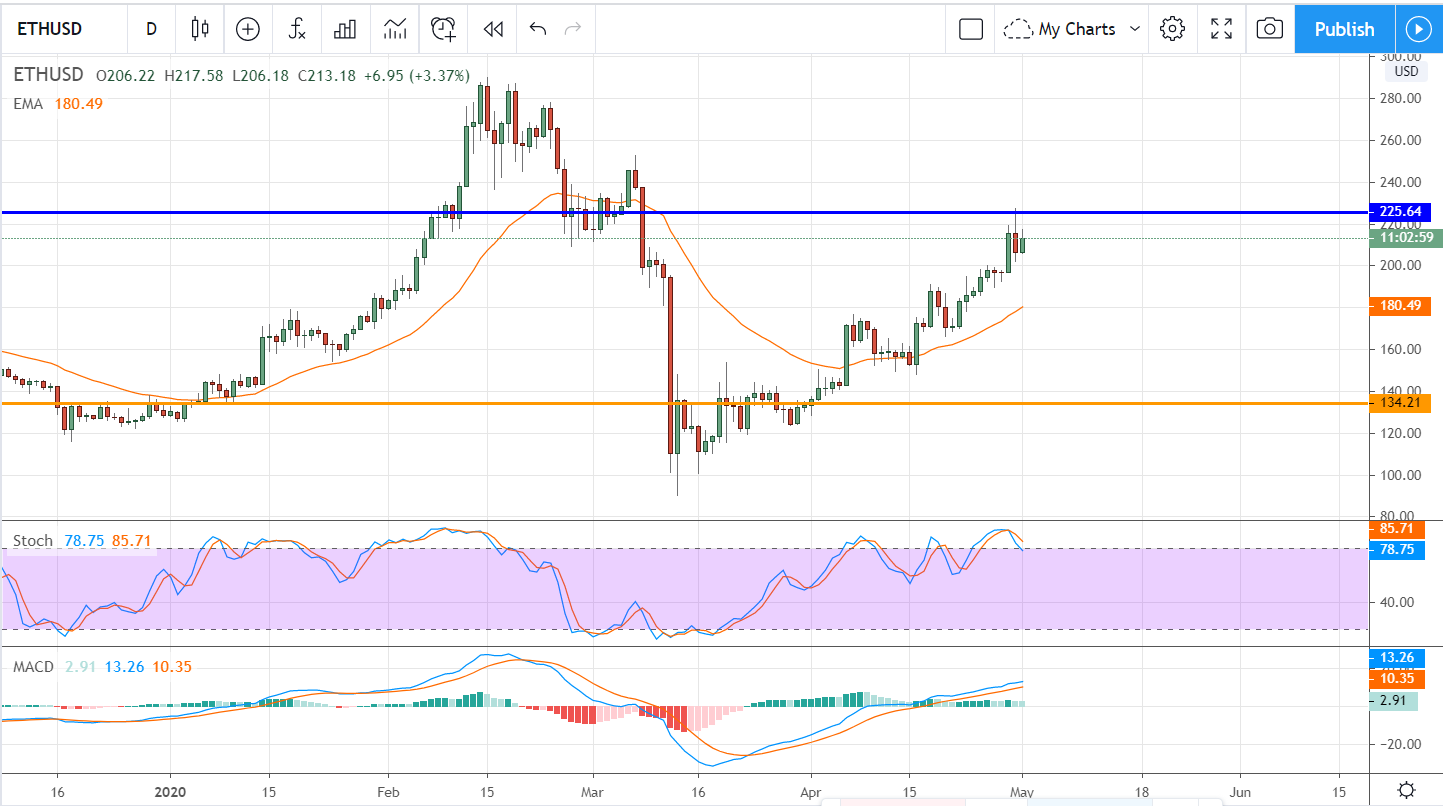 Litecoin Lags
Litecoin is lagging the market and mostly because it's just one more coin. It's a good coin, just not one with a lot of reason to be bullish and that's why I got out of mine. While the near-term outlook is bullish, technically speaking, it's more a reaction of the market than anything else. A rising tide lifts all ships kind of thing. If LTC/USD can sustain support at the $45 level it may be able to move up to the $55 to $60 level but I don't know. The indicators are bearish right now so we should expect a test of support at least. If the EMA fails to hold then prices could see a precipitous drop.