Quick Take
Business Process Management platform Appian has filed an S-1 registration to raise up to $86.25 million in an IPO.
Appian is a low-code provider of BPM (Business Process Management) functionality to large enterprises and middle-market firms.
We don't yet know proposed post-IPO valuation and estimated per share pricing; I will provide an update when those important terms are disclosed.
Company
Reston, Virginia-based Appian was founded in 1999 by CEO Matthew Caulkins, CTO Michael Beckly, SVP Marc Wilson and GM Robert Kramer.
The company has developed a platform that helps enterprises 'unite users with all their data, processes and collaborations – in one environment, on any mobile device.'
Appian has raised $47.5 million in two disclosed funding rounds from venture capital firms New Enterprise Associates and Novak Biddle Venture Partners.
Technology
Appian has created a SaaS-based, low-code system that enables companies and agencies to improve their business processes and case management by connecting the various stakeholders involved and facilitating their interaction.
Below is a brief demonstration video for the company's process modeler system:
(Source: Appian)
Appian's customer base ranges from the middle-market to enterprise firms: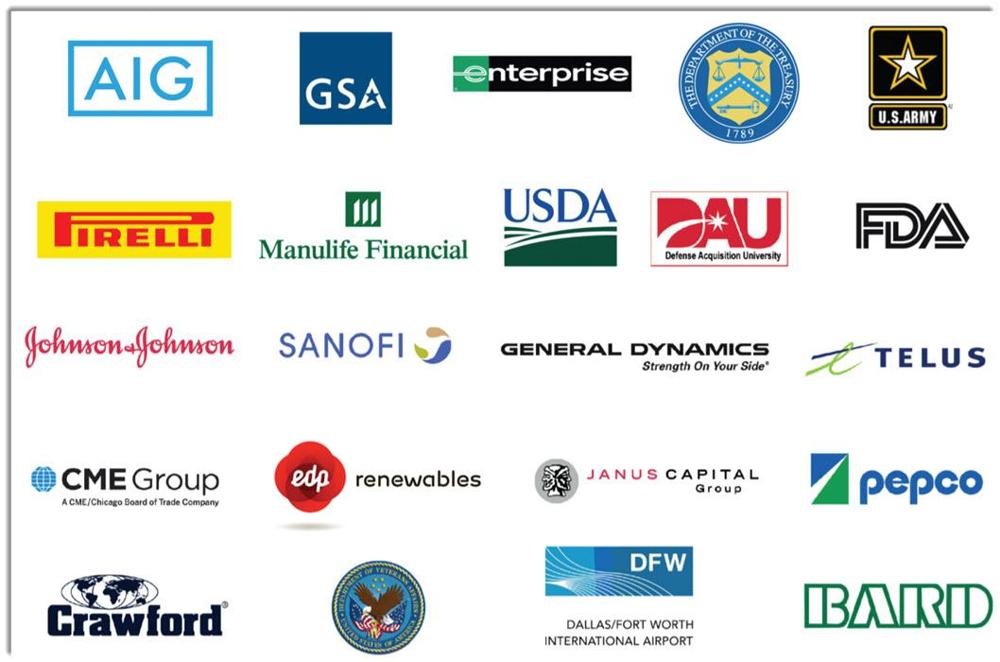 (Source: Appian)
Market and Competition
According to a 2016 report on the BPM market by research firm MarketsandMarkets, BPM is estimated to grow from $7 billion in 2016 to $13.52 billion in 2021, representing a very substantial CAGR (Compound Annual Growth Rate) of 14.2%.
14.2% CAGR is among the faster-growing rates in various enterprise software markets, and points to a significant opportunity for market participants as mid-sized and large enterprises continue their transition to the cloud.
Key drivers of that growth are the APAC region from a geographical standpoint and the banking & financial sector from an industry vertical approach.
Major competitive vendors that provide BPM solutions include:
Salesforce (CRM
ServiceNow (NOW)
IBM (IBM)
Software AG
Oracle (ORCL)
SAP SE (SAP)
Pegasystems (PEGA)
Redhat (RHAT)
OpenText (OTEX)
Tibco Software
Verisae
Management says that it primarily competes with 'low-code development platforms' such as Salesforce and ServiceNow and BPM & case management software firms such as IBM, Oracle and SAP.
Larger competitors also can 'bundle' their BPM offerings within a larger offering suite, putting pricing pressure on specialists such as Appian, though sometimes at the cost of feature and functionality disadvantage.
Financials
Appian's recent financial results can be summarized as follows:
Topline revenues are growing but a decreasing rate
Gross margin shows significant improvement
Uneven but recently positive cash flow from operations
Below are the company's operational results for the past three and one-quarter years (Audited GAAP for full years):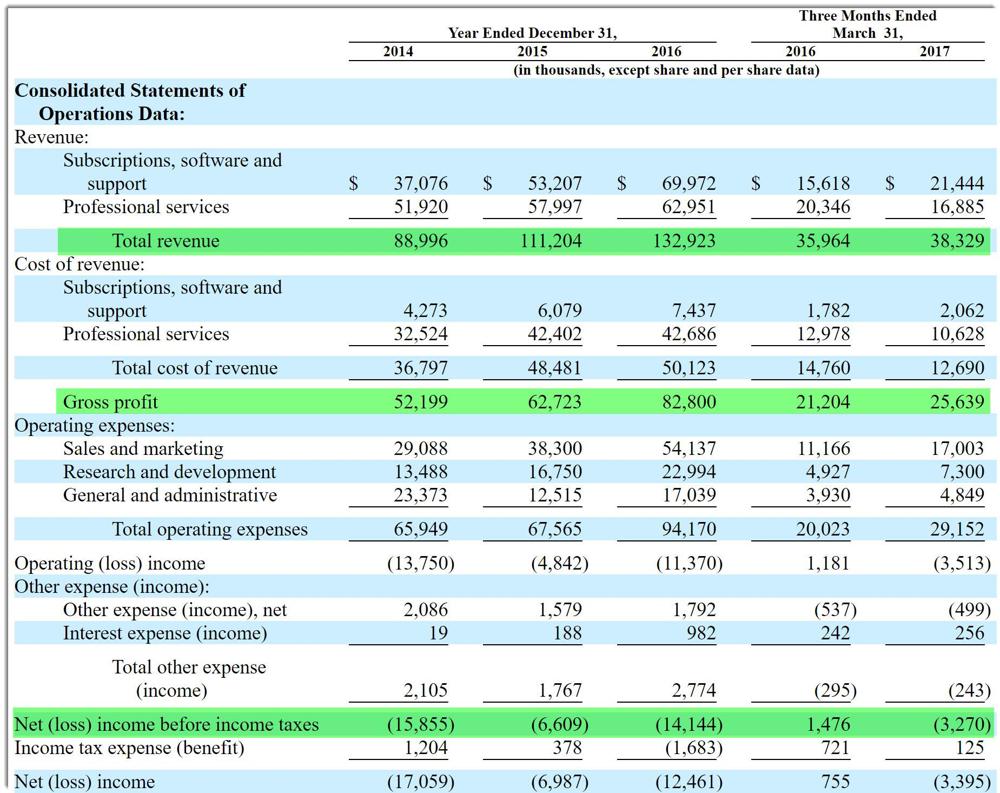 (Source: Appian S-1 Filing)
Revenue
1Q 2017: $38.3 million, 6.3% increase vs. prior
2016: $132.9 million, 20% increase vs. prior
2015: $111.2 million, 25% increase vs. prior
2014: $89 million
Gross Margin
1Q 2017: 67%
2016: 62%
2015: 56%
2014: 59%
Cash Flow from Operations
1Q 2017: $3.7 million cash flow from operations
2016: $7.8 million cash used
2015: $2.1 million cash used
2014: $1.5 million cash flow
As of March 31, 2017, the company had $35 million in cash and equivalents and $115 million in total liabilities. (Unaudited interim financials)
IPO Details
Appian intends to raise $86.25 million in gross proceeds from an IPO by selling shares of its Class A common stock. After a successful offering, the company will have Class A and Class B shares, with holders of Class B shares (management and existing investors) retaining ten votes per share vs. one vote per Class A share.
This dual structure is an increasingly common way for founders to retain voting control of the company. Notably, a recent study by Edward Kamonjoh of Institutional Shareholder Services indicated that companies with a dual class structure underperformed on the basis of:
total shareholder returns, revenue growth, and return on equity, over a one-, three-, five- and 10-year period…The study also found that CEO compensation at controlled companies compared to non-controlled companies was not aligned with the lower financial performance noted.
Management has not indicated an estimated per share price range or resulting post-IPO market capitalization.
Appian says it will use the net proceeds from the IPO as follows:
Although we have not yet determined with certainty the manner in which we will allocate the net proceeds of this offering, we expect to use the net proceeds from this offering for working capital and other general corporate purposes. We also intend to use a portion of the net proceeds to pay all remaining outstanding principal and interest, together with a termination fee, under our term loan with Silicon Valley Bank and approximately $7.4 million of the net proceeds to pay a cash dividend to the holders of our Series A preferred stock that is payable upon the conversion of our Series A preferred stock to Class B common stock, which will occur immediately prior to the closing of this offering.
What is unusual about this use of proceeds is paying 'a [$7.4 million] cash dividend to the holders of our Series A preferred stock'. Apparently, this term was agreed to when the company raised its Series A round from Novak Biddle Venture Partners in 2008. This type of transaction is typically never done with venture investors, so is special to this IPO.
Listed underwriters of the IPO include Morgan Stanley, Goldman, Sachs & Co., Barclays and others.
Commentary
Appian is an enterprise IT software firm that wants to go public during a time when other enterprise IT firms have successfully floated their shares, such as Okta (OKTA), Mulesoft (MULE) and Cloudera (CLDR).
The company has developed an impressive customer base of 280 large and middle-market enterprises and government agencies that value its 'low-code' approach, paying an average of $475,000 per year for its platform.
Given the significant growth rate of BPM spending estimated over the next five years, it's hard to bet against a firm so squarely aimed at the BPM & Case Management functions.
However, the financials present a picture of slowing topline revenue growth rates. While this is not uncommon among IPO-aspiring enterprise IT firms with revenues above the $100 million mark, it does suggest a need for investors to properly value its future growth prospects.
Appian's gross margin is improving, as is its cash flow from operations, both positive signs that management is performing well.
Management has yet to disclose detailed terms of the IPO, so my final opinion will await those all-important metrics.
As of now, I like the industry, but I'm not sold on the company.
I write about M&A deals and IPOs. Click the Follow button next to my name at the top or bottom of this article if you want to receive future articles automatically.
Disclosure: I/we have no positions in any stocks mentioned, and no plans to initiate any positions within the next 72 hours.
I wrote this article myself, and it expresses my own opinions. I am not receiving compensation for it (other than from Seeking Alpha). I have no business relationship with any company whose stock is mentioned in this article.