I'm short Brinker International (NYSE:EAT), so obviously I'm biased. But I am extremely surprised by the price action in EAT stock over the past few months:
source: finviz.com
Brinker's fiscal Q2 report in January was an outright disaster, as even management admitted at the time. Brinker spun the Q3 report as better, but to my eye, it was nearly as concerning. Traffic is falling, margins are compressing, and EPS fell 6% even with a debt-fueled buyback that reduced the share count by almost 14%.
Clearly, bullish investors are trying to "skate to where the puck is going, not where it's been", and seeing either an operational turnaround or a potential buyout of Brinker. Neither outcome seems at all likely. I still believe Brinker is a business in secular decline – and though I may have to be patient, I still believe the stock has a lot further to fall.
Q3 Earnings
Brinker's Q3 earnings did beat consensus by $0.09, though revenue was below expectations. But the mixed headline numbers belie a quarter that looks rather weak from top to bottom.
The biggest problem is revenue – and the biggest issue there is traffic. Chili's traffic declined over 6% in the quarter, and is down nearly 11% over the past two years.
In my opinion, the bull case pretty much ends right there. The restaurant model – whether a corporate casual dining chain or a mom-and-pop eatery – cannot manage traffic declines. The impact of deleverage of SG&A and lease expense is simply too great. Brinker actually did a decent job on margins given the sales declines, with restaurant-level margins falling just 50 bps. But that includes a 120 bps benefit from lower input costs – which are starting to reverse.
The EPS figures don't look that bad, with Q3 earnings down ~6% and the midpoint of reiterated full-year guidance implying a ~13% drop. But both benefit from an accelerated share repurchase executed last year. Operating income declined over 15%.
This is a declining business at the moment, by any measure. And in terms of earnings, it's a sharply declining business. Same-restaurant sales were negative 2.5% last year, and are guided to drop another 1.5-2% this year – which includes what looks like very aggressive comp guidance for Q4. Obviously, investors buying at current levels are expecting that to change. But that strikes me as far too optimistic, for a number of reasons.
How This Gets Better
In the past, I've compared Brinker to mall retailers in the sense that both categories are facing secular declines that industry executives continue to refer to as "challenges" and "headwinds". CEO Wyman Roberts repeatedly referred to industry conditions on the Q3 conference call as if they were something to manage – not a sea change in consumer demand that is unlikely to shift.
In retail, in restaurants, and even in beer, consumers want local, fresh, and unique. It is a substantial, permanent, headwind to businesses like Chili's, DineEquity's (NYSE:DIN) Applebee's, and Ruby Tuesday (NYSE:RT), among many others. Betting on a turnaround for Brinker implies a) that management believes a turnaround is necessary and b) that such a turnaround is possible.
Condition a) simply isn't true at the moment. Roberts repeatedly referred to incremental changes, such as a 20% reduction in the menu, increased off-premise sales, and a focus on "value" and fewer promotions. In tone, it sounded exactly like retail CEOs over the past few years insisting they could fight off Amazon.com (NASDAQ:AMZN) and lower mall traffic simply by working harder. Those CEOs were wrong – and I'm skeptical Roberts is right.
Because recent history suggests that b) isn't true, either. There was an interesting comment from Bernstein analyst Sara Senatore on the Q3 call, who prefaced a question by saying that five years ago Brinker "embarked on the turnaround which proved very successful". That's simply not the case: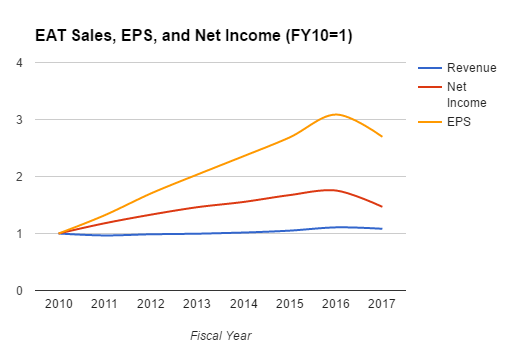 source: author from EAT filings. FY17 figures estimated from company guidance
The turnaround absolutely has not been successful. At the midpoint of guidance, the five-year comp stack will be -1% – with that comparison coming against two straight years of same-restaurant sales declines (including an ugly -4.4% print in FY11). Net income is guided to about $174 million in FY17; it was $173.5 million in FY13. The only thing in which Brinker truly has been successful – apparently – is levering up its balance sheet to repurchase shares and create the illusion of EPS growth to fool analysts. Zero growth for a restaurant chain in an improving economy is not an impressive performance.
It's a very similar strategy to that used by Gap Inc. (NYSE:GPS) up until about 2015. But when that company's balance sheet got too stretched, and supposedly temporary "industry challenges" caught up to it, the stock tanked. Brinker is at a very similar point. Its lease-adjusted leverage ratio is above 3.5x at this point, and it lost its investment-grade rating at both Fitch and S&P last year.
If Brinker can't paper over net income declines with a lower share count, I'm skeptical the stock can hold even a current 14.6x P/E multiple. Maggiano's EBITDA was up modestly in Q2, but appears to have declined in Q3 between negative comps and lower operating margin. (The 10-Q hasn't been filed yet with the exact figures.) Chili's traffic is declining despite a mid-double-digit increase in advertising spend; the idea that menu changes and a move in off-premise sales from 10.5% to 12% or wherever Brinker thinks that figure should go offsets secular traffic problems is ludicrous. Roberts admitted that checks were going to come down, with even a $15.20 per-person average "a little high". How a reasonably high fixed-cost business is going to expand profits with traffic declines and lower pricing is simply beyond me.
M&A and Valuation
Meanwhile, the idea of a buyout of Brinker has been floated recently – though that's nothing new. In theory, the pieces of a Darden Restaurants-like (NYSE:DRI) P/E buyout are there. Brinker owns some real estate: 190 of a current 1,000 company-owned restaurants. Maggiano's could be sold, as could the real estate, and the company could move toward a majority- or wholly-franchised model.
Again, any P-E interest would be based on the fact that there's some massive turnaround potential in Chili's – and I simply don't see it. Olive Garden – the key remaining asset of the Darden breakup – is a far better, and better-defined, brand than Chili's "Tex-Mex and ribs and Chicken Crispers and burgers" mish-mash. And there was clear low-hanging fruit in terms of an Olive Garden turnaround.
More importantly, the M&A numbers don't really work. Brinker owns 190 properties, as noted. Assume they are worth $2.5 million each – an aggressive figure, as it's close to $1 million more per property than what Ruby Tuesday locations appear to be worth. Maggiano's EBITDA should be about $60 million this year, assuming ~flat performance. Brinker's franchise revenues are about 6.7% of franchise sales; its 1,000 company-owned restaurants should generate about $2.7 billion in revenue this year. So the SOTP valuation looks something like this:
real estate: $475 million
Maggiano's: $600 million (10x EBITDA, a premium to industry median/mean)
franchise revenue: $2.9 billion ($84 million in existing revenue plus $180 million in incremental revenue, at 11x. Obviously, even a franchised model has costs, and taxes, so this is an implied ~18-22x multiple to FCF.)
That's about $4 billion in value. Less $1.3 billion in net debt, it would value EAT at $53. P-E firms generally aren't in the business of buying out a stock at its breakup value.
And that model doesn't even include taxes on real estate gains, which would be about $1.50 per share (at 35%; carrying value is $243 million). It assumes Maggiano's – which is not some crown jewel, but posting comp declines itself – could get an above-market multiple. It assumes Brinker could instantly franchise 810 restaurants – even though the company bought out a major franchisor two years ago. And it values franchised restaurants at about $1.8 million each even though Chili's paid barely $1 million in that 2015 transaction.
On an earnings/cash flow basis, I don't think Brinker is worth more than $35 (12-13x zero-growth multiple at best). On an SOTP basis, even granting $1.1 billion for the real estate and Maggiano's, the 1,600+ Chili's restaurants are worth maybe $2 billion, which gets to about $36. Both estimates assume the business stabilizes – which itself is a dangerous assumption.
Obviously, the key risk to the short is if an acquirer sees the situation differently (it only takes one, or maybe two, firms in this case given a possible real estate/Maggiano's spin/sale). And if investors see the weakness at Chili's, in particular, as temporary, driven more by the widening gap between eat-in and eat-out prices than secular pressure, EAT can stay elevated as those investors await a turnaround.
I'm skeptical of an acquisition, however, and at some point in the not-too-distant future, Brinker's decline is going to become evident. It's clear from Senatore's comments (and those I've seen elsewhere, including on this site) that investors see the impressive EPS growth of the past few years and, in that context, consider FY17 a blip. It's not a blip – it's a continuation, and a modest acceleration, of long-held weakness. And there's nothing in Q3 results to suggest that weakness is going to abate.
Disclosure: I am/we are short EAT.
I wrote this article myself, and it expresses my own opinions. I am not receiving compensation for it (other than from Seeking Alpha). I have no business relationship with any company whose stock is mentioned in this article.