A great deal has changed for Constellation Brands (NYSE:STZ) since our last article in October 2016 or should we say, since the US elections of November. For a US company that is producing 25 million hectoliters of beer in Nava Brewery (Mexico) nearby the U.S. border and for which Hispanic consumers represent 40% of U.S. sales, it cannot cope well with President Trump policy on building a wall with Mexico and deporting Mexicans from the United States. Fortunately, it appears that it was more a political message than anything else as there isn't going to be a wall built alongside the U.S.-Mexican border but rather a couple of fences. Consequently, the Mexican peso and equities rallied since the beginning of the year as well as STZ which saw its Hispanic consumer confidence brighten.
Now that geopolitical concerns seem to have faded away (although current US administration is being unpredictable), we will focus on the company's strategy, fundamentals and whether it's a good investment at today's price?
1. New production capacities and brand premiumization
In 2017, net sales reached $7.3 billion, a double-digit (+12%) increase compared to the previous year driven by a significant sales growth of +17% in Beer (58% of sales), followed by +6% in Wine (37%) and 8% in Spirits (5%). During the last quarter of 2017, Beer continued to record a high growth rate of 11% while Wine was down -3% due to the divestiture of the Canadian wine business and Spirits was up strongly at +30%.
Beer demand for the brands operated by STZ is constantly edging up. Indeed on top of the well-known brands such as Ballast Point, which has the right positioning for future growth, other brands like Pacifico and Corona Premier are now being pushed by management to turn them into key growth providers thanks to new production capacities. In addition to the two existing breweries in Nava and Obregon that are now fully on stream, a third brewery is underway to capture the additional demand for beer. In fiscal year 2018, about $1 billion of capital expenditure will be allocated for the expansion of Mexico beer operations which should represent the peak investment year for beer activities in order to meet future demand.
Wine's strategy is being refocused on high-end wine to benefit from a higher margin business and favorable U.S. premiumization trends (rather $15 to $25 wines than $5 to $10). Recent acquisitions of premium brands Meiomi, The Prisoner and Charles Smith wine enabled the company to benefit from more pricing power and reduced promotion activities. Despite selling the Canadian business for strategic reasons, Canada remains the largest export market thanks to Kim Crawford and Robert Mondavi brands.
Spirits, still a tiny part of STZ, is expected to develop thanks to external growth with High West Distillery, Bardstown Bourbon and eventually Castle Brands (NYSEMKT:ROX) after recent rumors of a buyout.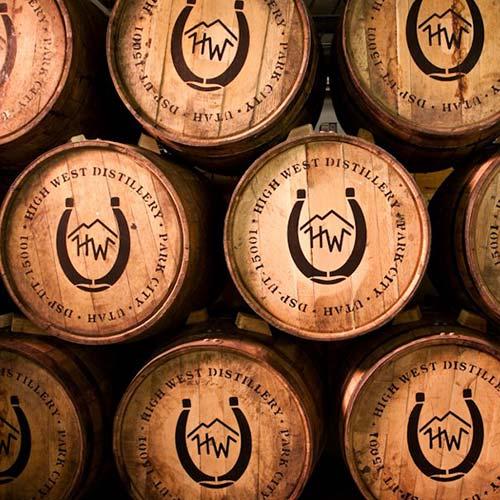 Source: Company website
2. Some takeaways from the latest earnings report
As mentioned above, the premiumization of the portfolio of brands is accretive to margins. Fiscal year 2017 operating margins improved by 150 basis points to reach 32% compared to 2016, Beer was the largest contributor at 36% EBIT margins compared to Wine & Spirits at 26% margins. This trend further accelerated during the last quarter of the year with Beer at 38% operating margins and Wine & Spirits at 27%, which confirms that the high-end pricing strategy has paid off despite some softening in consumer confidence during Q4 2017, especially in the month of December which was a lackluster month for the entire U.S. beer industry.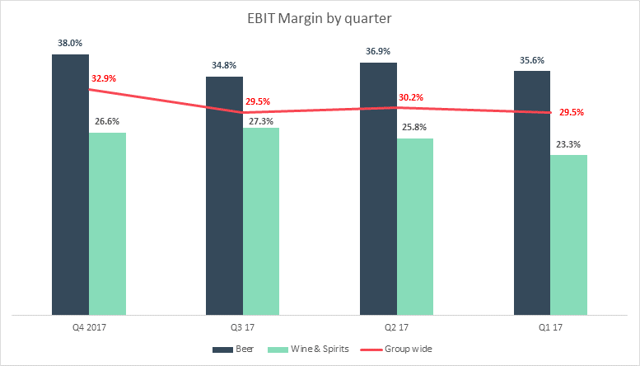 Source: Company data
Bottom line of the P&L, diluted EPS for Q4 2017 was up 24% at $1.48, a higher growth compared to top line partly because of the aggressive share buyback program of $1.1 billion in 2017 which accelerated during the last quarter thanks to attractive share prices after the U.S. elections.
Looking at the balance sheet, some key ratios are deteriorating such as the current ratio (current assets to current liabilities) which decreased from a comfortable level at 2.7 times to as low as 1.2 times lately which is close to a critical level. The surge in current liabilities is also harming the quick ratio as cash and accounts receivables are not growing as fast which must be monitored closely.
Fortunately, debt ratios are under control as STZ managed to decrease the net debt to EBITDA level at 3.7 times after offloading the Canadian wine business which generated a cash proceed of $575 million on the balance sheet. To finance its new acquisitions, purchases of treasury stock, dividends and the principal repayments of the long-term debt, the company achieved to issue a $2 billion long-term debt at an investment grade debt status for the first time in the company's history.
On the cash flow statement, free cash flow grew by 51% to $789 million at the end of February 2017 helped by a double-digit operating cash flow growth of 20%.
3. Current valuations make this investment case eye-catching
We would like to bring your attention to 3 key elements that are important to us to assess if STZ is the right investment:
First, the ability of the company to grow EBIT margins at a faster rate than its peers, Pernod Ricard (OTCPK:PDRDF) and Diageo (NYSE:DEO), in the next 2 years. We believe the company has the right strategy to achieve 37% EBITDA margins, the highest level compared to its competitors.
Secondly, the price you are paying for the earnings growth that you are expecting in the next 2 years. Indeed, STZ is today the only company in our peer group for which you have to pay the expected earnings growth less than 2.0 times. As a rule of thumb, any price below this threshold is considered attractive.
Thirdly, the Price to Earnings ratio which is currently the lowest at 22.8 times compared to the competition while the company generates higher EBITDA margins and higher growth, so the P/E ratio should be even lower compared to Diageo and Pernod Ricard in 2 years time.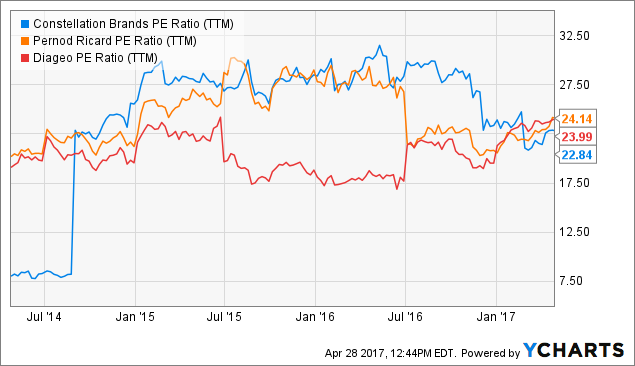 STZ PE Ratio (TTM) data by YCharts
As a conclusion, while some concerns on the Mexican peso volatility are still lingering (STZ is hedged against the peso at 50%), we believe the company is the best positioned to capture growth from the various categories of alcohol beverages (Beer, Wine, Spirits) while trading at a reasonable price.
Disclosure: I am/we are long STZ, DEO.
I wrote this article myself, and it expresses my own opinions. I am not receiving compensation for it (other than from Seeking Alpha). I have no business relationship with any company whose stock is mentioned in this article.
Editor's Note: This article discusses one or more securities that do not trade on a major U.S. exchange. Please be aware of the risks associated with these stocks.