Cypress (NASDAQ:CY) is going through a reorientation called Cypress 3.0, away from products (while still the leader) like SRAM and Nor flash memory. However, these are near commodities.
Cypress 3.0 is the program to shift from the near-commodity businesses towards providing integrated solutions for IoT (internet of things) applications with a special emphasis on industrial and automotive solutions.
Cypress has boosted its reorientation with the help of two acquisitions, Spansion and Broadcom's (NASDAQ:AVGO) IoT business.
As you can see in the chart above, investors have already taken note and bid up the share price as Cypress 3.0 moves the company to potentially much faster growth opportunities with products likely to carry higher margins.
In the process, the company has changed its reporting from four divisions to two. They used to have Memory, Data Communications, Programmable Solutions and Emerging Technology Divisions. Now they have just:
The memory product division (MPD), for which they expect a slow decline (2%-5% over the years).
The new microcontroller and connectivity division (NYSE:MCD), for which they aim above market growth.
Q4 Progress
So, how is the progress towards Cypress 3.0 progressing? Well, judging by the financial results so far so good:
A 19% increase in revenue
A whopping 133% rise in non-GAAP EPS to $0.49
Inventory reduction of $80M+
Factory utilization climbed to 63%
Gross margin increased to 40.1%
Operating margins increased to 11.9%
Let's look at some of the sectors.
Memory
One might wonder why Cypress is sticking around in a legacy business which they expect to decline slowly (by 2%-5% over the years), but they are still the market leader in some of these, like NOR flash and SRAM and the MPD division is still the most profitable.
It's also a useful business when you want to provide embedded solutions as it enables a lower bill of materials. Here is management during the Q4CC:
Our focus, moving forward, will be to provide our customers with combinations of our MCUs, wireless connectivity, analog, USB and memory solutions, along with the software that enables everything to work together seamlessly. We've constructed our product portfolio to contain everything our customers need for a typical embedded system, with the goal of becoming a single source for them
IoT and Industrial
The biggest opportunity for the company probably lies in the IoT and industrial sphere in general, and automotive in particular, but some of these solutions have wider applicability like home security, audio/video equipment, LED lighting, smart health application, anything customers want to connect quickly and easily.
IoT is the next growth market poised for exponential take-off supposedly leaving earlier market explosions like those in PCs and mobiles in the dust: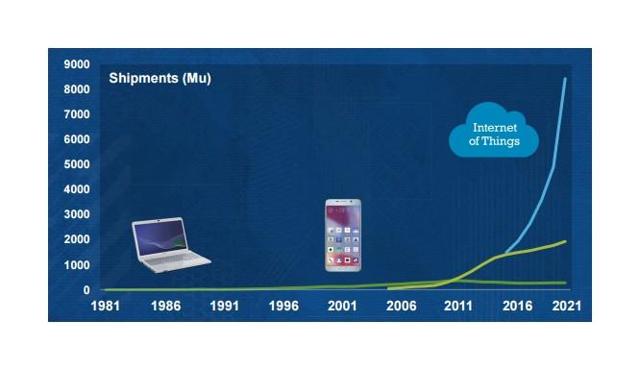 Because of this expected explosive growth just about every major component business is targeting this space. Cypress has identified ease-of-use, ultra-low-power and security as the major differentiators and claim to have "aggressively solved the power and security part of the equation," per the Q4CC.
They were likely referring to their PSoC 6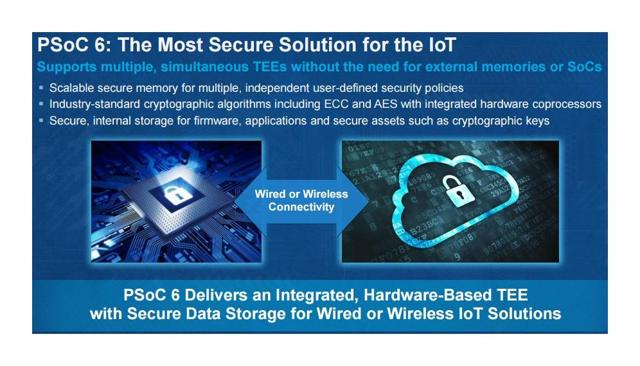 The ease of use and interoperability is coming from the company's WICED (Wireless Connectivity for Embedded Devices) solution, which runs on all platforms and now has integrated support for the leading cloud services and systems integrators like Amazon (NASDAQ:AMZN), IBM (NYSE:IBM), Microsoft (NASDAQ:MSFT) and Alibaba (NYSE:BABA).
Their connectivity solutions (WiFi/BT/BLE) are probably their most distinguished advantage (like in automotive), combining Wifi, Bluetooth and Bluetooth low energy.
The company argues that IoT is moving to WiFi, more especially the new 802.11ac standard, which has better range, lower latency and lower energy needs. This apparently comes from Gartner but things could change with the advent of 5G.
The IoT business produced $72.3M in revenues in Q4 (out of $530M in total), exceeding their guidance by a bit and they expect that to rise to $75M-$80M in Q1 2017 even if their total revenue is likely to fall by a tad ($495M-$525M is guided for Q1).
Their industrial sales grew by 5%. It's expected to grow between 3% and 5% a year untin 2021 and they described their involvement succinctly on the Q4CC:
Our solutions target Industry 4.0 factory automation, along with motor control, beacon, smart city, and agricultural applications, anything that involves monitoring systems and collecting and processing information instead of having guys walking around with clipboards.
The types of solutions are akin to IoT and automotive. Together with automotive these sectors represent 51% of revenues
Automotive
In automotive they are leaders in the digital dashboard and infotainment segments, and are getting traction in autonomous driving.
The key to this is connectivity (as it is in their industrial segment), where they basically have no competition. Their integrated WiFi and Bluetooth combination solution is present in seven out of the top eight automotive OEMs. But their Traveo Automotive MCUs and other PSoCs are at the heart of these integrated solutions.
The acquisition of Broadcom's IoT business has helped, as it has enabled the company to provide more solutions (especially in connectivity), opening up opportunities for cross selling.
Automotive now constitutes over a third of the company's revenue and it grew 37% in 2016 over 2015. The company ships to 19 of the top 25 auto OEMs globally and they are in 10 of the top 15 Tier 1 suppliers.
These design wins not only testify to their dominant position, it also points to future revenue growth as many of these wins are fairly recent (they're just starting with Chinese OEMs) with revenue lagging by a year or two.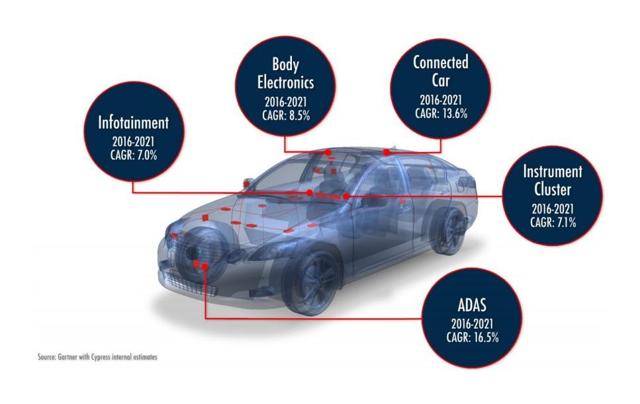 It isn't just the increased footprint among auto OEMs and suppliers, it's also an increased footprint in cars themselves. In 2010 there was just $21 of Cypress components in a BMW 7 series, by 2016 this has increased to $79 (see investor day presentation), and this trend is going to continue (and not just for BMW).
Taking the design wins and increase in content together, the company expects automotive to deliver a CARG of 8%-12% between now and 2021.
USB Type-C
Another market set for explosive growth is the new USB Type-C connection, which is poised to become the connector to replace all other connections (USB 3.0 and 2.0, HDMI, DisplayPort, Thunderbolt, even power) due to its increased throughput (40Gbps), power (up to 100W) and small form factor.
There are already laptops out there which have just one or a couple of Type-C connectors, not even a power connector, like the 12 inch Apple MacBook. Management argues that Type-C is becoming the connector of choice for all of the video, audio and power.
Cypress, having pioneered solutions like HDMI over Type-C, is the clear market leader here with 35% market share. We have already speculated about the possibilities for an upcoming iPhone 8 win.
Upside
Growth, especially IoT and automotive
Inventory reduction
Fab change
Reduce debt
Buyback
3%+ dividend yield
Here is what they're aiming for: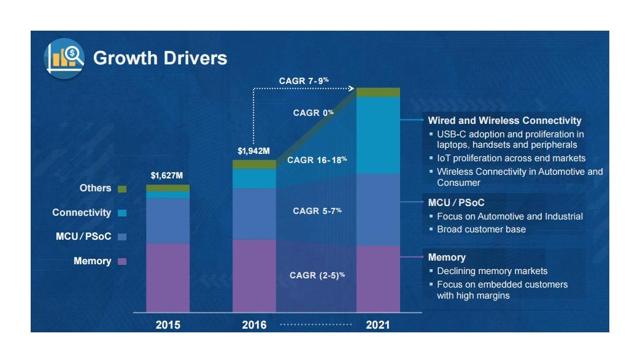 There is a lot of room for upside, in our view. The reorientation away from memory towards integrated solutions should provide more growth and better margins. However, most profits still come from the memory division.
But the former programmable solutions division (PSD) still produced operating losses at least until Q3, albeit one that is declining. Most of this has to do with the Spansion acquisition, which came with a large amount of inventory that depressed margins as it reduced utilization.
The company expects most of the growth to be coming from automotive, IoT and Type-C.
The company reduced over $80M in excess inventory in 2016, a hangover from the Spansion acquisition. However, that seems to have reached the end, as in Q4 the inventory was actually up $40M as a ramp for customer demand, even if they've guided overall revenue slightly down for Q1.
Further margin improvement has to come from growth and other means of increasing factory utilization. The company will shift all its programmable chips production to the Spansion Fab 25 and sell its own Fab 4.
This is a process that will take years, but they already have increased factory utilization to 63% in Q4. Management thinks it's on track to exit 2017 "probably just north of a 70% utilization rate in the fab" (per Q4CC).
Gross margin increased to 40.1% in Q4 but will decline slightly to 39% on lower expected output in Q1 (seasonality and product mix). Again, during the Q4CC management is optimistic on margins at the end of 2017 at 43% and even more so for 2018 at 48%. Here is what they had to say:
We don't necessarily need revenue growth to improve those gross margins. Obviously, gross margins will move with customer or product mix. But to lay out what it is, it's really continuing to move the products into Fab 25 from our Minnesota Fab. We've got a few more synergies on the COGS side from the Spansion merger to recognize, and then it's really optimizing and improving our Flash gross margin.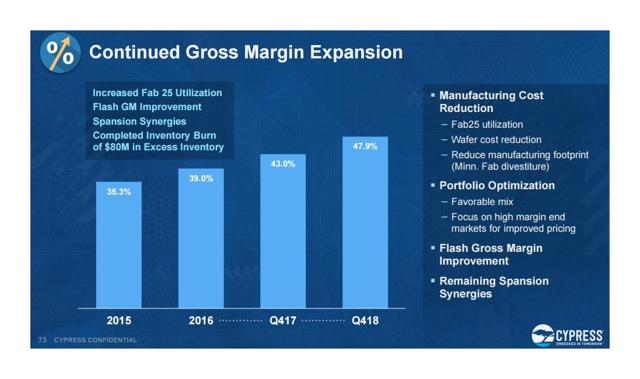 This suggests that there is still quite a bit of leverage left in the business model and even moderate growth (they do expect their memory business to be in long-term decline but expect overall revenue growth of 7%-9% per year to 2021) will likely have a significant impact on margins and hence profits and cash flow.
Indeed, they expect operating margin to grow to 20%+ from just 5.5% in 2015 and 11.9% last year. That really would be quite a boon, as it would also lead to a big increase in free cash flow, which would enable the company to leverage down further.
Indeed, the free cash flow already turned around from a negative $38M in 2015 to $160M last year, but management thinks it can grow 3x as fast as revenues. We think these plans do not seem overly optimistic, given the improvement that already happened with respect to margins and cash flow last year.
That was, of course, helped by a pretty good recovery in memory and the company isn't always going to have these tailwinds (indeed, these can become headwinds at certain times).
However, there seems to be quite a bit of leverage left in firing up their fab 25, this is a process that has roughly 3 years left to complete, as we understand it.
With the debt load and erratic cash flow they had to date it is fairly amazing how they kept their dividend, the yields is still well above 3% even with the rise in the share price.
But for shareholders there is the 2-2.5% increasing share count, the result of a fairly lavish stock compensation to content with. Given the debt load, they're not going to do any buybacks anytime soon.
Valuation
Analyst expect EPS of 68 cents this year rising to 97 cents the next, valuing the company at 20x this years earnings and 14x next years.
Given the $1.19B debt load and increase in share count that isn't cheap but the 3%+ dividend yield softens the blow somewhat.
Problems
However, not everybody is convinced about their intended margin expansion plans, as founder and former CEO TJ Rogers and a few other former executives argue (from Yahoo, our emphasis):
Dan McCranie stated, "We listened with interest to the Cypress Analyst Day earlier this week and are glad that Cypress has reluctantly acknowledged what we've stated previously, which is that the Company faces serious challenges with gross margin, cash flow and debt. We shouldn't have had to be the ones to raise these issues, as the Board should have made this a priority on its own. As former CEOs and board members of semiconductor companies that design, manufacture and sell advanced integrated circuits, we believe that both Camillo Martino and I are clearly more qualified than any member of the current Cypress Board to help advise the CEO and management team during this crucial transformation."
The market has remained remarkably sanguine in the face of such statements. There is a lawsuit by Rogers against the company in which it accuses the executive chairman Bingham of his failure to disclose his involvement with a private equity buyout group (Canyon Bridge Capital Partners) that goes after the same targets as Cypress (like Lattice Semiconductors).
Rogers argues that the Bingham uses his inside knowledge of Cypress' M&A targets and strategy to favor Canyon, for more details see an article from SA contributor Out of Ignorance. One reason for the market calm might be the fact that margins are indeed expanding.
The lawsuit (brought to the courts by TJ to get the company to release a host of data like board minutes) has now been decided upon, as we understand largely in the company's favor.
Conclusion
Cypress is mostly a recovery play on leverage. The first trap was produced through reducing the inherited inventories from Spansion, but this has run its course, and was responsible for much of the 2016 improvement.
But there is still a good deal of leverage left in firing up the fab 25, which they also acquired with Spansion, this has three years to run and if executed according to plan, a financially much healthier company is the end result.
The growth on which the leverage is planned is 7%-9% a year, given the opportunities in IoT, automotive and Type-C, this doesn't seem too far fetched.
The company has an attractive 3%+ dividend yield but on the other hand it has $1.19B in long-term debt and a 2%-2.5% rising share count a year because of stock based compensation.
Given the valuation, a good part of Cypress 3.0 has already been priced in but we think it's still an attractive stock longer term, given the leverage left in the model and the ongoing debt reduction.
Disclosure: I/we have no positions in any stocks mentioned, but may initiate a long position in CY over the next 72 hours.
I wrote this article myself, and it expresses my own opinions. I am not receiving compensation for it (other than from Seeking Alpha). I have no business relationship with any company whose stock is mentioned in this article.