The 3% return of emerging markets currencies in 1Q 2017 and some recent headlines about whether or not the move is sustainable raise some interesting issues for investors to consider. Below are several thoughts to help investors better understand emerging markets currency exposure and returns.
Low Overlap between Debt and Equity Exposures
Investors might consider that the JPMorgan GBI-EM Global Core Index has very low currency exposure overlap with the most popular emerging markets equity benchmark, the MSCI Emerging Markets Index, which results in significant performance differences.
Emerging markets debt investors have suffered much more from their EMFX exposure (emerging markets currencies) since the 2008-2009 global financial crisis and over the past several years. Since the financial crisis, in fact, "EM debt currencies" have underperformed "equity currencies" by approximately 45%.
Currency Return of EM Debt versus EM Equity Indices
2007-2016
Source: JPMorgan and Bloomberg. EM Debt FX represented by the return attributable to foreign currency of the JPMorgan GBI-EM Core Index. EM Equity FX represented by the MSCI Emerging Markets Currency Index. Not intended to be a forecast of future events, a guarantee of future results or investment advice. Current market conditions may not continue.
Why the divergence? The rules for inclusion in the emerging markets debt index demand a degree of liberalization of a country's currency that equity indices do not. Additionally, the leading emerging markets debt indexer does not consider Hong Kong, Taiwan, and Korea to be emerging markets. As a result, emerging markets debt investors have more exposure to countries with commodity dependency and who currently have flexible currency regimes. In fact, there is only a 33% overlap in currency exposure between these emerging markets debt and equity indices.
The table below lists the currency differences between the indices by region, as of March 31, 2017. The debt index shows a significantly higher weighting in Latin America (26% more) and far less exposure to Asia (39% less), which also happens to be lower yielding.

Source: JPMorgan and FactSet.
EMFX Up 3% YTD, After a Nearly Flat 2016
EM debt local currencies enjoyed one of their best quarters in nearly two years, gaining 3.05% YTD through March 31, as measured by the currency return of the JPMorgan GBI-EM Global Core Index. While some contend that this currency rally may be short lived given increased geopolitical uncertainty, we believe it may continue this year given the strong underlying economic fundamentals of many emerging markets.
The first quarter's upswing in local currencies contrasts to 4Q 2016 and the acute pain that immediately followed last November's U.S. presidential election, which unleashed political and monetary instability that sent many investors running. As 2017 began, however, the higher nominal and real interest rates of emerging markets, coupled with weaker currencies across the board, lured many opportunistic investors back into the market. To appreciate the recent rebound, it is worth noting that the strong performance of emerging markets local currency debt in 2016 (+9.95%) was driven primarily by carry and local bond price returns, while currency gains contributed only 0.64% of the total return.
Peso Rebound Represents Only a Small Retracement
Among the major emerging markets currencies, the Mexican peso has been the standout performer YTD 2017, recovering nearly 10% versus the U.S. dollar. With many worst case scenarios priced in at year-end – regarding trade and immigration in particular – the peso had devalued to its lowest level ever, and to a real effective exchange rate level (which reflects the value of a currency against a basket of its trade partners and is adjusted for inflation) not seen since the Mexican peso crisis of 1994. The pessimism was not completely without merit. The U.S. is Mexico's largest trade partner and represents a significant portion of GDP (approximately 25% of Mexican goods exports1). But Mexico's central bank took action and stepped up its pace of rate hikes, with 225 basis points of rate increases over the past six months. Mexico's policy rate stood at 6.50% at the end of March, and though it is likely to creep higher from here while inflation remains above target, real interest rates have already become an attractive component of the Mexican debt investment thesis.
Mexican Peso Real Effective Exchange Rate
January 1995-January 2017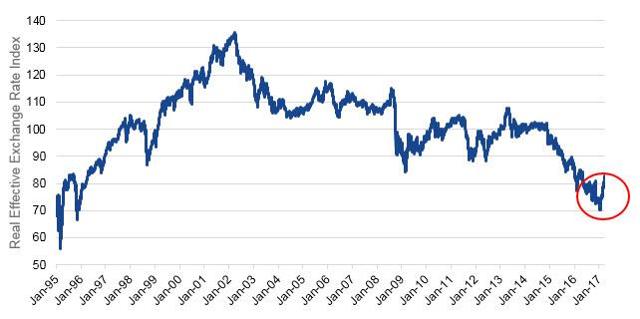 Source: JPMorgan. Not intended to be a forecast of future events, a guarantee of future results or investment advice. Current market conditions may not continue.
IMPORTANT DISCLOSURE
1Calculated based on 2015 data from the Office of the United States Trade Representative and the World Bank.
Sources of all data: FactSet, JPMorgan, and BofA Merrill Lynch. All data as of 3/31/2017.
JPMorgan GBI-EMG Core Index (GBIEMCOR), which is comprised of bonds issued by emerging market governments and denominated in the local currency of the issuer.
MSCI Emerging Markets Index is a free-float weighted equity index that captures large and mid cap representation across emerging markets countries.
MSCI Emerging Markets Currency Index sets the weights of each currency equal to the relevant country weight in the MSCI EM Index.
Indexes are unmanaged and are not securities in which an investment can be made. Index returns are not representative of Fund Returns. For fund returns current to the most recent month end, visit vaneck.com. The information herein represents the opinion of the author(s), but not necessarily those of VanEck, and these opinions may change at any time and from time to time. Non-VanEck proprietary information contained herein has been obtained from sources believed to be reliable, but not guaranteed. Not intended to be a forecast of future events, a guarantee of future results or investment advice. Historical performance is not indicative of future results. Current data may differ from data quoted. Any graphs shown herein are for illustrative purposes only. No part of this material may be reproduced in any form, or referred to in any other publication, without express written permission of VanEck.
This content is published in the United States for residents of specified countries. Investors are subject to securities and tax regulations within their applicable jurisdictions that are not addressed on this content. Nothing in this content should be considered a solicitation to buy or an offer to sell shares of any investment in any jurisdiction where the offer or solicitation would be unlawful under the securities laws of such jurisdiction, nor is it intended as investment, tax, financial, or legal advice. Investors should seek such professional advice for their particular situation and jurisdiction.
Please note that Van Eck Securities Corporation offers investment products that invest in the asset class(es) included in this commentary.
Debt securities carry interest rate and credit risk. Interest rate risk refers to the risk that bond prices generally fall as interest rates rise and vice versa. Credit risk is the risk of loss on an investment due to the deterioration of an issuer's financial health. Securities may be subject to call risk, which may result in having to reinvest the proceeds at lower interest rates, resulting in a decline in income. International investing involves additional risks which include greater market volatility, the availability of less reliable financial information, higher transactional and custody costs, taxation by foreign governments, decreased market liquidity and political instability. Changes in currency exchange rates may negatively impact a fund's return. Investments in emerging markets securities are subject to elevated risks which include, among others, expropriation, confiscatory taxation, issues with repatriation of investment income, limitations of foreign ownership, political instability, armed conflict and social instability.
Investing involves substantial risk and high volatility, including possible loss of principal. Bonds and bond funds will generally decrease in value as interest rates rise. An investor should consider the investment objective, risks, charges and expenses of the Fund carefully before investing.