A smart operator will when he realizes things have not worked out, fold up his tent and move on before he is knocked out of the game for good. One disastrous restaurant venture can drag down an entire string of successful ones, as I have seen many times.
– Anthony Bourdain
Overview
DineEquity (NYSE: DIN) franchises casual dining restaurants under the brands of Applebee's Neighborhood Bar and Grill and International House of Pancakes (IHOP). As of January 1, 2017, the company held 3,749 restaurants of which 99% are franchised. The biggest risk to the parent company is franchisees not renewing their leases. Applebee's compared to IHOP makes up roughly 58% of DineEquity sales. In 2016 same store sales at Applebee's saw a 5% decrease in sales and -7% in Q4 of last year. Sales have declined in every quarter since the beginning of 2015. Historically for every 1% decline in same-store sales EPS falls 3.2%. The drop in foot traffic has led to a sell-off by investors of roughly 40% for the trailing twelve months. This issue has resulted in the resignation of CEO Julia Stewart on February 17th and CFO Thomas Emrey. As of now, there is no clear leadership in the company and company guidance is untrustworthy.
Source: DineEquity 2016 10K
Failing Business Model Reboot
Over the past year, management has implemented many new menu changes specifically the wood-fired grilled and hand cut steaks. Management believes this will drive same store sales growth and reinvent the brand. The fallout in sales numbers is offset by an increase in the average check per customer. In the third quarter of 2016 average ticket price was $13.75. This change is an issue for franchisees because the franchise model takes royalties out of the gross revenue, as opposed to net profit. It i s clear that the two parties have different motives for profitability. Franchisees are forced to deal with problems like operational risks, rising food costs, and maintenance. The fees for a franchise can run around 9% of gross sales based on my analysis of the Franchise Disclosure Document. Labor costs which make up 31% of franchise's revenue are forecasted to increase as 21 states implement higher minimum wages as of January 2017. The rising labor costs will hurt IHOP more than the average restaurant because it is open 24 hours a day. The franchisees are on the breaking point for cash flow. Guidance over the next few years forecasts Applebee's will see a reduction of stores at a rate of 40 a year. This reduction translates to a -6% cash flow per year. Even with the 75 million investment to "change the story" management has given guidance for the closure of 40 to 60 locations in 2017. Management has put the blame on macroeconomics, ad agencies, and even the consumer. One concern that is not quantified is the financial strength of the restaurant groups that hold multiple Applebee's franchises. A few cash flow negative restaurants in a portfolio could drive the operator out of business.
Back Channeling
Before writing this article, I visited my neighborhood Applebee's to eat the new wood fired grilled items. Unfortunately, I was shocked to find out the franchise management pulled the wood-fired grills from the kitchen. The manager informed me that they no longer used the wood-fired grills. So I went with the most popular item on the menu "the Classic hamburger," and was caught off guard when the waitress asked if I wanted my Burger "pink or not pink." Surprisingly enough those are the actual choices listed on the menu as seen below in the photo I took. Based on a comparable product analysis from peers (BLMN, EAT, DRI) this meal ranked the lowest in both service and quality.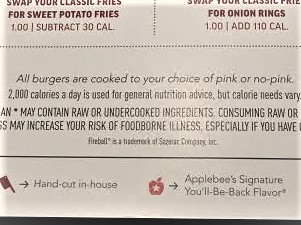 Source: Author
Valuation
DineEquity is currently yielding a 7% dividend. The company has deleveraged the balance sheet to help sell investors on future stock buybacks and dividend increases. The strong balance sheet is a result of the sale of the company-owned restaurant operations. IHOP's contribution to growth at 2% percent growth based on zero growth in sales, but an increase in units. Sales derived from Applebee's franchises use a historical multiple of .06 for every franchise open times the sales per unit. With a projected net -40 unit every year, this yields a -4% decline on average with variable sales per unit.

Source: Author created table using data from DineEquity 2016 10K
I used a 3rd party restaurant consultant to estimate operating data for a 500 seat restaurant based on Applebee's me. Two million in sales is the lowest a franchise can earn to remain cash flow positive for the year. At the current rate of business, a larger dip in revenue could be the end to more franchises.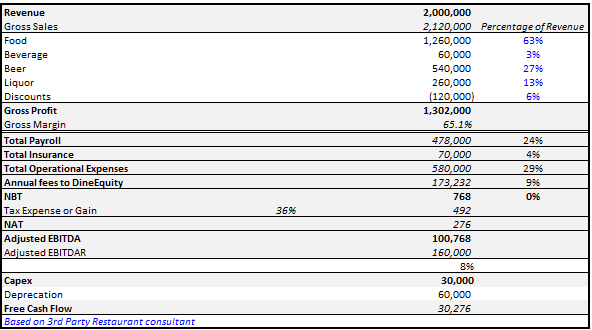 Source: Author created table using data from FDD and consultant's opinion
Free Cash flow to the firm is projected to be declining at a rate of into the -7% in the next five years. The terminal value used was an 8.5x EBITDA multiple. Comparatively casual dining peers (Bloomin' Brands (NASDAQ:BLMN), Brinker International, Inc. (NYSE:EAT), Darden Restaurants, Inc. (NYSE:DRI)) trade approximately at 6-9 EBITDA multiples. Using a weighted average cost of capital on 8% the discounted cash flow valuation yields an $10.45 price target with- 81% downside.

Source: Author created table using data from Bloomberg
The Dividend Payout Ratio is projected to be equal to one in 2020. The Dividend Discounted Model forecasts a zero percent change in dividends until 2020. In 2020 and 2021 dividends should be decreased at an estimated -5% in response to negative earnings growth. Using a terminal dividend growth rate of -5% the model derives a price target of $39.11 with a -30% return.

Source: Author created table using data from Bloomberg
Summary: Permanent Earnings Impairment
The average of both models derives a price target of $24.78. The market is currently projecting a turnaround in 2018. I believe that this issue is not cyclical. The constant decline in future revenues will drive a 55% decline in stock price. Overall I believe DineEquity to be a new form of the current retail short trade. The industries differ because Dineequity's stores are individually owned and not publicly disclosed. I believe the high dividend yield to be an unsuitable investment for those chasing dividends. The company's long-term cash flows do not show room to grow the dividend. I believe investors would prefer a smaller dividend and pay a higher valuation for a company that is having success. Looking forward management could potentially deliver royalty relief to combat closures which would be disastrous for investors. It is my firm belief that it is impossible over the long term to grow cash flows on the back of declining volumes. DIN reports Q1 earnings on 5/1/2017. Investors and analysts will get a better picture of how much blood is left to be shed.
Disclosure: I/we have no positions in any stocks mentioned, and no plans to initiate any positions within the next 72 hours.
I wrote this article myself, and it expresses my own opinions. I am not receiving compensation for it (other than from Seeking Alpha). I have no business relationship with any company whose stock is mentioned in this article.