Netflix (Nasdaq: NFLX) changed the way we watched according to many analysts. Since television began, broadcasters decided to make programs available for viewing. In the 1980s, viewers achieved some level of flexibility when it became possible to record shows to watch later. DVRs make recording even simpler.
But viewers still needed to actively plan around the broadcaster's schedule. They needed to record the show when it was broadcasted, or they missed it. Netflix changed that and offered viewers true on demand programming options. Shows were available when the viewer wanted them, no advance planning necessary.
But Disney (NYSE: DIS) is now entering that on demand space and could dramatically change the economics of television viewing.
Recently, Disney announced that "Disney+ will be available for just $6.99 per month or $69.99 a year. That's a seriously impressive price point when you consider how much content the streaming service will offer. Importantly, Disney is keeping the price for its service low while still keeping it ad-free.
Analysts quickly noted, "…the House of Mouse might end up being the best streaming service around. First there's Disney's own classic animated movies like "The Lion King" and "The Little Mermaid," then there's all of the "Star Wars" movies and upcoming "Star Wars" show, not to mention all of the Marvel movies, and Fox's own originals like "The Simpsons."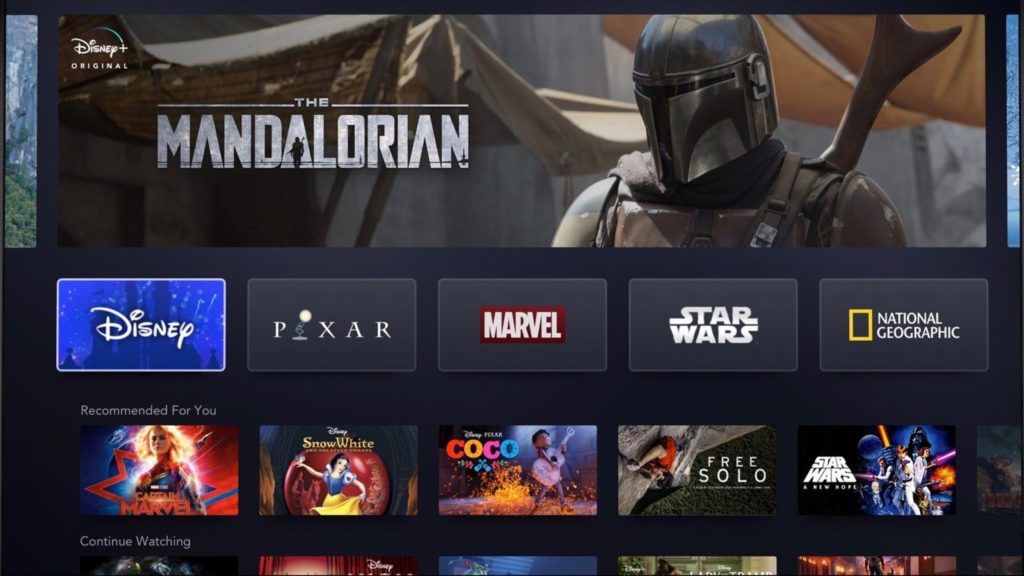 Source: Disney.com
Disney+ is just one part of the company's television strategy. There will also be sports and general programming available through separate services.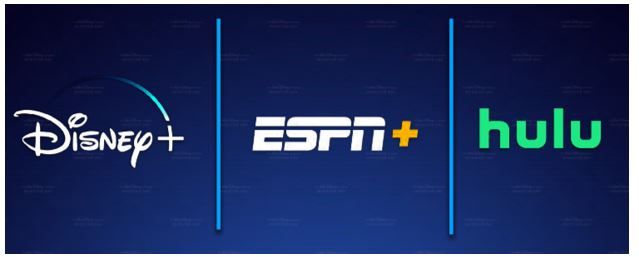 Source: Disney.com
Hulu is "primarily oriented towards instant streaming of television series, carrying current and past episodes of many series from its owners' respective television networks and other content partners. Hulu is owned by Hulu LLC, a joint venture between The Walt Disney Company and Comcast.
Through the acquisition of 21st Century Fox, Disney acquired Fox's partial ownership, giving it about a 60% stake in Hulu.
As the company demonstrated with the rollout of its Disney+ service, there is more to Disney than content. That was a presentation well received by analysts and entertaining which is unusual for an investor day presentation.
But Disney is an entertainment company with many moving parts. One analyst described the company and used the chart below to explain the parts:
"At the center, of course, are the Disney Studios, and rightly so. Not only does differentiated content drive movie theater revenue, it creates the universes and characters that earn TV licensing revenue, music recording revenue, and merchandise sales.
What has always made Disney unique, though, is Disneyland: there the differentiated content comes to life, and, given the lack of an arrow, I suspect not even Walt Disney himself appreciated the extent to which theme parks and the connection with the customer they engendered drive the rest of the business.
"Disney" is just as much of a brand as it Mickey Mouse or Buzz Lightyear, with stores, a cable channel, and a reason to watch a movie even if you know nothing about it."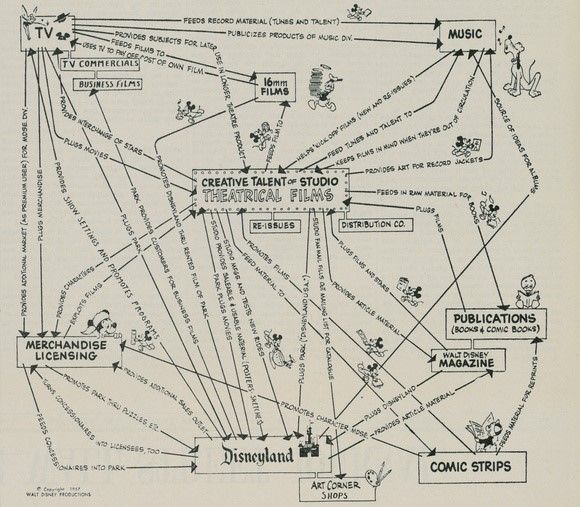 Source: Stratechery.com
Operationally, Disney+ presents a significant threat to Netflix. That explains why the stock dropped on the news from Disney.
Netflix also faces competition from Apple (Nasdaq: AAPL) which recently provided some details on "Apple TV Plus, a subscription service for its exclusive original shows and films.
Apple trotted out some of Hollywood's biggest stars and heavy hitters to sing its praises: Oprah Winfrey, Steven Spielberg, Reese Witherspoon, J.J. Abrams, Jason Momoa and a who's who of other celebs appeared on stage or packed the crowd.
And the company is still adding to its pipeline, weeks after the event. In April, it reportedly gave the green light to a third program from Abrams: an eight-episode adaption of Stephen King's horror-romance novel Lisey's Story, which stars Oscar-winner Julianne Moore as a woman trying to move on after her novelist husband's death.
Apple's move to a streaming video and subscription news products highlights the company's effort to bulk up its services business — already topping a $40 billion annual revenue run rate — but the company may want to consider a larger bundle."
Traders will need to time to asses the impact on Netflix, especially after the company's recent earnings announcement. Admirably, in the announcement, Netflix offered comments on Disney and Apple's entry into the streaming video business,
"Both companies are world class consumer brands and we're excited to compete; the clear beneficiaries will be content creators and consumers who will reap the rewards of many companies vying to provide a great video experience for audiences.
We don't anticipate that these new entrants will materially affect our growth because the transition from linear to on demand entertainment is so massive ​and because of the differing nature of our content offerings​."
Details for the quarter's operations were mixed according to some analysts, "The company says it saw growth of 9.6 million paying subscribers, up 16 percent year-over-year.
That's significantly ahead of the 8.9 million new subscribers that analysts had predicted. On the financial side, the quarter came in right at expectations, with revenue of $4.5 billion and earnings per share of 76 cents.
Netflix says it now has 148.9 million paid streaming memberships. Most of this growth (7.9 million of the net additions in Q1) is happening internationally.
Things aren't looking quite as strong in Q2, with Netflix forecasting 5 million net additions, which would be 8 percent lower than growth during the same period in 2018."
All of this means that television is changing, again, and more rapidly than ever before. There will be winners and losers and winners are likely to include Disney which has an extensive library of content that it can deliver to subscribers.
Apple, and Amazon, have extensive amounts of cash that they can use to create content and Netflix faces a number of challenges in the future. For investors, there are now more questions than answers but the same is true for viewers as they wait for the new services to launch.
It could be best to trade the sector rather than taking long term positions until the dust settles. That is especially true for Netflix.