I've been pretty negative on Verizon (NYSE:VZ) lately and wanted to write a post in response to a comment from @Ted Fischer from a recent article I wrote (Verizon: Don't Chase The Yield):
Payout ratio as reported by Yahoo Finance is probably div. per share divided by EPS for 2016. Does that check?

The author is focusing on FCF, which is appropriate but can be volatile. He needs to look at it in greater depth rather than just offering the numbers."
To address Ted's first comment, yes, most data sources online have payout ratios that use earnings, which is very misleading. I use free cash flow since this is the cash flow that's left over for discretionary spending. It's also a better way to compare companies in different sectors since it accounts for capital expenditures.
This post will mostly focus on Ted's second comment. I'll dig much deeper into Verizon's cash flow statement, which should shed more light on some of my primary concerns for Verizon, which includes:
Verizon had a free cash flow shortage in 2016, which means there was a lack of free cash flow to support the dividend (evident by a payout ratio greater than 100% in the table below). I'm concerned that this is the start of a multi-year trend.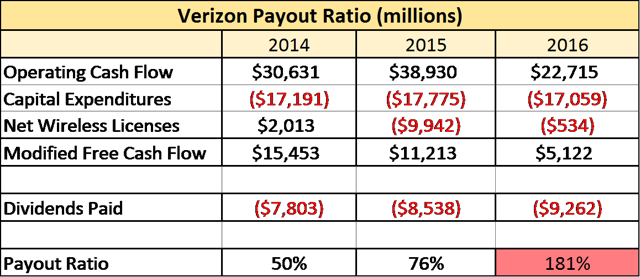 Verizon is overleveraged. As of Q1 2017, they had $116.5 billion in total debt (a large amount considering a market cap of $192 billion). Verizon also has a $22 billion unfunded pension liability, which I perceive similarly to debt.
Verizon's core wireless business is showing weakness, which is what produces the majority of their cash flow.
I want to reiterate that I don't believe Verizon will cut its dividend. Verizon is known as a dividend stock and they will do anything to keep the dividend going. However, I believe investors should still remain equally concerned (or even more concerned) because the dividend payment has trended towards unsustainable. Just because a company makes a dividend payment, doesn't mean they should or that the company is financially healthy. I also believe that Verizon's dividend payment has become a major factor in corporate decisions. Essentially, Verizon has now become a slave to its dividend and it's shaping the future of the company. There's been two interesting corporate decisions that point to this:
Verizon sold off $9.9 billion in revenue-producing assets related to their Access Line sale to Frontier Communications, which closed in 2016. This helped Verizon pay the dividend in 2016 given the free cash flow shortfall. Verizon spins this as selling 'non-core assets', which I would have believed in normal circumstances. However, if you look at their balance sheet, you'll notice that Verizon doesn't have any excess cash to show for the $9.9 billion sale. Cash has remained approximately the same and debt has increased, which to me would indicate that Verizon didn't really have a choice; they had to sell something.
In 2016, Verizon began financing its receivables (I'll explain this later on). It's a rather interesting move and is most common for businesses to use as a last-resort form of financing. A company that's already over-leveraged turning to more debt is an ominous sign.
When reading through the rest of this article, don't forget that dividend-paying companies have a few levers to use when paying dividends:
Free Cash Flow Production
Cash Reserves
Asset Sales
Debt Increases
Verizon has very little cash, is over-leveraged (both from debt and pension obligations), and has already been selling assets. To me, this puts an extra amount of pressure on them paying dividends with only free cash flow production.
2016 Cash Flow from Operations & Investing Activities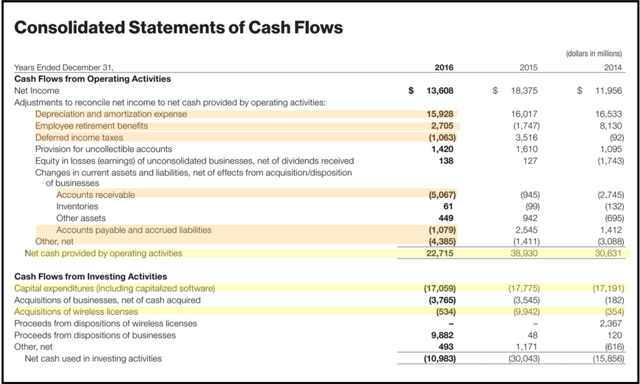 Note – Yellow highlights relate to the figures I use to calculate free cash flow (i.e. Operating Cash Flow less Capital Expenditures less Acquisitions of Wireless Licenses).
Note – I comment on the orange highlights below.
Verizon's cash flow statement is anything but simple. The only predictable drivers are earnings and how much is spent on capital expenditures. After that, it's generally a mash-up of various non-cash add-backs and balance sheet movements that can vary significantly from year to year:
Depreciation & Amortization (non-cash add-back) – this is highly predictable and relatively constant from year to year.
Employee Retirement Benefits (non-cash add-back) – Verizon changes their actuarial assumptions every year to reflect changing discount rates and return on assets. So for 2016, you'll see that Verizon added back $2.7 billion in their cash flow statement. This was a result of a non-cash expense that lowered net income and was then added back in the cash flow statement just like depreciation expense.
Deferred Income Taxes – Verizon often pays a different amount of taxes than what's recorded on their income statement. Sometimes they don't pay any taxes. What's recorded on the cash flow statement is generally the difference between what was paid and what was owed per GAAP.
Accounts Receivable Fluctuations – During 2016, Verizon changed the method they monetize device payment plan receivables from 'sales of device payment plan receivables' to 'asset-backed securitizations'. This makes things get a little confusing going forward because proceeds from asset-backed securitizations are reflected in cash flows from financing activities (highlight below).

Accounts Payable and Accrued Liabilities – This is pretty simple, just a result of fluctuations in the balance sheet from year to year.
Other, Net – Mostly a result of a $3.3 billion increase in non-current device payment plan receivables (part of this balance was from the asset-backed securitizations I mentioned above).
I consider Verizon's cash flow from investing activities to be much easier to understand. Capital expenditures are normally pretty predictable and normally around $17-$18 billion per year. Verizon also provides guidance to this figure. In calculating free cash flow for Verizon, I normally also include purchases/sales of wireless licenses because these licenses are critical to Verizon's business and they couldn't continue indefinitely without purchasing them.
The Verdict on Verizon's 2016 Free Cash Flow
When I look at the large reduction in free cash flow from 2015 to 2016, there are a few things to point out. The first was normal movements on the balance sheet and other factors like reductions in deferred income taxes. Movements in such items are hard to predict year to year and generally balance out over time, so this doesn't concern me. What concerns me most is the reduction in Net Income, which was a result of all main revenue lines decreasing (note – the 3 following quotes are from Verizon's 2016 annual report):
Decreasing Wireless Sales – According to Verizon, "Wireless' revenues decreased $2.5 billion, or 2.7%, during 2016 primarily as a result of a decline in service revenue driven by customer migration to plans with unsubsidized service pricing, including our new price plans launched during 2016."
Decreasing Wireline Sales – According to Verizon, "Wireline's revenues decreased $0.7 billion, or 2.3%, during 2016 primarily as a result of declines in Global Enterprise and Global Wholesale."
Corporate & Other Sales – According to Verizon, "Corporate and other revenues decreased $2.1 billion, or 23.0%, during 2016 as a result of the Access Line Sale that was completed on April 1, 2016."
Decreasing wireless sales is what really hurts. This is Verizon's high margin revenue and one of the main reasons they spent $130 billion to acquire Vodafone's (NASDAQ:VOD) 45% stake in Verizon Wireless.
Verizon using their device payment plan receivables for asset-backed securitizations is a second major concern. When I first glanced at their cash flow statement, I saw that there was a ($5.1) billion impact due to an increase in current accounts receivable. This decreases operating cash flow, but is normally of little concern because those receivables will be collected in later periods and have a positive effect on operating cash flow.
The main issue I see here is the fact that Verizon has already financed these receivables and taken on debt, so when those receivables are collected in the future, proceeds will be used to pay down their asset-backed debt line. This will show as improving operating cash flow, but the net effect will be $0 given that operating cash flow collected will go directly out in financing cash flow.
Insights with Q1 2017 Earnings Release
So far, the first quarter of 2017 has confirmed some of my concerns. Revenues continue to decrease relative to the previous quarter, which included a 4.5% consolidated revenue decline (excluding divestitures and acquisitions). The amount of wireless connections also decreased for the first time.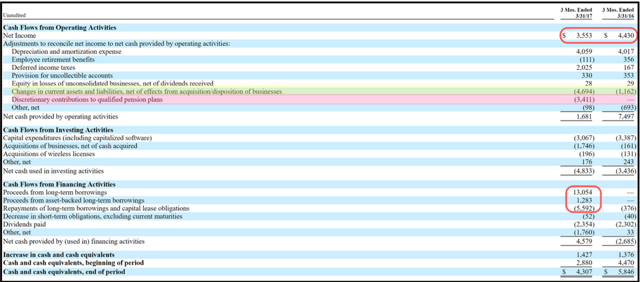 A couple of observations from Verizon's Q1 2017 cash flow statement:
Changes in "Current Assets and Liabilities" (yellow highlight) was mostly driven by a reduction in A/P and accrued liabilities. This isn't surprising since these accounts had run up in the previous couple of years.
Discretionary Contributions to Pension Funds (pink highlight) is why Verizon's pension fund obligation can be burdensome. Operating cash flow was already pretty weak and they occasionally have to make discretionary contributions to work this liability down.
Verizon increased net debt by $8.7 billion in the last 3 months, which includes more debt on the new receivables 'asset-backed' line. I can't understate how much Verizon's debt could hurt them in the future. Consider that, right now, our economy is still on stable ground and interest rates are low, but that doesn't last forever. Verizon could be in a bad situation during the next recession when credit tightens and rates increase.
Let's take a look and see what Verizon's Q1 2017 payout ratio looked like:

Verizon produced negative free cash flow. I will say that it's not as bad as it looks because Verizon made $3.4 billion worth of voluntary contributions to its pension fund. While Verizon does need to work this liability down to $0 over time, if this is deducted from my analysis above, Verizon would have produced $1.8 billion in free cash flow, but this would have still been short of the $2.4 dividend payment. As I pointed out above, Verizon increased its debt during the quarter, which helped make up the difference.
Conclusion
There are some concerning developments in Verizon's business. In future earnings releases, I'm going to be looking to see if there's further degradation in Verizon's revenue stream, further increases in debt, and continued weakness in free cash flow. Again, I don't see Verizon cutting its dividend any time soon, I just see it being burdensome and negatively impacting Verizon's decision-making and financial practices.
The $10 billion spent every year on dividends could instead be used to build up cash reserves or pay down debt. One of the main reasons I feel this way is how much aggressive consolidation has occurred in the communications and entertainment industries. This consolidation is likely to continue, but Verizon is in a tough position to make any major moves given their leveraged position. I also believe that Verizon faces tremendous risk during the next recession when credit markets tighten. Until I see better performance and consistently higher free cash flow, I'm going to remain negative on Verizon.
Disclosure: I/we have no positions in any stocks mentioned, and no plans to initiate any positions within the next 72 hours.
I wrote this article myself, and it expresses my own opinions. I am not receiving compensation for it (other than from Seeking Alpha). I have no business relationship with any company whose stock is mentioned in this article.