Looking for high dividend stocks with cash flow growth? Enable Midstream Partners LP (NYSE:ENBL) may be right up your alley. We first covered ENBL in a January 2017 article – this article will update that one.
ENBL grew DCF by 18.77% and EBITDA by 9% in 2016, and turned around its net income, swinging from a -$752M loss to a $290M gain. Its total distributions grew by over 5.65%, and its total distribution coverage grew by 12.42%:
Profile: Enable Midstream Partners is a publicly traded master limited partnership. The partnership owns, operates, and develops strategically located natural gas and crude oil infrastructure assets. It has two operating segments: Gathering and Processing (58%) and Transportation and Storage (42%).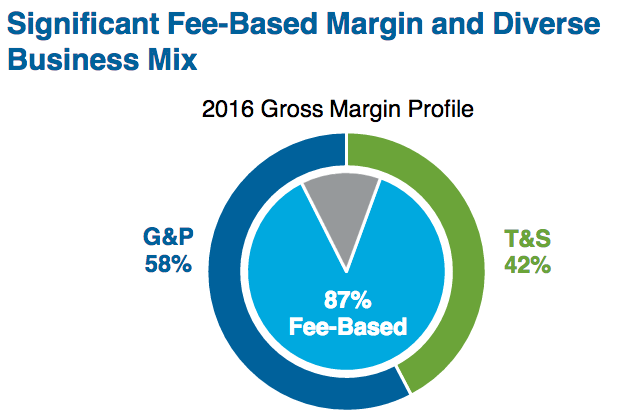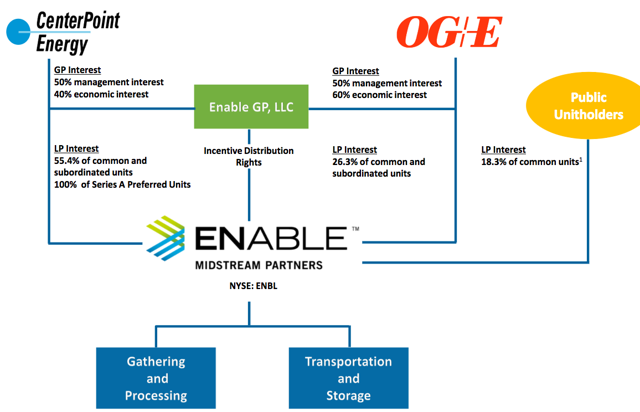 (Source: ENBL Q4 '16 report)
Distributions: Management may have announced the next quarterly distribution by the time this article is published – last year, it announced on 4/27/16 and went ex-dividend on 5/4/16.

ENBL's distribution coverage continues to be lumpy on a quarterly basis, but overall, it was in the 1.19x range per unit in 2016:

Options: We feature options trades for ENBL in our premium newsletter, which we're not going to divulge here. However, you can see call-selling trades in our free Covered Calls Table and also put-selling trades in our Cash Secured Puts Table for some of the other midstream stocks listed further below in this article and over 25 other stocks.
Earnings: Q4 '16 saw big gains in DCF, up 32%, and EBITDA, up over 26%, while revenue grew under 5%. Net income slipped -9% due mainly to a rise in natural gas and natural gas liquids.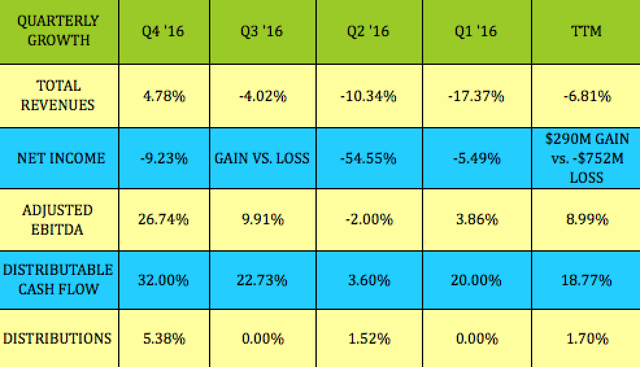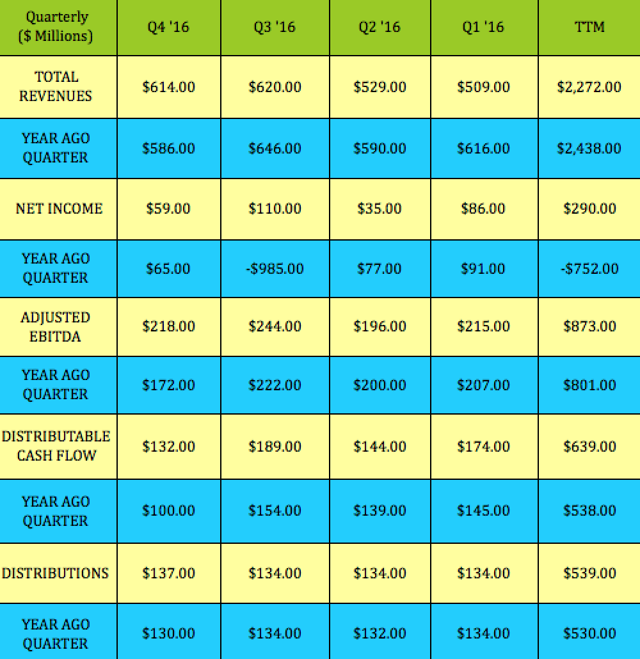 Management has mitigated most of these rising Gathering and Processing costs for 2017 by a combo of hedging and also by having fee-based contracts in its T&S segment: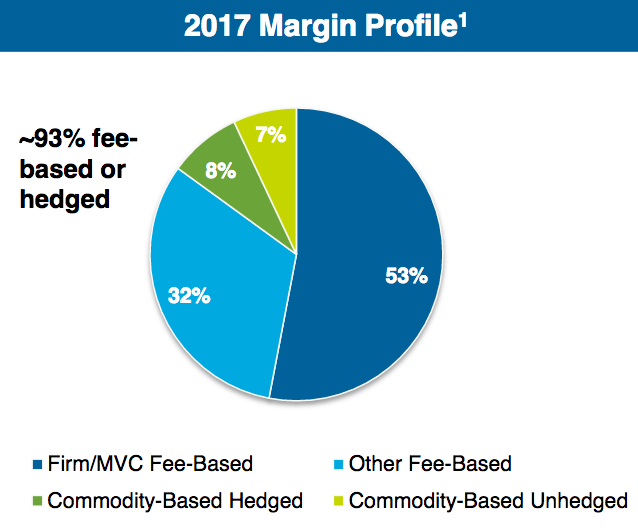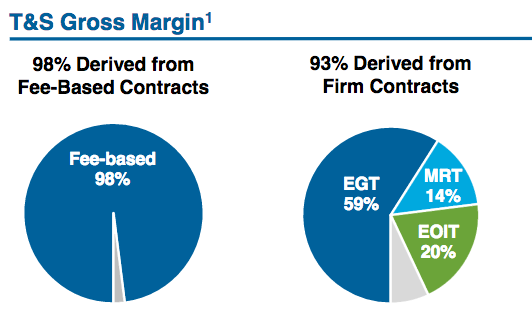 (Source: ENBL Q4 '16 report)
Tailwinds: Mexico will continue to be a growth driver for ENBL's assets. In fact, in spite of the current political chatter about Mexico coming out of DC, it's estimated that "Western US markets will have to compete with Mexico for supply," which should help support natural gas prices for quite some time.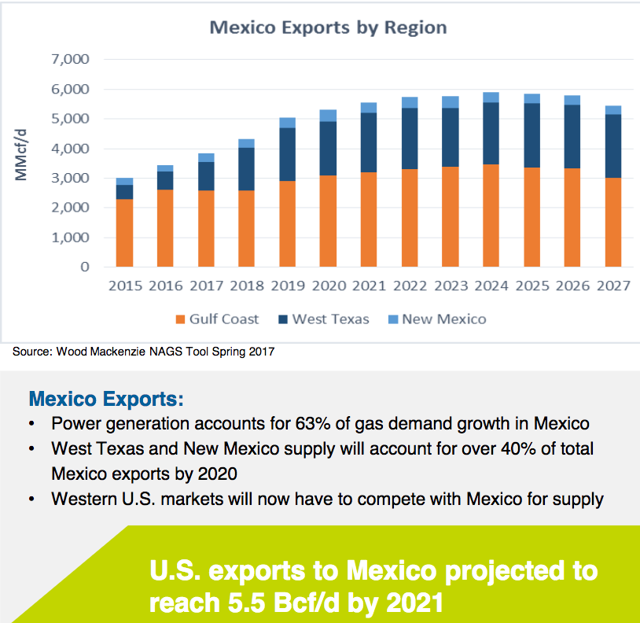 Florida and LNG exports will also support future growth: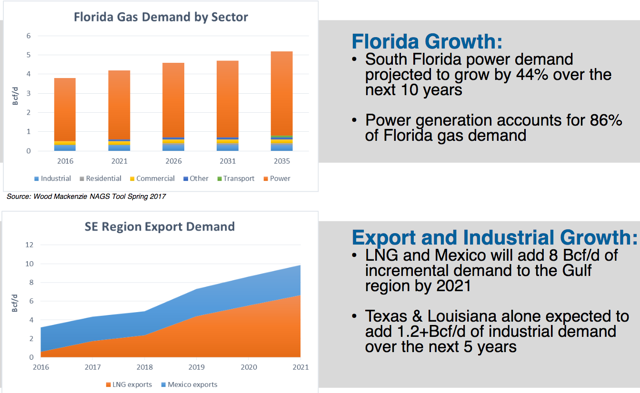 (Source: ENBL Q4 '16 report)
2017 Guidance: Management provided these 2017 guidance ranges on the Q4 '16 earnings report.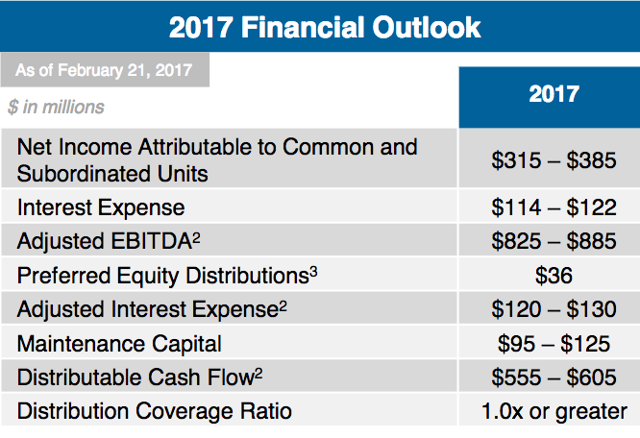 We're not so happy about EBITDA being flat to down by -5%. The distribution coverage ratio is dropping to 1x and we note with concern that DCF is projected to drop by as much as -13.15% due mainly to higher interest and maintenance capex.
The increased capex makes sense – the company must maintain its assets, which are expanding. We looked at ENBL's interest coverage – it had 2016 EBIT of $385M vs. $103M in interest expense, a coverage factor of 3.74x.
Assuming the high-end interest guidance figure of $130M 2017 vs. flat EBIT of $385M would result in interest coverage of 2.96x. However, since it has given 2017 net income guidance for a range of $315M up to $385M, its 2017 interest coverage shouldn't fall to 2.96.
EBIT should be around $425M to $435M, (adding back the projected $120-130M in interest to low end guidance of $315M). This would result in an interest coverage factor of around 3.35x to 3.54x, not as robust as 2016's 3.74x, but still strong coverage.
(We'll be listening to this week's earnings call for more developments on this issue.)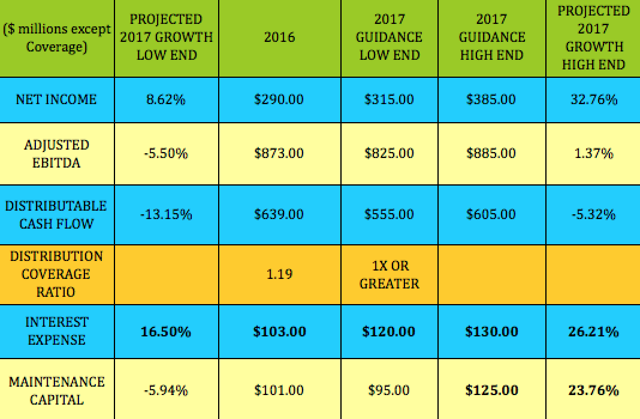 Performance: ENBL came roaring back (up 54.49%) over the past year but has trailed the general market a bit in 2017. However, it has outperformed the Alerian MLP ETF (NYSEARCA:AMLP) year to date.

Analysts' Targets: Analysts' consensus and high price targets have risen from $16.33/$19.00 to $17.17/$20.00 over the past few months: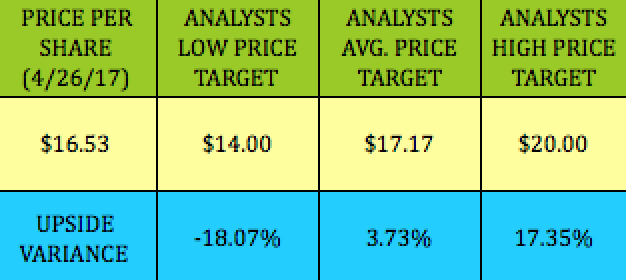 Valuations: We've updated our valuations table for midstream companies, which includes some midstream firms we've covered in recent articles, such as Summit Midstream Partners LP (NYSE:SMLP), PBF Logistics LP (NYSE:PBFX), Green Plains Partners LP (NASDAQ:GPP), Arc Logistics Partners (NYSE:ARCX), MPLX LP (NYSE:MPLX), and Holly Energy Partners LP (NYSE:HEP), in addition to Martin Midstream Partners (NASDAQ:MMLP), DCP Midstream Partners LP (NYSE:DCP), and Kinder Morgan (NYSE:KMI).
ENBL looks a bit cheaper than the group average for three metrics – it's selling below book value at .92, its price/sales is below average, and its 11.58 EV/EBITDA is below the average of 12.44.
Its 7.7% yield is attractive but below the group average of 8.55%. However, its coverage factor of 1.19x is equal to the group average. (We didn't include KMI's distribution yield and coverage in the averages below due to it being outlier.)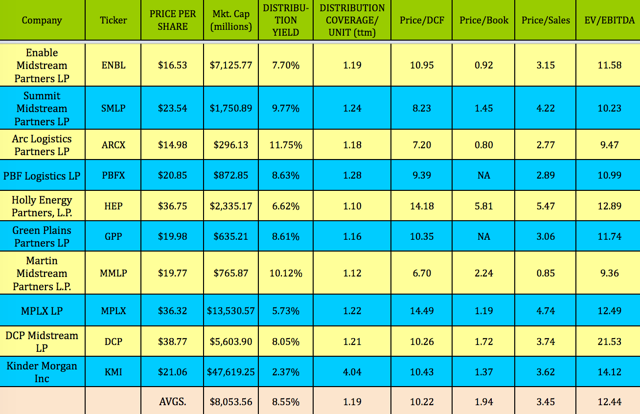 Financials: ENBL has one of the lowest debt loads in this group – its debt/equity ratio of .38 is the lowest, and its net debt/EBITDA of 3.43 is the third lowest and far below the 5.14 average.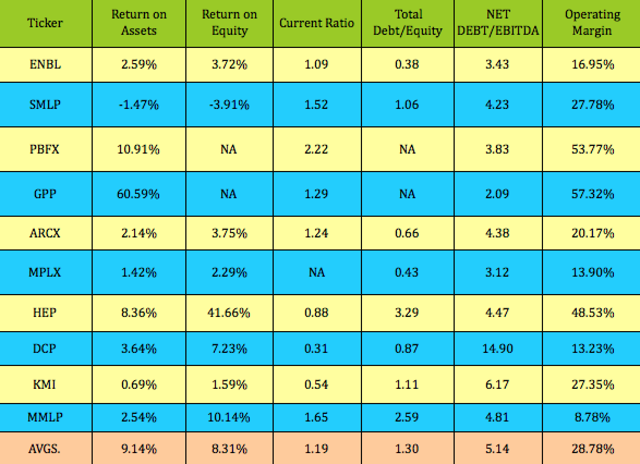 Debt: Management actually made great strides in improving the leverage ratio in 2016; it's down considerably from 4.1x.
(Source: ENBL Q4 report)
All tables furnished by DoubleDividendStocks.com, unless otherwise noted.
Disclaimer: This article was written for informational purposes only and is not intended as personal investment advice. Please practice due diligence before investing in any investment vehicle mentioned in this article.
Disclosure: I am/we are long ENBL, ARCX, MPLX, PBFX.
I wrote this article myself, and it expresses my own opinions. I am not receiving compensation for it (other than from Seeking Alpha). I have no business relationship with any company whose stock is mentioned in this article.