Looking for strong growth and a well-covered dividend? We suggest walking up the gangplank and boarding KNOT Offshore Partners LP (NYSE:KNOP).
We've written about KNOP in past articles; this article will serve to update the latest developments for the company. In fact, we liked this stock enough to add it to our premium service portfolio.
Profile: KNOT Offshore Partners LP owns and operates shuttle tankers under long-term charters in the North Sea and Brazil. The company provides crude oil loading, transportation, and storage services under time charters and bareboat charters. As of March 17, 2017, it had a fleet of 12 shuttle tankers. KNOT Offshore Partners GP LLC serves as the general partner of the company. The company was founded in 2013 and is headquartered in Aberdeen, UK.
Shuttle tankers are a vital link in the oil distribution chain – in many ports, they're the only "ride into town" for oil shippers, so without these vessels, the oil can't get to port.
This solid, high dividend tanker stock operates in the niche world of shuttle tankers, which is only around 1% of the world's conventional tanker fleet.
KNOP has an average remaining contract life of five years for its fleet:
KNOP does have some vessels coming off contract in late 2017 and 2018, but management feels that tight market conditions should support good recontracting rates: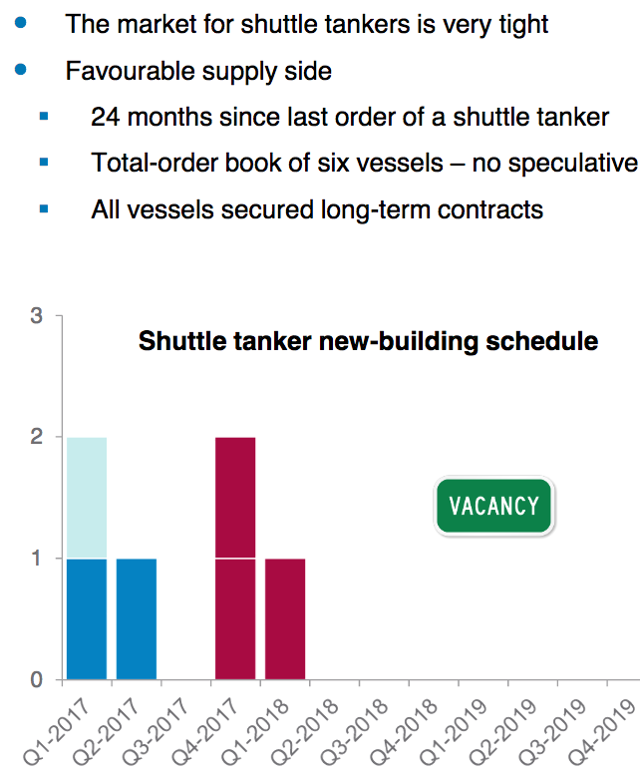 (Source: KNOP Q4 Report)
Distributions: Management just declared its next distribution, which goes ex-dividend this week, on 4/28/17. It's held distributions/unit steady, at $.52, since 10/29/15.

This table shows KNOP's steady growth for total distributions since its IPO: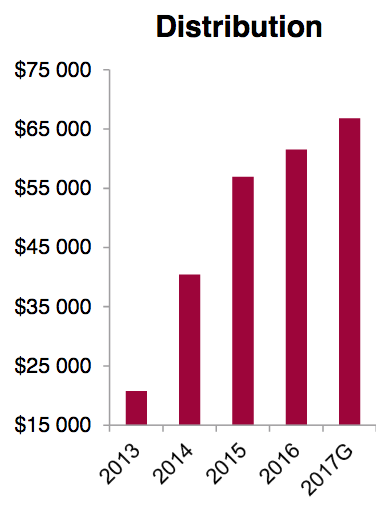 (Source: KNOP Q4 Report)
Our High Dividend Stocks By Sector Tables track KNOP's price and current distribution yield (in the Services section).
KNOP had consistently strong distribution coverage in 2016, topping out at 1.35 in Q3, and averaging 1.26:

KNOP's DCF calculation is straightforward and is similar to other shipping firms that we cover; it adds back depreciation and unrealized derivatives/forex losses to net income, then it deducts capex, non-cash items, and unrealized derivatives/forex gains.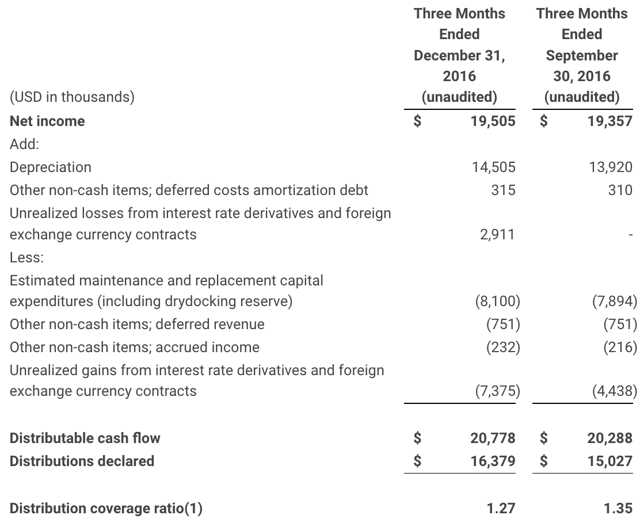 (Source: KNOP Q4 Report)
Options: KNOP's covered call yields aren't that compelling at the moment, but you can see details for over 25 other income-enhancing trades in our Covered Calls Table and also in our daily Cash Secured Puts Table.
Record Earnings: Management has achieved record EBITDA and DCF for three quarters in a row while revenue in Q4 '16 was the second highest in the company history.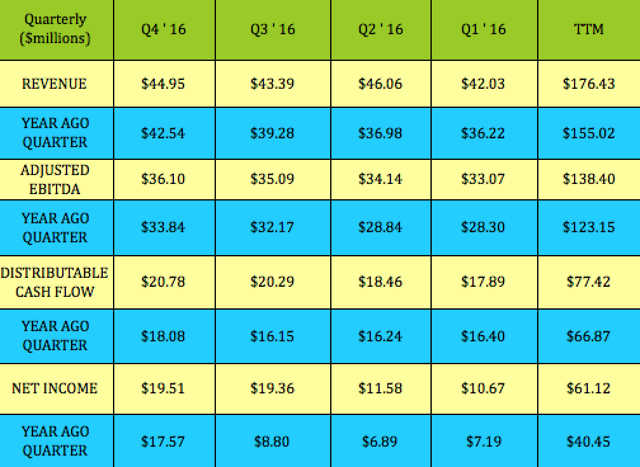 What's not to like here? You get paid a 9% yield, with strong coverage, and the company keeps putting up steady growth numbers every quarter:


Distribution/Unit coverage also increased, and management kept the unit count virtually flat in 2016. However, management geared up for more dropdowns in Q1 '17. On 1/10/17, it did an equity offering of 2.5M units, raising total net proceeds of $54.9 million.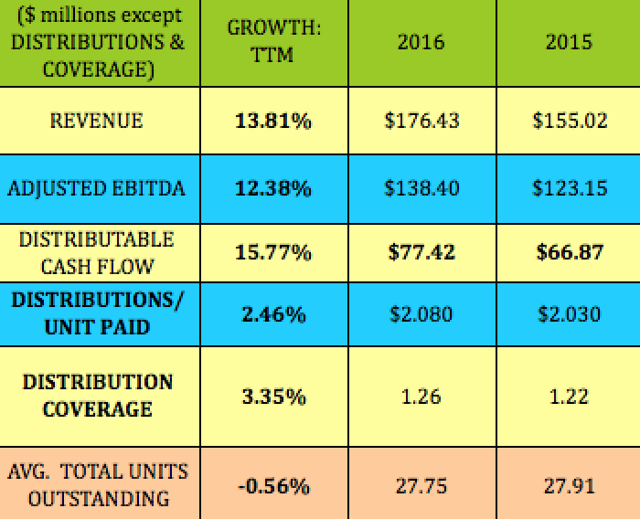 2017 Guidance: Management issued 2017 guidance that calls for 15% to 19% growth in EBITDA, 10% to 16% DCF growth, and 6.6% to 10.5% growth in overall distributions. Where's the growth going to come from? KNOP's dropdown pipeline.
KNOP's business growth model is similar to many other LPs we cover – they periodically acquire dropdown pre-contracted assets from their sponsor, which increases their earnings and distributable cash flow, then they integrate these new assets, rinse and repeat. However, KNOP's management is conservative; unlike some other firms, it hasn't jumped headlong into too much debt in order to take on new vessels.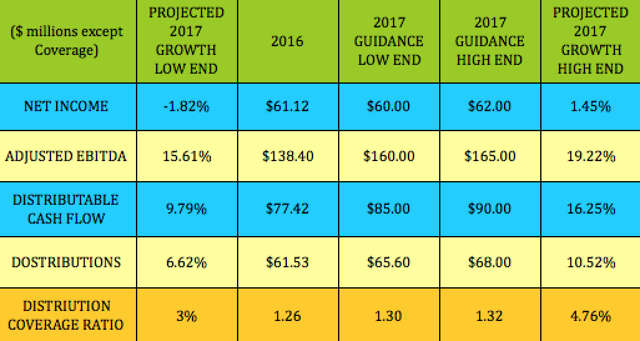 Strong Dropdown Pipeline Means More Growth: KNOP has the option to acquire from Knutsen NYK any offshore shuttle tankers that Knutsen NYK acquires or owns that are employed under charters for periods of five or more years.
On 3/1/17, management completed its acquisition of the ownership interests in the company "KNOT 24" that owns and operates the shuttle tanker Tordis Knutsen for a purchase price of $147M, less $137.5M of outstanding indebtedness, plus approximately $21.1M for a receivable owed by Knutsen NYK to KNOT 24. On the closing of the acquisition, KNOT 24 repaid approximately $42.8M of the indebtedness.
The Tordis Knutsen is operating in the Brazil under a five-year time charter with a subsidiary of Royal Dutch Shell plc (NYSE:RDS.A) (NYSE:RDS.B), which will expire in the first quarter of 2022. The charterer has options to extend the charter for two five-year periods (Source: KNOP site).
There are also currently three other potential dropdown acquisitions available for 2017, two of which are on long-term contracts with Royal Dutch Shell.
Management hopes to acquire the Vigdis Knutsen in Q2 2017.
"We anticipate that Knutsen NYK will offer to us the opportunity to purchase the shuttle tanker Vigdis Knutsen when she commences her long-term charter with a subsidiary of Shell which is expected to occur in early April 2017." (Source: KNOP site)

(Source: KNOP Q4 Report)
Performance: KNOP has beaten the market over the past year and quarter, but still trails year to date.

Analyst Targets and Estimates: Analysts' average and high price targets have moved up considerably over the past few months – from $20.84/$22.00 to the current $22.65/$25.00.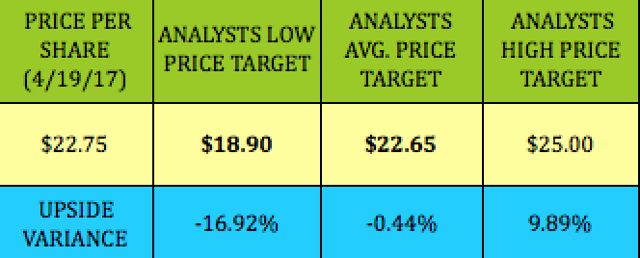 KNOP has also received two upward earnings estimate revisions in the past month for 2017 and 2018, in addition to the next two upcoming quarters. Its earnings have trounced estimates over the past two quarters:
(Source: Yahoo Finance)
Valuations: There aren't a lot of pure-play shuttle tanker stocks to compare KNOP to. We added Teekay Offshore Partners LP (NYSE:TOO) to this table to get an idea of how KNOP compares to a competitor for valuations.
TOO actually looks cheaper than KNOP on many metrics, but before you think we're backing the wrong horse, consider this – TOO's management had to slash its quarterly distribution from $.56 to $.11 in February 2016.

Here's some more bad news about TOO; the columns below represent (left to right) Q4 '16 vs. Q4 '15 and full-year 2016 vs. full-year 2015.
Teekay's unit count jumped by over 35% in Q4 '16 while its DCF fell by around 68%, little wonder that it seems headed to Penny Stock Land:

(Source: TOO Q4 report)
Financials: KNOP's operating margin and net debt/EBITDA look strong while its ROA and ROE are lower than broad industry averages.

Debt: KNOP's next major debt maturities are in 2018 and 2019.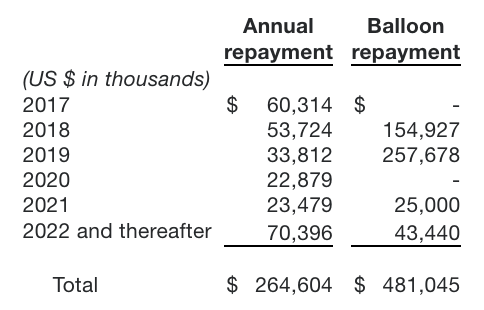 (Source: KNOP Q4 Report)
On 3/30/17, KNOP's subsidiary, KNOT Shuttle Tankers 14 AS ("KST14"), which owns the vessel Hilda Knutsen, entered into a binding term sheet for a new senior secured credit facility in order to refinance the existing bank loan associated with this vessel.
The new senior secured credit facility ("UFJ Facility") will consist of a $100 million term loan facility with Mitsubishi UFJ Lease & Finance (Hong Kong) Limited and will have a fixed tenor of seven years. Closing of the UFJ Facility is anticipated to occur in May 2017, subject to the execution of definitive documentation and satisfaction of customary closing conditions. KST14 will be the borrower under the UFJ Facility, which will be guaranteed by the Partnership.
Management commented:
"This refinancing should enable the Partnership to pursue a ninth dropdown from its sponsor…the Vigdis Knutsen is a brand new shuttle tanker and the sister vessel of Tordis Knutsen which was acquired by the Partnership on March 1, 2017." (Source: KNOP site)
All tables furnished by DoubleDividendStocks.com, unless otherwise noted.
Disclaimer: This article was written for informational purposes only and is not intended as personal investment advice. Please practice due diligence before investing in any investment vehicle mentioned in this article.
Disclosure: I am/we are long KNOP.
I wrote this article myself, and it expresses my own opinions. I am not receiving compensation for it (other than from Seeking Alpha). I have no business relationship with any company whose stock is mentioned in this article.