GoPro's (NASDAQ:GPRO) journey as a public company has been a tough one. The company, which was once valued at almost $14 million, is now worth just $1.3 billion. Its stock price has tanked from a high of $93 million in 2015 to $9. At the time of its IPO, many people compared the company's products to the iPod and described Nick Woodman as the next Steve Jobs.
In this article, I explain why GoPro is not a viable investment for any long-term investor.
The cycle in the hardware industry is the same. A company comes up with an innovative product and customers love it. It ramps up production and gains a significant market share. Other companies take notice and deploy their R&D resources in coming up with a better product. Soon, the market is flooded with similar products and the original company loses share. Its margins tank, and in a bid to remain relevant, it unveils new products. GoPro has done this with the launch of its Karma drone and Grip stabilizer.
This has happened for companies like Fitbit (NYSE:FIT) and Apple (NASDAQ:AAPL). Fitbit introduced fitness trackers, and although it has a leading market share, other companies like Apple have created similar products. To stay relevant, it acquired the software assets of the struggling watch maker Pebble. In 2016, GoPro sold 5.3 million cameras, compared to 6 million in the previous year. This decline came at a time when the action camera market is expected to have a CAGR of 22% until 2021. Apple introduced the iPad and it became popular, but within a short time, other companies like Samsung (OTC:SSNLF) and Sony (NYSE:SNE) developed their own.
The chart below shows GoPro's margin trends.
The Climb Ahead
I believe GoPro's best days are behind it. The reason for this is simple. The company's action cameras are its main source of income. With fewer people buying them, the only hope is that its new Karma drone will do well in the marketplace. As things are, Karma is not doing well.
According to Gartner, the global drone market will reach $7 billion this year, up from $4.3 billion in 2016. This growth has attracted a lot of companies like Airbus (OTCPK:EADSF), Xiaomi (Private:XI), and DJI. As shown below, DJI, which is also a big GoPro competitor in the action camera space, is the market leader.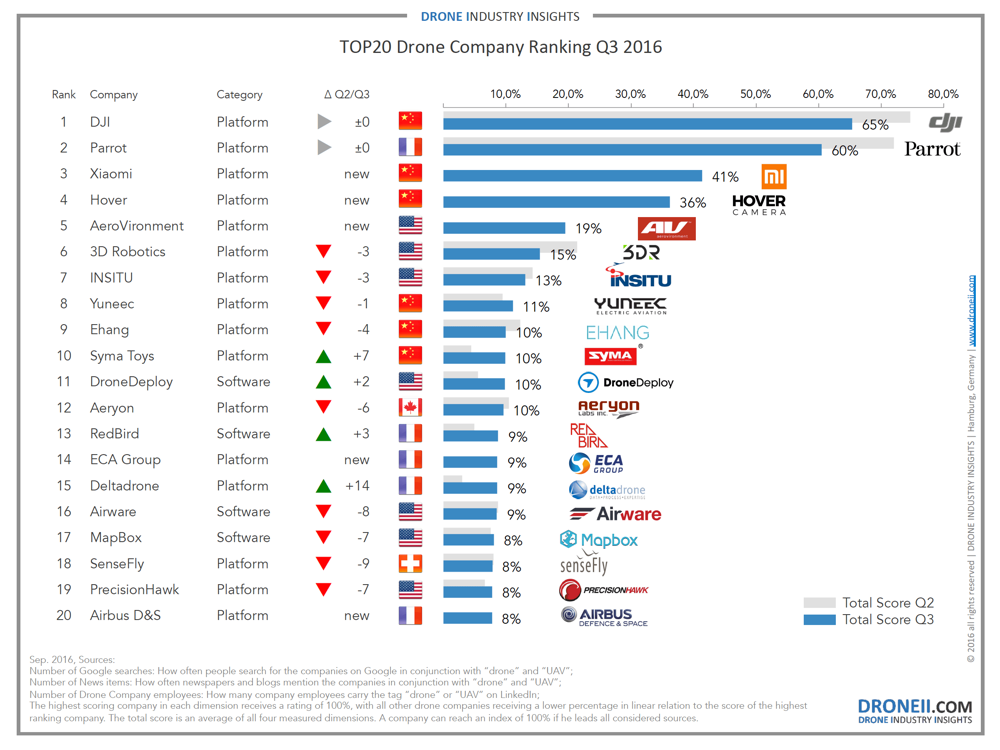 (Source: Drone II)
DJI is a Chinese company that has gained acceptance in the United States. The company, which was started in 2006, has grown to be the market leader of drones and imaging products. GoPro's Karma was inspired by Mavic Pro, a product of DJI.
According to Nick Woodman, GoPro's drone is not intended for the mass market but for its community, which makes DJI the company's biggest competitor. Nick said the following in the recent earnings call:
… as it relates to your question about our opportunity in the greater global drone market, as we noted Karma was really designed for the GoPro community and helping people get the most out of their GoPro camera.
The DJI drone has received better reviews from leading American companies like Wired, The Verge, and Trusted Reviews.
Brent Rose, from Wired, wrote:
We got this wrong. We were far from the only reviewers to do so, but still, wrong is wrong. In short, we are changing our pick to recommend the DJI Mavic Pro.
Trusted reviews wrote:
However, the Mavic Pro is more portable, has extra flying features thanks to its built-in sensors which allow for obstacle avoidance, and is cheaper than the GoPro if you compare it to the full Hero5 Black setup on the Karma.
The Verge wrote:
As someone who has flown a lot of drones, there are questions I can answer about the Karma. Is it a great drone? No, not by today's standards. It's basic, kind of like a mid-tier Android smartphone that checks all the boxes that more trailblazing units have established over the last few years.
The conclusion among most reviewers is that DJI's Mavic is a better drone than Karma. Karma lacks basic functionalities like stabilizers, and its battery life is shorter. It is also more expensive than Mavic.
The fact that Mavic is better than Karma should not be ignored. Consider the Google trends below for the terms Mavic Pro and GoPro Karma in the United States in the last 12 months. This shows that more Americans are searching for Mavic Pro than for GoPro's Karma.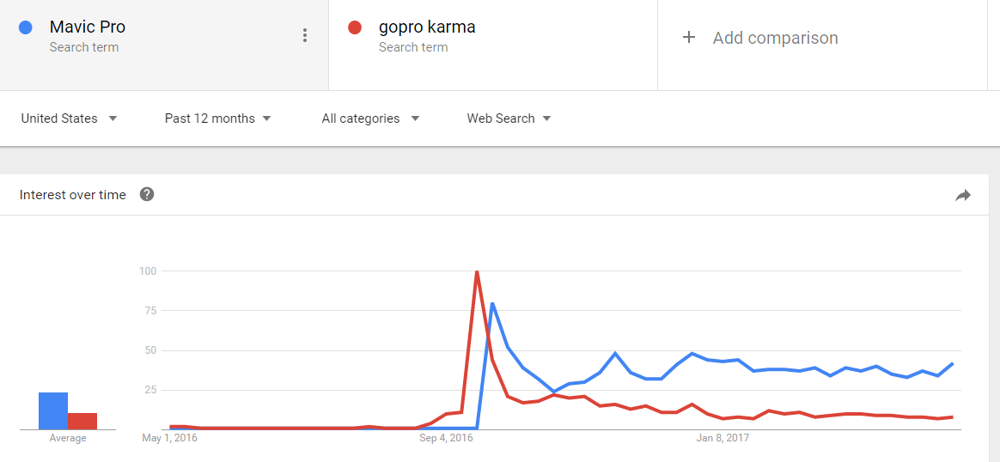 (Source: Google)
This week, at the NAB industry conference in Las Vegas, DJI unveiled its new high-end drone. The company describes the new drone as the "first 100-megapixel integrated drone imaging platform." It will retail at $5,000 and will target TV, movie and documentary producers as well as surveyors and mapmakers. What's more interesting about DJI's new products is the technology behind it. For instance, using the company's new Goggles, one can control the drone by just moving one's head.
DJI Goggles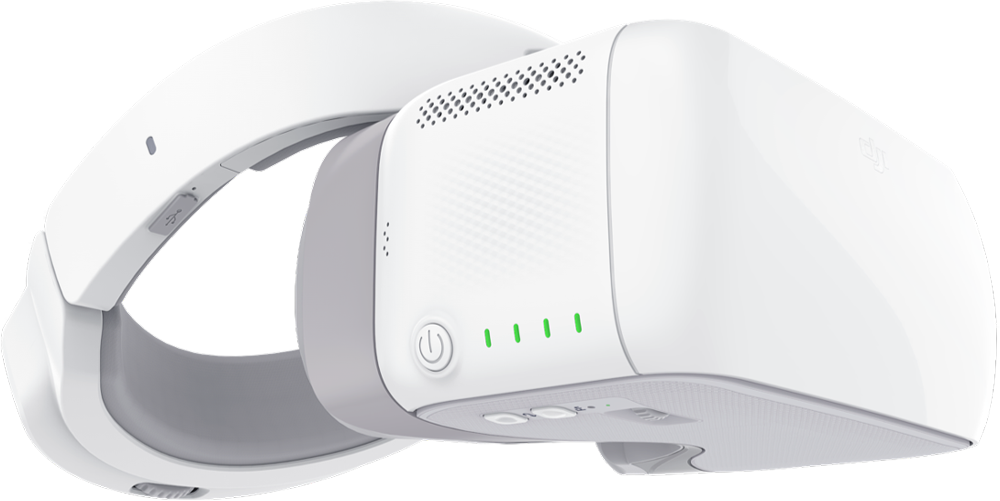 (Source: DJI)
GoPro should be afraid for two reasons. First, it seems like people in the United States – which is its biggest market – have embraced DJI's products. Second, it seems that DJI's technology is far better. As I mentioned, GoPro's Karma drone lacked basic functions that were in DJI's earlier drones. As the company continues to release better products, GoPro's hardcore users might jump ship. I believe this is happening. Consider the review below from a self-declared GoPro enthusiast on Amazon:
If you are a drone enthusiast who see themselves flying it a few times out of the year, and may take a photo here and there, or maybe shoot a video from time to time for family memories, or for vacation purposes. Just like I intend to, and has done so far, then this [GoPro Karma] drone is for you. But if you are a professional, and an avid drone enthusiast and a video blogger and you need a longer battery life I would not recommend this drone, I would tell you to get the DJI phantom 3 professional and above.
Also, a look at Amazon shows that more people in America have bought DJI's Mavic Pro than the Karma. From 177 customer reviews, Mavic Pro has a 4.5-star rating, compared to Karma's 4.1 rating from 47 reviewers. DJI has answered 483 questions, while GoPro has answered only 29.
Conclusion
GoPro's biggest asset is its community, which really loves its products. However, this community presents a major challenge to the company. If it doesn't come up with products that are better than those of its competitors, some members of the community will jump ship. This is already happening, going by the number of devices the company sold this year.
GoPro will release its first-quarter results tomorrow. The company expects to release revenues of between $190 million and $210 million. The Street expects it to make $206 million. Although this is higher than the $183 million the company made last year, it includes revenue from the Karma drone which was relaunched in the quarter. In the results, investors will look at the number of GoPro Cloud members and the number of drones and cameras the company will sell.
Disclosure: I am/we are short GPRO.
I wrote this article myself, and it expresses my own opinions. I am not receiving compensation for it (other than from Seeking Alpha). I have no business relationship with any company whose stock is mentioned in this article.