What Reward vs. Risk trade-offs are seen now?
Figure 1 maps the combination of forecast upside price change (the horizontal green scale) with actual worst price drawdowns following prior forecasts like those seen today (the vertical red scale). Stocks above the dotted diagonal carry more risk exposure than expected reward.
Figure 1
(used with permission)
The extreme position of Apple, Inc. (NASDAQ:AAPL) at [14] is of significance because of its weight in several market indexes. The SPDR Dow Jones Industrial Average ETF (NYSEARCA:DIA) at [6], the SPDR S&P 500 Index ETF (NYSEARCA:SPY) at [8], and the PowerShares QQQ ETF (NASDAQ:QQQ) at [6] all have potential to be impacted.
Most favorable stocks in this comparison are Goldman Sachs (NYSE:GS) at [2] Microsoft (NASDAQ:MSFT) and UnitedHealth Group (NYSE:UNH) at [1], and Travelers Companies (NYSE:TRV) at [13].
While Risk and Reward trade-offs should dominate capital commitment decisions, other dimensions of risk besides near-term price changes are likely to influence personal investment choices. They are explored in Figure 2.
Figure 2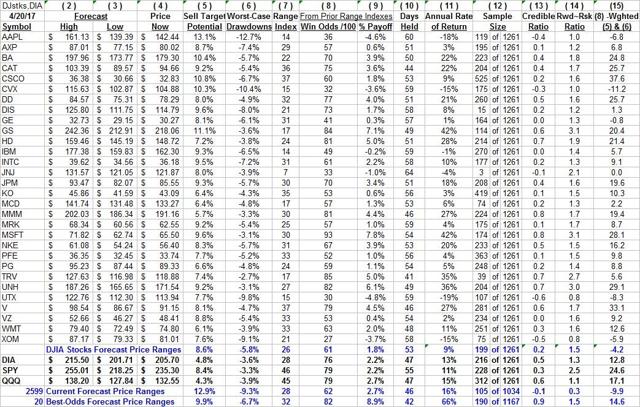 source: blockdesk.com
I know! TMI – too much information.
But much of it is essential for comparison purposes; the rest is there for your specific portfolio references, and I can't know who holds what.
The column headers are important because they relate dimensions of differing importance to different investors having different investing objectives and risk tolerances. If this format is new to you, hang in there because a lot is compressed into a limited space so direct comparisons can be made. And comparisons are essential to good (for you) choices.
Columns (2) & (3) are the price ranges MMs see as likely for their big-money clients to seek or tolerate. (5) is the upside between (2) and (4). (5) and (6) are the dimensions used in Figure 1.
The Range Index [RI] (7) tells what percentage of the (2) to (3) span lies below (4). It's sort of the price for (5), but tends to be peculiar to each stock or ETF. (12) tells how many market days of the past 5 years have had RIs of this size. (8) is the proportions of the (12) sample that were profitable under the TERMD (defined later) portfolio discipline.
(9) gives the net % profit or loss from all of the (12) sample, (11) how long they were held, and (12) the CAGR rate of return resulting. (13) relates (9) prior accomplishments to (5) current expectations, and (14) compares (5) to (6).
In an effort (not always adequate) to pull all this together as one measure, (15) is what we have chosen for a comprehensive standard (larger is better). Your standard may well be different for good personal reasons.
So much for the columns. Now the rows.
The index-tracking ETFs are in bold black to differentiate them from the stocks. Averages are in bold blue. They first are of the DJ stocks, then of nearly 2600 securities in our population of stocks, ETFs, and Indexes where MM implied forecasts are credible. Over 4,000 candidates are examined daily. The last row is the current average of the 20 best (by our ranking standards) wealth-building prospects in the population.
So what is important in the table?
AAPL, in the first row by alphabetic luck, is quick to present some of the considerations prompting this article. Its (8) ODDS for positive 3-month price change are only 36 out of 100, one of the worst in a 61 average of the 30 stocks. XOM at 27 is low man on that totem pole, followed by CVX at 32. The whole population average is only 62, or 5 winners out of 8. The best current wealth-building candidates average 82 or 9 out of 11.
Profitability odds are directly reflected in (11) Annual rates of return. There the winners, based on prior like forecasts, are GS and MSFT. The "back-door `winners`" are UTX, AAPL, XOM, and CVX.
These results are historic, based on prior forecasts like today's, but also on prior economic and competitive circumstances. There are no guarantees that those are going to be repeated in the near future. (5) Upside expectations may suggest otherwise. But odds for profitability from those prior forecasts may either support or subtract from the credibility of the current expectations.
A map comparing prior forecast win odds with their actual return accomplishments ("payoffs") is in Figure 3.
Figure 3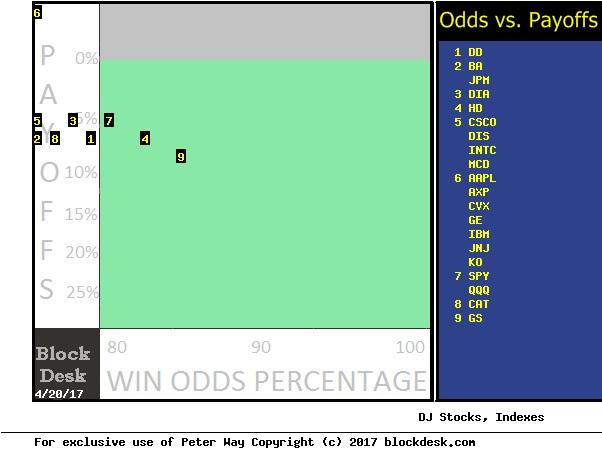 (used with permission)
Many of the stocks fall off of this map because their ODDS are less than 80 (the green area) or less than 75 (the left margin of the map). Those with forecast negative price changes are in the left hand upper corner at [7] with both ODDS less than 75 and payoffs less than 0%.
Best appears to be GS at [9] and HD at [4], with SPY and QQQ viable at [7].
These rankings and scores are based on the Active Investment Management portfolio strategy TERMD, which uses forecasts implied from hedging activities designed to protect MM firm capital required to be at risk while balancing buyers with sellers in facilitating large volume "block" trades.
The strategy sets specific-security price sell targets to liquidate holdings as soon as reached, or no longer than 63 market days (3 months) after their forecast date. Continual full re-investment of capital produces compounding of returns, making the strategy time-efficient. Example 2016 returns can be seen here.
Conclusion
While many stock "favorites" are seen by big-money funds and investment organizations and their MM block-trade facilitators as having shorter-term poor odds for profit or outright price decline prospects, the major stock indexes and their ETF price trackers do not seem to be seriously threatened.
In contrast, there are numerous other individual stocks offering far more attractive investment prospects in the interim. They are pictured anonymously for contrast in Figure 4.
Figure 4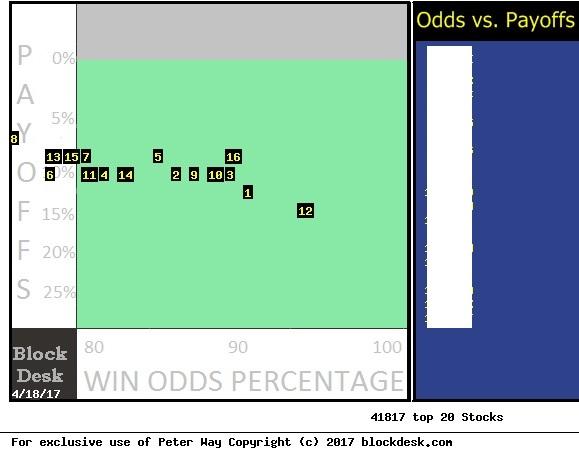 (used with permission)
Additional disclosure: Peter Way and generations of the Way Family are long-term providers of perspective information, earlier helping professional investors and now individual investors, discriminate between wealth-building opportunities in individual stocks and ETFs. We do not manage money for others outside of the family but do provide pro bono consulting for a limited number of not-for-profit organizations.
We firmly believe investors need to maintain skin in their game by actively initiating commitment choices of capital and time investments in their personal portfolios. So our information presents for D-I-Y investor guidance what the arguably best-informed professional investors are thinking. Their insights, revealed through their own self-protective hedging actions, tell what they believe is most likely to happen to the prices of specific issues in coming weeks and months. Evidences of how such prior forecasts have worked out are routinely provided. Our website, blockdesk.com has further information.
Disclosure: I/we have no positions in any stocks mentioned, and no plans to initiate any positions within the next 72 hours.
I wrote this article myself, and it expresses my own opinions. I am not receiving compensation for it (other than from Seeking Alpha). I have no business relationship with any company whose stock is mentioned in this article.