DryShips' (NASDAQ:DRYS) stock is under attack from every angle. On one side we have dilution and short selling, on the other side we have a collapsing Baltic Dry Index. Readers will remember that we predicted Panamax rates to finally begin to fall by mid to late April.
DryShips is being pummeled by many factors, including a tanking Baltic Dry Index and falling Capesize rates. Panamax rates remain strong, but we believe they will also fall by late April. If they don't fall, another bullish swing trade opportunity may emerge in DryShips as soon as the dilution is over. To reiterate, we believe they will fall, but if they don't fall by late April, a bullish opportunity may emerge.
As usual, our prediction has come to fruition. To all but the sharpest readers, our stance may seem random or even capricious. But the ability to see an issue from every angle "Janusian thinking" is the only way to accurately understand any issue. That is why our articles appear contradictory to some, but are highly accurate to a careful observer.
Panamax rates now join Capesize rates in a downward trajectory that has sent the Baltic Dry Index down to 1,195.
Most of DryShips recent acquisitions have DWT above 80,000. The company's large DWT fleet is made up of four Newcastlemax, four Kamsarmax – three of which are second-hand vessels expected to be delivered in the second quarter of 2017 and one new build that is expected to be delivered in the third quarter of 2017.
Most of these ships will operate on the spot market, and so the Capesize and Panamax indexes are the best way to evaluate demand for their services. The Capesize index has been declining for a long time, but the Panamax index was previously a source of hope for investors in this struggling company.
Panamax Index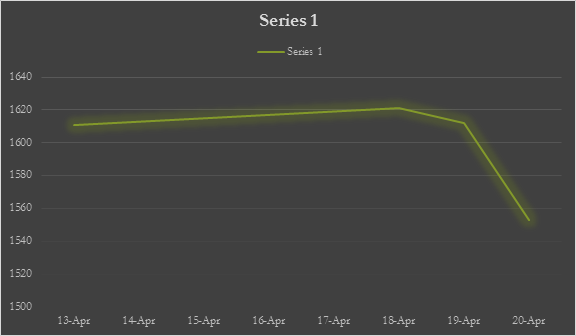 DryShips is highly dependent on the Panamax index because 13 ships in its fleets are Panamax. The Panamax index was showing strength during the Brazilian harvest season, but it is now finally starting to fall. None of DryShips' Panamax vessels have time charters, so they are fully dependent on the spot market.
Conclusion
DryShips will not be able to rally with weak shipping rates. Soaring shipping rates are probably the only way for long investors to get the massive short squeeze they are hoping for.
Panamax rates are beginning to fail, and the bullish case for DryShips is falling apart. Unfortunately, the downward pressure looks likely to push DRYS below $1.00 again, and when this happens, investors can look forward to another stock split.
Disclosure: I/we have no positions in any stocks mentioned, and no plans to initiate any positions within the next 72 hours.
I wrote this article myself, and it expresses my own opinions. I am not receiving compensation for it (other than from Seeking Alpha). I have no business relationship with any company whose stock is mentioned in this article.
Editor's Note: This article covers one or more stocks trading at less than $1 per share and/or with less than a $100 million market cap. Please be aware of the risks associated with these stocks.