Earlier this week, I detailed how massive downside remained for shipping company DryShips (NASDAQ:DRYS), as the company still had a lot of potential dilution left under the current Kalani deal. Unfortunately, for investors, shares hit new lows on Friday, but depleted volumes this week meant that sales to Kalani have slowed quite a bit, as seen in the historical data below.
(Source: Yahoo Finance)
As of my article on Monday, more than $173 million remained in potential share sales to Kalani. With volume creeping to a halt this week and shares below $2.00 again, I wasn't expecting a lot of shares to be sold this week. That appears to be the case, as we received the following statement in a new SEC filing from DryShips after the bell on Friday:
On April 3, 2017, we entered into a common stock purchase agreement, or the April 2017 Purchase Agreement, with the Investor. The April 2017 Purchase Agreement provides that, upon the terms and subject to the conditions set forth therein, the Investor is committed to purchase up to $226.4 million worth of shares of our common stock over the 24-month term of the purchase agreement and would receive up to an aggregate of $1.5 million of shares of our common stock as a commitment fee in consideration for entering into the April 2017 Purchase Agreement. Between the date of the April 2017 Purchase Agreement, April 3, 2017, and April 21, 2017, we sold an aggregate 20,602,014 shares of our common stock to the Investor at an average price of approximately $2.86 per share, and issued an aggregate 289,811 common shares to the Investor as a commitment fee for entering into the April 2017 Purchase Agreement.
That means that only about $6 million worth of shares in the last four days. That's a lot less than the roughly $15 million in the previous five trading days and a lot less than some of the weeks in the past. It appears that over $167 million worth of shares remain to be sold, and DryShips closed Friday with a market cap of less than $86 million.
In the end, DryShips shares hit a new 52-week low on Friday, but the slowdown in trading volumes this week meant a small share sale to Kalani. With over $167 million left in the latest potential deal, DryShips share count is likely to continue soaring and the stock is likely to continue falling. Do you really want to invest in a name that's currently at $1.55, when it traded for some wacky split-adjusted values seen below from the above SEC filing?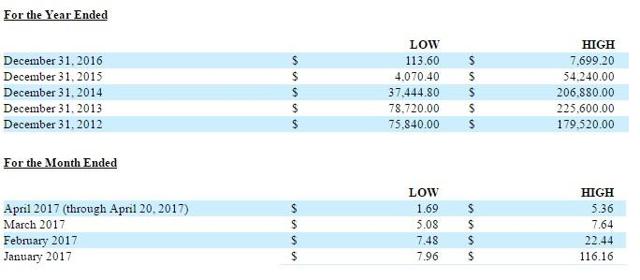 Disclosure: I/we have no positions in any stocks mentioned, and no plans to initiate any positions within the next 72 hours.
I wrote this article myself, and it expresses my own opinions. I am not receiving compensation for it (other than from Seeking Alpha). I have no business relationship with any company whose stock is mentioned in this article.
Additional disclosure: Investors are always reminded that before making any investment, you should do your own proper due diligence on any name directly or indirectly mentioned in this article. Investors should also consider seeking advice from a broker or financial adviser before making any investment decisions. Any material in this article should be considered general information, and not relied on as a formal investment recommendation.
Editor's Note: This article covers one or more stocks trading at less than $1 per share and/or with less than a $100 million market cap. Please be aware of the risks associated with these stocks.