Introduction
eBay (NASDAQ:EBAY) is busy repositioning its business. The turnaround strategy is "having the most relevance coupled with a powerful selling platform, while clarifying the eBay brand". I'll be arguing that this is strategy is showing signs of effectiveness and that, if management manages to execute, the company can be considered undervalued at the moment. Management seems to agree with this as they bought back $1 billion worth of shares.
The turnaround is very much needed, because when we take a look at their historical fundamental performance, it is nothing short of troublesome. A dwindling cash pile coupled with an increasing debt load, is a recipe for disaster. Keep in mind that a dwindling cash pile for a technology company is different than for, say, a retailer. This is because technology companies usually don't have a lot of fixed assets, which reduces the need for heavy capex spending. The other side to this is that tech companies must spend a lot in R&D, because they are always trying to keep up with, if not be, the latest technology.
eBay specifically is not spending a whole lot on capex (as expected), but is certainly purchasing a lot of investments, while simultaneously selling a lot of investments. This has to do with their goal to reposition the business.
Turning it around
eBay's biggest problem is that it is competing with Amazon for e-commerce dollars. More specifically, it is losing from Amazon (NASDAQ:AMZN). While eBay calls a 5% growth in GMV value a record quarter, Amazon is recording double digit growth rates. It's interesting to note that this record quarter came during the holiday season. In other words, the boost was not necessarily organic, but on the back of holiday spirits.
eBay is attempting to reposition its business by having the most relevance coupled with a powerful selling platform. They also seem to have a keen interest in clarifying their brand as can be deduced from Devin Wenig's, the CEO, comments during the conference call:
"We have made great progress against our key strategic priorities to drive the best choice, the most relevance and a powerful selling platform while clarifying the eBay brand. This strategy is the foundation that will enable us to transform the eBay experience and build a more resilient and differentiated business over the long-term."
This is a terribly vague strategy. How exactly does a 'powerful selling platform' differ from their current platform? Is their current platform not powerful? Yes, they are improving their Buyer Protection Plan (BPP), which is supposed to make eBay safer. The thinking here is that if more people feel safe buying through eBay, the company will be able to generate more revenue through its commissions. The reason why this BBP is important, is because eBay is more a forum that connects buyers than an online retailer, and trading with strangers is not as safe as trading with an established company. The biggest benefit for eBay users is that the BBP promises users to intervene in disputes.
However, not all is vague. The company also has some specific things that they're doing to turn the business around like simplifying the experience and tailoring pricing in markets like Germany.
The strategy presumably has been in the works for quite some time now and is showing some signs of effectiveness. The evidence to support this theory lies in their C2C business. This business has notably been lagging for roughly three years. Last quarter, it reported its first positive growth in nearly three years. 2016 was also the first year since 2012 that recorded a year over year growth. While the 4.4% growth was not terrible impressive, in eBay's context – a struggling turnaround company- this counts for something. Together, these strategies should increase the operating margin from 26% in 2016 to 29%-31% in 2017.
Addition to bottom line
So what does this mean for the bottom line?
Source: company presentation
From this graph we can deduce that the operating income is expected to be $2,697 to $2,945 billion for 2017. We still have to subtract around $225 million in interest expense. Finally, we multiply it by 1-tax rate to get to the net income. This works out to be $1,804 to $1,985 billion in net income. For perspective, the company's adjusted net income was $1,533 billion in 2016 and $1,725 in 2015. So best case scenario is that the company records a 28% growth from 2016 levels. If we zoom out even further and notice that 2016 actually showed a sequential decline to $1,533 from $1,725 in 2015, the growth becomes somewhat less impressive and comes in at 14%.
To sum this part of, the company is expected to grow 14% to 28% depending on their execution.
Management thinks the share are undervalued
The EPS growth is not the only positive thing for investors. Investors are buying eBay, because they think the company is undervalued. Management is aligning themselves with this way of thinking and is actively repurchasing shares. Management bought around $1 billion dollar worth of shares, which reduced the total shares outstanding by 6.2%. So not only did the EPS grow by 2% organically, the company reduced its shares outstanding by 6.2%, which in its turn increases the EPS. This is because the earnings are shared by a lower amount of shares. There is about $1.3 billion left in the share repurchase plan. If management decides to spend this in 2017, this could give the EPS growth rate an additional boost.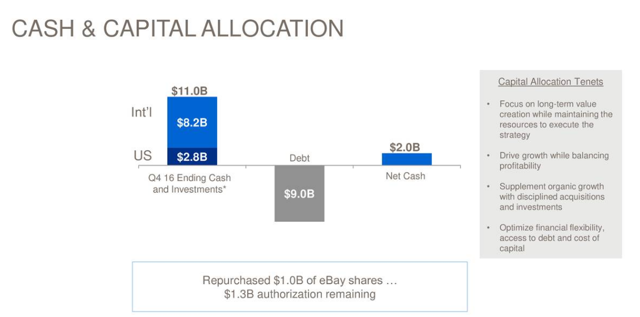 Source: company presentation
Final thoughts
The company has a Forward PE of around 15, which is reasonably for a 14% income growth, but unreasonable for a 28% growth rate. So while the turnaround seems to be working, it might be wise to wait and assess the level of execution. If execution turns out to be second to none, eBay could see its share price appreciate.
Disclosure: I/we have no positions in any stocks mentioned, and no plans to initiate any positions within the next 72 hours.
I wrote this article myself, and it expresses my own opinions. I am not receiving compensation for it (other than from Seeking Alpha). I have no business relationship with any company whose stock is mentioned in this article.