I have received several requests recently from Seeking Alpha members to compare and contrast Enbridge Inc. (NYSE: ENB) and Energy Transfer Partners (NYSE: ETP). I compared both to Kinder Morgan (NYSE: KMI) and concluded each of them outshines Kinder Morgan by a wide margin. In the following sections, I will do my best to determine which of the two offers the better risk/reward proposition for conservative dividend growth and income investors.
ENB Current Chart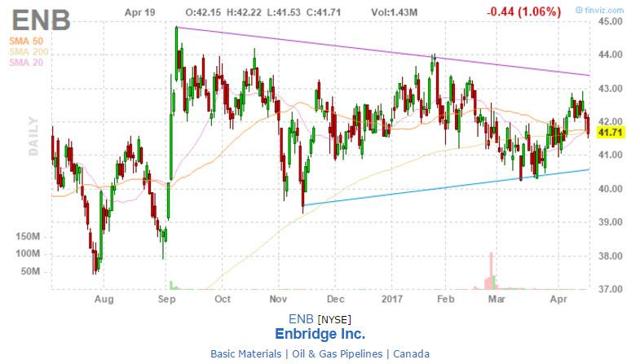 Source: finviz.com
ETP Current Chart
Source: finviz.com
Risk/reward comparison
ETP future growth prospects
ETP has just wrapped up its fight over Dakota Access Pipeline (DAPL). A request by the Standing Rock Sioux tribe to issue an emergency injunction against the Dakota Access Pipeline was recently denied by U.S. District Judge James Boasberg. The judge stated such a move would be against the public interest. Moreover, the Dakota Access Pipeline will begin interstate crude oil delivery on May 14, according to a filing with the FERC. The DAPL will reduce the need to ship 150,000 barrels per day by rail. This will lower costs for everyone in the system, according to BTU Analytics' Tony Scott. Scott cites companies heavily invested in the Bakken such as Hess (NYSE: HES) as beneficiaries. Furthermore, I see the merger with Sunoco Logistics Partners L.P. (NYSE: SXL) as a major positive as well.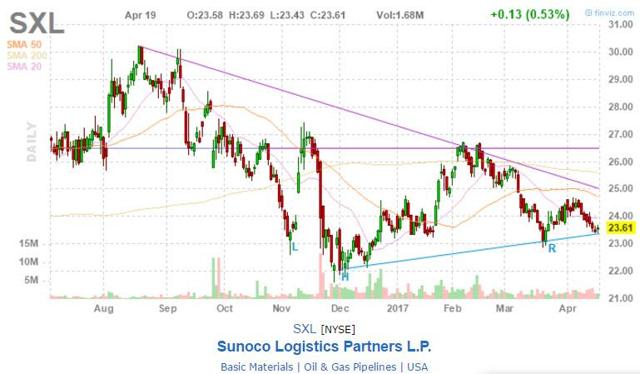 Source: finviz.com
The combination of the two MLPs presents a much lower risk profile. This is due to increased diversification through the combination of ETP's primarily gas-focused pipelines and SXL's primarily liquids-focused businesses. The following slide presents the key transaction highlights.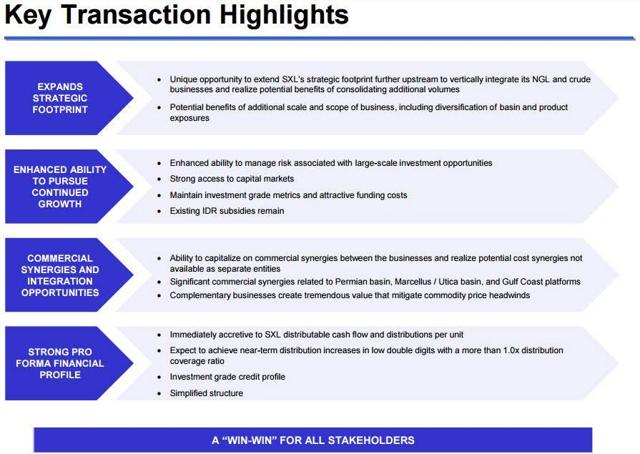 Source: energytransfer.com
According to the company, the combination allows for more efficient capitalization of commercial synergies. Furthermore, significant cost reductions are on the table for the two companies. See strategic rationale slide below for full details.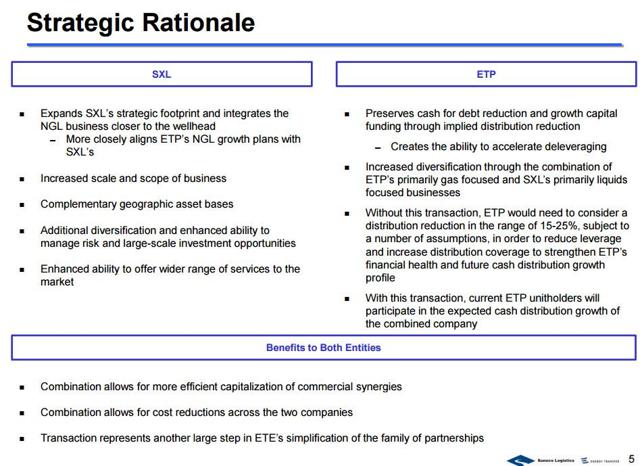 Source: energytransfer.com
The combined company will have a strong foothold in the most prolific producing basins. This should augur organic growth for years to come. See below slide.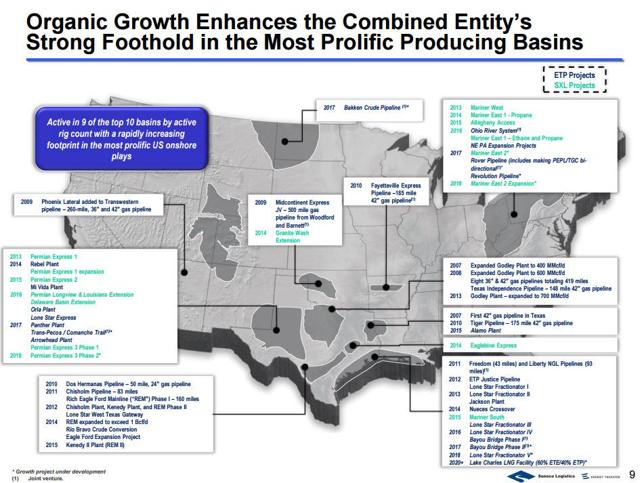 Source: energytransfer.com
With the DAPL set to start in May and the merger with Sunoco Logistics Partners L.P. set, I see ETP's future growth prospects as solid. This significantly lowers the risk to future distributions. Now, let's turn our attention to Enbridge Inc.'s growth prospects.
ENB future growth prospects
ENB is wrapping up its acquisition of Spectra Energy Partners (NYSE: SEP). Enbridge is now the largest North American energy infrastructure company with a combined enterprise value of approximately $124 billion. ENB has said it has no plans for consolidation at its three MLP businesses, which include Enbridge Energy Partners (NYSE: EEP), Midcoast Energy Partners (NYSE: MEP) and Spectra Energy Partners.
Enbridge operates 17,150 miles of pipelines in North America. The vast majority move oil from the oil sands producers in Western Canada to the U.S. Enbridge transports nearly 70% of U.S. bound Canadian oil exports. The company offers a unique value proposition.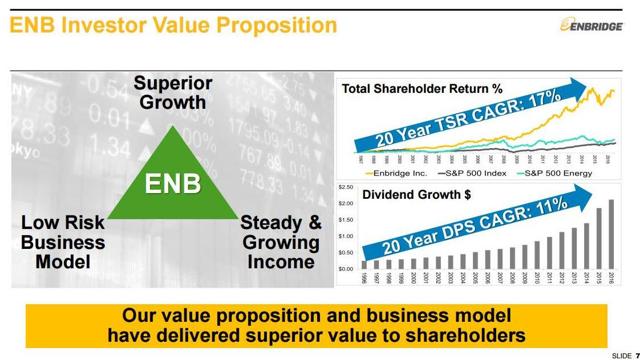 Source: Enbridge.com
What's more, Enbridge boasts one of the sector's largest growth backlogs through six strategic growth platforms.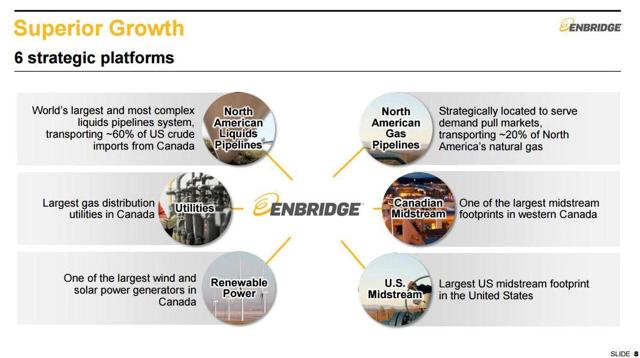 Source: Enbridge.com
The company at present has over $20 billion of projects in progress through 2019. Moreover, the company has another $48 billion (CAD) of long-term projects in development as well. This puts the combined backlog at $55.8 billion USD. Please review the below slide comparing the growth prospects of the major pipeline companies.
Secured project inventory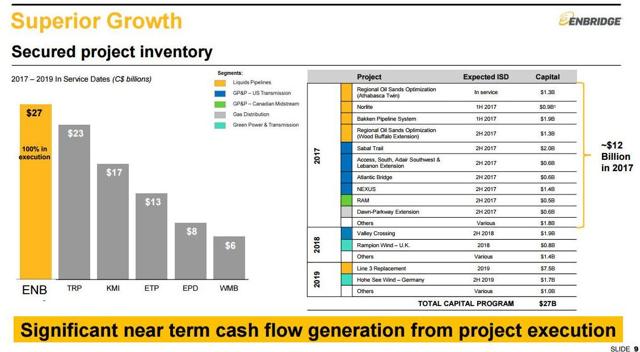 Source: Enbridge.com
Probability weighted project inventory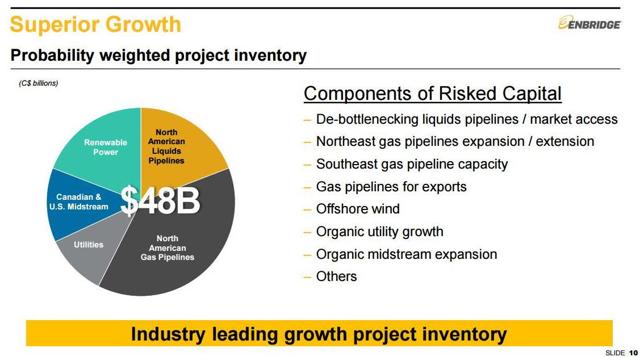 Source: Enbridge.com
ENB has growth prospects as far as the eye can see. With $20 billion of projects in progress and a combined backlog of $55.8 billion, I'd say the risk to future distributions is extremely low. What's more, I fully expect distributions to grow substantially by 2019 as more and more of these projects are placed into service. Let's now turn our attention to the reward part of the equation.
ETP offers more current reward than ENB.
Currently, ETP sports a whopping yield of 12.04% while ENB's yield is a respectable 4.23%.

Source: finviz.com
Mind you, an ETP distribution cut was on the table for unitholders prior to the SXL merger. This would have significantly reduced the yield. ETP was projecting a distribution reduction in the range of 15-25% in order to reduce leverage and increase distribution coverage prior to the merger. Now, with the SXL merger, ETP expects distributions to grow substantially in the coming years.
Even if ETP cut the distribution by half, it would still be vastly greater than the distribution provided by ENB at present. Basically, we are talking about a $4.22 payout by ETP versus a $1.78 payout via ENB. ETP is the winner regarding reward.
Nonetheless, Enbridge is a dividend paying stalwart. The company is close to becoming a dividend aristocrat in fact. ENB has increased its dividend payout for the past 22 years with CAGR of approximately 11.2%. According to company guidance, Enbridge states it will continue to grow the dividend at a 10% to 12% CAGR through 2024. Let's turn our attention to valuation.
Valuation analysis
ETP units are currently vastly cheaper than ENB's shares at present. The standard metric for valuing MLPs is Unit Price divided by Distributable Cash Flow (P/DCF). Currently, ETP units are trading at a $35.17 and the DCF per unit stands at $4.22. This equals a P/DCF ratio of approximately 8.
On the other hand, you have ENB which is a C-corp. rather than an MLP. ENB provides a dividend rather than a distribution. The dividend is substantially less than the DCF per unit at $1.78 versus $2.27. Currently, ENB shares are trading at $41.65, and the DCF per unit stands at $2.27. This equates to a P/DCF ratio of approximately 18. So ETP takes the cake in regards to valuation.
The Bottom Line
Presently, I would say ETP represents a much better value to potential income investors while ENB may be a better choice for those looking for dividend growth. Furthermore, I posit the risk/reward ratio favors owning units in ETP rather the shares of ENB presently. ETP operates primarily in the U.S. while ENB's operations are primarily in Canada. Even though the Canadian big wigs have approved the pipeline projects, there may still be significant environmental opposition to future projects. Kinder Morgan's Canadian endeavor, the Trans Mountain Expansion Project, which will mostly be twined next to existing pipes and primarily built within the current right of way, is still facing 11 lawsuits.
If you are looking for current income and the potential for capital appreciation, ETP is the one for you without question. If you have a long-term time horizon and are looking for dividend growth, ENB may be the better choice. But for my money, I am choosing ETP. Like J.G. Wentworth says on TV, it's my money and I want it now. I am buying ETP for the superior distribution, lower valuation, opportunity for capital appreciation, and the fact it operates mainly in the U.S. Those are my thoughts on the matter. I look forward to reading yours.
Your participation is required!
The true value of my article is derived from the prescient insights made in the comments section by Seeking Alpha members. Do you believe ENB or ETP presents a better value for dividend growth and income investors presently? If so why? Thank you in advance for your participation.
Final Note: If you found this article interesting, please click on the follow button below. I would greatly appreciate it.
Disclosure: I/we have no positions in any stocks mentioned, but may initiate a long position in ETP over the next 72 hours.
I wrote this article myself, and it expresses my own opinions. I am not receiving compensation for it (other than from Seeking Alpha). I have no business relationship with any company whose stock is mentioned in this article.