FAANG stocks have been the market leaders. This is the group of tech stocks that includes Facebook, Amazon, Apple, Netflix and Alphabet (parent company of Google). Recently, several of the companies released earnings and their results could have a significant impact on the short term trend of the stock market.
Facebook
Facebook (Nasdaq: FB) beat expectations. CNBC reported:
"Here's how the company did compared with what Wall Street predicted:
Earnings: $2.38 per share, vs. $2.19 forecast by Refinitiv consensus estimates
Revenue: $16.91 billion, vs. $16.39 billion forecast by Refinitiv consensus estimates
Daily active users: 1.52 billion, vs. 1.52 billion forecast by Refinitiv consensus estimates
Monthly active users: 2.32 billion, vs. 2.32 billion forecast by Refinitiv consensus estimates
Average revenue per user: $7.37, vs. $7.11 forecast by FactSet
It proved to be a strong financial quarter for Facebook, despite growing public outrage over the company's privacy practices. Earnings per share jumped 65 percent from the year-ago period.
Net income totaled $6.88 billion, a record profit for the company and an increase of 61 percent from the year-ago quarter."
The stock jumped on the news.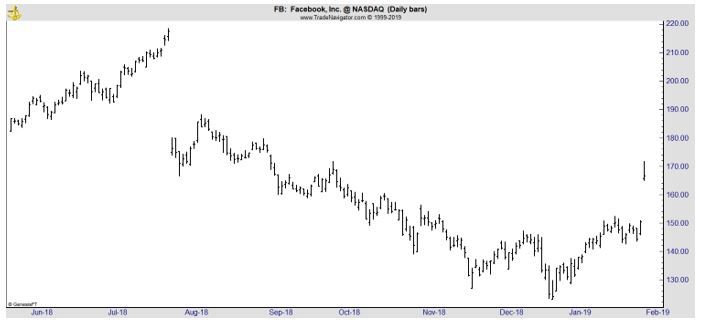 Analysts are optimistically looking for more gains as several told CNBC:
"Morgan Stanley analyst Brian Nowak titled his note, "This story is starting to get good," and raised his price target to $190.
He went on to say, "Facebook's strong finish to 2018 – across the board 4Q revenue, EBIT, EPS and active user beats – speaks to the strength of its engagement, ad offering and ability to drive earnings power … even while navigating public scrutiny and aggressively investing to improve its platform safety/security, product offerings, and monetization."
Evercore ISI analyst Anthony DiClemente said, "while growth should continue to slow near-term, longer term opportunities remain compelling as does broader bull thesis."
Bank of America's Justin Post went so far as to say: "While the 2019 margin outlook will continue to draw questions, we think 1Q revenue outlook appears conservative with upside potential."
Mark Mahaney from RBC raised his price target, saying: "We feel we could be in a period of sustained rerating as the worst Facebook fears appear not to have been realized."
Amazon
Amazon (Nasdaq: AMZN) also beat expectations, but the stock fell as analysts worried about lower than expected results in the current quarter.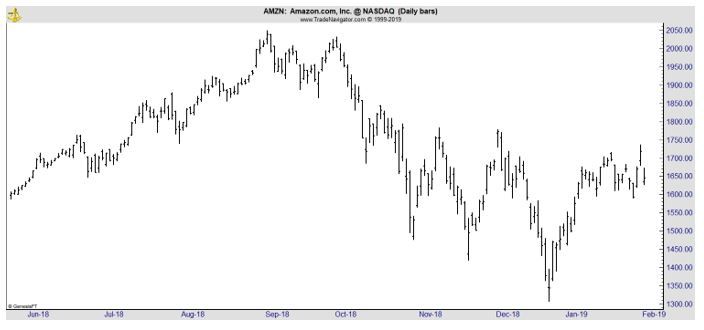 Barron's noted that "several analysts trimmed their price targets on Amazon's shares following the report, though not by much. FactSet's average, around $2,118, represents a nearly 30% premium to current prices."
But analysts remained upbeat about the stock:
At Stifel, analyst Scott Devitt has a Buy rating and a $2,300 price target on the stock.
"Management commented there will be more investment in 2019 relative to 2018, which is impacting shares," wrote Devitt. "This doesn't change our positive view as we expect incremental investment to strengthen Amazon's leadership position in retail and cloud services."
Jefferies' Brent Thill has a $2,300 price target and a Buy rating on Amazon's stock.
"We like that more profitable revenue streams are spurring growth (AWS, third-party sales, advertising) and believe mid- to high-teen revenue growth is the realistic go-forward expectation," he wrote.
"While the retail business is mature in nature, we still view Amazon as a massive share gainer within the overall e-commerce landscape. Newer opportunities like advertising and media further expand Amazon's overall consumer moat."
Nomura Instinet analyst Simeon Siegel reiterated a Buy rating and a $2,050 price target.
"Recognizing that North America and Prime came up short, it is fair to question the magnitude of the trajectory upwards," he wrote. "However, that trajectory is still one pointed nicely upwards and it remains through higher margin segments."
Michael Pachter, at Wedbush, maintained an Outperform rating but cut his price target by $100, to $2,000 per share.
"Amazon's underlying growth drivers…continue to appear robust despite modest deceleration, while the company's spending outlook is largely opaque," he wrote.
Guggenheim's Robert Drbul has a Buy rating and a $2,000 target on Amazon stock.
"Over the next 12 months and long-term, we believe Amazon will continue to benefit from outsize growth in highly profitable segments (AWS, advertising) and expand its leadership moat across industries (retail and cloud computing, among others)," he wrote.
Apple
Apple (Nasdaq: AAPL), according to CNBC, delivered results "that largely fell in line with expectations. But iPhone revenue came in just slightly below projections.
Here's how the company did compared with what Wall Street projected:
EPS: $4.18, vs. $4.17 forecast by Refinitiv consensus estimates
Revenue: $84.3 billion, vs. $83.97 billion forecast by Refinitiv consensus estimates
Q1 iPhone revenue: $51.98 billion, vs. $52.67 billion forecast by Refinitiv consensus estimates
Q1 services revenue: $10.9 billion, vs. $10.87 billion forecast by Refinitiv consensus estimates
Projected Q2 revenue: between $55 billion and $59 billion, vs. $58.83 billion forecast by Refinitiv consensus estimates
Apple rallied on the news.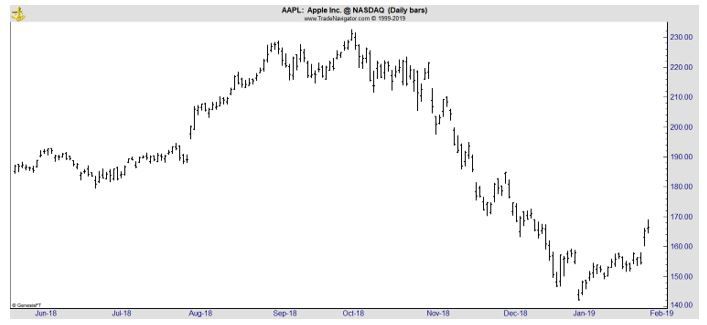 Analysts were generally cautious after the news. CNBC collected comments from major analysts:
Bank of America's Wamsi Mohan said: "The stock could see a relief rally given the negative revisions seen into the print, although investors will likely look for color on services rev and margin trajectory."
Bernstein's Toni Sacconaghi said in his post earnings note that,
"we were surprised by Apple in the aftermarket last night, up 5%+; with EPS estimates likely to fall ~5%, that would suggest the stock is 10%+ more expensive today than yesterday, and above Apple's five-year average on relative P/FE and EV/FCF."
Turning to the service business numbers, Citi's Jim Suva wondered whether,
"Is Apple a services company? No. Apple is an IT Hardware product company with great services which are attached to Apple products. Without Apple products its services struggle to exist … if Apple services were to grow over 50% the next few years it would still represent less than 25% of the company's total sales "
J.P. Morgan's Samik Chatterjee said in his earnings wrap that,
"Although yesterday's announcement will do little in terms of addressing some of the medium-term concerns investors have relative to the drivers of revenue growth as the smartphone cycle matures, we believe book-ending the downside on volumes will help in driving investor focus back to the Services opportunity."
Wrapping up, the news is good from these companies, but the stocks were oversold and the rebounds could be simply technical rallies in a bear market. More data is needed for long term investors but short term traders should consider buying the stocks as trades.
Did you know that at an annual gathering at the Harvard Club of New York, some of the smartest investors in Wall Street got together and listed their favorite stocks? You can get the full report right here.