Quick Take
Hard surface flooring and accessories retailer Floor & Decor (FND) has filed proposed terms for its IPO, aiming to sell 8.82 million shares at a midpoint price of $17 per share.
At a proposed post-IPO market cap of $1.57 billion on growing sales of over $1 billion, I view FDO as an attractive IPO candidate at the proposed share price.
My opinion on the IPO is a BUY.
Company Recap
Smyrna, Georgia-based Floor & Decor was founded in 2000 by Board Member George Vincent West, who served as CEO or Co-CEO from inception to 2012.
The company is now headed by CEO Thomas Taylor, who has been in the DIY retailing industry since 1983 when he began as an employee of Home Depot (NYSE:HD) at age 16.
Taylor eventually served as EVP Operations for 2,200 Home Depot stores and later EVP Merchandising and Marketing.
Below is a brief video of a typical Floor & Decor store:
Source: Floor & Decor
Major investors include Ares Corporate Opportunities Fund (67.6% ownership pre-IPO) and FS Equity Partners (24.6% ownership pre-IPO). The company currently operates 72 warehouse format stores in 17 U.S. states, with a typical store average size of 72,000 square feet.
IPO Terms and Commentary
Floor & Decor intends to sell $150 million of its Class A common stock at a midpoint price of $17 per share, resulting in a proposed post-IPO market cap of $1.57 billion.
Management estimates that it will receive up to $154 million in net proceeds if the underwriters exercise their over-allotment options.
The company plans to use the proceeds to pay down debt, as follows:
We intend to use all of the net proceeds of this offering to repay a portion of the amounts outstanding under the Term Loan Facility, including accrued and unpaid interest. The proceeds of the Term Loan Facility were used to [i] repay our prior senior secured term loan facility with GCI Capital Markets LLC, dated as of May 1, 2013 (the "GCI Facility"), [ii] repay our prior term loan facility with Wells Fargo Bank, N.A., dated as of May 1, 2013, as amended (the "Prior Term Loan Facility"), [iii] pay the Special Dividend (as defined below), [iv] make certain option adjustment payments and [v] repay a portion of our prior asset-based revolving credit facility (the "Prior ABL Facility").
Assuming $150 million is used to pay down the Term Loan, FND will have approximately $200 million in Term Loan Facility debt outstanding, and a total of another $100 million in other current and long-term liabilities, for a total liabilities figure of approximately $300 million post-IPO.
Floor & Decor has achieved impressive top line sales growth in the period from 2012 to 2016, exceeding $1 billion in 2016 and a CAGR of nearly 33%, as the chart below shows: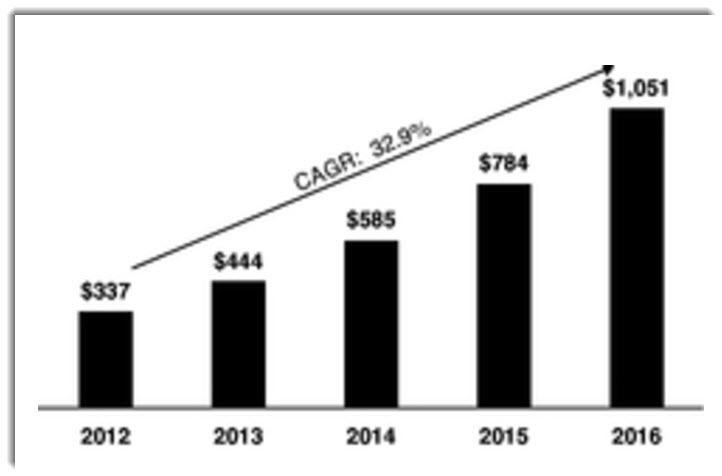 (Source: Floor & Decor S-1/A)
Management states that its preliminary estimates of unaudited sales for 1Q 2017 will be approximately $306 million, for an annualized revenue run rate of $1.2 billion, depending on seasonality and other unknown future factors.
This would represent a YoY 14% top line revenue growth rate in 2017 if achieved.
I previously wrote a detailed article about Floor & Decor, FDO Holdings Files $150 Million IPO Registration.
In that article, I highlighted FDO's trend of generally consistent and positive financial results:
Accelerating revenue growth
Five-year gross margins averaging 40%
Uneven but significant cash flow from operations
FDO's management has stated that it sees the opportunity to aggressively expand its current 72-store footprint to 400 stores nationwide within the next 15 years while producing cash-on-cash returns of more than 50% per store by the third year after each store is opened.
As to valuation, by comparison Home Depot has a current Price/Sales multiple of 1.87x.
For its IPO, FDO proposes a valuation multiple of 1.5x, which compares favorably to the higher Home Depot valuation, yet FDO is the faster-growing company of the two.
In sum, I view FDO as an attractive IPO opportunity at $17 per share and believe the company has significant growth prospects ahead of it while retaining high gross margins and operational cash flow.
My opinion on the IPO is a BUY.
I write about M&A deals and IPOs. Click the Follow button next to my name at the top or bottom of this article if you want to receive future articles automatically.
Disclosure: I/we have no positions in any stocks mentioned, and no plans to initiate any positions within the next 72 hours.
I wrote this article myself, and it expresses my own opinions. I am not receiving compensation for it (other than from Seeking Alpha). I have no business relationship with any company whose stock is mentioned in this article.