In 2016, Kona Grill (NASDAQ:KONA) – a micro cap restaurant chain specializing in Asian and American cuisine favorites – lost almost $22M despite an 18.5% increase in sales year-over-year. So even though sales increased from $143M to $170M, KONA's operating losses accelerated from $4M to $21M. Even adjusting for the $12.4M asset impairment in 2016, KONA still has an adjusted operating loss of $8.5M, which is still more than double the $4.3M loss in 2015.
The balance sheet is also beginning to get messy. As of Dec. 31, 2016, KONA has racked up an accumulated deficit of $56 million. Cash reserves only stand at $3.4 million. With working capital at -$10.5 million, KONA was naturally forced to take on an unprecedented $26.8 million in debt in order to keep up with expenses. The debt consists of a $12M revolver and $14.8M term loan, both which mature on October 2021, of which $712K is due this year.
Surprisingly, the market still has KONA priced at a market cap of $60 million (or $6 per share), yet book value has deteriorated from $63M to $31.6M in a single year. Despite the cratering of KONA's share price since its peak in early 2015, not to mention the share price being slashed by more than half in the past month and a half, I see more downside ahead. As long as units remain unprofitable, KONA will be forced to take on more debt or dilute shareholders with equity. For those reasons, I see KONA's book value decreasing further in 2017.
KONA operated 45 restaurants at the end of 2016. Management only plans to open 3 more this year which is probably prudent considering the accelerating losses. However, unless management can prove otherwise, I am suspicious of KONA's business model. While the concept is laudable, it just seems the costs of running the business are too high relative to the revenue that can be generated from the restaurant units.
In the 10-K, management states that future growth depends partially on the ability to open new restaurants and operate profitably. At the moment, it seems that KONA is failing to deliver on both of these necessities.
I would love to hear from bullish investors your thoughts on KONA and any rebuttals. I have been shorting KONA intermittently for some time, but every time I cover, I always feel compelled to re-short, albeit a relatively small position of my capital base.
While I would not recommend others shorting KONA unless they are seasoned short-sellers who know how to manage risk tightly (and have done their own independent research), I would advise current shareholders to really assess if a turnaround is possible at KONA or if the current trend downwards will continue. My biggest concern is that KONA's business model is simply broken–KONA had been profitable up to 2014 and suddenly began losing money. High costs of core food ingredients, increasing labor costs, and locations that are now proving to be unfavorable have contributed to KONA's rapid stock price decline since 2015, and I believe the downward trend will continue.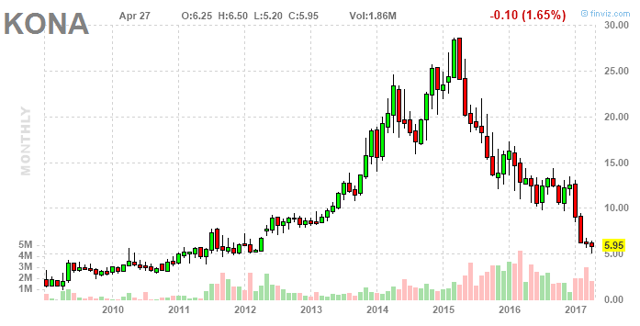 Disclosure: I am/we are short KONA.
I wrote this article myself, and it expresses my own opinions. I am not receiving compensation for it (other than from Seeking Alpha). I have no business relationship with any company whose stock is mentioned in this article.
Editor's Note: This article covers one or more stocks trading at less than $1 per share and/or with less than a $100 million market cap. Please be aware of the risks associated with these stocks.