Quick Take
Cancer treatment biopharmaceutical company G1 Therapeutics (GTHX) has filed an S-1 registration to raise up to $115 million in an IPO.
G1 is developing CDK4/6 class inhibitors to potentially treat a variety of cancers including leukemia and triple-negative breast cancer.
We're missing critical information from the IPO filing, so my opinion on this very early stage company will await more disclosures from management.
Company
Research Triangle Park, North Carolina-based G1 was founded in 2008 by Kwok-Kin Wong and Dr. Norman Sharpless to develop cancer treatments based on Dr. Sharpless' discoveries made at the University of North Carolina at Chapel Hill.
The worldwide commercial rights to the technologies were subsequently licensed to G1.
The company has a pipeline of two early clinical stage candidates, cyclin-dependent kinase inhibitors or CDKs that it says may have the potential to treat many forms of cancer:

(Source: G1 Therapeutics S-1/A Filing)
Management is headed by President and CEO Mark Velleca, MD, Ph.D., who has been with the firm since 2014. He was previously co-founder of CGI Pharmaceuticals, later acquired by Gilead Sciences. Velleca managed the company from inception through clinical trials of multiple drug candidates.
G1 is backed by a large syndicate of venture capital, private equity and public fund investors and has raised over $95 million in three rounds of private investment to-date.
Technology
G1 has created a pipeline of treatment candidates based on its trilaciclib and G1T38 CDK4/6 inhibitors: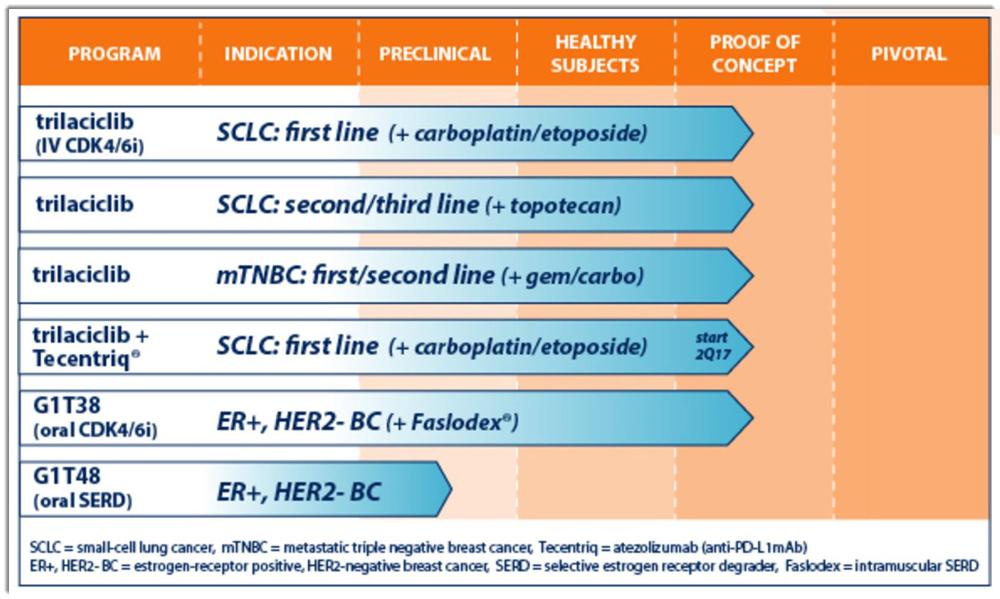 (Source: G1 Therapeutics Website)
Below is a brief explainer video by CEO Velleca:
(Source: Mike Gonzalez)
G1's first candidate seeks to prevent bone marrow loss during chemotherapy, called myelotoxicity, which is common and causes a loss of cells responsible for providing immunity, carrying oxygen or normal blood clotting.
Bone marrow loss is especially prevalent in patients suffering from various forms of leukemia.
Market and Competition
According to a 2016 report by Persistence Market Research, the size of the bone marrow transplant market is expected to reach $2.7 billion by the end of 2021.
The factors expected to drive demand for bone marrow treatments and transplants include "global increase in prevalence of blood cancers, expansion of bone marrow transplant registry, growing investment in logistic services, and improvement in survival rate after treatment."
Major competitive vendors that provide bone marrow treatments or transplants include:
Pfizer (PFE)
Novartis (NVS)
Eli Lilly (LLY)
Lonza Group (OTCPK:LZAGY)
Merck (MRK)
Sanofi-Aventis (SNY)
AllCells
STEMCELL Technologies
Onconova Therapeutics (ONTX)
FLX Bio
The above-named competitors represent therapy candidates across a multitude of indications.
For the specific case of breast cancer, management says that,
To our knowledge, we are the only emerging biopharmaceutical company with both an oral SERD (G1T48) and an oral CDK4/6 inhibitor (G1T38). We believe that being in the unique position of having this wholly owned proprietary combination of a validated regimen for the treatment of ER+, HER2- breast cancer provides us a strategic and competitive advantage.
Financials
G1's recent financial results can be summarized as follows:
Minimal revenues to-date, i.e., only grant revenue in 2015 and significant R&D costs which are typical of a development stage biopharmaceutical firm of this type.
Below are the company's operational results for the past two and one-quarter years (Audited GAAP):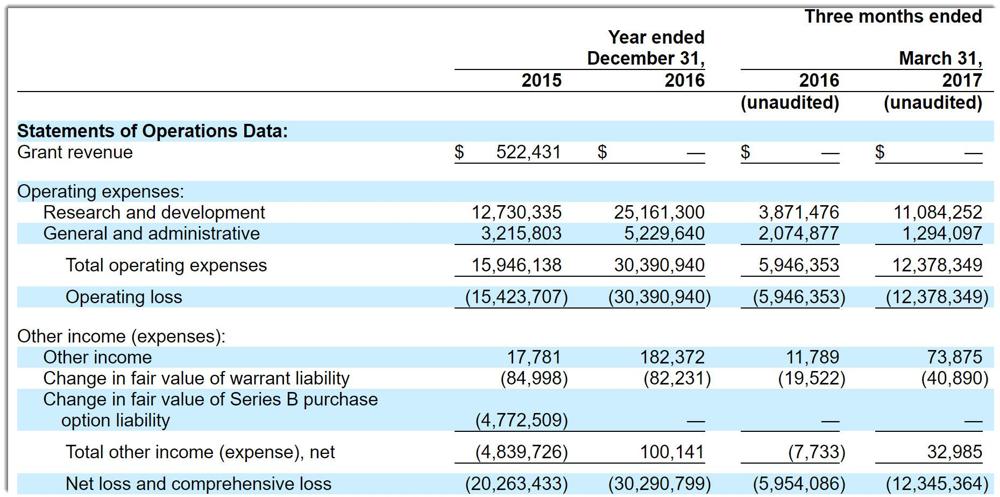 (Source: G1 Therapeutics S-1/A Filing)
As of March 31, 2017, the company had $37.7 million in cash and equivalents and $8.5 million in total liabilities. (Unaudited interim period)
IPO Details
G1 intends to raise up to $115 million in gross proceeds from an IPO of its common stock. However it has not yet provided an expected share price range or proposed post-IPO market capitalization.
Major institutional stockholders in the company and their pre-IPO percentage ownerships are as follows:

(Source: G1 Therapeutics S-1/A)
CEO Velleca owns 2.78% of outstanding shares.
It isn't known at this stage whether existing shareholders will attempt to sell any shares into the IPO, or as is more common, buy IPO shares as a show of support for the IPO.
Management says it will use the net proceeds from the IPO as follows:
To advance development of trilaciclib

To advance development of G1T38

To advance development of G1T48

Working capital and general corporate purposes

Listed underwriters of the IPO are J.P. Morgan, Cowen and Company, Needham & Company and Wedbush PacGrow.
Commentary
G1 management says that it is 'the only company developing a CDK4/6 inhibitor specifically for use with chemotherapy.'
To-date, the company only has pre-clinical data on its lead candidate trilaciclib that leads it to believe that it has 'the potential to significantly enhance the efficacy of checkpoint inhibitor/chemotherapy combinations.'
While management entered into a collaboration with Genentech in late 2016 to evaluate this candidate with Genentech's Tecentriq, it is still very early days with G1's pipeline.
G1 has just begun Phase 2a small cell lung cancer trials [SCLC] and Phase 2 triple-negative breast cancer [TNBC] trials.
Unfortunately for potential IPO investors, initial data from these trials won't be available until sometime in 2018.
At this stage, it is impossible to have any idea of how promising its lead candidates are, other than the possible validation from the Genentech collaboration deal.
In addition, we don't whether or to what extent existing institutional investors will step in and support the IPO with additional purchases of company shares at the IPO price.
Since we don't have proposed valuation metrics, meaningful trial result data or understanding of investor intentions, the IPO represents a bit of a blank slate.
I will update readers when we know more from management.
I write about M&A deals and IPOs. Click the Follow button next to my name at the top or bottom of this article if you want to receive future articles automatically.
Disclosure: I/we have no positions in any stocks mentioned, and no plans to initiate any positions within the next 72 hours.
I wrote this article myself, and it expresses my own opinions. I am not receiving compensation for it (other than from Seeking Alpha). I have no business relationship with any company whose stock is mentioned in this article.
Editor's Note: This article discusses one or more securities that do not trade on a major U.S. exchange. Please be aware of the risks associated with these stocks.