This piece is dedicated to William Shakespeare who died on April 23, 1616. I say the selloff in General Electric (NYSE:GE) was much ado about nothing.
What Happened?
General Electric beat analyst estimates on both the top and bottom lines. Nevertheless, revenue fell 1% year over year to $27.6 billion. Lower sales in the oil and gas and lighting segments were the primary culprits. Even so, due to lowered expectations, analysts were only expecting $26.2 billion. Adjusted earnings of $0.21 per share beat analyst estimates of $0.17, yet were flat year over year, according to Reuters. Jeff Immelt came out swinging and declared the company was off to a good start. Immelt summed up the quarter stating:
"We had 10% orders growth, 7% organic growth, 130 basis points of margin expansion and 20% organic industrial operating profit growth, and a commitment to hit cash flow from operating activities (CFOA) for the year. So this is a good start."
Nonetheless, the stock sold off throughout the day.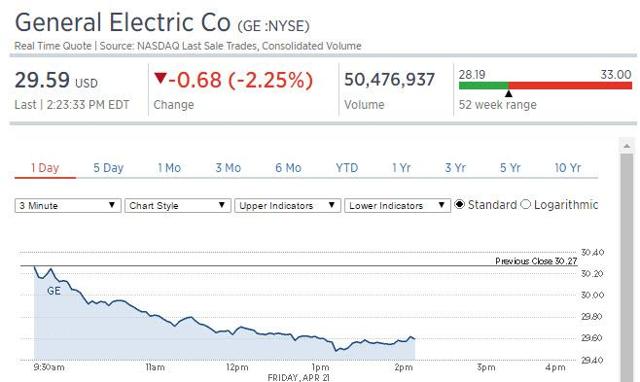 Source: cnbc.com
So what gives?
I surmise the primary reason the sharks have begun to circle was the huge miss regarding cash flow from industrial operations. The company had projected $600 million in negative industrial cash flow, yet industrial cash flow came in at negative $1.6 billion for the quarter instead. Nonetheless, I say any selloff based on this is unwarranted. Here is why.
Much ado about nothing
The miss regarding industrial cash flow was primarily due to latent receivables. Industrial CFOA was $1.6 billion usage of cash. This was $1 billion below expectations. The lack of cash flow was primarily due to accounts receivable collection issues in the Aviation and Power segments. CFO Jeffrey Bornstein stated:
"We didn't collect on a number of accounts in the quarter that we expected to. In Aviation, which historically has not had issues with past dues, we missed by about $200 million on 5 customer accounts, which will clear in the second quarter with no issue. In Power, we didn't collect on several delinquent accounts in top regions around the world, but we expect to collect these throughout the rest of the year, including in the second quarter."
So the cash flow miss is basically providing savvy dividend growth and income investors with a buying opportunity, if you ask me. The company beat on both the top and bottom lines. All segments and fundamentals are improving, yet the stock sells off because the company didn't collect on a few accounts. I would be worried about it as well if the company didn't maintain guidance. Jeff Immelt reiterated guidance for the year of $12 billion to $14 billion of industrial CFOA. Immelt stated on the conference call:
"The goals for industrial operating profit and structural cost-out are in sight. Despite a slow start, we plan to hit $12 billion to $14 billion of industrial CFOA for the year."
What's more, the company maintained its goals to return $19 billion to $21 billion to investors through dividend and buyback. So I see the selloff as an excellent buying opportunity. Let me explain.
The cash is coming
So the stock sells off based on the fact cash flow from operation came in a billion short. Nonetheless, the cash is not lost, it's just late. I see this as padding now for the second quarter and rest of the year. I have faith the company will collect on the receivables as management has stated. If a majority of the receivables are collected in the second quarter, this should boost the stock. Bornstein stated:
"For 2017, we expect significantly stronger cash performance in the second quarter with sequential improvement throughout the year. Our total year plan is $12 billion to $14 billion. That's driven by an increase in net income plus depreciation."
Moreover, the company maintains its goal to cost out $1 billion in 2017 and 2018. Immelt stated:
"We remain committed for $1 billion of cost out in '17 and $1 billion of cost out into '18."
My Take
The idea is to buy low and sell high. This is extremely counterintuitive and hard to do. You have to buy when the herd is selling and sell when the herd is buying. Well, here is your chance to buy. You have to have courage in your convictions to buy on a pullback. I say the reasons for the selloff are specious. The miss regarding cash flow was not due to inefficiencies in operations. General Electric put up a great quarter and maintained its guidance for cash flow and return of capital to shareholders. What's more, the company's CFOA is now back-end loaded. This provides an additional margin of safety for investors.
The Bottom Line
General Electric's stock is unloved and under-owned at present. Many are calling for CEO Jeff Immelt's head as General Electric is the worst-performing stock in the Dow for the last 10 years. The company missed its CFOA by a billion dollars in the first quarter alone. After reading these statements, you would probably think it's definitely time to sell. Yet, I say now is exactly the time to buy. Opportunities to buy great companies at a discount don't happen when everything is hunky dory. What's more, several tailwinds for the stock are present. President Trump came out Thursday and signed an executive order with regard to tax reform and regulatory relief.
I contend blue sky lies ahead for General Electric shareholders in the form of capital appreciation and dividend increases. Moreover, you get paid $0.96 per share, which equates to a 3.17% yield while you wait. Nevertheless, with the current level of geopolitical tensions, I would definitely layer in to a full position over time. The French elections this weekend could cause a major market stir if a Le Pen win materializes. I am staying long and strong. I will use any pullback accretive to my basis as an opportunity to add. Those are my thoughts on the matter. I look forward to reading yours. Please use this information as a starting point for your due diligence.
Your Input is required!
The true value of my article is derived from the prescient insights made in the comments section by Seeking Alpha members. Do you think General Electric shares are a buy at this time? Why or why not? Thank you in advance for your participation.
Note: If you found this article interesting and would like to be notified of my next post, please click on the follow button below. I would greatly appreciate it.
Disclosure: I am/we are long GE.
I wrote this article myself, and it expresses my own opinions. I am not receiving compensation for it (other than from Seeking Alpha). I have no business relationship with any company whose stock is mentioned in this article.