Gilead (NASDAQ:GILD) has been under fire from investors in recent years due to poor performance of its stock. The company invented a cure for hepatitis C, which helped millions of people around the world. Because hepatitis C patients who are cured do not need additional medicine from Gilead, revenues from this segment are naturally falling and will be much lower in a few years. Wall Street is pressuring the company to "make a deal" and grow revenues at any price. The stock has underperformed peers for some time and is down 26% over the past year. We believe that the company does not deserve the negative comments from the investment community and offers significant value at this point. Let's examine the business in detail.
Source: GILD stock price
Business description
Gilead Sciences was founded in 1987 by Michael L. Riordan, who started it with $2 million in venture capital and six employees. The name refers to the Balm of Gilead, a rare perfume with significant healing properties mentioned in the Bible. The balm was made from resin taken from a flowering plant in Gilead, a mountainous region east of the Jordan River, although the exact species remains unknown.
To say that Gilead created tremendous value for its shareholders since its founding is an understatement. Today, the company has a market capitalization of $89 billion and operates in more than 30 countries worldwide. Gilead's primary areas of focus include human immunodeficiency virus (HIV), liver diseases such as chronic hepatitis C virus (HCV) infection and chronic hepatitis B virus (HBV) infection, hematology/oncology, cardiovascular and inflammation/respiratory diseases.
Revenue grew considerably since 2008, reaching $30.34 billion in 2016 thanks to growth in its HCV franchise.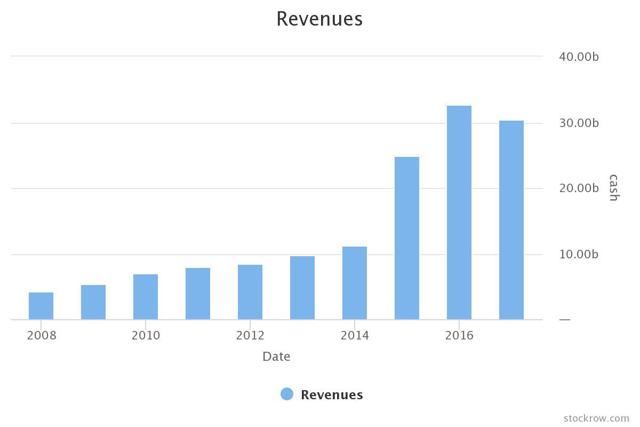 Gilead generates 64% of its sales in United States, 21% from Europe, and 15% from Japan and other countries. Europe and USA recorded revenue declines of 15.5% and 9%, respectively, while Japan grew 31% in 2016. The decline was mainly caused by lower sales of HCV medicines that are explained below.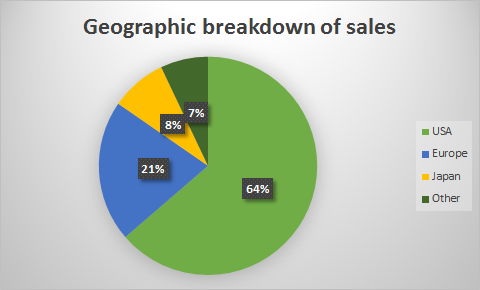 Source: 2016 10-k report
The company offers a wide range of antiviral medicines, which can be classified into three groups:
Hepatitis C treatments (49% of sales) – its largest segment; it includes products Harvoni, Sovaldi, and Epclusa used to treat various forms of hepatitis C. Hepatitis C virus (HCV) is an infectious disease that affects the liver. In later stages, it can cause liver failure or cancer. Epclusa is the first treatment, which cures all genotypes of HCV. The company actually invented a cure for the disease, which means its patients need to take it only once, so the target market is constantly decreasing. This segment achieved revenues of $14.8 billion in 2016 (a decline of 22% vs. 2015) and is expected to drop to $7.5-9 billion this year. Competition from AbbVie (NYSE:ABBV), Janssen, and Merck (NYSE:MRK) has driven down prices and decreased Gilead's market share. The number of patients taking Gilead's HCV medicines has steadily declined, and it is expected that this segment will not contribute meaningful revenue in just a few years.
According to WHO, there are still 130-150 million people in the world with some form of hepatitis C.
HIV and other antiviral products (42% of sales) – includes products like Truvada, Atripla, Stribild, Odefsey or Descovy, which treat various forms of the HIV virus. This segment grew 17% over 2015. It also includes Viread and Vemlidy for treatment of chronic hepatitis B. Vemlidy is the first approved medication for this condition in nearly a decade. According to WHO, there are 240 million people with chronic hepatitis B in the world, most of them in East Asia and Africa. Unlike its hepatitis C medicines, Viread or Vemlidy do not cure the disease; they suppress it. The pricing for these drugs is much lower than for HCV, but they are still expected to meaningfully contribute to revenues in the following years.
Others (7% of sales) – represents treatments for blood cancer (Zydelig), cardiovascular diseases (Ranexa, Letairis) or fungal infections (AmBisome). This segment grew 14% in 2016.
In addition, the company earns revenue from royalty licenses and contracts, representing around 2% of total sales ($437 million).
Here is a list of its current products with patent expiration dates and growth rates in 2016: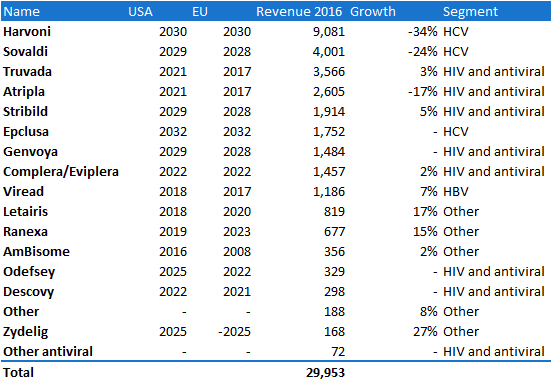 Source: GILD 10-k report, revenues are in millions
We can see that revenues from Harvoni and Sovaldi are both decreasing fast due to competition and pricing pressures. For example, Gilead set the initial Harvoni price at $94,500 in 2015. Last year, the volume-weighted average price for Harvoni was reduced to less than $15,000 per bottle inclusive of discounts and rebates. To summarize, Gilead is losing revenues from its HCV segment rapidly, and the company is hoping to make it up with HIV and other treatments.
HIV and other antiviral products
Despite negative perception of Gilead in eyes of many investors, the company is a clear leader in most areas it operates. According to the latest earnings presentation, there are 1.2 million patients with HIV in United States alone, with 860,000 undergoing antiretroviral treatment. Out of those, 674,000 use a Gilead product (78%), which means it pretty much dominates the market. Despite pressures from Congress and competitors, Gilead increased prices for some of its medications by 7-10% in 2016. In addition, management is quite enthusiastic about bictegravir, an experimental drug for treatment of HIV-1 infection, which is currently in Phase 3 trials.
Its pipeline includes candidates for treatment of NASH (Nonalcoholic steatohepatitis), which causes liver cell damage and build-up of fat in a liver. Approximately 3 million Americans suffer from this condition and Gilead has one drug advancing to Phase 3 trials, with two others in Phase 2.
Over the past 10 years, Gilead has increased its R&D expenditures 12-fold, from $425 million to $5.1 billion today (17% of sales). It can take years, and sometimes even decades, to bring successful drugs to the market. By spending that much on R&D, Gilead has already laid the foundation for significant future growth.
These investments will pay off in the next five or 10 years, and we are confident the boost to earnings will be substantial. Many investors and analysts look at only a few months ahead, which is a big mistake, as they miss the big picture. The company spends more on drug development than Amgen (NASDAQ:AMGN), Celgene (NASDAQ:CELG) or GlaxoSmithKline (NYSE:GSK) (which spent c. $4.5 billion last year). However, Pfizer (NYSE:PFE) and Merck easily outspend it thanks to much higher revenues.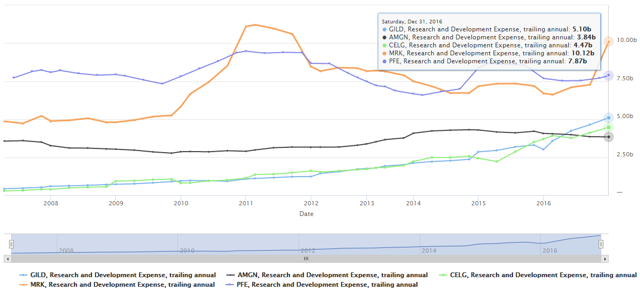 Source: GILD R&D expenses
Let's make a deal!
Gilead has been under immense pressure from Wall Street in recent years to acquire some other pharmaceutical company to "please investors". GILD does not have any significant launches in the near future, and management's confidence remains with its HIV franchise. The company has around $32 billion in cash and investments compared to $26 billion in long-term debt. A large part of the cash is actually abroad and the company would face a hefty tax if it brought back to US. Gilead has taken on debt to fund share repurchases, which has not been a very wise decision in the past two years.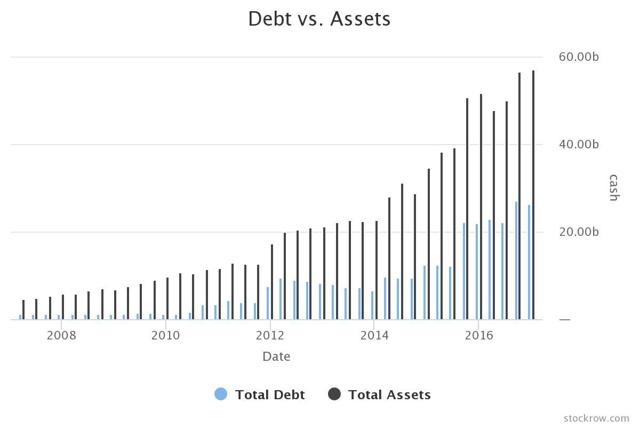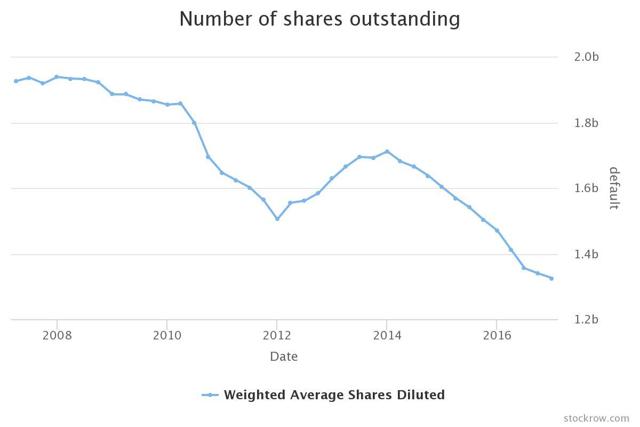 Source: GILD financial snapshot
According to some analysts, it should go ahead and buy something. We believe that it's not the correct approach. Gilead should make a deal only if:
It finds a company that complements its current business and which is within its circle of competence. In other words, it should be a business in which it can be the best in the world at.
If the price of the deal is right and it brings long-term value to shareholders.
If these conditions are not met, then making a deal would be simply stupid. Purchasing another company just to grow revenues without regard to profitability or the price of the deal is very silly. The only one who would make money out of that are Wall Street banks and consultants through fees. If you go to an investment banker and ask if you should make a deal, it's like asking your interior decorator if you really need that $50,000 oriental rug. Gilead has a track record of doing deals that make sense and add value, and we are willing to bet on current management. CEO John Milligan has been with the company for 27 years and is responsible for developing multiple successful products and making various prudent acquisitions. He owns almost 3 million shares, which is not a large portion of the total, but it's certainly the majority of his assets.
Valuation
Valuing Gilead is quite tricky, as even management has stated that it has little visibility in the HCV segment after 2017. So, we have taken the low point of guidance for 2017 ($7.5 billion) and assume that revenues will decline by $3 billion per year and reach 0 in 2020. This is just an assumption, we cannot say what the actual revenues at that time will be. But let's just see what Gilead's value is under this scenario. We have further assumed that revenue from HIV, other therapies, and royalties will grow by 5% per year from 2018 until 2026 and 2% thereafter. We have used a 37% free cash flow margin, which was the average in period 2007-2012, down from current 52%.

Source: 10-K report, Stockrow calculations. Numbers are in millions
Using a discount rate of 8% and the assumptions described above, Gilead's value is around $116 billion. The current market cap is $88.4 billion. The company has $32.4 billion in cash and investments and $26.4 billion in debt. That gives us an enterprise value of $82.4 billion and upside of 40% from current prices. Here is a table using different discount rates:

We are more inclined towards an 8-9% discount rate given the uncertainty in the HCV franchise. That would still imply a valuation of $99.5-116 billion, or upside of 21-41%. The company is now selling for a P/S ratio of 3, way below peers Merck, Pfizer, Amgen or Johnson & Johnson (NYSE:JNJ). Even looking at projected 2017 sales, the P/S ratio would still be below 4.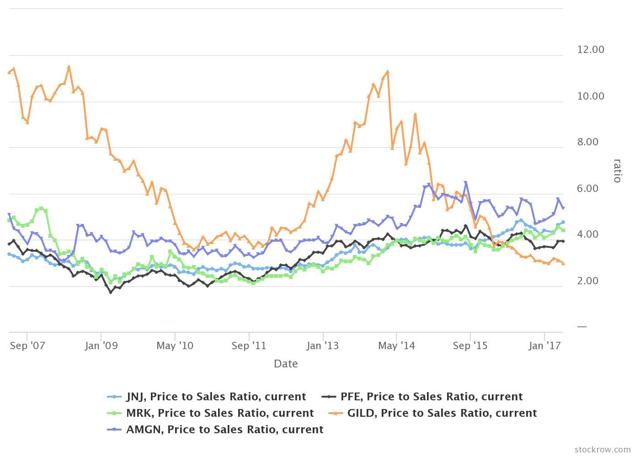 Source: GILD P/S ratio
Main risks
The biggest risk for Gilead is actually its HIV product portfolio. Management has big hopes for it, and the investment community expects that this will be the area where growth will come from. Any negative surprises or slowdown of growth would materially impact the valuation thesis.
Competition and regulation have always been present in the biotech industry, and they both might get tougher in the coming years.
Insiders have sold stock worth tens of millions of dollars over the past two years, and haven't bought any significant amount.
Summary
The best time to invest is when there is a lot of negativity around a stock and the outlook looks bleak. Gilead has actually done exactly as promised; it developed a cure for millions of people and will soon get rid of HCV. Every great company stumbles from time to time, but later gets on its feet and moves on, and we believe that is what will happen with GILD. The fact that the stock is down almost 50% from its peak does not worry the long-term investor at this price. If someone can't stomach such volatility, then he/she should not be in stocks at all. Gilead has invested billions in R&D in recent years, and these investments will bear fruit in years to come. We have initiated a position in GILD, but will wait for insiders to start buying before we increase it further.
Disclosure: I am/we are long GILD.
I wrote this article myself, and it expresses my own opinions. I am not receiving compensation for it (other than from Seeking Alpha). I have no business relationship with any company whose stock is mentioned in this article.