Contents
Recent History: A (not!) Surprising Miss & Upgrade

Current Business Overview: The Main Business is Essentially a Loss-leader
About to be History: The Encrevolution Catalyst

Short Term: Another Earnings Miss
Medium Term: Added Expense, Profit Attrition & Excuses

Long Term: Acquisition, Balance Sheet and Cash-Out

Ancient History: GoDaddy's Origins & Management Record

Summary and Risk
Recent History: A (not!) Surprising Miss & Upgrade
It's been said that a rising tide lifts all boats, and GoDaddy (GDDY) riding the growth of the internet over the past two decades certainly fits that aphorism. Yet, on January 23 of this year, my service predicted that GoDaddy would miss 4Q16 EPS expectations. Just four days later, in conjunction with a major new acquisition, GoDaddy pre-announced revenue in line with analyst expectations. Yet, when the official report came out on Feb. 15, it looked like this:
non-GAAP EPS loss of 2 cents missed by 11 cents (GAAP loss was 8 cents)
on revenue of $485.9m, which beat by $900K
Q1 revenue projections of $485-490m missed consensus by $6.5m
FY17 guidance of $2.18-2.22b beat by $350m
GDDY was initially down almost 10%, and multiple analysts on the conference call expressed concern about the near-term revenue guidance. However, in the absence of any explanation, the market quickly dismissed the results as a blip, as you can see from the chart below.

Just last week, the latest upgrade from Barclays, a long-time bull that just happens to be the primary lending, Administrative & Collateral Agent, and Letter of Credit Issuer for GoDaddy, pushed the stock to an all-time high of $38. This article will examine GoDaddy's accounting and management practices to show why that is misguided. More importantly, it will look at how the internet is changing to explain how I predicted last quarter's surprise loss, and why it is just the first step in a new and damaging trend.
Current Business Overview: The Main Business is Essentially a Loss-leader
GoDaddy reports three business segments: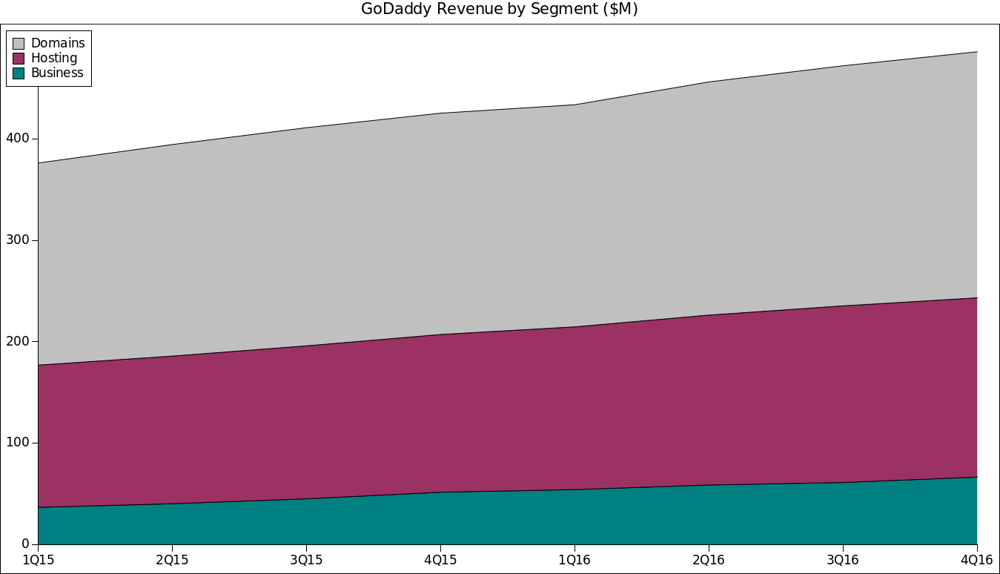 In terms of margins, the original domain registration business should always be a race to the bottom because registrars are essentially just intermediaries for the TLD monopolies, mainly VeriSign (VRSN), which processes over 80% of new domains, with .com still the runaway leader. Despite criticism, this will not change within a meaningful time frame, as VeriSign has just renewed its agreement with ICANN until 2024. My calculations from the most recent 8-K indicate that the segment barely got above breakeven:
| | | | | | | |
| --- | --- | --- | --- | --- | --- | --- |
| | Revenue | % of total Revenue | Est. Operating Cost | Est. Max Operating Margin | Est. Operating Income | Cost Attributions |
| Domains | 242.5 | 50% | 242.1 | 0.1% | 0.36 | domain cost, rev share of other costs |
| H&P | 176.7 | 36% | 154.1 | 10.3% | 16.53 | 80% of tech dev, half of non-domain, rev share of other |
| Business | 66.7 | 14% | 60.7 | 1.5% | 1.01 | 20% of tech dev, half of non-domain, rev share of other |
| Totals: | 472.1 | | 468.0 | | 17.9 | |
| | | |
| --- | --- | --- |
| est. Domain cost: 131.2 | | tech dev cost: 73.6 |
| non-domain rev cost: 40.9 | | other costs: 222.3 |
All revenue figures in millions $
These calculations are very kind. GoDaddy did not update its "over 63m domain names" marketing figure in the most recent quarter, so either it is not growing, or the Domains segment actually loses money. Nonetheless, the Domains segment is very important because it is the gateway for business to flow to the other segments. The split of costs and thus operating margin, between Hosting & Presence and Business Information is a judgment call, but it's certain that these two segments account for nearly all of GoDaddy's margin.
GoDaddy has attempted to mitigate the domain margin issue with aggressive marketing, and by embracing questionable tactics such as cybersquatting, which leads to dysfunctional stats like the internet having about 1 billion registered domains with only 171m active sites. Though advertising has been somewhat successful in terms of market growth, it has not been profitable. In fact, the company has never shown an annual profit, and filings from the failed IPO attempts document consistent net losses over more than a decade, with the only gap in records being 2007 and 2008. Avoiding football advertising expense did help the company turn its first-ever quarterly profit of 5 cents in 3Q16. Management also does what it can to obfuscate the situation, focusing on top-line stats like ARPU (average revenue per user) rather than margins or profitability, and even those are squirrelly, as the amended 10-K had to replace "revenue" with "bookings," while confirming that the Domains segment is lower margin than the other two.
The Encrevolution Catalyst
Short Term: Another Earnings Miss
The primary reason that I think profitability will remain elusive is that the web is changing in a way that will harm and potentially cripple GoDaddy's Hosting & Presence segment, which includes domain validations. There has been a movement for the last two years to encrypt all web communications. That movement saw a major breakout in 3Q16 as a non-profit called Let's Encrypt, which was founded by two former Mozilla.org employees, came out of beta. In a nutshell, Let's Encrypt makes getting and maintaining the domain validation certificates used by any secure website simple, automated, and free. It supported 11.5m domains by year end, up from about 4.3m from ALL prior quarters.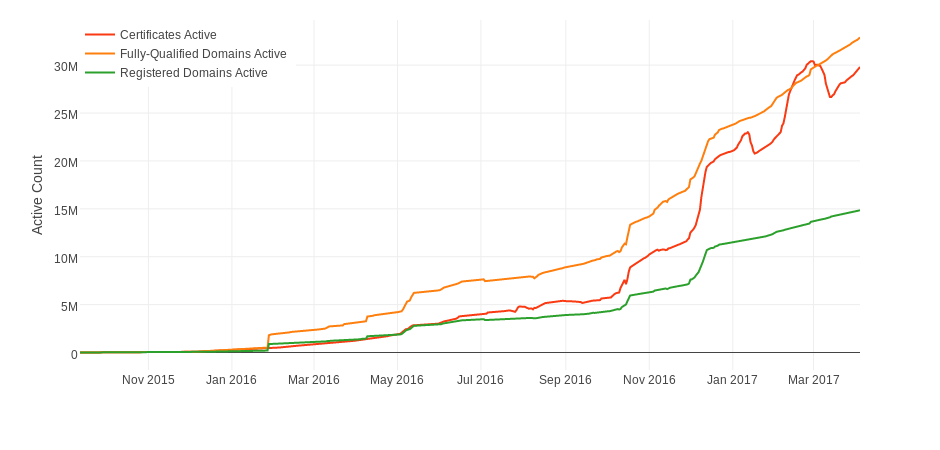 GoDaddy is the closest thing to a pure play on this development because about 95% of the certificates it issues are simple domain validations of the sort that Let's Encrypt supplies, rather than the organizational level ones supplied to big firms by companies like Symantec (SYMC). GoDaddy's response to a recent in-house security vulnerability in this very area allows us to measure the impact. About 6100 customers and less than 2% of certificates issued over the course of 5+ months were affected, according to GoDaddy press release captioned "We've got it covered." In dialogue where Mozilla security questioned that assertion, GoDaddy revealed that 8850 invalid certs were issued, allowing us to infer the following statistics:
GoDaddy issues at least 1m certs/year (8850/.02/5×12)
The average GoDaddy SSL customer has about 1.45 certs (8850/6100)
These calculations do not account for seasonality. Stat #2 is important because GoDaddy certificate annual renewal pricing is highly discounted for multiple certs ($70 for the first, minus $10 for each additional up to 5, for a minimum of $30 each.) The average coincides with GoDaddy's promo pricing of $56. Using that price, if all 8850 certificate owners ceased to pay GoDaddy for certificates, the loss for the period would only come to $495.6K, or about a half cent in EPS, but GoDaddy's error wasn't even found until after the new year. So, that's not important for this quarter, but I think it does give a best case scenario for the company. The worst case is that mishaps like this cause GoDaddy lose CA (certificate authority) trust and thus all validation business, with major spillover to its hosting services. This may sound far-fetched, but loss of trust has already happened to other CAs for similar problems. Symantec is now trying to face down similar problems for incompetence of its own.
My base case uses a top down approach instead: back in August, about 8% of the certificates issued by Let's Encrypt were to domains that already used encryption. That percentage could have easily gone up in the third quarter, but applying it to GoDaddy's 10.3% CA market share works out to 132K lost certs or $3.3m of the company's highest margin revenue in 4Q16 alone. Other estimates put GoDaddy's market share at nearly twice that level, so these calculations should be considered conservative. The 3Q16 conference call confirms that GoDaddy does all its SSL technology development in-house so, if anything, associated costs will stay the same or go up as the company attempts to address its issues. That put my base case estimate of the hit to the bottom line at 3.4 cents per share from certificates alone. Again, the fallout from GoDaddy's certificate mishandling came after last quarter, but I think you can see it in the chart above and that the more general trend is ongoing.
Medium Term: Added Expense, Profit Attrition and Excuses
Let's Encrypt has sponsorship from Cisco (NASDAQ:CSCO), Akamai (NASDAQ:AKAM) and HP Enterprise (NYSE:HPE), amongst others. Major hosting platform OVH just renewed as a platinum sponsor and has plans to expand the available services. We're still near the beginning, but critical mass has been reached. Let's Encrypt spent the last two years doing the bureaucratic drudge work to become a CA. That work is ongoing, but already universally functional and currently accepted by the Google (NASDAQ:GOOG), Mozilla, and Apple (NASDAQ:AAPL) root programs. Others (Microsoft (NASDAQ:MSFT), Oracle (NYSE:ORCL) and BlackBerry (NASDAQ:BBRY)) should follow soon, putting Let's Encrypt on a clear path to eventually fulfill the same role for domain validation that ICANN currently does for registrations. Important technology community websites like Slashdot, Debian, and the Linux Foundation are already using Let's Encrypt directly.
Where Let's Encrypt has partners, GoDaddy has competitors. It is broadly reviled in the developer community, as shown by the responses to its recent calamity. The company is bounded by innovators like Wix (NASDAQ:WIX), NameCheap and DreamHost on the low end, and Symantec, Google and Amazon on the high end. All of these competitors have similar offerings and features, so I find it fairly ridiculous that GoDaddy spent so much time on the last call touting its own solution.
Firsthand experience shows that the ACME protocol developed and used by Let's Encrypt makes maintaining domain validation completely automatic from one's web server. It has been well-tested, and unlike GoDaddy's implementation, there have been no major problems. Yet the discussion above indicates to me that GoDaddy is behind on ACME, as per Wayne Thayer, General Manager of Security Products:
We are aware of the work being done on ACME. We'll continue to watch its development and evolution.
It's important to recognize that automation is far more important than the free aspect because, like domains, certs are a gateway to the hosting & intelligence businesses; anyone with a little tech experience can put a web server on a computer, but they still must go through a third party for domain registration and certification. That's why major web hosting providers like DreamHost, WordPress, Cloudfare and Amazon (AMZN) are already providing free domain certification, many using Let's Encrypt as a back end. The unavoidable conclusion here is that $50-100m of GoDaddy's highest margin annual domain certification revenue is going away permanently. The rest of the Hosting & Presence segment will suffer additional attrition until it follows the market and makes domain certification free, which will have an out-sized effect on the bottom line.
In the meantime, management introduced a sale, as it does whenever market share flags, but preying upon neophytes necessitates pairing discounts with advertising expense. Thus, GoDaddy's return to the NFL's not-so-super finale also increases marketing costs by several million. That won't help margins. Cutting development and operating costs would be one way to go about it, but a sneakier way is to simply change your accounting…
Management has always avoided focusing on standard profitability metrics likes EPS, but last quarter it shifted from EBITDA to "Unlevered Free Cash Flow." This is dodgy move by any standard because it pretends that interest, amongst other things, is not a cash expense and allows it to be added back in. Tricks like this are why I often assess company health by looking at the balance sheet dynamics over time. Given all the leeway that management gets with acquisition expenses, their annual projections are not surprising, but they don't represent any value for equity holders.
Long Term: Acquisition, Balance Sheet and Cash-Out
The purchase of Host Europe Group for €1.69b ($1.82b) is the other move being made to manage the books. The transaction has just closed and in conjunction with it, GoDaddy more than doubled the debt on an already horrendous balance sheet to $2.5b. To my eye, the move has three main purposes:
allow the VCs to continue touting the top-line growth story
add Goodwill to the supposed assets
payoff banks to refinance the existing debt load
They are demonstrably familiar with tactic #2: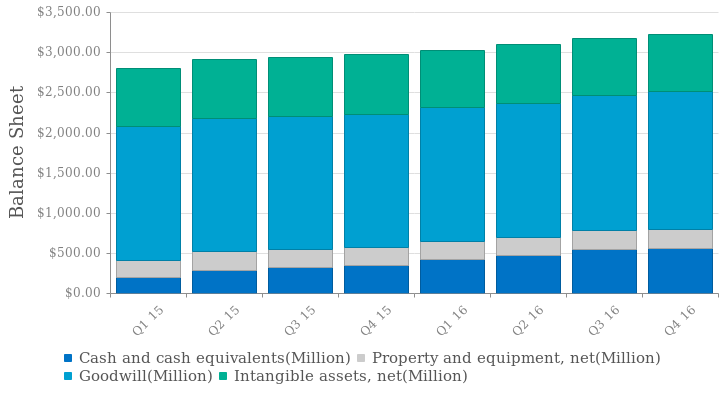 GoDaddy's $3.8b in total assets only narrowly outweighed its $3.2b in total liabilities and a whopping $2.4b (64%) of the former is goodwill and intangibles. I have no doubt there will be some synergies and costs to cut, but it defies imagination to consider how taking out a loan to pay €605m in order to assume €1.08b in additional net debt will result in a profitable combined company, given the current operating model and challenges. The new debt load is still LIBOR based. Predictably, the banks want no part of the debt they are arranging and are syndicating it out to investors.
Management will try to reduce debt by selling off the PlusServer segment of HEG, but that will be a drop in the bucket. HEG's annual report shows that it bought PlusServer along with other assets just a year earlier for €206m. There are many companies that grow the top line at a loss in order to eventually streamline the business and start raking in profits. GoDaddy's history indicates a different business model that doesn't include any such benefits for ordinary shareholders. Instead, I see the company as an early mover in another area. It is one of a growing number of public companies whose real business seems to be enriching management and investment banks by selling stock and debt to patsy investors.
Ancient History: GoDaddy's Origins & Management Record
Jomax Technologies was founded in 1997 by Bob Parsons, with strategic investment from KKR, Silver Lake, Technology Crossover Ventures. The name was changed to "Go Daddy" for marketing reasons two years later, and the space was removed from it in 2006, the year after it became the largest ICANN-accredited registrar. GoDaddy filed to IPO that same year, but withdrew soon after. In 2010, it put itself up for auction instead, only to cancel that as well. The following year, the original trio of strategic investors instead bought 65% of the company, reportedly for $2.25b. In 2014, the group unnecessarily ratcheted up the company's debt and interest payments, allocating themselves a $350m dividend in the process. Only after that did GoDaddy finally did complete an IPO in April 2015, with 61.8m shares outstanding. Receiving cash for shares in the IPO is the only point in the company's entire fiscal history that debt declined meaningfully. Yet just one year later management diluted the original shareholders with another offering.
Even before the HEG purchase, management's actions over the years had already saddled the GoDaddy with $14m in quarterly interest expense on $1b in debt. Perhaps the era of infinite financing will last another 7 years, but for GDDY longs, that's only useful if interest rates don't rise and the growth story can be maintained. I think the most likely progression is that the VCs will use the time spent spinning such growth stories to quietly cash out before admitting defeat and letting the company collapse. The trio of KKR, Silver Lake and TCV still nominally owns 36.4% of shares, but the 13F & D ownership stats clearly include double-counting and/or miss offsetting short positions in amounts that just happen to approximately equal that ownership.
Summary and Risk
To my mind, GoDaddy is an example of how excessive capital can subvert technology, destroying value for both customers and investors in the process. Analyst projections for sustainable profitability have GDDY near all-time highs around $38. However, these are based on problematic accounting from shareholder-adverse management and ignore the revolution that is taking place across the web. Analysts were confounded by the EPS and margin miss last quarter, and if anyone does recognize the reason now, they aren't talking about it. Seeking Alpha has documented the inherent conflicts interest at play (see the last paragraph). The reality is that management's actions have never been shareholder-friendly, and while the HEG acquisition gives them room to obfuscate further, it does little to actually solve GoDaddy's problems. Even if markets continue to be sanguine about debt loads, increasing interest rates will hurt the business performance, even as a broken growth story progressively hurts the stock.
The main factors that GoDaddy does have going for it in the meantime are inertia and ignorance. These are powerful forces, not to be ignored, and in a profitable company they might even constitute a reason not to short. As things stand, however, it seems pretty clear that the only way that investors will ever make money from GDDY is via the Greater Fool Theory. To that end, here are some of the possible stories that could be told in addition to the unlevered-FCF nonsense:
Another bid for Asia: It's possible that Asia could represent the last frontier for inorganic growth, but that has already been tried and found to be much more competitive, not to mention less amenable transactions like the European one.
Business Intelligence Efforts: Management has tried to grow Business Intelligence for 3 years already, but that involves partnerships and/or development, both of which limit margins. Furthermore, the existing customer base and competition are both problematic for this strategy.
Anti-competitive Rhetoric: When all else fails, GoDaddy might take to the media or even become a patent troll, but that involves additional expense and the Electronic Frontier Foundation's support of Let's Encrypt would make any direct action difficult.
All of these are stopgap possibilities, but none of them are fixes that can ultimately overcome competition and change. Like all short opportunities, the details will need to be monitored, but I predict erosion of revenue in the Hosting & Presence segment, which almost certainly is company's biggest contributor to the bottom line, will intensify. GoDaddy will eventually be forced to relinquish its domain validation revenue entirely simply to preserve its ability to attract the fledgling business customers that it needs to up-sell. A rising tide lifts all boats, but GoDaddy has been taking on water since the beginning and has just sprung a major new leak. It remains to be seen whether it will capsize or sink, but I suspect the crew is simply out to save themselves.
Disclosure: I am/we are short GDDY, SYMC.
I wrote this article myself, and it expresses my own opinions. I am not receiving compensation for it (other than from Seeking Alpha). I have no business relationship with any company whose stock is mentioned in this article.