Hanwha Q CELLS' (NASDAQ:HQCL) Q4 2016 earnings results in some ways were the worst we have seen this earnings season. The stock promptly hit a 52-week low of $6.50 on March 23rd. The stock recovered somewhat since earnings and last traded at $6.78.
Source: Google Finance
We have been advocating an avoid or a short on this name for almost two years, and the stock continued to see one low after another. Has the downside been played out? Do the solar doldrums and the beating this stock has taken mean that the stock's decline is over and the downside for the stock is already priced in?
We do not believe so.
The company saw a steep decline in revenues, which was to be expected, given the doldrums in the solar industry. However, the company's shortfall was steeper than its peer group. More importantly, gross margins declined by a staggering 10.5% from 19.9% to 9.5% (as we note below, this decline may not be accurate, and the numbers may have been worse due to inventory write down).

Source: Company earnings presentation
Net revenues of $565.9M fell short of the $600M to $620M guidance. The steep shortfall is a big negative surprise, especially considering the guidance was given on November 22, more than half way through Q4.
Management cited lower ASPs and project delay as the reason for the guidance shortfall. While there is no doubt that plunging module ASPs played a role, the project excuse appears questionable, given there is no corresponding uptick in Q1 guidance. It is possible that the project was a relatively small or inconsequential. In either case, the explanation is not very credible.
As to be expected, operating metrics have taken a decided negative turn.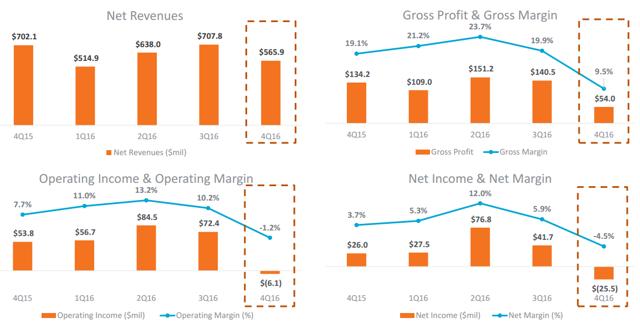 Source: Company earnings presentation
The company attributed the overall losses, in part, to inventory write-down as well as write-down of some tangible assets. While the management commentary on the subject was unclear, Hanwha appears to have taken an inventory write-down under the "other income" line item. If so, this is likely a questionable place to record it. A more normal treatment would likely have led to gross margins lower than the announced level.
Manufacturing Capacity
The company, much like its Chinese peer group, continues to add capacity. As is normal with Capex spend, these capacity additions were likely put in place several quarters back and the company may not have much flexibility in adjusting its course.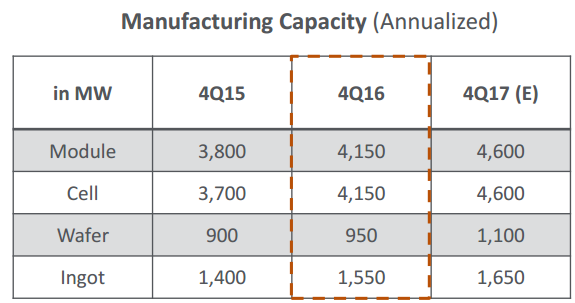 Source: Company earnings presentation
It is useful to understand the breakdown of the capacity to get a better sense of the company's prospects.
In China, the company has 1,550 MW of ingot, 950 MW of wafer, 2,400 MW of cell, and 2400 MW of modules capacity. All this capacity, we suspect, is uncompetitive and much of it needs to be written down in the not-too-distant future. The wafer capacity, especially, may have to be written off in a couple of quarters.
In Malaysia, the company has the 1.75 GW of its more advanced Q.ANTUM multicrystalline cell and module capacity. While the cost structure of this capacity is unknown, the odds are that capacity could be competitive through much of the current cycle.
The company indicated that it plans to aggressively improve cell/module efficiencies going forward and we expect most of the improvement to be driven out of Malaysia.
In addition to the above capacity, the company has access to 1.55 GW of Q.ANTUM monocrystalline and multicrystalline cell and module capacity in Korea from an affiliate company Hanwha Q CELLS Korea. Of this capacity, 1 GW appears to be multi and remaining mono. While the company likes to highlight this capacity and sometimes count it as its own, this capacity is not on the company's balance sheet and largely irrelevant to shareholders – unless the company ends up merging with, or otherwise acquiring, its affiliate entity.
Projects
In terms of projects, Hanwha has cut down its investments substantially. Given the company's meager balance sheet and the tough project environment, we do not expect to see much project activity.
One exception was that the company won a 1 GW project tender in Turkey, but that came at a cost of having to set up a 500 MW manufacturing facility (ingot/wafer/cell/module). This investment, required by Turkey, was likely part of company's plan to have additional manufacturing base in the EU region and is being done as a 50/50 JV with a Turkish firm.
Guidance
Management commented that it is seeing a relative flat pricing environment during the Q1. While this seems at odds with market data, given the guidance was given very late in the quarter, we will go with the management commentary – albeit with some skepticism.
In spite of the relatively benign ASP environment, management guided revenues in the range of $410M to $430M for Q1. This is a steep 25% drop off from Q4 level and almost a 20% drop off from Q1 2016 level. Seasonality alone is certainly not the driving factor below the drop. We suspect that the company has lost significant market share to its competitors.
For the full-year 2017, the company estimates module shipments in the range of 5.5 GW to 5.7 GW, but will not be recognizing revenue for about 200 of those megawatts (modules likely going to internal projects).
The company guided for a capex of about $50. Net of capex, the company is expecting $50M-$100M cash flow for 2017.
Prognosis
As we have written in the past, Hanwha Q CELLS has historically had a significant cost disadvantage compared to its peer group. The company stopped disclosing its cost structure, but the gross margins in the quarter tells quite the story.
Just about the only reason for the company's superior performance during 2016 was its tariff advantaged access to the US market. This was the one and only Unique Selling Proposition that the company had had in the last couple of years. With several Chinese players now starting operations in Southeast Asia, this tariff advantage has now completely dissipated. With increased competition, the company's gross margins are likely to get worse and could be in the low to mid single digits in Q1 and could even go negative as the year passes.
Financially, the company boasts $499M of cash on the balance sheet, but this can be deceptive. A look at the company's balance sheet shows that the company lost $75M in equity value in the quarter (image below from company's earnings presentation)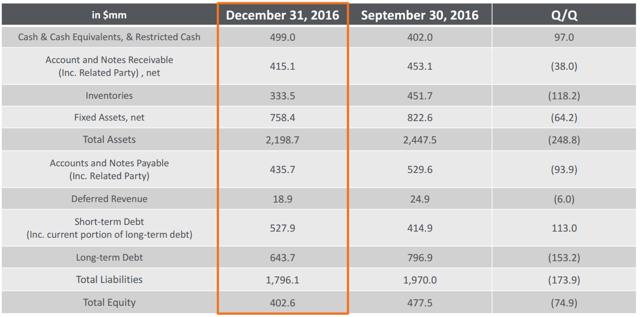 With only about $400M of equity left, the company is not in a strong position with respect to its 2017 needs. The company faces the following major risk factors in the near future:
Horrendous Q1 with likely low-single digit GMs fierce competition for the US business due to Southeast Asia capacity A high chance of asset write off – especially in China
Due to these factors, we suspect that the company may largely burn through its equity by the end of the year. With over a billion dollars in debt and disappearing equity, we are highly skeptical of Hanwha Q CELLS' prospects going forward.
At the low of the cycle, we find it difficult to value the company more than about 0.6x book value, which leads to a valuation of about $3 a share. We expect that even this value will wither away as the year progresses.
Our View: Sell Short
Disclosure: I/we have no positions in any stocks mentioned, and no plans to initiate any positions within the next 72 hours.
I wrote this article myself, and it expresses my own opinions. I am not receiving compensation for it (other than from Seeking Alpha). I have no business relationship with any company whose stock is mentioned in this article.