This week has been filled with economic data pertaining to Real Estate. On Tuesday, FHFA House Price Index, Case-Shiller Home Price Index and New Home sales were released. My analysis showed a mixed bag and not much deviation from the trend I've tirelessly been pointing out of record low supply driving prices to artificially high levels. Prices are rising in an unsustainable fashion.
I will run through all the data as I normally do but focus on the question as to whether the Federal Reserve and Central Banks alike have changed the dynamic of asset prices forever or if prices will correct and return to their historical trend.
Data Crunch:
FHFA Home Price index rose to 6.43% Y/Y and the Case-Shiller Home Price Index showed a similar reading rising to 5.9% from 5.7% a month prior.
New Home Sales smashed expectations for 588k and came in at 621k; last month was revised 5k lower.
Home price growth has flat lined for two years on a national level.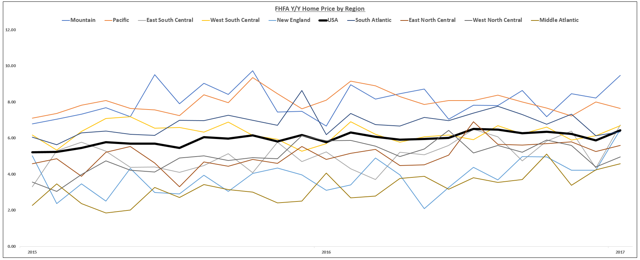 Source: Federal Housing Finance Agency
The FHFA Home Price Index breaks down into several regions and while the chart is noisy, all regions are showing similar growth patterns. Not much is to gain from this chart but it is worth looking at the growth trends of all regions to spot outliers and divergences.

Source: Census Bureau
New Home Sales are trending up, a positive sign but New Home Sales are a very small percentage of the housing market, Existing Home Sales make up about 90% of the housing market.
While New Home Sales are rising, the median price of New Home Sales is crashing.

Source: Census Bureau
Why are New Home Sales rising, in terms of volume, but crashing in terms of median price? Again this is a very small section of the housing market but a curious dynamic nonetheless.
As mentioned, supply is very tight and the New Home Sales report confirmed this trend.

Monthly supply of new homes is still hovering near record lows.
Clearly with low supply, the volume of transactions has to be low but flipping back to the Case-Shiller report, the "Pair-Count" or volume of transactions (Existing Homes – bigger market) is interesting.
Pair-count measures volume in thousands of units sold and volumes are plunging across composite indices and city by city as well.

Source: S&P Dow Jones Indices
Many cheer the housing market as solid and stable because prices continue to rise but plunging volumes of transactions should worry investors as to the sustainability of the price rise and the reason for the price rise.
New York saw a drastic plunge in volumes of transactions in the Case-Shiller report.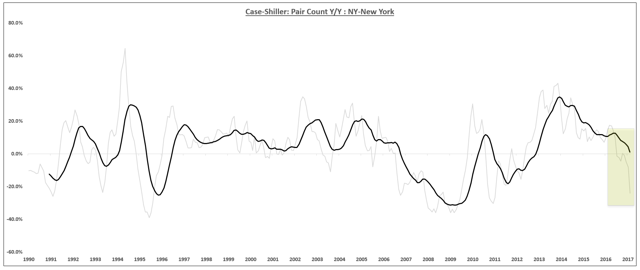 Source: S&P Dow Jones Indices
The black line is a 12 month average of the Y/Y pair count but the light grey line, just the Y/Y number, shows a vertical plunge. I'm not sure what the bullish spin for plunging transaction volumes is.
Why is it that when volumes drop today, prices go up but drops in volumes back in 2007 were accompanied by a drop in prices.
Before tackling this question, here is a quick look at the growth of the 20 cities in the Case-Shiller Home Price Index.

Source: S&P Dow Jones Indices
It is always interesting to look at the different growth rates by city but as I frequently point out, the growth rate in isolation does not tell you much; what matters is the trending direction of the price growth.
The next chart shows the rate of change of price growth in the 20 cities. I took the 12 month average of the Y/Y price growth and compared it to the 12 month average of the Y/Y price growth one year ago. Negative numbers indicate falling growth or rate of change negative while positive numbers indicate rising growth.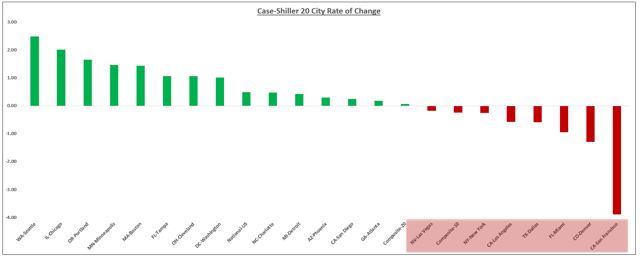 While the composite (20-city) index is still trending higher, a larger percentage are showing rate of change declines than a month ago.
Here is the San Francisco price growth chart for context with the graph above.

Price growth is clearly trending lower. No cause for alarm yet but all the cities that are rate of change negative should be on your watch list. The peak in home price growth is clearly in.
The last data point before talking about Central Bank interference is the New Home Sales: Under Construction.
This data series measures the amount of new houses for sale that are currently under construction, a fairly good indicator of the home building market.

The year over year measure of the same chart is more telling:

No one data series can predict the future but it is important to roll through all the data provided in these reports to avoid the "no one could have seen this coming" story.
Why are prices so high given volumes that are multiples lower than the last cycle. Central Bank intervention?
Have Central Banks Changed the Game?
For decades median home prices followed almost exactly to the volume of New Home Sales. Makes sense. After the housing crash, prices dipped only slightly and continued their rise to historic levels but activity in the housing market has not even recovered to half the levels of 2007. (That is with a larger population!)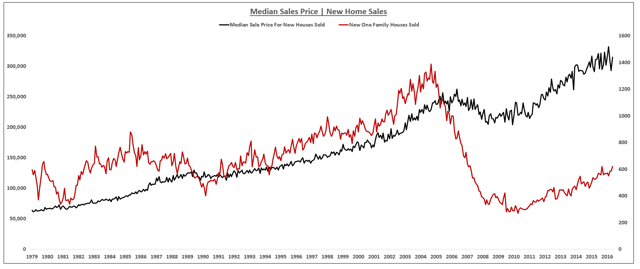 What accounts for this massive divergence?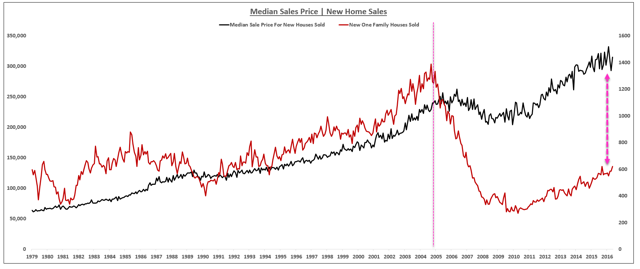 Can home prices continue to rise with transaction volumes at record lows? Something with this story does not make sense.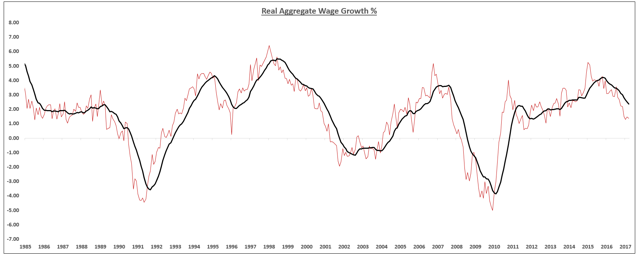 Wage growth falling, transaction volumes plunging but home prices rising? The only explanation for the divergence is the interference of Central Banks. The timing of the Central Bank intervention is exactly when this divergence started. While is it very difficult to point to the exact mechanism as to why prices never truly corrected, it becomes more clear with each data point that Central Banks inflated asset prices at the expense of real wage growth and economic growth.
The question then remains, have they changed asset prices forever and if not, what causes prices to return to reality?
I do not believe that Central Banks are bigger than the market. They certainly have done a terrific job of causing asset prices to soar but as wage growth nears negative territory (October 2017 is when wage growth has the highest likelihood of turning negative by my analysis) can assets remain elevated? I think not.
While most conventional measures of supply and demand have been distorted, they will re-couple.
It is important to look at all the details of the drivers of home prices rather than looking at home prices themselves. The last few years of home price appreciation has been built on a very unstable ground. Unless I am missing something.
Disclosure: I/we have no positions in any stocks mentioned, and no plans to initiate any positions within the next 72 hours.
I wrote this article myself, and it expresses my own opinions. I am not receiving compensation for it (other than from Seeking Alpha). I have no business relationship with any company whose stock is mentioned in this article.