Coverage Overview
HDFC Bank (NYSE:HDB), which is India's second largest private sector bank, has been in my coverage radar since August 20, 2013. When I initiated coverage, the stock was trading at $30.1 and it was not long before the stock started trending higher.
My second "Buy Coverage" on the stock was on September 17, 2014, with HDFC Bank having moved higher by 60% from initiation to $48.0. While the first thesis focused on why macroeconomic headwinds present a good buying opportunity, the subsequent coverage talked about rate cut upside trigger and comparison with ICICI Bank (NYSE:IBN), which is India's largest private sector bank.
As I write for the third time, HDFC Bank is 58% higher from my last coverage and the stock not only trades at 52-week highs, but at an all-time high. However, my bullish view on the stock remains firm and I suggest HDFC Bank as a "Strong Buy" even at current levels with a 24-36 month investment horizon.
This thesis will elaborate on the macroeconomic and company's specific factors that will trigger sustained upside for HDFC Bank. The timing of this thesis is interesting considering the point that the demonetization event in India and the push towards cashless economy is likely to have a positive impact on the banking sector.
Just To Put Things Into Perspective
Indian markets are at an all-time high and HDFC Bank has also been surging higher. However, considering a 2-3 year time horizon, the focus is on impending growth for the sector and bank.
While I will discuss factors that give HDFC Bank an edge over peers, the chart below is enough to explain why the banking sector in India will continue to grow not just in the next few years, but in the next decade.
The basic savings account coverage is dismal in several Indian states, and with an average penetration of 46%, there is immense potential just in one sub-segment of the banking sector.
The second chart below shows India's household debt to GDP as compared with China and the United States.
Again, India's household leverage is significantly below major economies, and as GDP growth remains resilient, I expect household leverage to increase.
These two charts present some data on why the banking sector has immense potential. However, these two charts are very relevant to HDFC Bank because of the following reasons –
HDFC Bank has a strong retail deposit franchise and this is a stable source of funding for the bank. With basic savings account coverage still dismal in India, the retail deposits will continue to serve as the critical funding source for the bank in the years to come. This will also ensure that the net interest income margin remains healthy.
Even in terms of loans, HDFC Bank has significant penetration in the retail space with auto loans, personal loans and home loans being the key credit growth driver. With household leverage significant low, credit growth is likely to remain healthy in the retail segment.
Edge Over ICICI Bank
ICICI Bank is India's largest private sector bank with HDFC Bank being the second largest. However, on several parameters, HDFC Bank is ahead of ICICI Bank and that makes me relatively bullish on HDFC. This section will discuss these parameters and its impact on the bank's performance.
As the table below shows, HDFC Bank has an edge over ICICI Bank on fundamental parameters.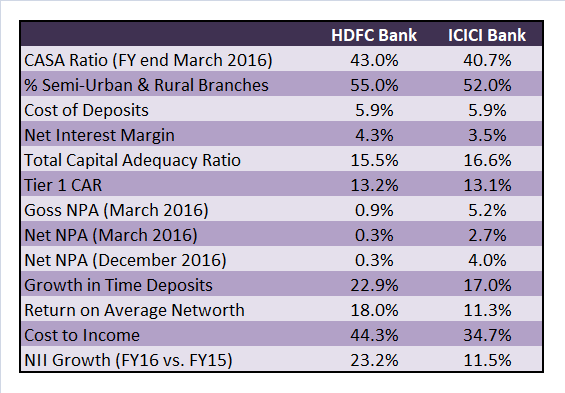 In particular, I want to mention that HDFC Bank has net NPA of 0.3% for March 2016 and December 2016. For the same two periods, ICICI Bank's net NPA has been 2.7% and 4.0%, respectively. While HDFC Bank has one of the strongest asset quality in the Indian banking industry, ICICI Bank has witnessed worsening in asset quality in the recent past.
It is also worth noting here that net interest income growth for HDFC Bank was 23.2% in FY16 as compared to FY15. However, for ICICI Bank, NII growth was 11.5%. In fact, for the nine months ended December 2017 (FY17), ICICI Bank has seen NII shrink while HDFC Bank remains relatively robust on that front. It is clear that increasing NPAs are a concern for ICICI Bank and have impacted the bank's credit offtake.
While the difference is not very significant, HDFC Bank does have a higher number of branches in semi-urban and rural areas. This is another factor that gives HDFC some edge over ICICI Bank. In the next decade, retail deposit growth will be significant from semi-urban and rural India. HDFC Bank seems well positioned to capitalize on this opportunity and maintain a CASA that is higher as compared to ICICI Bank.
Valuations Not Stretched
Besides talking about the point that HDFC Bank seems to be a relatively better investment than ICICI Bank, I also wanted to discuss the key fundamental factors to throw some light on the valuation gap that exists between the two banks.
HDFC Bank trades at a FY17 and FY18 PE of 25.1 and 21.0, respectively. On the other hand, ICICI Bank trades at FY17 and FY18 PE of 16.1 and 14.6, respectively. I believe that HDFC Bank deserves this valuation premium considering the metrics discussed. As banking and loan penetration increases, HDFC Bank's stock is well positioned to trend higher.
Further, looking at another fast growing bank in India, it will be clear that HDFC Bank is not trading at expensive levels. Kotak Mahindra Bank currently has 1,348 branches in India as compared to 4,520 for HDFC Bank. As of March 2016, Kotak Bank had CASA ratio of 38.1% with HDFC Bank having CASA of 43% for the same period. The net NPA for both banks is also comparable and below 1.0% as compared to ICICI Bank having much higher levels of net NPA.
The key point here is that Kotak Mahindra Bank is trading at FY17 and FY18 PE of 39.6 and 31.1, respectively, and this is at a significant premium to HDFC Bank. While it's understandable that Kotak Mahindra Bank is also a quality bank and has been growing fast, HDFC Bank does deserve better valuation and is certainly not overvalued.
Strong Non-Funded Revenues
As of FY16, other income (non-funded revenue) was 28% of the bank's total revenue, with fees and commissions constituting 72% of non-funded revenue. In my view, non-funded revenue will continue to grow on the back of focus on digitalization.
Just as an example, HDFC Bank has started levying a minimum charge of INR150 per transaction for cash deposits and withdrawals beyond four free transactions in a month. These charges to curb cash transaction will translate into increase in non-funded revenue.
An increase in use of debit and credit cards will also help boost non-funded revenue on account of transaction fee levied by the banks. I must mention here that HDFC Bank has a strong credit card user base and the bank is also a leading provider of payment gateway services.
Conclusion
The Indian economy is likely to grow at well over 5% in the coming decade and these are strong growth projections relative to other economies. As the economy does well, the banking sector is likely to benefit and HDFC Bank is well positioned to capitalize on the impending opportunities in the sector.
As discussed in the thesis, HDFC Bank does have a strong funding base, and with a better asset quality as compared to the closest peer, HDFC Bank is positioned to grow at a robust pace.
Even with the stock trading near all-time highs, I believe that fresh exposure can be considered and valuations are not stretched. I reiterate a "Strong Buy" rating for the bank with a time horizon of 24-36 months.
This article is part of Seeking Alpha PRO. PRO members receive exclusive access to Seeking Alpha's best ideas and professional tools to fully leverage the platform.
Disclosure: I/we have no positions in any stocks mentioned, and no plans to initiate any positions within the next 72 hours.
I wrote this article myself, and it expresses my own opinions. I am not receiving compensation for it (other than from Seeking Alpha). I have no business relationship with any company whose stock is mentioned in this article.