I recommend a long position in Kornit Digital (NASDAQ:KRNT). My 12-month price target is $25.9, representing 32% upside from current price $19.56. KRNT has great textile digital printing technology, very strong and defensible IP, great management team, and great execution as demonstrated since its IPO. I believe KRNT is a great investment in the secular growth of textile digital printing and the explosive growth of online garments/fast fashion/instant fashion.
Investment Thesis
Expect revenues to grow at a CAGR of 30% during 2016-2021E. Key drivers include KRNT's differentiated technology and the market move to online garments/fast fashion/instant fashion.
Expand Total Addressable Market from $500 Million in DTG to $1.7 Billion in DTG Plus a Meaningful Penetration in R2R
KRNT's impressive growth over the past few years could not have been achieved without its differentiated technology and defensible IP. Its recently launched products became even more transformative for KRNT.
First, Vulcan is the first real price competitive offering to screen batch manufacturing that is expected to convert customers from screen printing. Second, the launch of Allegro represents a successful penetration in the R2R (Roll-to-Roll) market.
Vulcan was launched in 2016, which can print up to 250 garments per hour, with dark and light garments printed at the same time. Currently four customer sites are using Vulcan for production.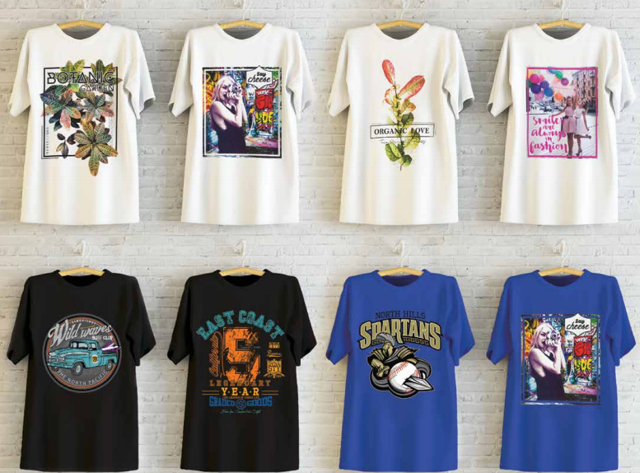 Source: Kornit Vulcan Brochure
What is great about Vulcan is that it effectively saves 50% of unit costs driven by a reduction in pigment waste, the deployment of advanced print head technology, and a newly constructed pigment ink. Cost per print on Vulcan is from $0.50 to $0.60, down nearly 50% from a range of $1.00 to $1.40 on the company's Avalanche family of printers. The higher the breakeven run length, the more share digital printing for textile Kornit can convert from screen printing.

Break-Even Runs for Kornit Digital Printing Systems Comparing with Screen Printing
Allegro is the first industrial R2R printing system launched by Kornit. Allegro, which utilizes Kornit's proprietary NeoPigmentTM printing process, is the only industrial solution and the only integrated drying and curing system that can print with high quality on multiple fabric types, with no separate pre- or post-treatment required. As of Apr. 2017, Allegro systems are running at 20 customer sites worldwide, of which four will soon have two systems or more installed.
Source: Kornit Allegro Brochure
Allegro's launch effectively expanded Kornit's total addressable market to the R2R market. Accordingly the customer base is expanding as follows:
Furniture: Skyline Furniture is a supplier of Wayfair (NYSE:W), Costco (NASDAQ:COST), and Wal-Mart (NYSE:WMT). As helped by Kornit, it has built up the ability to produce customized furniture within 48 to 72 hours for customers.
Carousel design: It specializes in baby bedding, toddler, rooms, and design them for you as you want.
U.S. military and the Israeli military: They use Allegro for all sorts of activities that they have.
Fashion industry: In the recent Heidi Klum reality show called Project Runway, a 24-hour design-print-cut-sew swimwear contest was supported by Kornit Allegro.
Capitalize on the Market Move to Faster Time to Market and More Direct Market Access
Textile digital printing by nature is a perfect fit for online garments because of its design flexibility, faster time to market, short runs, etc. KRNT's partnership with two fast growing online players Amazon (NASDAQ:AMZN) and Redbubble (OTC:RDBBF) provide good visibility into the next five years and provides me with a high degree of confidence in its continued 30%+ growth.
Amazon started using Kornit product in Jan. 2016, and according to the announcement, the company shipped multiple Avalanche 1000 systems to Amazon for its Merch by Amazon program and offers onsite support for maintenance and continuous production.
Merch by Amazon is a popular online space that allows all designers, sellers to customize garments especially T-shirts, but not just T-shirts. According to KRNT:
"Amazon has dozens and dozens of Kornit Avalanche 1000 systems running 24*7, fulfilling tens of thousands of orders for unique garments per day."
Moreover, it was said Amazon looked to open multiple facilities to run this growing businesses.

Source: Merch by Amazon
The agreement with Amazon is that AMZN may purchase printing systems, ink and other consumables at agreed prices which are subject to volume. Amazon received warrant to acquire up to 2,932,176 ordinary shares at a purchase price of $13.03 per share over the next five years. The shares vest as a function of payments for products and services of up to $150 million over a five-year period, with the shares vesting incrementally each time Amazon makes a payment totaling $5 million to Kornit.
I think the $150 million is indicative of how much Amazon expects to spend on Kornit in a five-year window. However, it should be the lower bound, and there is plenty of room beyond this $150 million purchase.
Merch by Amazon I believe is growing tremendously. A few numbers here: overall e-commerce is growing 15%; online apparel 20%; and Amazon in this market has been growing 48% and already consumed $16 billion worth of that market, according to industry reports.
Amazon/Kornit did not disclose complete information on its current capacity and future growth plan. I pulled together all fragmented information and did number-crunching quite a bit.
Information I utilized includes:
Kornit confirmed Amazon is using Avalanche 1000, throughput of 220 garments/hour, consumables consumption ranges between $70,000 and $90,000.
All systems are 24/7 in operation.
During Q4 2016, revenues from Amazon were purely from consumables sales.
Kornit disclosed its largest consumer accounts for 22% of its revenues; the company mentioned Amazon currently runs dozens of Kornit systems.
Based on those numbers, my calculation shows Amazon currently owns ~150 Kornit Avalanche systems. This is my first assumption.
My second assumption is that, as Amazon continues to expand this Merch by Amazon business in other facilities, I assume it will purchase Vulcan instead of Avalanche. The capacity of Vulcan is around 2x of Avalanche.
Third assumption, Amazon apparel is growing at 48%, and here I assume Amazon will at least add up to 30% capacity y/y. Taking Amazon's growth into my projection, the revenue growth will be ~30% from 2016 to 2021E.
Below is my revenue build-up during 2017E to 2021E: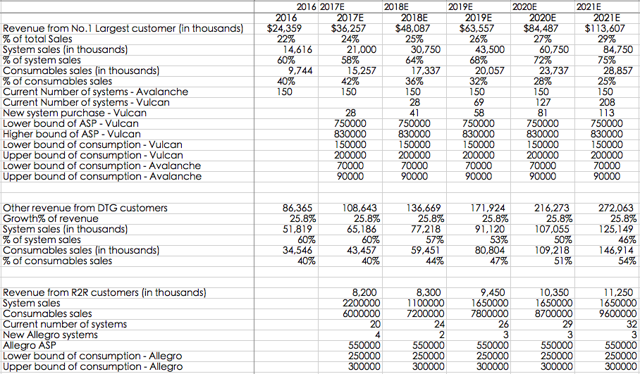 Revenue Build-Up During 2017E-2021E
To have more visibility on Amazon's contribution to KRNT, I did sensitivity analysis on Amazon's new capacity addition% and utilization rate% vs. share price and KRNT's revenue CAGR during 2016-2021E (Please note Amazon's separate projection is only for the next five years, and my assumption is that it would normalize in subsequent years).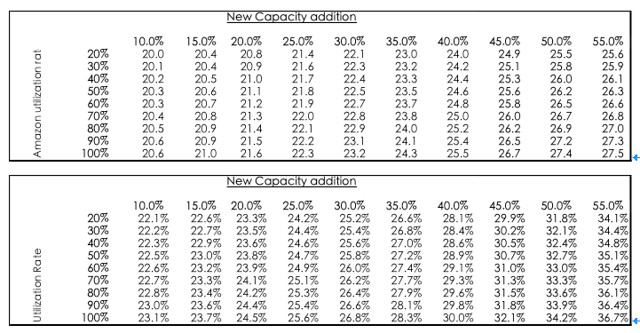 Sensitivity Analysis on New Capacity Addition% and Utilization Rate% Vs. Share Price and KRNT's Revenue CAGR 2016-2021E
Another example is Redbubble from Australia that recently went public on the Australian Stock Exchange, and it's been growing 62% in 2016.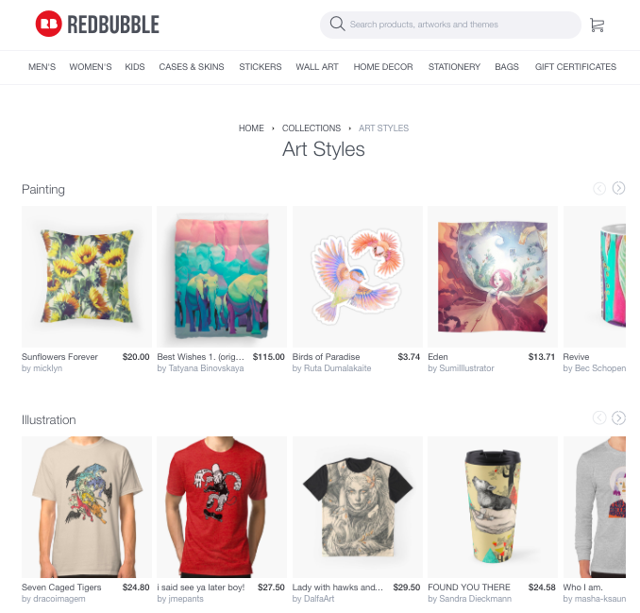 Source: Redbubble
Redbubble has over 1 million customers, and its turnover in 2016 was around $100 million. Apparel sales account for 70% of total sales and primarily contribute to its growth in 2016. Redbubble is unique if you think about the fact that it prints for artists; it merchandizes artwork at very high quality. Apart from apparel, it also prints for throw pillows, baseball caps, accessories, and other bags. I did not make separate projection for revenue from Redbubble, instead just wanted to showcase KRNT's growth driver is more than Amazon.
Overall, Kornit's business is quickly scaling up. According to the company filings, the aggregated capacity of its top 10 accounts per month is about 5 million garments and the largest site is printing 40,000-60,000 garments a day. What the install base of Kornit manufactures annually now is 80-100 million garments a year.
Gross Margin is to Expand by 700Bps During 2016-2027E
I expect KRNT to expand gross margin over the next 10 years driven by a mix shift to higher-ASP machines and a greater contribution from consumables.
Since 2013, Kornit has enjoyed 570Bps improvement in non-GAAP gross profit margin.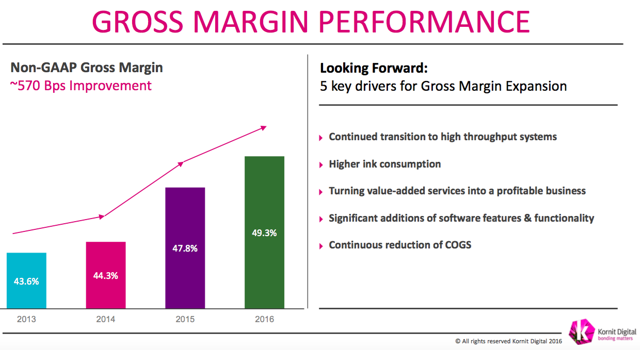 Source: Company filings
At the same time, Kornit showed improvement in multiple aspects that all contribute to the gross margin expansion. First, higher per system ink consumption leads to a larger portion of recurring revenues and higher gross margin because consumables gross margin is higher than system sales. Second, the increasing ASP indicates higher gross margin from system sales. Third, service contract also started to generate revenue in the past three years, which now accounted for 16% of the installed base.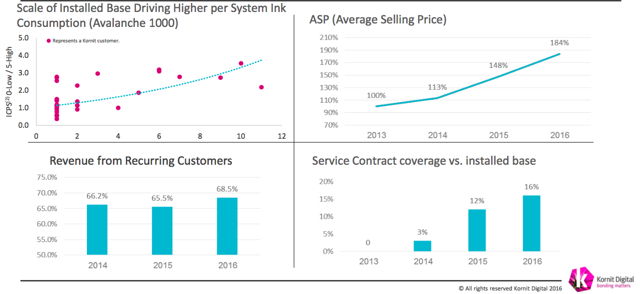 Source: Company presentation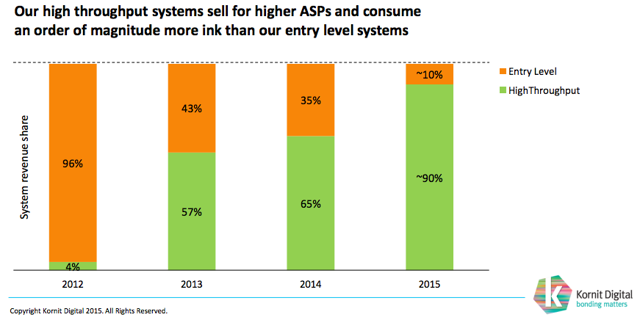 Source: Company presentation
Looking into the gross margin improvement in the past years, I estimated the gross margin of system and services is around 40% while the gross margin of consumables is 65%. In my model, I break down the system revenue and consumables revenue for different categories: 1) Amazon sales and services; 2) other DTG businesses; 3) the new R2R business; and 4) additional service contract and system upgrade. Based on a few assumptions, I project the gross margin will grow from lower than 50% to 56.4% in the next 10 years.
Key drivers include:
Continued transition to high-margin, high-throughput systems: System average selling price in 2015 was 48% higher than the average price seen in 2013.
Higher ink consumption (ink carries higher gross margin than the corporate average).
Turning value-added services into a profitable business.
Significant additions of software features and functionality beginning in 2018 (software carries higher gross margin than the corporate average).
Continuous reduction of cost of goods sold through economies of scale.
We currently forecast gross margin expansion of 110 basis points to 50.3% in fiscal 2017. Management's long-term target for gross margin remains 58-60%. My projection, as shown in the following table, is for gross margin expansion of ~700Bps 2016 to 2027E.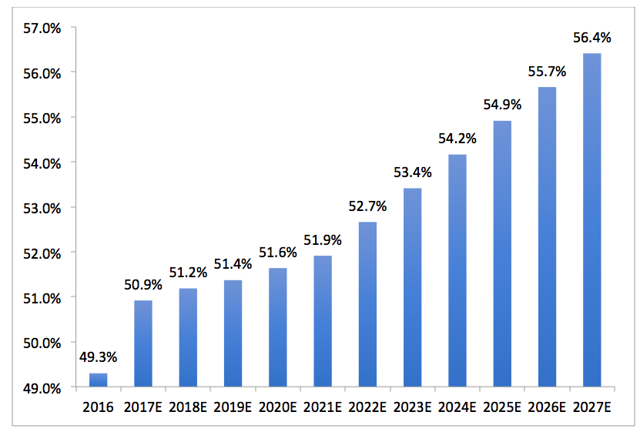 My projection of KRNT Non-GAAP Gross Margin 2017E to 2021E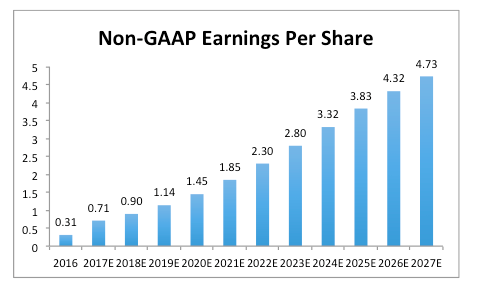 My projection on KRNT Non-GAAP 2017E-2027E
Massive Untapped Market Driven by Brand Owners' DTC (Direct-To-Customer) Strategies
As discussed in previous sections, KRNT is targeting non-traditional, fast-growing online businesses. However, it does not mean KRNT foregoes those big brand manufacturers; instead, its DTC (Direct-To-Customer) businesses represent a very exciting, massive, untapped market.
Brand owners are investing heavily in DTC businesses. The following picture shows clearly that DTC is exploding for those leading brands:

Source: Company presentation
DTC is undoubtedly very transformative to Nike (NYSE:NKE) and other brands; however, it is also challenging to its traditional operation model in terms of time to market. Comparing with 21-week time to market for traditional models, fast fashion takes four weeks only and online business ideally is one week.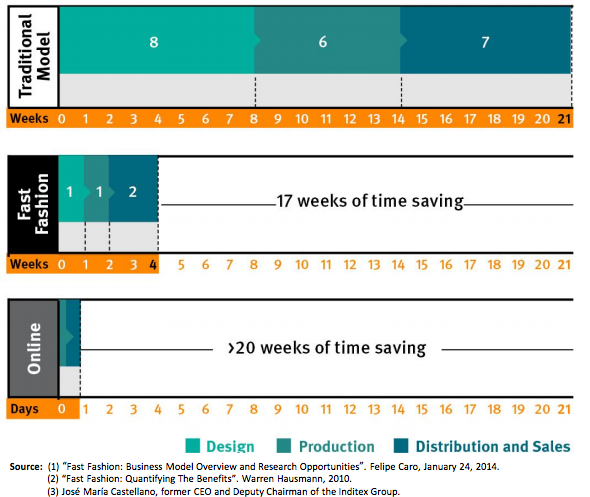 Source: Company presentation
This time to market issue is exactly what KRNT can help Nike and other brand owners to achieve. Although Nike is not a direct customer of KRNT, Kornit systems are currently being used by Nike's vendors. The proved efficacy really demonstrates that KRNT's one-step, short-run, high-throughput digital printing technology is the enabler of the DTC business model.
How big is the DTC market and how fast is it growing?
Under Armour (NYSE:UAA) is the leader in DTC and its growth in DTC outpaced its apparel growth in 2016, 25% vs. 22%. As for Nike, revenues from DTC accounted for 24% of its total revenue in 2016, 25% up vs. 2015.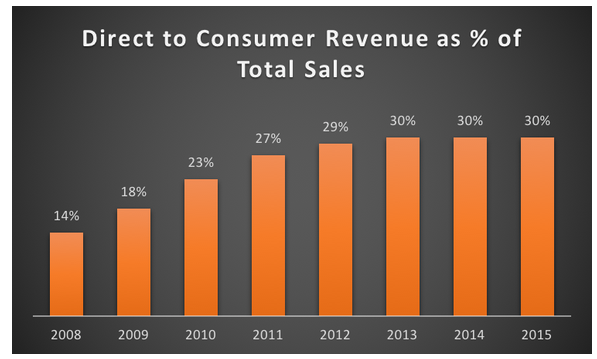 DTC revenue as % of Total sales for Under Armour (Source: Internet)
DTC revenue for Nike (Source: Company filings)
What does short supply chain indicate? Take Nike ID as an example, Nike's personally fitted shoe for a long time was considered a loss leader – a product sold at a loss for marketing purposes. When Nike discovered that it could shorten its supply chain, among other things through digital printing, this product turned into a business with a $250 million turnover.
Currently Zara, Nike, Armani, etc. fast fashion and luxury goods are all enjoying KRNT's printing technology (direct or indirect). Considering KRNT's demonstrated efficacy, I believe it will be a beneficiary in the fast growth of online garment, fast fashion and instant fashion.
Business Summary
Overview
KRNT (Kornit Digital) is a leading provider of proprietary digital printing systems, consumables, software and value-adding services for the garment, apparel, and textile industries. KRNT was founded in 2002 in Israel, has 1,000+global customer base, 390 employees across Israel, US, EU and APAC, and $108.7 million annual revenue by end of 2016. KRNT's IPO was in Apr. 2014.
In terms of business lifecycle, KRNT is currently in its rapid growth phase with the revenue CAGR of 31% during 2013 to 2016.
Source: Company filings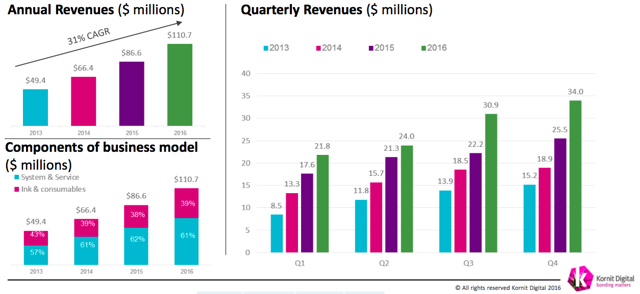 Source: Company presentation
Lines of Businesses and Product portfolio
Digital textile printing primarily consists of two categories: DTG (Direct-To-Garment), referring to direct printing on finished products, and R2R (Roll-to-Roll), wide-format printing on fabrics that are subsequently converted into finished products. Kornit is a leading player in DTG and an emerging player in R2R.
Serving the DTG market, Kornit owns a mature and comprehensive product portfolio suited for a broad customer base. As shown in the following table, Kornit systems are designed to process increasingly large volumes of textiles with complex, customized images and designs at varied throughputs from the entry level 20-30 garments/hour to high throughput levels up to 250 garments/hour.

Source: Company filings
Since 2015, KRNT started to penetrate the R2R (Roll-to-Roll) market, and the roll-out of the first Allegro system in 2016 was a big success with ~20 systems running on customer sites so far.
For both DTG and R2R, KRNT sells not only digital printing systems, but also inks and consumables that make a significant portion of recurring revenue accounting for 40% of total revenues. In addition, KRNT has services contract with 16% installed base in 2016 vs. 0 in 2013, and starts to recognize revenues from system upgrade.
Business Model
KRNT has an attractive razor-and-razorblade business model. Current revenue mix in printing system and services vs. sales of inks and other consumables is ~60/40. KRNT targets 50/50 mix in the future considering the increasing adoption of high-volume systems and the addition of new accounts that operate at scale.
Primary Markets and Customers
KRNT targets nontraditional textile players that want to efficiently process shorter runs and frequently change fabric types. Its customer base consists of four categories: online businesses, brand owners, custom decorators, and contract printers.

Source: Company presentation
Sales and Distribution
KRNT utilizes a hybrid model of indirect sales through channel partners and direct sales. As of December 31, 2016, KRNT generated 47% of revenues from its 70 channel partners, which accounted for 64% in 2015 and 72% in 2014. In US, Hirsch International Corporation and SPSI, Inc. are the top two distributors.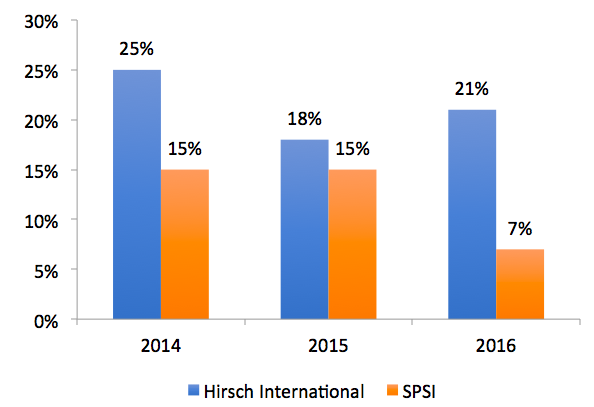 % Revenue contribution by Top 2 Distributors
Source: Company filings
In July 2016, KRNT acquired SPSI's DTG printing assets that cover 5,000 screen printing customers in 20 states mainly in the Midwest, Northwest and Southwest regions across the United States. Instead of cooperating with SPSI through non-exclusive contract, KRNT sought to develop direct relationship with increasing number of large accounts. I view this as a positive for KRNT to aggressively help customers' transition from screen printing to digital printing.
Manufacturing and Supply Chain
The company produces ink and other consumables at its own facility in Kiryat Gat, Israel, using raw materials purchased from various suppliers:
Print heads: FujiFilm Dimatix, Inc., and then customize them at its own Kiryat Gat, Israel, facility.
Chemicals: KRNT purchases chemicals that are used by inks from Dow Chemical (NYSE:DOW) and BG Bond.
Manufacturing: KRNT has two vendors that are in charge of different products. ITS Ltd. (Avalanche, Avalanche 1000, Storm II, and Allegro) and Flex Ltd. (Avalanche, Storm, Breeze and Paradigm II and Vulcan).
R&D
The company has a very strong IP portfolio. According to company filings, by the end of 2016, KRNT owned nine issued patents and 12 provisional or pending patent applications in US. Outside US (China, the European Union or European countries of the European Union, Hong Kong, Israel and India) the company has 10 issued patents, 10 pending patent applications, six pending Patent Cooperation Treaty applications (which are counterparts of U.S. patent applications).
Patents mainly involved wet-on-wet printing methodology, ink formulations (such as NeoPigment ink), printing processes and related methods and systems (such as printing on dark or colored fabrics), with expiration dates ranging from 2020 to 2035.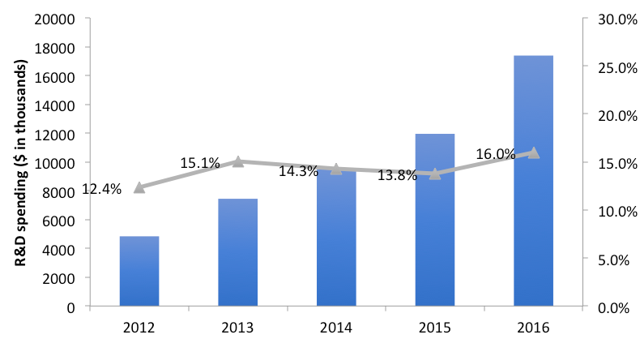 %R&D Spending/Sales
Source: Company filings
Management and Board
Great CEO: Gabi Seligsohn holds CEO position at KRNT since Apr. 2014. Prior to that he served as Nova's (NASDAQ:NVMI) [TASE: NVMI] president and CEO from 2006 to 2013. Under his leadership, Nova underwent a strategic transformation to become a highly profitable, leading-edge equipment supplier to the semiconductor industry. In 2010, Mr. Seligsohn was voted CEO of the Year for the Israeli high-tech industry. During 2011 he was ranked 3rd among Israel's 100 largest publicly traded companies' CEOs.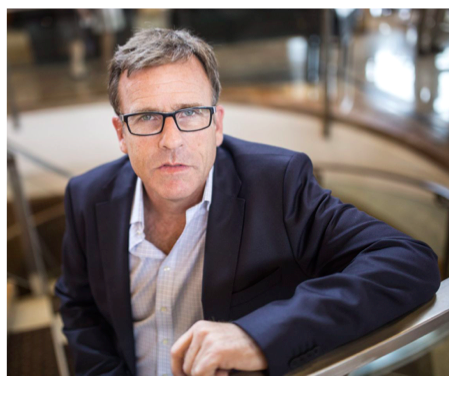 CEO Gabi Seligsohn
Private equity Fortissimo Capital owns 26.3% of Kornit, and is the controlling owner. Three directors from Fortissimo Capital (Yuval Cohen, Eli Blatt and Marc Lesnick) on the board, including the Chairman Yuval Cohen, the founding and managing partner of Fortissimo Capital. This also gives me conviction on KRNT's corporate governance and future financial performance.
Competition
KRNT's competitive advantages:
Leading player in fast-growing digital DTG printing market.
Differentiated technology and defensible IPs that enable increasing customer adoption.
Attractive razor-and-razorblade business model with current 40% recurring revenue.
Extensive product portfolio with upgraded product-mix.
In the high-throughput DTG market, KRNT competes with primarily Aeoon Technologies GmbH, Brother International Corporation, Seiko Epson Corporation (OTCPK:SEKEY). Brother and Seiko Epson dominate the entry-level market, serving for very small print jobs. Aeoon is the only competitor in high throughput segment. Competition is moderate considering that Aeoon's revenue is 1/16 of KRNT's and throughput is 1/3 of KRNT's. Therefore, KRNT is the only truly industrial solution in the DTG printing market.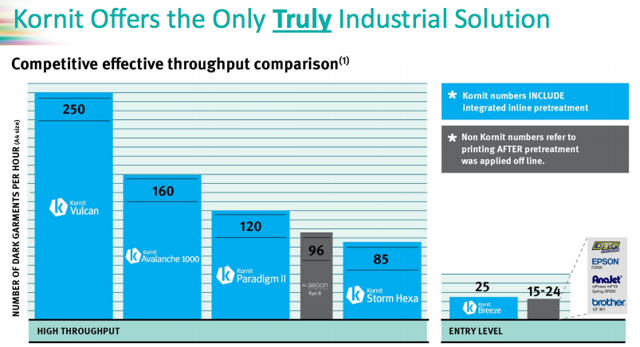 Source: Company presentation
KRNT successfully penetrated the R2R market since 2015. The competition in this market remains tougher for KRNT. Competitors include Dover Corporation through its MS Printing Solutions S.r.l. subsidiary; Durst Phototechnik AG; Electronics for Imaging, Inc. (NASDAQ:EFII) through its Reggiani Macchine SpA subsidiary; and Mimaki Engineering Co., Ltd.
However, I believe KRNT is still able to gain a portion of market share through its differentiated technology.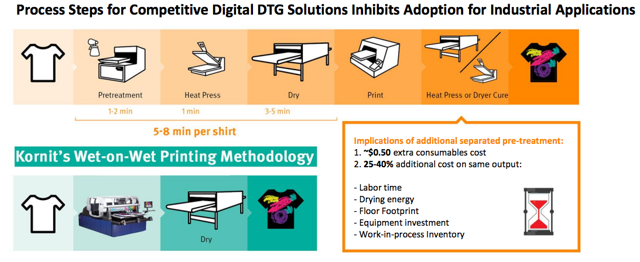 KRNT's DTG solution's differentiation
Source: Company presentation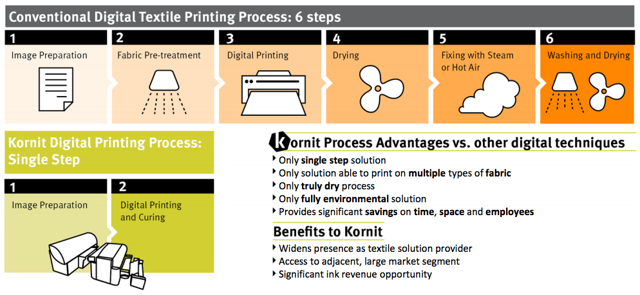 KRNT's R2R system differentiation
Source: Company presentation
Industry Overview
The global textile market has a $1.1 trillion turnover, growing at 2-5%. The textile printing market is estimated at 15% of the total market, $165 billion.
The current digital textile printing market is ~$1.2 billion, which is expected to growth at a CAGR of 16% during 2016 to 2021.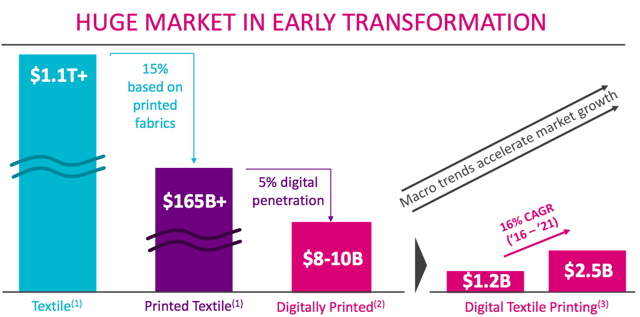 Source: Company presentation
Despite digital textile printing is very much a niche market that is no more than 3% of the market, it is rapidly growing and very much appealing to online apparel and big fashion brands' DTC (Direct-to-Customer) strategies because of its superiority over analogue textile printing.

Source: Company presentation
Given the above differentiation, demand for digital equipment and consumables (demand for KRNT's business) gets stronger and stronger because of the following trends:
Increased demand for variety and complexity of images and designs.
Increased demand for customization and personalization.
Faster time to market in response to fashion trends.
Inventory cost-saving.
Environmentally-friendly production.
According to my projection, by 2021E, KRNT is going to capture 16% of the digital textile printing market; annual revenues will be around $400 million.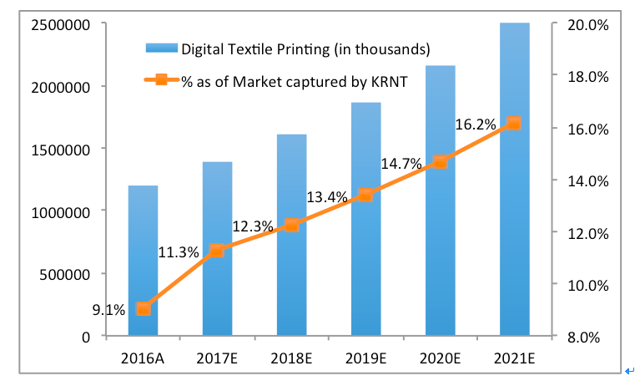 Source: Internet and my own projection
Valuation
I used DCF to value KRNT. My base case shows a 12-month price target $25.9, representing 32% upside from the current price.
Sensitivity Analysis
I think key value drivers for KRNT include WACC, Terminal growth rate, Tax Rate and Gross Margin. Sensitivity analysis shows that:

Bear/Base/Bull Cases
My major assumption in base case is as follows:
Price target is $25.9 (32% upside).
Amazon's capacity will increase 40% annually in the next five years.
System utilization rate is 80%.
Gross margin ~46.5%.
Tax rate remains the same as 2016, ~25%.
In my bear case, I reduced Amazon's capacity addition to zero; in other words, assume AMZN will not purchase any new systems from KRNT. Gross margin decreasing by 250Bps. Price target is $16 (-18% downside).
In my bull case, I increased Amazon's capacity addition to 50%, and increased system utilization rate to 100%. Gross margin improves 50Bps every year and stabilizes at 47.5%. Price target is $40 (104% upside)
Relative Valuation
Kornit is the first pure-play digital printing company in the apparel segment. There is not any equivalent peer in the same sector. Instead I think its innovation strength and defensible IPs are relatively comparable to the players in 3D printing. In addition, I also included EFII, digital printing solutions provider focused on images, and Caesarstone (NASDAQ:CSTE), an Israel-based disruptive technology player.
As Kornit is a start-up company. I think EV/Sales is the most appropriate matrix. Additionally, I looked at EV/EBITDA and P/E multiples. Kornit's trading multiples are generally in line with other peers, and I believe the company could trade at a reasonable premium to 3D-printing since it has a tangible addressable market and its sales agreements with large customers offer us high visibility into its near-term growth.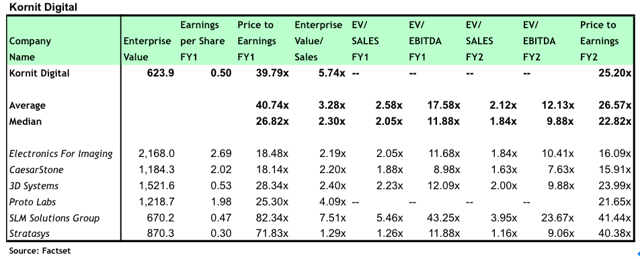 I applied comp average multiple of 25x 2018E EPS, and 3x 2018E revenue, which gives a price target of $21, which I believe is at the lower end.

I think KRNT could be trading at a premium to its peers given that it has a tangible fast-growing addressable market and great execution so far. Using 30x 2018E EPS and 4x 2018E revenue, the price target is $27.

Valuation Summary
Based on my valuation, I recommend a long position in KRNT, and 12-month price target of $25.9 as the base case. KRNT's growth momentum essentially relies on the success of the Amazon partnership and the successful launch of differentiated and innovated products. It is possible that its future growth is undermined by slower-than-expected Amazon revenue stream/loss of Amazon contract or superior competitive products, and $16 is that exit price when this happens.
Investment Risk and Mitigation
A few risks to watch:
1. Softness of overseas markets

Source: Company filings
Mitigation: KRNT replaced the management team in EMEA and Asia Pacific.
2. Unsustainable fast growth due to economic downturn
Mitigation: The secular growth trends of digital printing, online garments could in part offset the impact of economic slowdown.
3. Competition
Mitigation: KRNT has defensible IP and strong R&D capabilities, and its continuous efforts in innovation will help it maintain the leading position on the market.
4. Loss of large accounts, such as Amazon
Mitigation: KRNT as the leading player in DTG and the only truly industrial solution provider. Amazon will not be able to find any replacement. Even though Amazon stops purchasing new systems from KRNT, 40%+ recurring revenues do not cease. Amazon Equity Investment is another downside protection
5. System sales are discretionary, quarterly volatility is expected
Mitigation: In the long run, there will be a replacement cycle to follow. In the near term, do not worry about that, given that KRNT is in the rapid growth phase.
Conclusion
In a nutshell, I believe KRNT is a great investment opportunity because of its attractive business model, rapid growth powered by online key accounts and margin expansion through product-mix upgrade. In addition, since its IPO, KRNT demonstrated strong execution as all planned products have been launched successfully.
Key Things to be Monitored:
1) New customers adopting Allegro systems, which is indicative of its growth in R2R market.
2) Developments of "Merch by Amazon" as this is such a pivotal growth driver for KRNT. New agreement with Amazon; the $150 million order could not cover five years indeed. Given AMZN's bargaining power, there might be a new agreement that affects KRNT's profitability.
3) New innovations, such as new products on its worldwide exhibits.
4) Big brands' DTC developments.
5) Customer relationship developments. KRNT would be working very hard on acquiring R2R customers.
This article is part of Seeking Alpha PRO. PRO members receive exclusive access to Seeking Alpha's best ideas and professional tools to fully leverage the platform.
Appendix:

Income statement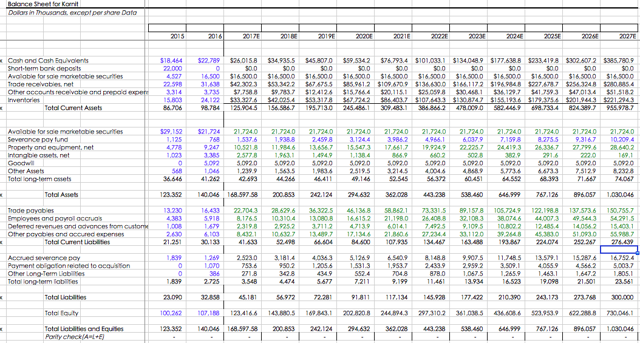 Balance Sheet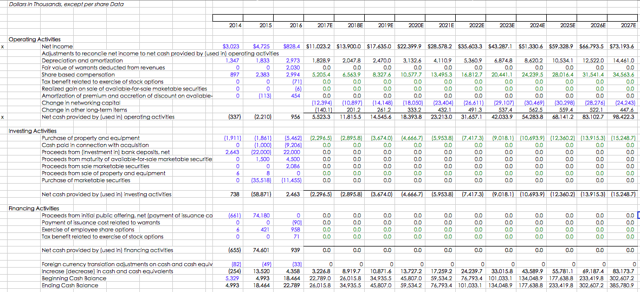 Cash Flow Statement
Disclosure: I/we have no positions in any stocks mentioned, and no plans to initiate any positions within the next 72 hours.
I wrote this article myself, and it expresses my own opinions. I am not receiving compensation for it (other than from Seeking Alpha). I have no business relationship with any company whose stock is mentioned in this article.