Have you ever had the rug pulled out from under your feet? That's what it feels like to us right now, in regards to the special dividend announcement issued recently by National Grid plc. (NYSE:NGG).
In February 2017, we wrote an article about NGG's announcement that they were going to issue a special dividend to shareholders, as a result of a sale of part of its business:
"Special Dividend Is Coming: NGG is selling 61% of its UK Gas Distribution Unit to a consortium comprising Australian, U.K., German, Chinese and Qatari funds.

The sale is expected to complete in early 2017. Following completion, the board expects to return substantially all of the net proceeds to shareholders, with 75% being paid as a special dividend and the remainder being used to buy back shares."
We then estimated the potential payout – we were way too high in our estimate of $6.97, but it still seemed like a good deal:
NGG recently announced that the final special dividend would be $5.42/ADS, pending shareholder approval – (proxies are out now). We've updated our figures to show what the forward yield would be.
This table also includes our estimates for NGG's 2 regular semi-annual 2017 dividends, based upon 2016 payouts, less a 15% discount for the loss of earnings from the sold business. If they end up paying something near these amounts, the total yield would be over 12%: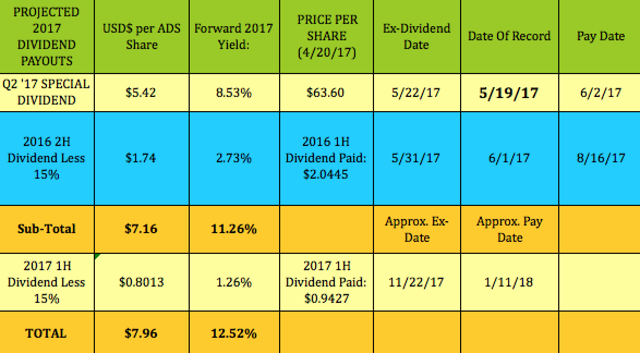 Looks pretty good, right? Not so fast, bro'. It turns out that management is proposing a "share consolidation," in order to "maintain earnings per share and dividends per share on a comparable basis."
Whatever happened to reporting adjusted EPS, etc., to show comps? Management has used adjusted EPS in its reports before, but now, instead of paying shareholders the extra income, they're proposing to take away 1 share for every 12 shares we own, an -8.33% discount to our holdings:

(Source: NGG April 2017 release)
SO, here's what the special dividend amounts to – a wash… maybe. What they're not saying, and what no one knows, is if the market will still discount the $5.42/share payout after the ex-dividend date or the record date, regardless of this "share consolidation" scheme.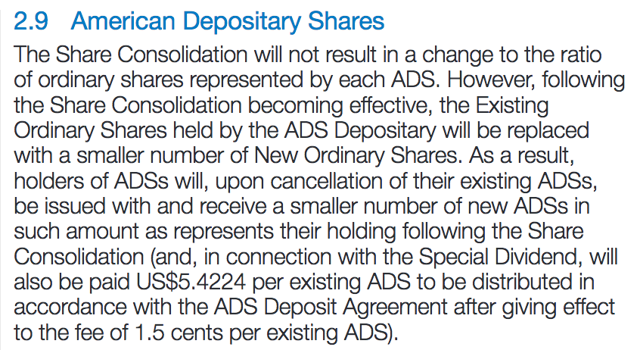 (Source: NGG April 2017 release)
Here's an example from the press release, using ADRs. (ADRs and ADSs are used interchangeably for US-held shares.) The key fact is listed in the bottom right corner: "Note, that in total, the $650.7 dividend and the $7,157.7 investment in NGG are equal to your investment of $7,808.4, before the share consolidation and dividend payment."
In essence, the special dividend will do nothing for you, except create taxable income. (Note to self: check birth certificate date – does it list "yesterday" anywhere?)
We've amended our High Dividend Stocks By Sectors Table listing for NGG, (in the Utilities section), to just list the last 2 actual payouts, instead of including the upcoming special dividend.
Accountants – Can the consolidation/loss of the shares be used as a negative capital gain? We could at least defray some of the "wash" special dividend taxes that way, if possible.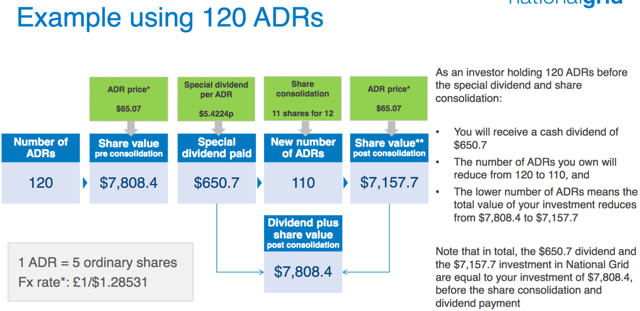 (Source: NGG April 2017 release)
If the market does discount the price/share to account for NGG's special dividend, you may lose $, instead of it just being a wash.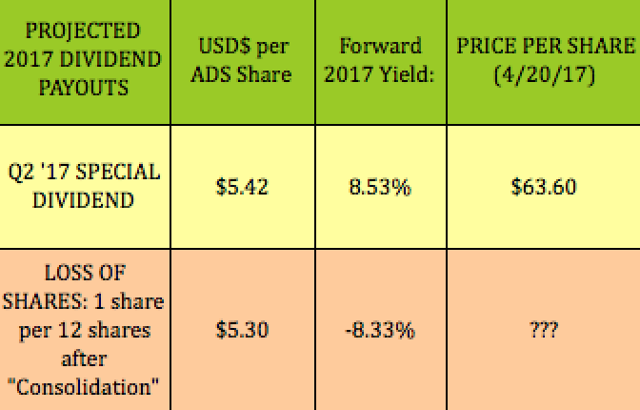 Another alternative is to hang in there, and, hopefully, collect 2 semi-annual dividends in 2017. This would equal an approximate 4% dividend yield, (as estimated in our dividend table earlier in the article), but, these are merely estimates, and haven't been declared yet.
Also, if you do plan on holding, take note of the reversed sequence of the ex-dividend and record dates:

(Source: NGG April 2017 release)
To be clear, we're not saying that NGG is a bad company, but we don't feel that management is treating shareholders fairly for the special dividend, and that the market may discount the special dividend anyway… who needs that risk?
In their defense, management also announced a share buyback of 835 Pounds in connection with the sale. Maybe that'll help to add some support to the share price.
Let's end with some good news shall we? This stock didn't pan out the way we expected it to, but, NGG is up over 6% since our article – not a bad return for 2-plus months:

All tables furnished by DoubleDividendStocks.com, unless otherwise noted.
Disclaimer: This article was written for informational purposes only, and isn't intended as personal investment advice. Please practice due diligence before investing in any investment vehicle mentioned in this article.
Disclosure: I/we have no positions in any stocks mentioned, and no plans to initiate any positions within the next 72 hours.
I wrote this article myself, and it expresses my own opinions. I am not receiving compensation for it (other than from Seeking Alpha). I have no business relationship with any company whose stock is mentioned in this article.