It is very challenging to find "blue-chip" companies trading at opportunistic valuations. This is especially true in the REIT sector, where high-quality names such as Realty Income (NYSE:O), National Retail Properties (NYSE:NNN), or Healthcare Realty Trust (NYSE:HR) sell for up to 20 times FFO.
In this sense, Omega Healthcare Investors (NYSE:OHI) is one of the few exceptions, in my opinion. It is a true blue-chip REIT that has kept trading at a below-average valuation despite its high-quality profile.
But how do I define "Blue Chip"? Or put differently, why do I consider OHI to be a high-quality REIT?
OHI is the market leader in the ownership of skilled nursing facilities.
It has a significant track record of market outperformance.
The portfolio is solid, the balance sheet is conservative and the management is top-notch.
The FFO and dividend have both experienced rapid and sustainable growth over the past many years.
The long-term growth outlook remains very favorable, considering the rapidly increasing need for skilled nursing facilities and highly fragmented industry.
With such strong fundamentals, you would expect OHI to trade at a premium valuation, but this just isn't the case. So why does the stock trade at low valuation?
This is largely due to short-term market fears. As I recently explained in a separate article, the long-term outlook of the sector is very positive, but healthcare REITs are not immune to short-term market turbulence. In this sense, many healthcare REITs – including OHI, but also peers such as Ventas (NYSE:VTR) and Care Capital Properties (NYSE:CCP) – have traded down since the Trump victory, as it created uncertainty regarding possible policy changes and how they could affect the profitability of operators.
I believe such sell-offs are often really just "opportunities in disguise" for more sophisticated investors. The recent fears have resulted in a discounted valuation, which is simply not justified, in my opinion. In fact, since the year 2015, the stock price of OHI has not moved upward despite the company having consistently increased FFO and dividends per share.
Regardless of policy changes, the demand for these facilities will keep growing at a rapid pace: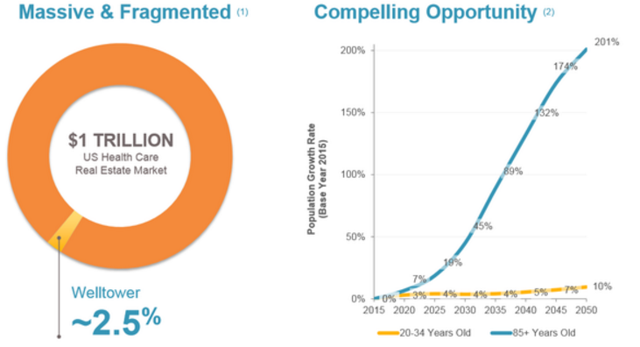 Source: Welltower
Over the next 45 years, the U.S. population over 65 years old is projected to double and the 85+ population is expected to triple. In fact, there are approximately 10,000 Baby Boomers reaching retirement every single day at the moment, and this trend is expected to continue for many years to come. Naturally, this will result in higher demand for different healthcare facilities, including the skilled nursing facilities that OHI owns. This is particularly true when considering that people live longer and longer now.
So the fears over policy changes really appear overblown in this context. Policy changes will not reverse this trend and will not cause these valuable properties to become obsolete. There is risk that operators lose in profitability, but remember that OHI is a landlord, NOT an operator. The rent growth might slow down, and the default risk of certain tenants might increase, but overall, the rental income will keep coming in as the number of patients keeps rising. Finally, I would note that the tenants of OHI are not junk either. The current portfolio benefits from strong rent coverage at 1.8x EBITDARM and 1.4x EBITDAR, reducing the risk of default considerably.
Solid Portfolio
The portfolio is very diverse, with close to 1000 properties and 79 different operators across 42 states and the United Kingdom. This strong geographic and operator diversification greatly mitigates risk and increases the stability of the expected cash flow.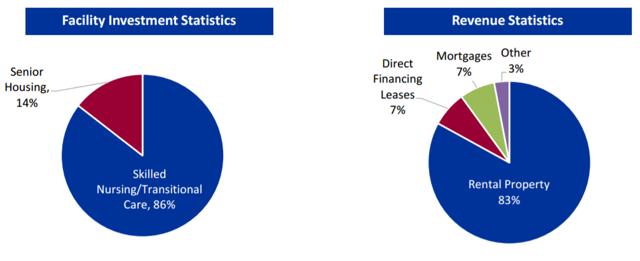 Source: OHI Presentation
A large majority of the properties are skilled nursing / traditional care properties at 86%, with the remaining being senior housing. As such, OHI is the largest skilled nursing-focused REIT today, with a gross real estate value of $9.2 billion. The high scale gives a competitive advantage, as it permits OHI to source better deals, and the company's relationships with operators and capital providers help increase risk-adjusted returns.
There are no upcoming material lease expirations until 2020, and assuming that the operators perform well until then, I see no material lease renewal risk. The demand for skilled nursing facilities remains very high and is expected to keep rising at a fast rate. OHI notes that aging demographics would drive SNF occupancy beyond capacity in less than 10 years without efforts to reduce lengths of stay and increased utilization of alternative care sites.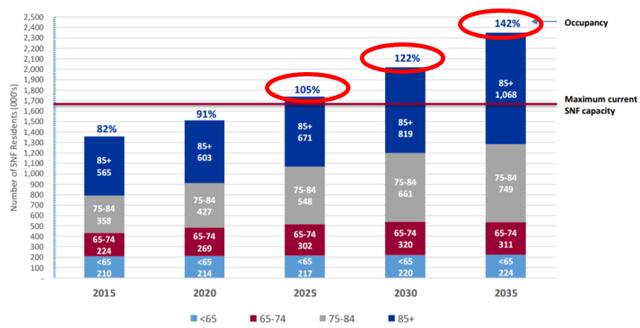 Source: OHI Presentation
As such, skilled nursing remains the preferred post-acute care environment with growing demand and limited supply: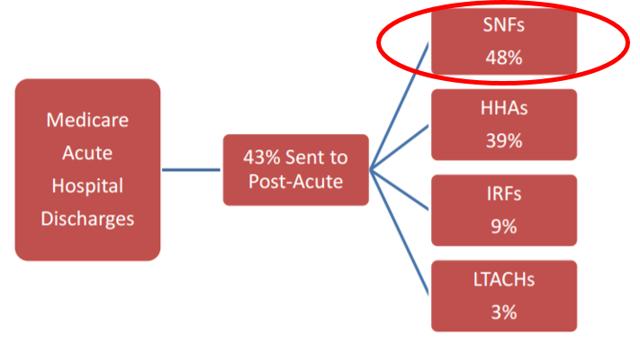 Source: OHI Presentation
The new supply of these facilities and beds is limited because of CON restrictions. It increases the occupancy prospects for existing facilities and the potential for increased rents in the long run as demand outpaces supply growth.
The occupancy rate of OHI has remained stable over the years and still has room for expansion and incremental cash flow generation: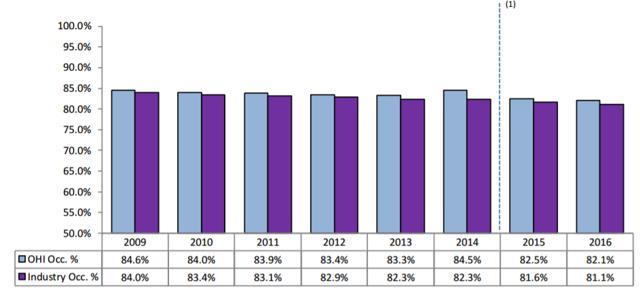 Source: OHI Presentation
Finally, the leases are most commonly triple-net, which means that the tenant is fully responsible for all property -level expenses, including labor, insurance, taxes and even capex. The leases are long-term and have cross-collateralization provisions and security deposits of 3-6 months.
Long-term, triple-net, with collateral and annual escalators is pretty much as good as it gets in terms of lease structures for generating stable and predictable cash flow.
Conservative Balance Sheet
The balance sheet has gotten stronger and stronger and currently has a cash fixed charge coverage in excess of 5. This is reflective of a conservative balance sheet, as it has lots of cushion before OHI would run into potential financial distress.
Moreover, the firm is very liquid today, with over $1.2 billion of available liquidity and no near-term bond or loan maturities.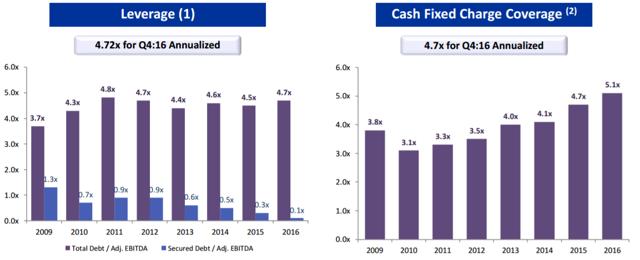 Source: OHI Presentation
From the below table, you can also note that all credit facility covenants are more than fulfilled, with large room for additional leverage expansion in many cases.

Source: OHI Presentation
Finally, the amount of "secured" debt is very low at only 0.1x relative to Adj. EBITDA. OHI holds large commitments for unsecured borrowing, minimizing risk even further in case a specific property performs poorly.
Track Record of Outperformance
From 2005 through 2015, OHI was the #1 Healthcare REIT for total shareholder return and #3 among all REITs. This is the result of high FFO growth, consistent dividend increases, and generally, a very well-executed investment strategy. Since 2004, the AFFO per share has grown by 12% on average per year, and OHI has also delivered dividend increases every quarter since 2012.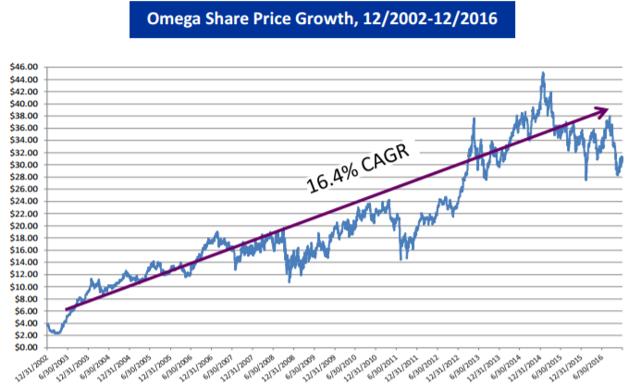 Source: OHI Presentation
Such a track record is reflective of very high-quality management. The senior management team has today an average tenure of over 16 years at the firm, and as such, they know their business very well. They have proven their ability to execute on their investment strategy, and also demonstrated great capability in dealing with troubled assets.
Back when I still worked in private equity real estate, I always heard that management is the most crucial factor in determining investment success in the case of healthcare and residential properties. In this sense, I am very confident in the management team of OHI, and given its track record, I expect the team to keep generating substantial value for shareholders in the future.
Below is a comparison of OHI's historical returns relative to those of its peer group over the last 10 years: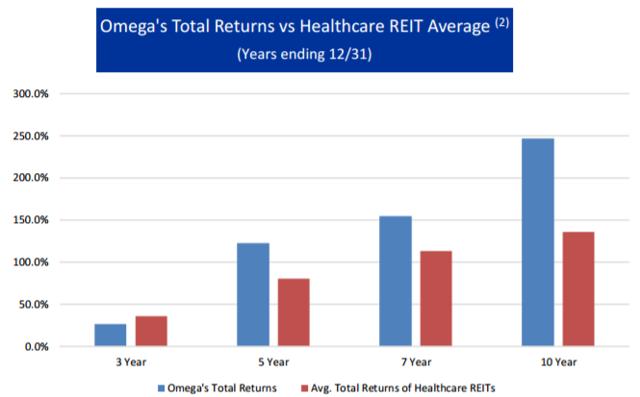 Source: OHI Presentation
Note: In this comparison, the peer group includes: Ventas, HCP (NYSE:HCP), Welltower (NYSE:HCN), LTC Properties (NYSE:LTC), Healthcare Realty Trust , National Health Investors (NYSE:NHI), Senior Housing Properties (NYSE:SNH), Sabra Healthcare (NASDAQ:SBRA) and Care Capital Properties.
Future Outlook
The healthcare market remains notoriously fragmented, with large REITs only having captured a fraction of their potential market share so far. The combination of rising demand for healthcare facilities and high potential for further consolidation provides a great opportunity for OHI to keep growing its FFO at above-average rates.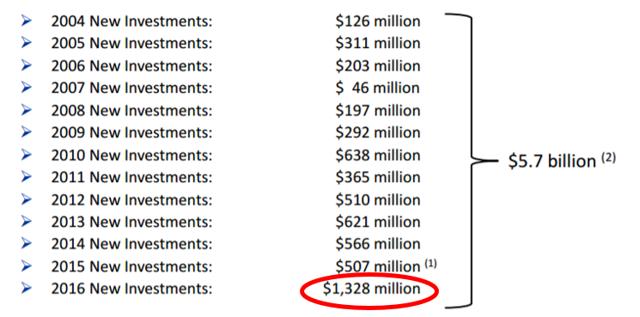 Source: OHI Presentation
In 2016 alone, the REIT acquired an additional $1.3 billion in new properties. This represents more than the double of its previous year's acquisition volume and shows that OHI is not running out of new opportunities. This is because it is able to use its market-leading position and leverage 79 different operator relationships to source new deals. Given that these acquisitions have historically been highly accretive, it suggests that new growth is on its way.
Here you can observe the high positive correlation between new investments and growing revenue: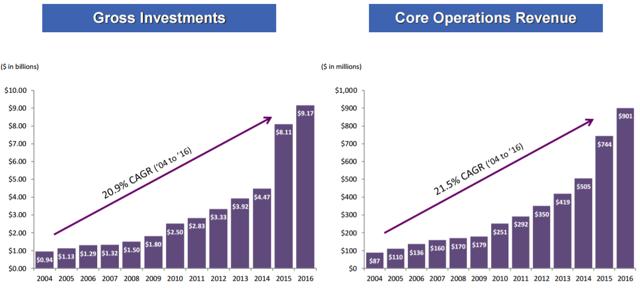 Source: OHI Presentation
Finally, with $1.2 billion of combined cash and credit facility currently availability, OHI has plenty of liquidity to continue to execute the acquisition strategy. As such, I expect this growth to continue going forward.
Valuation
The current average FFO multiple of the healthcare REIT sector (circled in red) is 13.5, with a range going from as low as 8 to more than 19.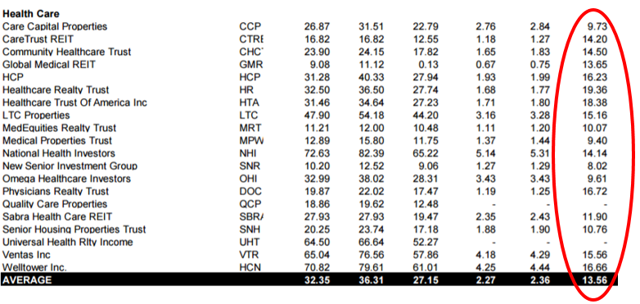 Source: NAREIT
In this sense, the range of valuation is very large. The interesting thing is that despite being a "premium" REIT, OHI trades as if it were a "troubled" REIT. Its current FFO multiple is below 10 and its dividend yield is in excess of 7%.
This is abnormally low for many reasons. The REIT is financially secure, has a superior management team, a track record of outperformance, a solid portfolio that is experiencing increasing demand and, finally, it has the capacity to grow at a high-single digit rate. As such, I believe OHI deserves a valuation multiple closer to 15, suggesting significant upside potential in addition to the high dividend yield.
Your Takeaway
OHI is a high-quality REIT with a tremendous track record of FFO and dividend growth. It is actively investing in a growing market, and despite its great historic success, trades today at a very opportunistic valuation.
I anticipate OHI to outperform the broad healthcare REIT sector going forward. The valuation differential relative to other more popular peers, including Ventas, HCP and Welltower, is excessive and not fully justified, in my view. At the current valuation, you really do not need to achieve much growth or even FFO multiple expansion to get to double-digit returns. While you wait for the market to warm up to the stock, you get paid high dividend yields that are secured through well-diversified, long-term leases.
OHI in 5 bullet points:
Attractive industry fundamentals and market-leading position
Consistent and recurring cash flow from long-term leases
Conservative capital structure with significant liquidity
High yield combined with high growth
Superior track record and a high-quality management team
What else would you want?
If you enjoyed this article, please scroll up and click on the "Follow" button next to my name to not miss my future articles on other undervalued REITs. I have experience working in Private Equity Real Estate and aim to identify the best risk/reward opportunities within my field of expertise. My articles are free here on Seeking Alpha, and following me will allow you to receive all my research at no cost.
Disclosure: This article is for informational purposes only. It is not a recommendation to buy or sell any security and is strictly the opinion of the writer. Readers are expected to conduct their own due diligence or seek advice from a qualified professional.
Disclosure: I am/we are long OHI.
I wrote this article myself, and it expresses my own opinions. I am not receiving compensation for it (other than from Seeking Alpha). I have no business relationship with any company whose stock is mentioned in this article.