The Brookfield stable of listed partnerships continues to garner considerable attention from investors. While stablemate Brookfield Infrastructure Partners (NYSE:BIP) continues to surge ahead and unlock considerable value for investors Brookfield Renewable Partners (NYSE:BEP) is not doing so well.
Key among its problems are declining funds flow and net earnings primarily because of a sharp decline in revenue per megawatt hour produced. Even after hiking its distribution by 5% when announcing its full-year 2016 results, investors remain concerned that the distribution yielding a very attractive 6% is unsustainable unless there is a marked uptick in its financial performance.
Clearly, the partnership is banking on a significant improvement in its financial performance and the recent distribution hike illustrates management's confidence that the business can achieve this.
Is Brookfield Renewable's Dividend Sustainable?
Over the last five years Brookfield Renewable's payout ratio as calculated using its earnings per unit has averaged an incredible 3338%, highlighting that unless there is a marked improvement in net earnings the distribution is clearly unsustainable.
Source: company filings.
As the chart shows over that five-year period Brookfield Renewable has reported a net loss for two of those five years, further underscoring that the partnership can't support the distribution over the long-term.
However, if we dive deeper into Brookfield Renewable's operations and financial position there are signs that the distribution could in fact be maintained.
The most important is that the payout ratio as a function of funds from operations earnings or FFO has averaged 93% over the last five years. This does give investors some confidence that the distribution is relatively safe.
You see, FFO is a better reflection of Brookfield Renewable's financial performance than net earnings. This is because its cash flows are generally far more stable than many other types of businesses because 91% comes from contracted sources. It also removes the distortive effect of non-cash deductions that are included when calculating net earnings including depreciation, amortization, deferred taxes, breakage costs and non-cash valuation gains or losses.
Will earnings and cash flow grow?
Another important aspect of the business to consider is the expected increase in cash flow. Brookfield Renewable as described by fellow contributor John Lawlor is a peerless predator.
The partnership has been aggressively expanding its asset base through accretive acquisitions, the most significant of which in recent times were the needle-moving purchase of Colombia's third largest power generator Isagen SA in early 2016. The partnership wrapped up this deal in September 2016 when it had acquired 99% of Isagen's shares.
Isagen is responsible for generating around 20% of Colombia's total electricity. The country's rapid expansion and modernization along with a growing manufacturing sector is causing the demand for electricity to rise. The Andean nation is also suffering from electricity shortages which will cause power prices to rise.
These higher prices coupled with rising demand will be of considerable benefit to Brookfield Renewable by helping to bolster its earnings in Colombia.
Based on expectations that Isagen's EBITDA will remain stable and after allowing for Brookfield Renewable's 9% interest in the company I expect the transaction to add around $36 million to its EBITDA. While this not a massive lift in earnings it will go some way to further ensuring the sustainability of its distribution.
Brookfield Renewable has also branched out into solar power through the TerraForm deals where with parent Brookfield Asset Management (NYSE:BAM) it intends to buy a 51% controlling stake in TerraForm Power (NASDAQ:TERP). This is an accretive acquisition and while the final numbers are currently unknown it should give the partnerships EBITDA and FFO a lift.
Brookfield Renewable also has 300 megawatts of facilities under construction which once commissioned and operating it estimates will its FFO by at least $45 million.
It is also worth considering that over the longer term the global trend to renewable power generation, of which Brookfield Renewable is a market leader, will act as powerful tailwind for earnings and cash flow.
These factors will not only further ensure the sustainability of Brookfield Renewable's distribution but help to ensure that it achieves its goal of 5% to 9% annual distribution growth.
Can its financial position support the distribution?
An important attribute of Brookfield Renewable is that it possesses significant liquidity, finishing 2016 with $1.2 billion in available funding.
As a result, it is capable of financing further accretive acquisitions and the projects it has under development, assuring that earnings and FFO continues to grow. This gives Brookfield Renewable plenty of breathing space and the resources required to fund its distribution if required as it waits for earnings and FFO to grow as forecast.
It should also be noted that the majority of Brookfield Renewable's debt is non-recourse debt and that it has a well-laddered debt profile.
Most of that debt totaling $10.2 billion falls due after 2020 and has an average date to maturity for its debt is 7.4 years. This further reduces the pressures on the partnership's financial health and resources, giving it plenty of time to focus on its business to grow earnings and helping to bolster the sustainability of its distribution.
It should also be considered that Brookfield Renewable's cash flows are stable with 91% coming from contracted sources known as power purchase agreements or PPAs. These PPAs have an average life of 16-years and are inflation linked meaning that contracted earnings can only continue to grow.
Importantly, 84% of all counterparties to those agreements are rated as investment grade, thereby significantly reducing the risk associated with those contracts. This further enhances the sustainability of the distribution despite the high payout ratio.
What are is the main threat to the distribution?
The key threat to Brookfield Renewable's distribution is weak hydrology. Tthe partnership's power generating portfolio is 88% composed of hydro which is highly dependent on water levels and flow to generate electricity.
Weak hydrology has been the reason for the sharp decline in the partnership's performance in recent years with earnings and cash flows falling since 2013. Because of this the actual power generated over the last five years has on average been significantly lower than the long-term average or LTA.

Source: company filings.
As the chart highlights this is having a marked impact on net income.
This along with weaker electricity prices in core markets and a stronger U.S. dollar – which has impacted earnings from Canada, South America and Europe – has conflated to drive the partnership's payout ratio well above what would normally be considered sustainable.
It is also responsible for the payout ratio as a function of FFO to exceed managements long-term target of 70%.
The main concern is that poor hydrology will continue for at least the foreseeable future. Weather patterns linked to global warming have been responsible for many of the hydrology issues in South America where El Niño has been wreaking havoc in the region.
Nonetheless, hydrology in Brazil has improved and this will allow Brookfield Renewable to take advantage of rising electricity demand and prices. There are also signs that the impact of El Niño in Colombia is easing and this should trigger an eventual improvement in hydrology with it improving over the second-half of 2016.
How is the distribution treated for tax purposes?
Brookfield Renewable like the other listed partnerships in the Brookfield group is a listed partnership that while not strictly an MLP is treated as such for U.S. tax purposes. This means that as an entity which is treated as a partnership for U.S. federal tax purposes it incurs no U.S. federal income tax liability.
Instead of earning business income it receives dividends, distributions and interest from its underlying subsidiaries. As a result it does not pay tax on the income that it receives because it is a flow through structure for tax purposes, meaning that tax is payable when that income is received by unit holders, usually at their marginal rate.
While it possesses many of the characteristics of an MLP, Brookfield Renewable is different from the usual MLP, making it a superior investment from a tax perspective.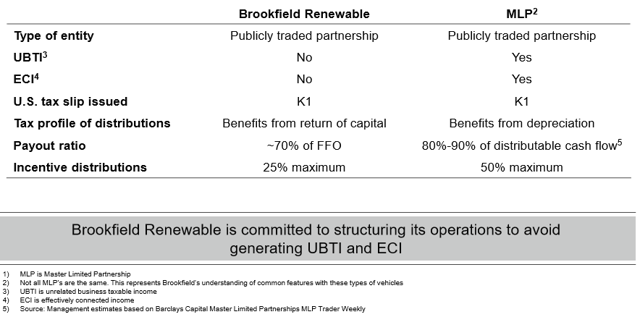 Source: company filings.
The reason for this is the partnership is structured so as to avoid the creation of unrelated business taxable income or UBTI and effectively collected income of ECI.
It does this by being structured to meet the Qualifying Income Exception and its business is arranged so that the partnership is not regarded as engaged in a trade or business for the purposes of U.S. federal income tax. Operating assets controlled by Brookfield Renewable are held through entities that are treated as corporations for U.S. federal income tax purposes. This means that UBITI is not produced or payable.
This makes it a more tax effective investment than your usual MLP, especially when held in an IRA or 401(k).
By the nature of its structure and international operations income or any gains from investments held by Brookfield Renewable can be subject to withholding tax from other jurisdictions outside the U.S. In the case of its Canadian assets this could see withholding tax of up to 15% could be levied on any dividends received and because of its structure this would be passed onto unit holds. This means that they would be liable for withholding tax on that portion of their distribution that was derived from any jurisdiction where it is levied.
Bottom-line
Brookfield Renewable's high payout ratio in recent years is somewhat worrying, despite management displaying their confidence in the business and distribution by hiking it by 5% earlier this year. The high payout ratio can be attributed primarily to reduced earnings because of the issues surrounding hydrology.
As this is expected to improve over the course of 2017 and into 2018, Brookfield Renewable's power output and consequently earnings will rise. This in conjunction with the healthy bump in earnings and cash flow expected from organic projects and recent acquisitions should see the payout ratio fall to a sustainable level.
Furthermore, the stable nature of the partnership's cash flow, high degree of liquidity and solid balance sheet means there is no threat to the distribution any time soon.
Disclosure: I am/we are long BIP.
I wrote this article myself, and it expresses my own opinions. I am not receiving compensation for it (other than from Seeking Alpha). I have no business relationship with any company whose stock is mentioned in this article.