Source: Washington Post
Donald Trump promised to "Make America Great Again", and it helped him become the 45th president. Some interpreted the slogan as exerting America's dominance over the world by going to war. After President Trump ordered a launch of 59 Tomahawk missiles on a Syrian airfield late last week, war could be here:
On President Donald Trump's orders, US warships launched 59 Tomahawk cruise missiles at the airbase that was home to the warplanes that carried out the chemical attacks, US officials said. The strike is the first direct military action taken by the US against the regime of Syrian President Bashar al-Assad in the country's six-year civil war. It represents a substantial escalation of the US military campaign in the region, and could be interpreted by the Syrian government as an act of war.
President Trump said the strike was in response to a chemical weapons attack in Northwestern Syria that killed at least 70 civilians, including children. The attack drew the ire of the international community, and certain media outlets described it as a war crime. Syria's President Bashir al-Assad denied any involvement and blamed rebel forces for the attack. A so-called "false flag" could potentially prompt the U.S. to provide support to rebel forces fighting Assad in Syria's ongoing civil war.
The Situation
In 2011, the world witnessed social unrest that overthrew the governments of Egypt and Libya and caused the regime of President Bashar al-Assad in Syria to teeter. In January 2011, Social uprisings broke out in parts of North Africa – Tunisia, Yemen, Jordan, Algeria, and Egypt. The uprisings in Tunisia forced the then president Zine el-Abidine ben Ali to flee the country. President Mubarak stepped down in February 2011.
The uprising in Syria turned violent in March 2011 when the government shot peaceful Arab demonstrators. Rebel forces, designed to thwart the government formed, and extremists from around the world traveled to Syria to join the extremists, leading to a civil war. That civil war is not convoluted with several different factions and different backers. President Assad, the Kurds, rebels forces, and ISIS are all fighting for various causes. Assad is backed by Russia and Iraq, while Saudi Arabia has provided financial support and weapons to the rebels.
The Obama administration openly denounced the use of chemical weapons by the Assad regime against its own people; it also funded and helped train rebel to fight ISIS, but was adamant that the U.S. did not want to wage war against the Assad regime.
Will The Syrian Conflict Become Escalated?
In short, the conflict in Syria is convoluted and involves several different factions with several different agendas. President Trump's original stance was to stay out of the Syrian conflict. However, Secretary of State Rex Tillerson vowed to hold to account those who attack innocent people around the world:
"We rededicate ourselves to holding to account any and all who commit crimes against the innocents anywhere in the world," Tillerson said​ during the visit to Sant'Anna di​ Stazzema, where the Nazis massacred more than 500 civilians in 1944. "This place will serve as an inspiration to us all."​
That implies the U.S. involvement in Syria, or other regimes that attack innocent civilians, is probably not a one-off event. Given the heavily-armed factions in Syria that likely portends additional attacks against airbases or weapons supplies. It could also put the U.S. in conflict with Russia which has carried out its own airstrikes against rebel forces in Syria since late 2015. It could be wise for Trump to ensure that whatever targets the U.S. strikes do not contain Russian military personnel as well.
The U.S. government's weapon of choice appears to be Tomahawk missiles manufactured by Raytheon (NYSE:RTN). The Tomahawk is an all-weather, long-range, cruise missile used for land attack warfare, and launched from U. S. ships submarines.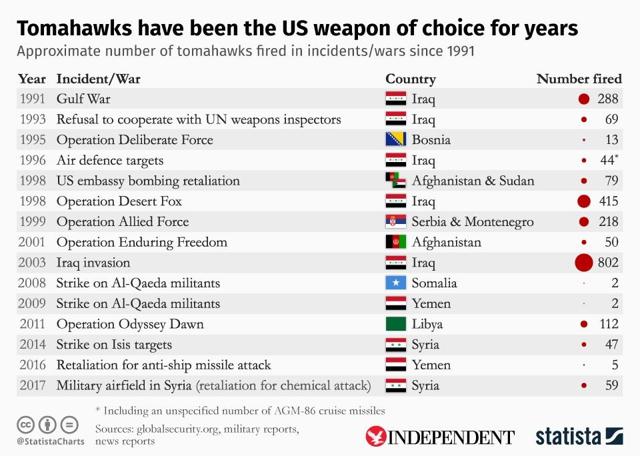 Tomahawks have been used by the U.S. military dating back to the Gulf War in 1991. They offer the opportunity to strike opposing forces without sacrificing a lot of troops. RTN and the Aerospace Defense ETF (NYSEARCA:ITA) both jumped 1% the day the air strikes took place, but have since fallen closer to their original levels. Though Tomahawk missiles cost over $700 per unit and will likely remain the government's weapon of choice, I do not believe the airstrike or the potential for future strikes are enough to go bullish on RTN or defense stocks in general.
Oil Prices Could Become Volatile
What I am concerned about are oil prices. The OPEC oil supply cut has caused Brent oil prices to surge into the mid-$50s. OPEC continues to talk up the prospects of extending the supply cuts another six months, which could keep prices elevated regardless of actual drilling activity.
That said, oil futures jumped 2% the morning after the Syrian bombing took place. Syria is not a major oil producer; however, it is close to the Strait of Hormuz, which lies between the Persian Gulf and Gulf of Oman. Millions of barrels of oil are shipped through the Strait of Hormuz each day. If the Syrian conflict escalates, it could potentially hurt the flow of oil and cause oil prices to spike. I am short oil service firms like Weatherford (NYSE:WFT), Halliburton (NYSE:HAL) and National Oilwell Varco (NYSE:NOV), but will not add to my positions. I believe oil prices could be volatile over the next few weeks, which could hurt my short positions.
Takeaway
It could be too early to become bulls on defense stocks. In the short term, an escalation in Syria could cause a spike in oil prices and energy-related names.
Disclosure: I am/we are short WFT, HAL, NOV.
I wrote this article myself, and it expresses my own opinions. I am not receiving compensation for it. I have no business relationship with any company whose stock is mentioned in this article.